Magnus Gluteus Maximus
Magnus Gluteus Maximus, latin for "fat ass," is the VHTRC's annual holiday-time "fat ass 50." It's an out-and-back, so you can turn around whenever you want. The only rules are wear seasonal colors.
Date

Start location

Start time

Distance

Total ascent/descent

Aid stations
Magnus Gluteus Maximus is the VHTRC's annual "fat ass 50." In prior years, to be different (who us?), we used various languages — French, German, Italian, Vietnamese, Latin, Swedish, Jamaican Patios, New Guinea Pidgin, Chinese, Hawaiian an anagram from "Fat Ass Fifty K" that came out as "Fat Taffy Kiss," Thai, Ukrainian, and Japanese. A couple of years ago, we decided to pick one name and stick with it. So we choose Latin. If it's good enough for the Catholic church, it's good enough for us.
Parking can be tight at Hemlock. We hope to use the close-in parking within the Hemlock campus behind the start and finish area, as well as the small lower field used for carpoolers at the Bull Run Run 50 miler. So just drive on in. But when that inside parking fills up, you may need to go back out and park in the regular BRR parking lot if we have a particularly large field of runners. Do not park in the nearby Paradise Springs winery parking lot! Do not park in the areas along Yates Ford Road that are marked for hikers to use.
This is an official fat ass run so there is no entry fee (but see below), no awards, and no wimps. There is some aid and some post event refreshments. It's an out and back course so you can do any distance you want. If you look at past results, you will see that many take advantage of this option - the finishing percentage tends to hover at 50% or even lower. This is not due to the course difficulty, but instead to the varying distances that participants choose to run.
The course
From Hemlock Overlook, the course follows the Bull Run-Occoquan Trail (BROT) downstream to Fountainhead Regional Park and then out to the Do Loop. The BROT is blazed blue — follow the blazes (it will not be marked with ribbons). We do not do the White Loop, and we do not go on the Fountainhead mountain bike trail. We do not go upstream from Hemlock. NEVER cross a stream on concrete cylinders!
There are four aid stations (manned if volunteers step up!), located roughly at miles 6, 12, 19, and 25. Note that you run through each aid station twice - outbound and then again on your return leg of this lollipop course. The aid stations will have water, Gatorade, and soda. In an effort to cut down on trash there will be no cups at the aid stations. You will need to run with a water bottle or reusable cup. If you would like any other aid at either of the two aid stations (Marina, at 6 and 25, and Fountainhead at 12 and 19), then pack one or two Ziplock bags, labeled with your name, and filled with aid items that you would like to access at the aid stations. These bags will likely come back to Hemlock late in the afternoon and you can pick them up then if you like, or they will otherwise be disposed of. So you will not want to put anything in your Ziplock bag at either the Marina or Fountainhead that is not a food item and that you cannot afford to never see again.
| Aid Station | Split | Cumulative | Map |
| --- | --- | --- | --- |
| Bull Run Marina | 6.0 mi | 6.0 mi | |
| Fountainhead | 6.0 mi | 12.0 mi | |
| Fountainhead | 7.0 mi | 19.0 mi | |
| Bull Run Marina | 6.0 mi | 25.0 mi | |
Register/RSVP
In 2010, 200 people RSVPed for the MGM. We prepared for 150. About 100 showed up (in good weather). This is a huge waste of pizza and makes it very hard to plan the aid stations. So here is the RSVP system we use to address this problem:
You will pay $10 to RSVP. If you show up to the run, we will give you a $10 bill. If you don't show (and didn't withdraw by December 9) we will keep the $10.
The event is still free for runners who show up, but it won't be free for no shows who don't rescind their RSVPs by December 9.
You must show up by 10 minutes before the start to get your money back.
You may not run if you don't RSVP.
The point of all of this is not to raise revenue. The club has money to pay for this event. The point is to encourage runners to think about whether they are really coming and to give them an incentive to tell us if they are not coming.
On December 12, 2009 and on December 11, 2010 a bunch of people started and some finished. We don't have results for either year. See the sidebar for all the other results.
List of Worldwide Fat Ass Events
Be sure to wear seasonal colors!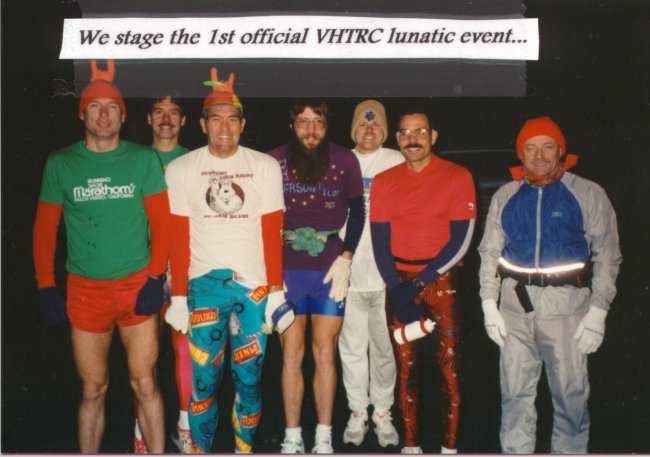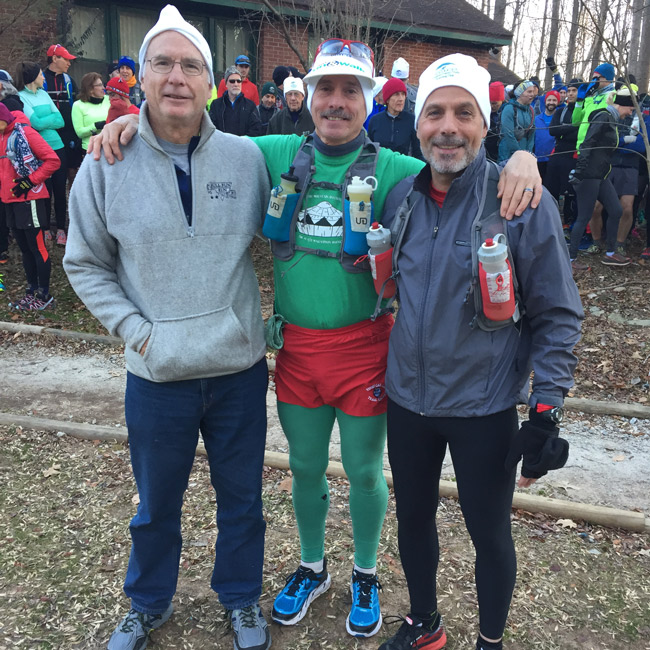 Last updated January 3, 2023
Club Event Participant Medical Policy
This is an event with very real risks to your well being. The VHTRC does not provide medical care for runners at this event. Runners are responsible for their own health, safety, and well being at this event. No doctors, nurses, or emergency medical technicians, or anyone with any medical training are available along the course, at any aid station, or at the finish. The club does not supply any medical goods or services, including bandages, splints, antiseptic, or Ibuprofen or any other drugs to maintain the health of runners. Physical, medical, and emergency care is the runners' responsibility. In case of an emergency, we will endeavor to get local emergency personnel to an injured runner as soon as possible. Since most of our events are in remote areas, medical care may be far away in distance or time. Each year, runners finish — or are forced to drop out — with scrapes, deep cuts, hematomas, dislocations, and sprains. Runners have experienced cuts, bruises, bee stings, and asthma attacks. This is an event with very real risks.