2010 Report
December 11, 2010 • Clifton, VA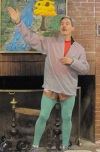 The Virginia Happy Trails Running Club celebrated the 19th anniversary of its first event at the Magnus Gluteus Maximus 50 km held on the Bull Run Trail in December 11, 2011. A large crowd enjoyed good weather. This year, the Do Loop was marked meaning that some people didn't get lost and some did.
Joe Clapper organized it. Gary Knipling and Bob Phillips marked the Do Loop and set up the aid station. At the end, runners enjoyed pizza and refreshments. Congratulations to all finishers!
Picture at right is Joe's briefing. More pictures and a video of the start.
Last updated December 16, 2019