2004 Report
December 11, 2004 • Clifton, VA
92 starters, 56 finishers
Report: Ponga Craka 50 km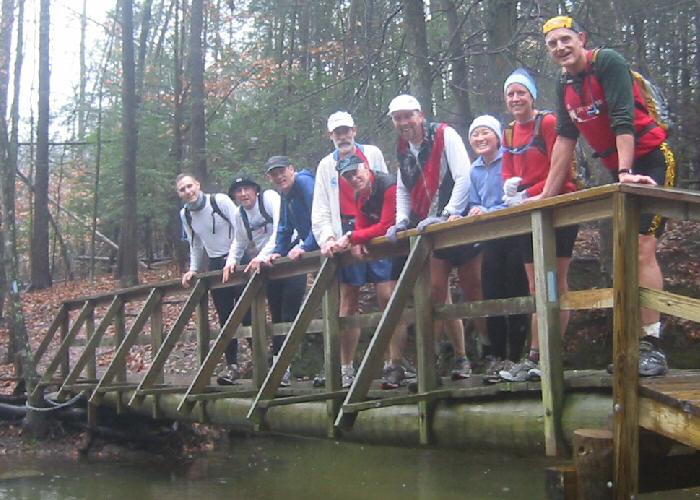 50 km (more or less) single track trail with mud and some rain but not cold. The Ponga Craka was a great success. Many runners, a lot of mud, and a lot of fun. Come back later for a full report and results. For now, here are some pictures. As usual, your chance of being in a picture was greatly enhanced if you stood by a woman. In the old days, that was impossible because the VHTRC had no women. But all of our holiday wishes have come true and the club is now truly co-ed. If you don't doubt that, check this one out.
The VHTRC has continued to name its Fat Ass event in another foreign language. Ponga Craka is Ukrainian for "Fat Ass." (We think!) Anyway, given the events in Kiev, the name and orange, were appropriate. The term "Fat Ass" started as a franchise for a 50 miler held just after the holidays with no entry fee. "Fat Ass" has become an adjective that only means a low key run without an entry fee. Language changes.
This year's event was a mix of old and new. Many names from the past including Tom Green as well as many new faces. Even though it had rained for a couple of days, the river was not flooded and the trail below Hemlock was not underwater as it was for the last two years. There were actually manned aid stations including the Marina handled by Michael Miracle. Many runners found a way to rationalize that they could turn around early. At the end, the standard VHTRC social hour occurred. There was plenty of pizza!
Thanks again to Joe Clapper for all the work he does on this event.
Photos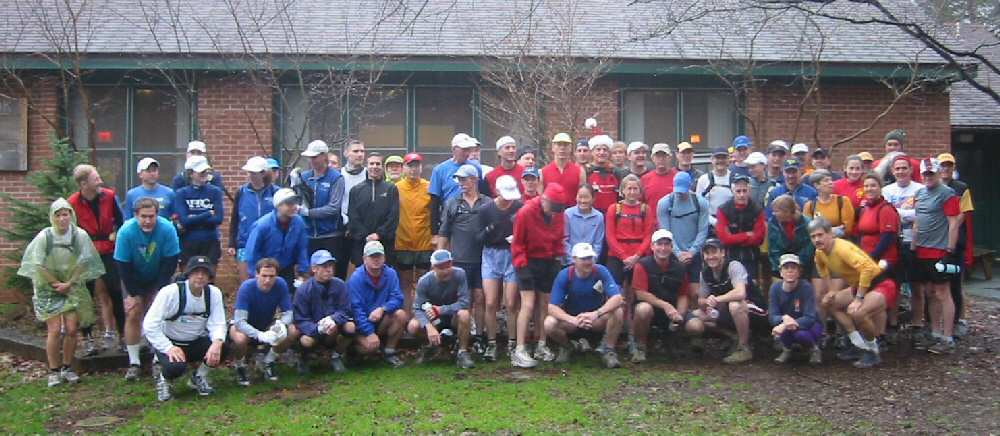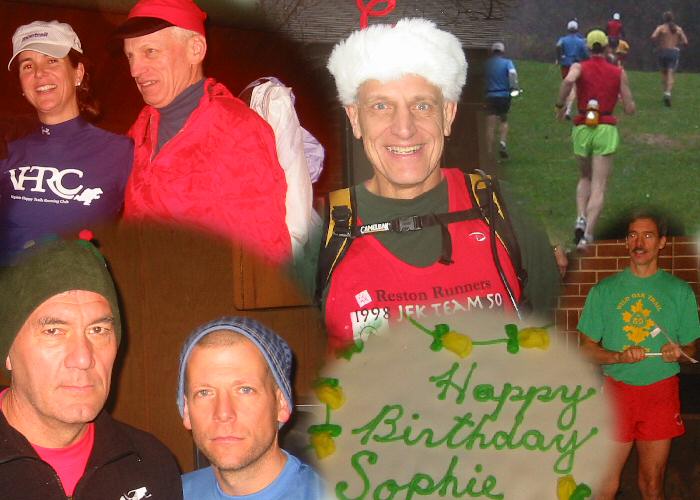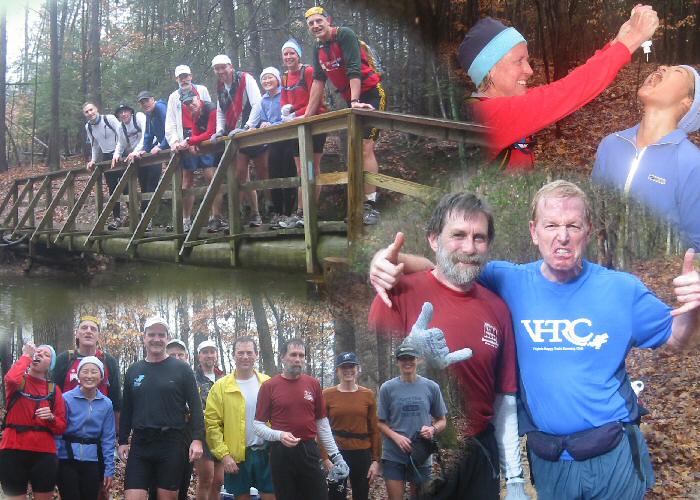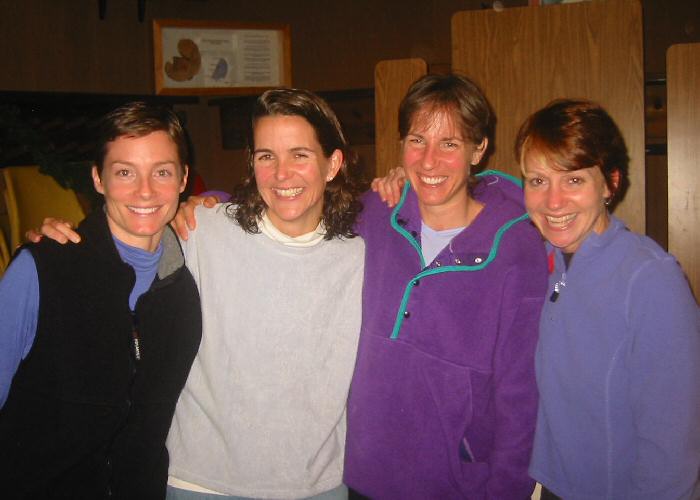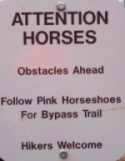 Results
92 starters, more or less. 56 finishers the whole way. These results were compiled by Joe Clapper and your lousy handwriting. If you want accurate results, learn better penmanship!
| First | Last | Age | State | Time | Comments |
| --- | --- | --- | --- | --- | --- |
| John | Anderson | 42 | VA | 04:46 | He didn't look that fast |
| Mike | Wedemeyer | 29 | VA | 04:52 | |
| Derrick | Carr | 43 | VA | 04:59 | Sloppy |
| Keith | Moore | 35 | DC | 04:59 | 1st from District |
| Prasad | Gerard | 46 | MD | 05:04 | |
| Jeff | Holdaway | | VA | 05:12 | |
| Scott | Mills | 52 | VA | 05:12 | Full |
| Paul | Rapavi | 47 | VA | 05:16 | |
| Mike | Campbell | 54 | VA | 05:35 | |
| Frank | Probst | 61 | VA | 05:45 | Old but fast |
| Mike | Priddy | 29 | MD | 05:51 | Nice Thong |
| Michele | Harmon | 38 | MD | 05:51 | Behing Mike because of the thong |
| Mark | Prescott | 43 | VA | 06:00 | |
| Todd | Whitman | 36 | VA | 06:00 | |
| Mike | Bur | 63 | MD | 06:03 | |
| Russ | Evans | 45 | VA | 06:03 | |
| Sophie | Speidel | 42 | VA | 06:03 | No pictures-Please |
| Barb | Isom | 57 | MD | 06:06 | |
| John | Guendelsberger | 53 | VA | 06:15 | |
| Joe | Clapper | 46 | VA | 06:15 | |
| Barry | Cappelli | 57 | VA | 06:18 | No heart attack |
| Ed | Schultze | 50 | MD | 06:21 | |
| Kendra | Horger | 24 | VA | 06:26 | |
| Chris | Faigle | 37 | VA | 06:26 | |
| Kevin | O'Connor | 57 | VA | 06:27 | |
| Gloria | Allie | 37 | VA | 06:30 | |
| Marty | Lindemann | 43 | VA | 06:30 | Our Hero |
| John | Organer | 60 | VA | 06:30 | |
| Ed | Cacciapaglia | 50 | VA | 06:49 | |
| Bill | Turrentine | 56 | VA | 06:33 | |
| Mike | Gulden | 47 | VA | 06:40 | |
| Rayna | Matsuno | 24 | VA | 06:49 | first youngster |
| Barry | Kreisa | 50 | VA | 06:50 | |
| Dave | Gaudette | 47 | VA | 06:52 | |
| John | Sondermann | 51 | VA | 06:56 | |
| Jack | Edington | 29 | VA | 06:57 | |
| Danny | McDonnel | 46 | MD | 06:58 | Not Hellgate |
| Joe | Mon | 27 | MD | 06:58 | first timer |
| Will | Dirks | 41 | VA | 07:04 | SLS Ultra Stud |
| Chris | Couldrey | 30 | MD | 07:06 | Extra credit |
| Bob | Ring | 56 | VA | 07:07 | |
| Nelson | Stritehoff | 53 | MD | 07:07 | |
| Bill | Gentry | 43 | VA | 07:08 | he used to be fast |
| Charlie | Miricle | 51 | VA | 07:10 | |
| Mike | Frank | 36 | MD | 07:11 | |
| Tim | Gavin | 36 | MD | 07:11 | |
| Joey | Anderson | 49 | NC | 07:28 | |
| Phil | Hisser | 53 | MD | 08:15 | |
| Margie | Hughes | 44 | DE | 8:?? | |
| John | Hughes | 42 | DE | 8:?? | |
| Ian | McDougall | 52 | VA/Aus | 08:21 | |
| Lou | Jones | 60 | VA | 08:41 | Tough Nut |
| Ed | Demoney | 70 | VA | 08:43 | |
| Carolyn | Gernand | 56 | VA | 09:28 | |
| Linda | Wack | 48 | MD | 26M | Suing Joe for leaving her off results |
| Geiof | Baker | 46 | MD | 24M | |
| Christine | Collins | 35 | VA | 24M | |
| Scott | Crabb | 33 | VA | 24M | |
| Anstr | Davidson | 59 | VA | 24M | |
| Tom | Green | 54 | VA | 24M | |
| Greg | Power | 53 | VA | 24M | |
| Bob | Phillips | 49 | VA | 24M | |
| Dave | Quivey | 42 | VA | 24M | |
| Jill | Quivey | 39 | VA | 24M | |
| Caroline | Williama | 42 | VA | 24M | |
| Eamonn | Murtagh | 52 | VA | 22M | |
| Phil | Silas | 51 | VA | 22M | |
| Kim | Davidson | 44 | VA | 20M | Mud Queen |
| Bill | Van Antwerp | 71 | VA | 20M | |
| Mark | Wimmer | 29 | DC | 20M | |
| Rick | Zimmerman | 36 | VA | 20M | |
| Jay | Korff | 36 | VA | 19M | |
| Patricia | Zelkes | 42 | MD | 14M | |
| Marge | Burley | 59 | MD | 14M | |
| Charlene | Desxins | 40 | MD | 14M | |
| Stan | Duobinis | 54 | MD | 14M | |
| Jeff | Reed | 45 | VA | 14M | |
| Margie | Schlundt | 51 | MD | 14M | |
| Cathy | Blessing | 32 | VA | 13.5M | |
| Mical | Honigfua | 28 | MD | 13.5M | |
| Michelle | Price | 38 | MD | 13.5M | |
| Maria | Berlaccui | 40 | VA | 13M | |
| Tom | Corris | 51 | VA | 13M | |
| Jim | Slatchen | 38 | VA | 13M | |
| Steve | Burton | 31 | VA | 11M | |
| Mark | Freeman | 30 | VA | 11M | |
| Jen | Ragone | 34 | VA | 11M | |
| Laurie | Timberlake | 29 | DC | 11M | |
| Kirstin | Walcott | 33 | DC | 11M | |
| Jim | Cavanaugh | 62 | VA | 10M | |
| Mike | Broderick | 48 | MD | not much | |
| Kerry | Owens | 29 | DC | even less | |
Last updated December 16, 2019