2003 Report
December 14, 2003 • Clifton, VA
54 starters, 23 finishers
Report: Tai Aon Yaon 50 km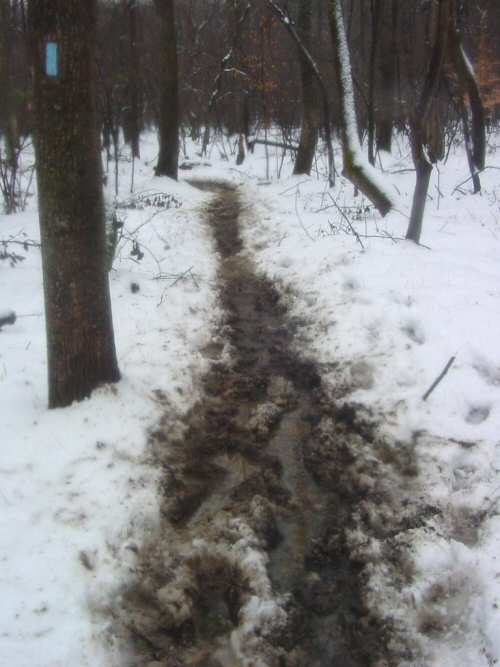 50 km (more or less) single track trail with snow, mud, and cold.
Well the so-called "tough" people got clear, dry weather for David Horton's latest craziness, Hellgate, while those doing the Tai Aon Yaon 50k got cold, wet snow that turned to cold, wet mud. Who had it tougher?
Actually, the toughest thing was getting to the start. Twenty minutes before the scheduled starting time there were fewer than 10 runners at Hemlock Overlook. But by the time of the delayed start there were almost 50 people who had braved the snowy roads. As the group took off down the trail, it looked like one of those wonderful winter days, gliding through squeaky snow. But that ended quickly as the tread became mushy, muddy, and very wet. As the temperature rose above freezing (but not much above) the snow underfoot melted while the snow next to it damned in the water to make a thin but very long lake of slush. Dry feet were not an option.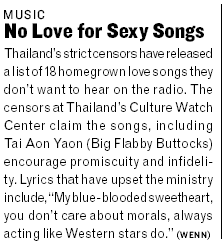 As usual, some ran the entire way, some went shorter. The cold, wet run was rewarded by a hot fire and warm pizza at the finish. Oh, it was so good to have dry, warm feet!
The VHTRC has continued to name its Fat Ass event in another foreign language. Tai Aon Yaon is Thai for "Big Flabby Buttocks." (See story at right.) The term "Fat Ass" started as a franchise for a 50 miler held just after the holidays with no entry fee. "Fat Ass" has become an adjective that only means a low key run without an entry fee. Language changes.
Thanks again to Joe Clapper for all the work he does on this event. Despite his pitifully late results, everything else went pretty well. There were other helpers of whom, Joe said, "I would like to thank all folks that helped, some risking life, limb, and their cars."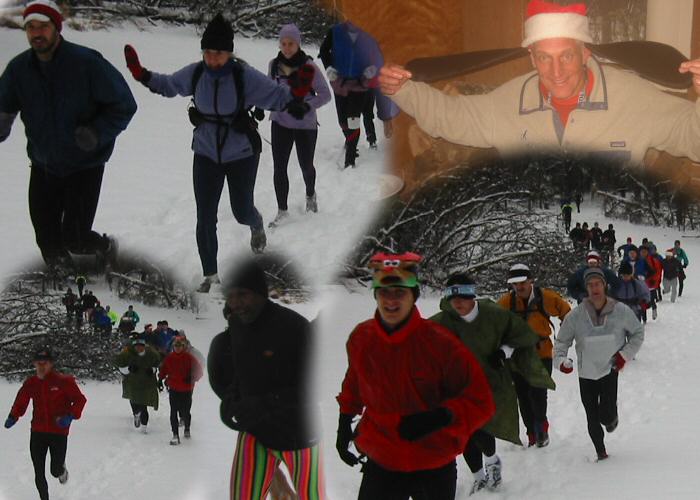 Results
Results appear below. They are certified by Enron's auditors. As Joe said, "Folks that can't write clearly get what they got."
| Place | Name | Age | State | Time | Comments |
| --- | --- | --- | --- | --- | --- |
| 1 | Sean Andrish | 34 | VA | 05:33 | Ran on top of water |
| 1 | Tim Skoczen | 24 | VA | 05:33 | Who? |
| 3 | John Anderson | 41 | VA | 05:38 | darn good |
| 4 | Douglas Kelly | 38 | VA | 05:59 | Wow |
| 5 | Derrick Carr | 42 | VA | 06:13 | Training for W$ '09 |
| 5 | Scott Mills | 152 | VA | 06:13 | Aged his toes |
| 5 | Tom Nielsen | 44 | VA | 06:13 | Just like So Cal |
| 8 | Paul Rapavi | 46 | VA | 06:22 | Passed RD w/ mile to go |
| 8.5 | Joe Clapper | 45 | VA | 06:24 | Humbled but not broken |
| 10 | Billy Lese | 35 | VA | 06:32 | not bad |
| 11 | Todd Whitman | 35 | VA | 06:43 | never got wet |
| 12 | Don Gabrielson(2dg) | 37 | VA | 06:50 | 2dg? |
| 13 | Mike Gaffney | 50 | VA | 07:10 | not bad for old guy |
| 14 | David Gaudett | 46 | VA | 07:27 | frost bite |
| 15 | Greg Power | 52 | VA | 07:35 | looked good |
| 16 | John Fletcher | 25 | MD | 07:48 | Just a kid |
| 16 | Dave Kriegibaum | 23 | MD | 07:48 | baby |
| 18 | Charlie Miracle | 50 | VA | 08:02 | Where's the kid? |
| 19 | Ed Cacciapaglia | 49 | VA | 08:16 | Slogged |
| 20 | Jeff Reed | 43 | VA | 08:26 | 1,237th run (ask him) |
| 21 | Kirk Paulson | 40 | VA | 08:30 | At least beat Bob |
| 22 | Bob Phillips | 48 | VA | 09:00 | Heard Carolyn coming |
| 23 | Carolyn Gernand | 55 | VA | 10:14 | First Women |
| | Randy Dietz | 53 | PA | 28 miles | loopless |
| | Ronald Elz | 32 | MD | 28 miles | drank most of tequila |
| | Karen Kruely | 31 | VA | 28 miles | Don't eat the yellow snow |
| | Chris Andres | 39 | VA | 24 miles | did it |
| | Russ Evans | 44 | VA | 24 miles | warming up |
| | Bill Ladieu | 54 | PA | 24 miles | Go Orange! |
| | Ira Marcus | 32 | VA | 24 miles | Lost clothes |
| | Ian McDougal | 51 | VA | 24 miles | Best Accent |
| | Piers Newbery | 38 | VA | 24 miles | why to go |
| | Kevin O'Connor | 56 | VA | 24 miles | not as fat as Rob |
| | Rob Saraniero | 29 | VA | 24 miles | FAT |
| | Anstr Davidson | 58 | VA | 23 miles | did not run with Woman |
| | Amy Walker-Casey | 42 | MD | 20.5 miles | So she says |
| | O' Hunt Bartine | 51 | DE/PA | 20 miles | lives on border? |
| | Maria Bertacchi | 39 | VA | 20 miles | first Woman? |
| | James Moore | 59 | MD | 20 miles | No Mo (for this day) |
| | John Nelson | 53 | VA | 20 miles | great |
| | Chis Rivard | 30 | VA | 20 miles | You two related? |
| | Sally Rivard | 28 | VA | 20 miles | go Sally |
| | Phil Silas | 50 | VA | 20 miles | Fun |
| | Loren Thomas | 51 | NJ | 20 Miles | Long way to get pizza |
| | Bill Van Antwerp | 50 | VA | 20 miles | drove truck |
| | Mike Wedemeyer | 28 | VA | 19 miles | where'd he go? |
| | Joyce Fendly | 37 | VA | 12 miles | good time |
| | Katy Kravets | 29 | MA | 12 miles | Hiker |
| | Keith Whited | 51 | VA | 11 miles | not last |
| | Tom Corris | 50 | VA | 6 miles | Wimp |
| | Gary Knipling | 60 | VA | 6 miles | What's he done lately? |
| | Keith Knipling | 28 | VA | 6 miles | On a bike |
| | Kirstin Walcott | | | | Pizza Monster |
| | Eric Ivy | 31 | VA | ? | Still out there |
Last updated December 16, 2019