The Big Schloss
A big loop up to a big rock.
Entry

Entry opens on Tuesday August 6, 2024 at 9:00 am. Entry will be limited to 60 runners.

GPX file

Print or download

In charge

Reports

Course records
This challenging loop is within the George Washington National Forest on the West Virginia side of the Virginia border, south of Wardensville, West Virginia and west of Woodstock, Virginia.
A waitlist will be developed if the event fills. In the usual tradition of a VHTRC fat ass event, the runners will be asked to bring a food or drink item to contribute to the common aid. You will receive an email detailing what to bring the week of the event.
Course Description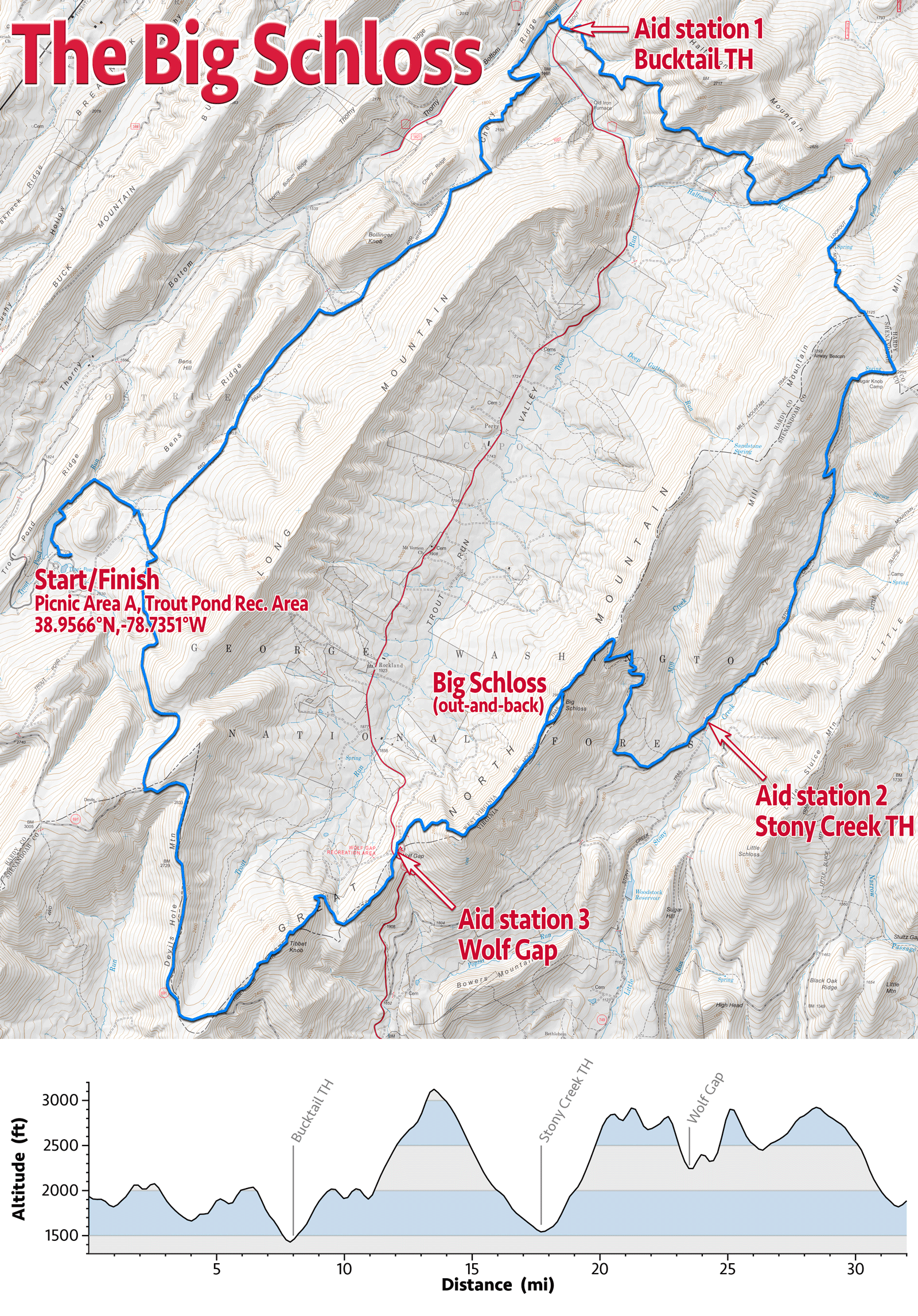 The course is a single clockwise loop around the Trout Run Valley, with a mix of single-track trails and some dirt roads. There are three aid stations. The highlight is the ascent of Big Schloss about 2/3 of the way into the loop, with panoramic 360° views of the surrounding ridges and valleys.
Here is a public version of the route that is available on Strava.
The run will end at Picnic Pavilion A in the Trout Pond Recreation Area. We'll be grilling brats, burgers and vegan fare for everyone, so plan to stick around after the run to cheer on your fellow finishers. It's also a tradition to camp out and socialize after hours. Trout Pond campground is right next door. Reserve your spot EARLY, as they WILL sell out.
Aid stations and cut-offs
There are three aid stations with intermediate cutoffs as indicated.
| Aid Station | Split | Cumulative | Cutoff | Map |
| --- | --- | --- | --- | --- |
| Bucktail Trail Head | 8.1 mi | 8.1 mi | 9:50 am | |
| Stony Creek Trail Head | 10.7 mi | 18.8 mi | 1:30 pm | |
| Wolf Gap | 5.9 mi | 24.7 mi | 3:45 pm | |
Photos and videos
See RD Kirstin Corris's entire Big Schloss photo collection and Marc Raimondi's video of the 2009 Big Schloss.
More photographs may be found linked or embedded in the run reports, available along with the results for each year of the event in the column on the left.
Volunteer
If you are not planning to run but still want to spend the day in these beautiful mountains, your help as a volunteer would be most welcome! In addition to volunteers for the usual run day roles, we are seeking help in working on the course trails that we will be using and will announce a Trail Work day closer to the date of the event.
Please email Cara if you're interested in volunteering at either the trail work day or the event.
Driving Directions
WARNING: OBEY speed limits everywhere in West Virginia, especially in Wardensville.
Directions from the DC area
I–66 west to where it ends at I–81.
Take I–81 South (left exit from I–66) for 4 miles to exit 296, Rt. 55 West.
Take Rt. 55 west 18 miles to Wardensville, WV.
In Wardensville, make a left turn at a stop sign at the intersection with Rt. 259 (at a used car dealer) to remain on Rt. 55. (WATCH SPEED). Pass a Liberty Gas station on the left.
Left at the "Garrett Insurance" sign on the left onto Trout Run Road, CR23/10.
Follow Trout Run Road for 5.4 miles to the intersection with Thorny Bottom Road.
Turn right onto Thorny Bottom Road.
Follow Thorny Bottom Road for 6.2 miles to the entrance for Trout Pond.
Turn left into park.
Follow the Trout Pond access road for about a mile to the entrance station.
The road forks.
Take the left fork (which may involve passing the entrance station and turning left) if you want to go to the Start.
The right fork goes to the campground.
Alternate Directions from Woodstock, VA
There is a Wal-Mart located in Woodstock exit at Route 81 for any last minute supplies. This route adds about 20 minutes to your drive.
West on 66 to South on Route I–81.
Go about 13 miles and Exit at Woodstock, take a right at the top of the ramp to head West. The Walmart will be a couple hundred yards up the road on your left.
From Woodstock, take VA 42 west for 5.3 miles to Columbia Furnace.
Turn Right on Union Church Road (there may or may not be a sign - but there is a church and cemetery there) for a .10 of a mile
Turn Left on Rt. 623 Back Road for .20 of a mile.
Turn Right onto SR 675, Wolf Gap Rd, for 3.0 more miles. Bear right where the road appears to swing left to remain on Wolf Gap Rd. There might be a small sign here indicating Wolf Gap Road.
Go exactly 10.0 more miles, climbing a winding, narrow, paved road with blind curves, crossing the mountain at Wolf Gap Recreation Area, and descending the west side (now WV) on a winding, narrow, paved road with blind curves. You will see a brown sign signaling an upcoming left turn for Trout Pond.
Turn left onto the road to Trout Pond, paved, curvy at first. This is CR 16, Thorny Bottom Rd, but there are no signs that say so.
Go 6.2 miles on CR 16. A sign on the left announces the Trout Pond Recreation Area. Turn left onto a paved entrance road.
Go over a mile to the entrance station.
Last updated September 26, 2023
Club Event Participant Medical Policy
This is an event with very real risks to your well being. The VHTRC does not provide medical care for runners at this event. Runners are responsible for their own health, safety, and well being at this event. No doctors, nurses, or emergency medical technicians, or anyone with any medical training are available along the course, at any aid station, or at the finish. The club does not supply any medical goods or services, including bandages, splints, antiseptic, or Ibuprofen or any other drugs to maintain the health of runners. Physical, medical, and emergency care is the runners' responsibility. In case of an emergency, we will endeavor to get local emergency personnel to an injured runner as soon as possible. Since most of our events are in remote areas, medical care may be far away in distance or time. Each year, runners finish — or are forced to drop out — with scrapes, deep cuts, hematomas, dislocations, and sprains. Runners have experienced cuts, bruises, bee stings, and asthma attacks. This is an event with very real risks.
Congrats to all the 2023 Big Schloss runners, including first male Mark Epstein and first female Amy Stulman!
August 8, 2023
Full results and report are published. Mark your calendars for next year's event on September 28th, entry opens August 6th at 9 am!