2001 Report
December 15, 2001 • Clifton, VA
93 starters, 66 finishers
Report: Nui Loa Okole 50 km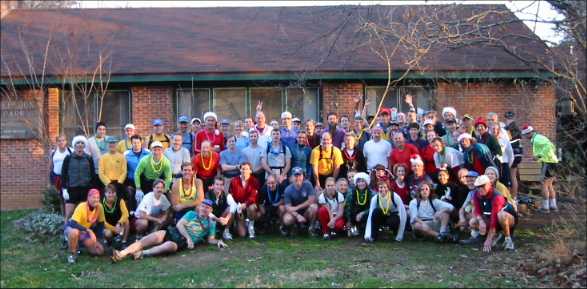 At the Start
It was yet another great day for running. Cool, clear, and dry. Almost 100 runners participated in this, our 10th running of the event. I am sorry to report, however, that there was some misbehavior in the Do Loop. This was caused mainly by rowdy Buzzards who don't know how to mind their manners in the South and gave new meaning to the term "fat ass run." (Warning! Parental discretion is advised on the preceding link!) They were aided and abetted by a Hokie who encouraged depravity by supplying a libation at the Do Loop entrance. On a more positive note, the event saw the return of Rebecca Moore who is in training for JFK 2002. Computer generated results with splits and age group standings will be available when Hell freezes over, but there are results of a sort, below.
A big THANKS to Joe Clapper for all the work he does on this event. Putting on this event is not as complicated as BRR, but everything that has to be done is done, or arranged by Joe.
At the Do Loop
Other reports
Photos
Check out the photos in the VHTRC Photo Album.
Results
Note from Joe: Anybody who left out info or gave wise ass answers got what ever the RD thought was funny at the time.
Note 2: "TBM" means "Tequila Bonus Miles." Anyone who had a shot of Tequila at the Do Loop entrance may add two miles to his or her total. The TBMs do not, however, change your finishing position. If you want credit for TBM, e-mail your name, how many shots you took, and whether you enjoyed it.
| First | Last | Age | State | Time | Comment |
| --- | --- | --- | --- | --- | --- |
| Derrick | Carr | 40 | VA | 4:29 | Gets win on age |
| Greg | Loomis | 27 | VA | 4:29 | |
| Robin | Kane | 38 | VA | 4:55 | Needs to hang with Derrick next time! |
| Jeff | Holdaway | 43 | VA | 4:56 | |
| Michele | Burr | 35 | MD | 5:00 | Led at 70 miles |
| Frank | Probst | 58 | VA | 5:00 | Thought it was too hot |
| Evan | Sandt | 32 | PA | 5:11 | First Buzzard |
| Nick | Satriano | 29 | VA | 5:12 | |
| Scott | Mills | 51 | VA | 5:14 | Just a W$ Training Run |
| Mike | Campbell | 51 | VA | 5:27 | |
| Nigel | Elkan | 43 | VA | 5:30 | |
| Steve | Platt | 33 | VA | 5:35 | |
| John | Dodds | 50 | VA | 5:44 | Will we read about it? |
| Amy | Bloom | 28 | VA | 5:44 | |
| Seth | Mosier | 23 | MD | 5:45 | |
| John | Anderson | 39 | VA | 5:49 | |
| Russ | Evans | 42 | VA | 5:49 | |
| Joe | Clapper | 43 | VA | 5:49 | RD |
| Leo | Lutz | 31 | PA | 5:55 | |
| Moira | Petit | 31 | PA | 5:55 | |
| David | Gaudette | 44 | VA | 5:57 | |
| Harry | Smith | 53 | PA | 6:03 | Fully responsible for all Buzzard misbehavior |
| Eric | Austin | 31 | VA | 6:06 | |
| Mike | Gholson | 46 | VA | 6:08 | |
| Mike | Lipton | 36 | VA | 6:08 | |
| Andy | Charles | 40 | PA | 6:08 | |
| Bill | Gentry | 40 | VA | 6:11 | |
| Danny | McDonnell | 43 | MD | 6:12 | |
| Marcia | Peters | 45 | PA | 6:14 | |
| Karen | Shiley | 25 | PA | 6:14 | Next stop, Victoria Secret |
| Wayne | Lapham | 55 | VA | 6:15 | |
| Tom | Rimeer | 43 | PA | 6:15 | |
| Dennis | Fugate | 50 | MD | 6:15 | |
| Bill | Turrentine | 53 | VA | 6:16 | |
| Kerry | Owens | 38 | DC | 6:16 | |
| David | Wiesenhahn | 40 | VA | 6:17 | |
| Michael | Parente | 52 | PA | 6:17 | |
| Mark | Milford | 34 | DC | 6:30 | |
| George | Makrinos | 22 | CT | 6:37 | |
| Rob | Saraniero | 26 | VA | 6:37 | |
| Jeanne | Christie | 44 | MD | 6:39 | |
| Bill | Wandel | 58 | MD | 6:44 | |
| Ed | Schultze | 47 | MD | 6:44 | |
| Larry | Dehof | 52 | MD | 6:45 | |
| Robert | Cooley | 25 | CA | 6:50 | |
| Jeff | Reed | 42 | VA | 7:04 | |
| Keith | Dunn | 42 | VA | 7:04 | |
| Mark | Sells | 38 | VA | 7:05 | |
| Steve | Burton | 28 | VA | 7:05 | |
| Jim | Cavanaugh | 59 | VA | 7:09 | |
| John | Schwabe | 54 | MD | 7:10 | |
| Phil | Silas | 48 | VA | 7:13 | |
| Paul | Link | 44 | VA | 7:15 | |
| Rob | Loveless | 55 | VA | 7:30 | |
| Benes | Trus | 55 | MD | 7:40 | |
| Vicki | Kendall | 49 | VA | 7:41 | First 50 km |
| Jeff | Nicholson | 34 | DC | 7:41 | |
| Ed | Demoney | 67 | VA | 7:43 | |
| Carolyn | Gernand | 53 | VA | 7:51 | |
| Lance | Thompson | 43 | VA | 7:52 | |
| Dionisio | Deleon | 50 | VA | 7:52 | |
| Betsie | Millar | 27 | VA | 7:52 | First 50 km |
| Maria | Bertacchi | 37 | VA | 7:52 | First 50 km |
| Lou | Jones | 57 | VA | 8:33 | |
| Arthur | Witt | 49 | VA | 8:33 | |
| Amanda | Preble | 37 | VA | 8:41 | |
| Mike | Gaffney | 48 | VA | 28 miles | |
| Cecily | Rekart | 27 | VA | 28 miles | |
| Rebecca | GolberT | 30 | DC | 28 miles | |
| Chris | Rivera | 29 | DC | 28 miles | |
| Tom | Trask | 55 | VA | 25 miles | |
| Gary | Knipling | 58 | VA | 27 miles | + TBM |
| Noelle | Olson | 43 | VA | 24 miles | |
| Chris | Scott | 53 | VA | 26 miles | + TBM also most shortcuts taken |
| Mike | Braun | 32 | PA | 24 miles | |
| Bill | Van Antwerp | 56 | VA | 24 miles | |
| Mary | Campbell | 33 | VA | 22 miles | |
| Tim | Stanley | 46 | VA | 21 miles | |
| Stan | Spence | 73 | VA | 20 miles | |
| Peyton | Robinson | 42 | VA | 19 miles | |
| Ken | Hawes | 72 | VA | 19 miles | |
| Gena | Bonini | 38 | VA | 19 miles | |
| Anstr | Davidson | 56 | VA | 18 miles | Took a lot of pictures, couldn't run! |
| KC | Guevara | 25 | VA | 15 miles | |
| Dan | Wood | 39 | VA | 15 miles | |
| Glenn | Yanos | 39 | PA | 14 miles | |
| Valarie | Myers | 43 | VA | 12 miles | |
| Rebecca | Moore | 56 | VA | 12 miles | She's Back |
| James | Moore | 57 | VA | 12 miles | |
| Bob | Cocharan | 54 | VA | 12 miles | |
| Rick | Gleason | 52 | VA | 12 miles | Broke Arm |
| Bunny | Runyan | 29 | VA | 12 miles | |
| John | Hayward | 38 | DC | ?????? | |
Last updated December 16, 2019