2002 Report
December 14, 2002 • Clifton, VA
87 starters, 51 finishers
Report: Fat Taffy Kiss 50 km

50 km (or or less) single track trail with "some" mud—cold, wet, windy.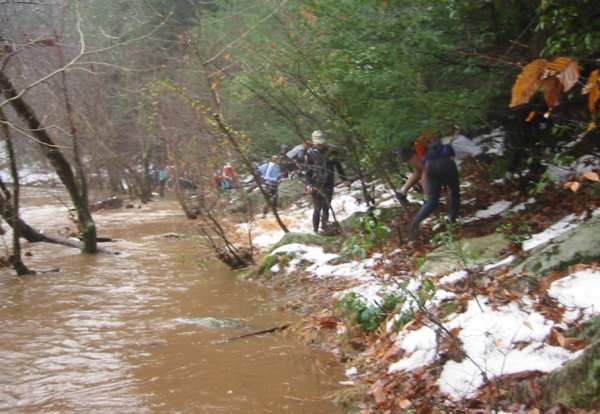 It was wet, it was cold, it was muddy, it was fun. The VHTRC's annual Fat Ass run was held on December 14. Despite the crappy weather, 87 people stood on the starting line. (Ok, there really isn't a starting "line," but you know what I mean.) As the happy crew ran down to the river and started on the Bull Run Trail, it suddenly met reality in the form of a trail under two feet of water. As runners were being signed up for the class action law suit against Joe for this outrage, the field found a way around the water. The rest of the trail was above water, more or less.
There were certainly some disappointments this year. Jose, again, manned the Do Loop aid station, but there was no mischief reported in the Do Loop. Additionally, several contributors to SONRAP complained that there was no visible evidence that their major contributions to refurbishing the Nash Rambler had been well spent. Unfortunately, they were ignoring the significant administrative expenses that SONRAP staff are required to make. The management retreat was a significant drain on expenses.
As usual, Gary Knipling performed his selfless role of guide to woman runners. Several women, who didn't know any better, were seen running with him. It was Gary, however, who noted that ever since John Dodds wrote that piece about woman trail runners, you always see lots of women around him. Is there a lesson here?
It is impossible to do an event this big justice. There were so many stories, so many lies, so much cheating, so many Pennsylvanians.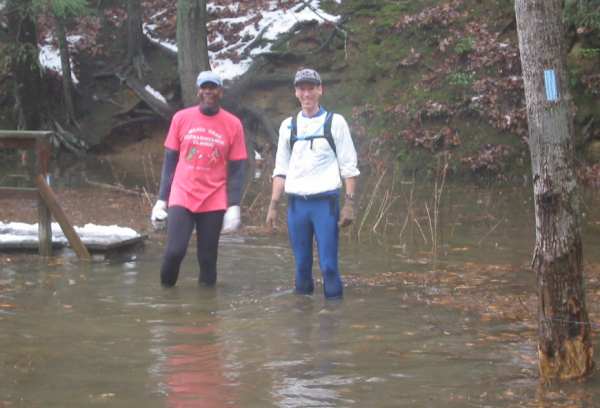 A big THANKS to Joe Clapper for all the work he does on this event. Putting on this event is not as complicated as BRR, but everything that has to be done is done, or arranged by Joe. His only screw up this year was to order enough pizza to feed the finishers at the Marine Corps Marathon. Joe, you are supposed to buy too much beer, not pizza!
Computer generated results with splits and age group standings appear below. Also, there really is a Santa Claus. What do you expect for your money or for your crappy handwriting?
Other reports
Photos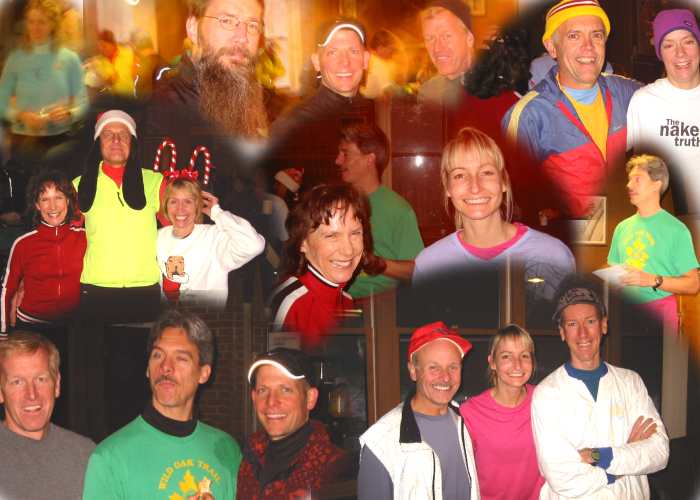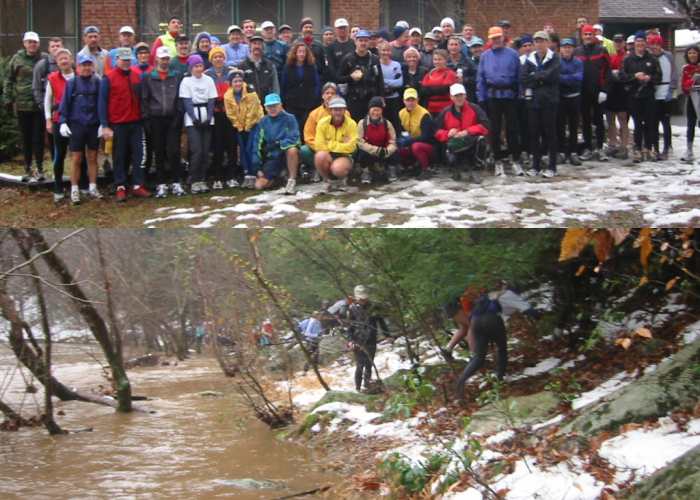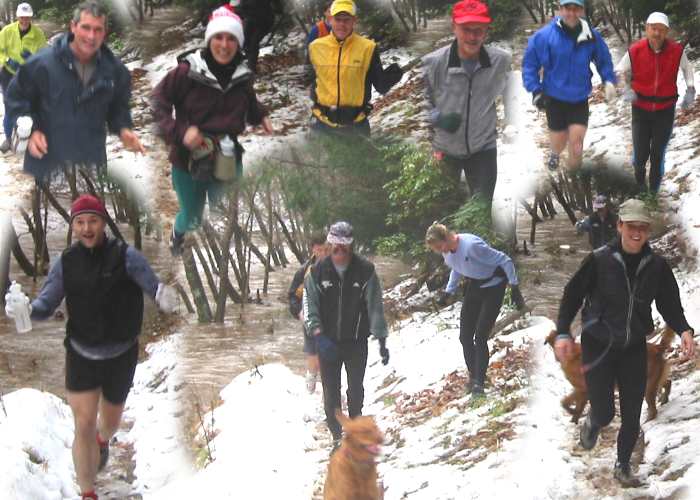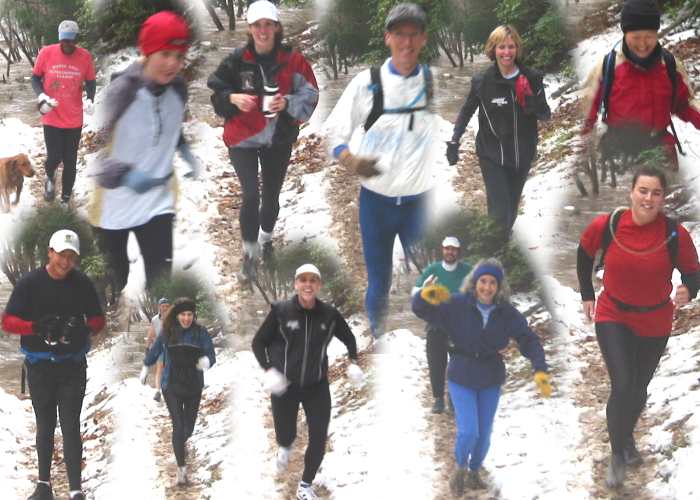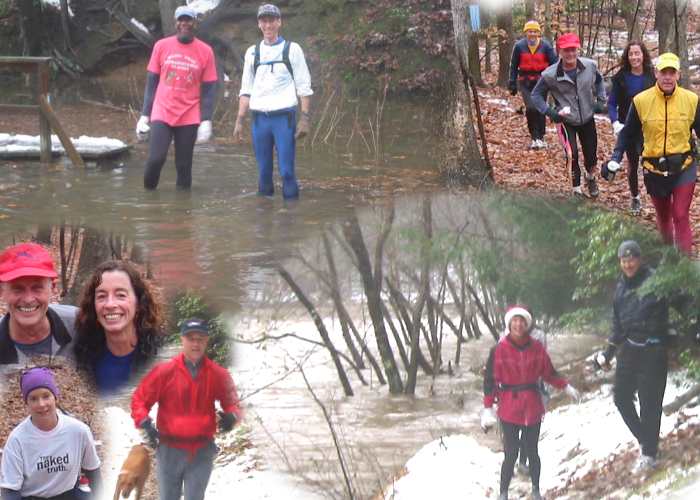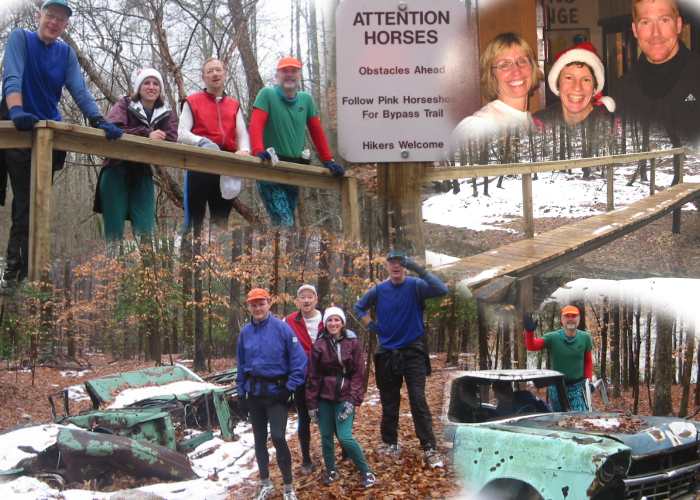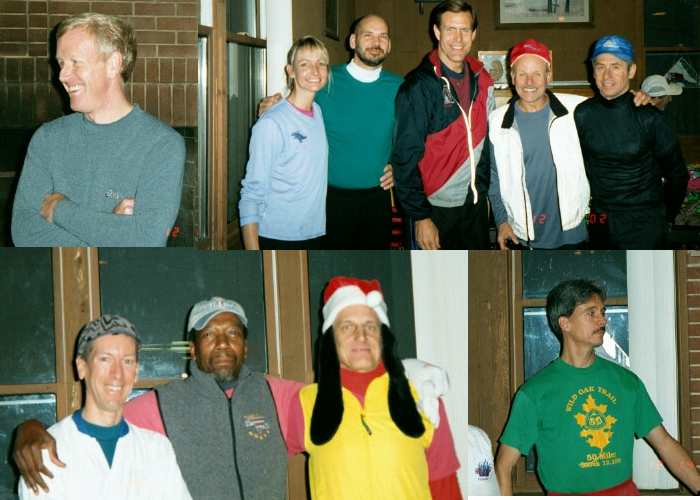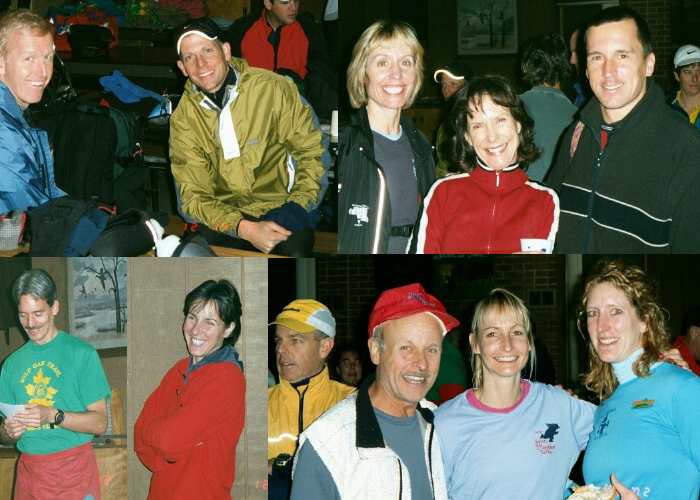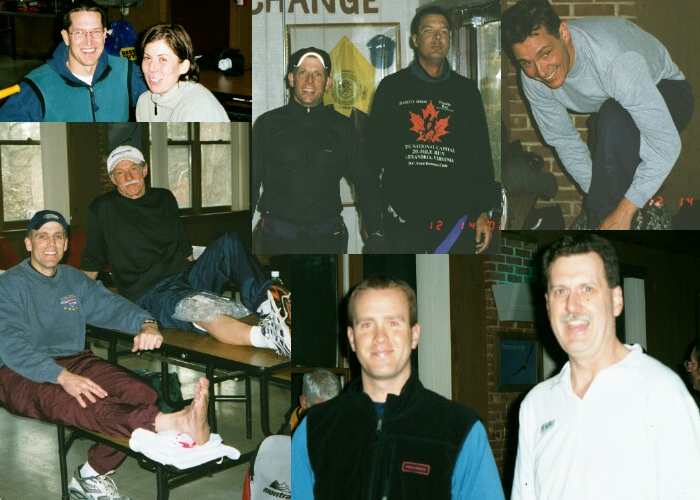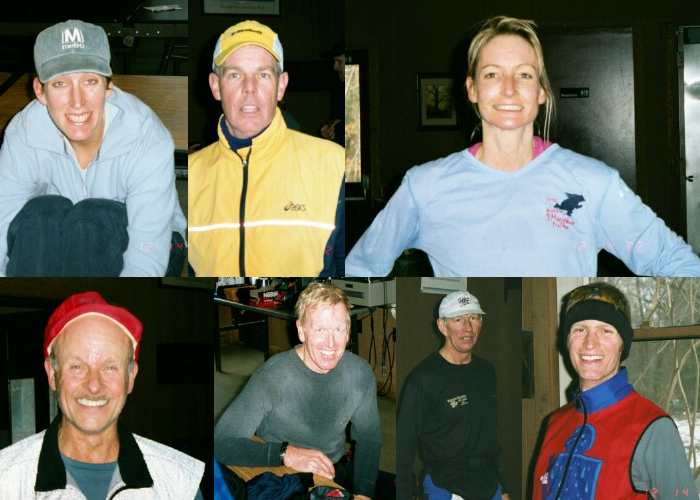 Results
Note from Joe: ANYBODY WHO LEFT OUT INFO OR GAVE WISE ASS ANSWERS OR HAD CRAPPY HANDWRITING GOT WHATEVER THE RD THOUGHT WAS FUNNY AT THE TIME.
| Place | Name | State | Age | Time/Dist | Comment |
| --- | --- | --- | --- | --- | --- |
| 1 | Aaron Schwartzbard | VA | 25 | 5:15:00 | Wow |
| 2 | Derick Carr | VA | 41 | 5:17:27 | In Mourning |
| 2 | Robin Kane | VA | 39 | 5:17:27 | Sea legs |
| 4 | Evan Sandt | VA | 33 | 5:19:00 | Top PA |
| 5 | Frank Probst | VA | 59 | 5:26:00 | all wet |
| 6 | Scott Mills | VA | 51 | 5:29:00 | Short Cut? |
| 7 | John Anderson | VA | 40 | 5:30:00 | fast guy |
| 8 | Michele Burr | MD | 36 | 5:38:00 | salt fine |
| 9 | Jaret Siberg | MD | 33 | 5:49:00 | top beer drinker |
| 10 | Kevin Bligan | PA | 43 | 5:45:00 | all wet |
| 11 | Mike Cambell | VA | 52 | 5:55:00 | beat me |
| 12 | Mike Wedemeyer | VA | 27 | 5:55:00 | Handwriting help |
| 13 | Jim Cramer | PA | 39 | 6:01:00 | best legs |
| 14 | Billy Lese | MD | 34 | 6:02:00 | 65th ultra |
| 15 | Joe Clapper | VA | 44 | 6:05:57 | no comment |
| 16 | Karen Shiley | PA | 26 | 6:08:00 | Met Jose |
| 17 | Harry Smith | PA | 54 | 6:20:00 | not bad |
| 18 | Mike Gholson | VA | 47 | 6:22:45 | overdressed |
| 19 | John Nelson | VA | 52 | 6:23:00 | |
| 20 | Kevin O'Connor | VA | 62 | 6:25:00 | 1st old guy |
| 21 | Mundy Hackett | MO | 32 | 6:28:20 | |
| 22 | John Dodds | VA | 51 | 6:33:00 | no comment |
| 22 | Gary Knipling | VA | 59 | 6:33:00 | Go Air force! |
| 22 | Linda Wack | MD | 46 | 6:33:00 | had to run with Gary |
| 25 | Tom Trask | VA | 56 | 6:38:00 | strong all day |
| 25 | Wayne Lapham | VA | 56 | 6:38:00 | almost beat Tom |
| 25 | Don Lookingbill | PA | 42 | 6:38:00 | he's back |
| 28 | Randy Dietz | PA | 52 | 6:50:00 | Bill's driver |
| 29 | Bill Van Antwerp | VA | 57 | 6:55:51 | goofy hat award |
| 30 | David Wiesenhahn | VA | 41 | 6:56:00 | |
| 31 | David Gaudette | MD | 45 | 7:04:00 | |
| 32 | Jef Reed | VA | 43 | 7:07:00 | 1,745th race |
| 33 | Julie McGhee | VA | 29 | 7:10:00 | |
| 34 | Diana Stump | PA | 36 | 7:14:00 | 1st Va run |
| 35 | Rob Saraniano | VA | 28 | 7:30:00 | where's Mel? |
| 35 | Bill Sublett | VA | 45 | 7:30:00 | No water above ankles |
| 37 | Jim Cavanaugh | VA | 60 | 7:39:00 | not a day over 45 |
| 37 | Anstr Davidson | VA | 57 | 7:39:00 | never left trail |
| 37 | Bill LaDieu | PA | 52 | 7:39:00 | Go 'Cuse |
| 37 | Charlie Miracle | VA | 49 | 7:39:00 | I believe inà |
| 37 | Terry Ottina | VA | 35 | 7:39:00 | Last Canadian |
| 37 | John Schwale | MD | 55 | 7:39:00 | |
| 43 | Don Kresal | VA | 39 | 7:45:00 | |
| 44 | Bob Phillips | VA | 47 | 7:49:00 | |
| 45 | Tom Gardner | PA | 45 | 7:50:00 | |
| 46 | Bill Wandel | MD | 59 | 7:52:00 | swimming? |
| 46 | Chris Couldrey | MD | 28 | 7:52:00 | |
| 48 | Marge Hughes | DE | 40 | 8:12:00 | most enthusiastic |
| 48 | John Hughes | DE | 42 | 8:12:00 | 1st ultra |
| 50 | Bill Parlett, Jr. | MD | 47 | 8:40:00 | Beat Phil |
| 50 | Phil Silas | VA | 49 | 8:40:00 | Still smiling |
| 51 | Carolyn Gernard | VA | 54 | 9:26:25 | most persistent |
| | Victoria Kendall | VA | 50 | 28 miles | best post race |
| | Kerry Owens | DC | 39 | 28 miles | best beer post race |
| | James Moores | MD | 58 | 28 miles | Big River keeps on rolling |
| | Dave Weis | ND | 54 | 28 miles | |
| | Amy Bloom | VA | 29 | 26 miles | never got feet wet |
| | Tom Soderholm | VA | 49 | 26 miles | |
| | Steve Platt | VA | 32 | 26 miles | back hurts |
| | Michael Schmitz | MD | 40 | 26 miles | |
| | Cris Riveria | DC | 30 | 25 miles | |
| | Danny McDonnelll | MD | 44 | 26 miles | |
| | Maria Bertucchi | VA | 38 | 4 hours | |
| | Mark Prescott | VA | 43 | 22 miles | coulda done more |
| | Christopher Rivard | MD | 29 | 20 miles | |
| | Sally Smith | VA | 27 | 20 miles | |
| | Payton Robinson | VA | 43 | 19 miles | nipples are fine |
| | Caroline Leeanstearns | VA | 40 | 6 hrs 30 min | hung in there |
| | Terri Handy | PA | 38 | 15 miles | how many PA runners are there? |
| | Tim Stanley | VA | 47 | 15 miles | he's back too |
| | Brian Fillmon | VA | 44 | 4 hours | |
| | Laura Taylor | VA | 36 | 14 miles | |
| | B. Rabzm | MD | 37 | 14 miles | handwriting impaired |
| | Tom Corris | VA | 49 | 11 Miles | Helped everywhere |
| | Marty Lindemann | VA | 41 | 10 miles | Thanks for everything |
| | Bunny Runyan | Va | 60 | 10 miles | happiest |
| | Paul Christopher | VA | 68 | ?????? | Illegible Writing |
| | Scott Mackenzie | VA | 49 | Still missing | who knows |
Last updated December 16, 2019