2008 Report
December 18, 2008 • Clifton, VA
Report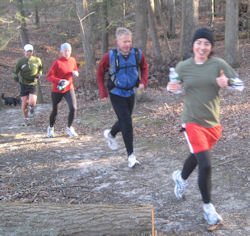 Time for the annual Magnus Gluteus Maximus results. Unlike prior years, these results were done professionally. They came in a fancy spreadsheet, not the usual torn beer stained-paper.
RD Joe Clapper did make the following points:
John Hayward's time is suspect
Anyone who didn't sign in after they [sic] ran was awarded .1 miles. Let that be a lesson to them.
As usual, we doubt that any of Joe's precious free time was harmed by the production of these results. Only this year, we think that the labor was performed by someone higher ranking than an intern.
If you see an error, take a penmanship class and try again next year.
Photos
Photos on Flickr by: Anstr Davidson | Charlie Miracle
Results
First
Sir Name
Gender Choice
Age A.D.
State
Time or Distance
John
Anderson
Male
46
VA
4:58
Anthony
Lee
Male
35
VA
5:08
John
Hayward†
Male
45
MD
5:17
Justin
Riddle
Male
33
VA
5:20
Scott
Hall
Male
42
MD
5:22
Jeff
Holdaway
Male
50
VA
5:22
Michael
Campbell
Male
58
VA
5:23
Alexander
Papadopoulos
Male
34
NY
5:29
Alyssa
Duble
Female
37
VA
5:35
Joe
Clapper
Male
50
VA
5:40
Phil
Rosenstein
Male
38
MD
5:40
Jennifer
Erickson
Female
38
PA
5:45
Konrad
Heller
Male
38
VA
5:45
Laurie
Reinhart
Female
36
PA
5:45
Meghan
Hicks
Female
30
CA
5:46
Bryon
Powell
Male
30
VA
5:47
Diana
Widdowson
Female
42
PA
5:47
Torry
Brennan
Male
39
VA
5:50
Jim
Ashworth
Male
46
VA
5:57
Jim
Bradford
Male
46
VA
5:57
Andrew
Anderson
Male
27
VA
6:03
Craig
Carney
Male
44
VA
6:04
Mike
Broderick
Male
52
MD
6:10
Annie
Adams
Female
23
DC
6:13
Julie
LaFee
Female
25
MD
6:13
Mitchell
Potter
Male
54
VA
6:16
Adam
Boyle
Male
30
GA
6:18
Marie
Boyle
Female
28
GA
6:18
John
Guendelsberger
Male
57
VA
6:20
Will
Harmon
Male
33
VA
6:20
Bill
Turrentine
Male
60
VA
6:22
Jim
Daniels
Male
35
VA
6:26
Richard
Kerby
Male
48
VA
6:26
Bill
Gentry
Male
47
VA
6:26
Robert
Dolan
Male
42
VA
6:29
Beth
Weisenborn
Female
33
PA
6:29
Quatro
Hubbard
Male
48
VA
6:31
Marti
Kovener
Female
44
MD
6:31
David
Quivey
Male
46
VA
6:31
Debbie
Shaffer
Female
43
VA
6:31
Gaynor
Bourgeois
Female
40
DC
6:32
John
Nelson
Male
58
VA
6:39
Karen
Donohue
Female
39
MD
6:40
Alan
Roche
Male
24
MD
6:40
Alan
Gowen
Male
59
MD
6:41
Bill
Breidenstine
Male
43
PA
6:44
Jimm
Ouellette
Male
36
VA
6:44
Christina
Stigliani
Female
26
VA
6:44
Leesa
Woodbery
Female
32
6:47
6:47
John
Sondermann
Male
55
VA
6:48
Erik
Iliff
Male
29
VA
6:53
Mark
Mckennett
Male
30
MD
7:00
Nova
Demoney
Male
74
VA
7:21
Phil
Rice
Male
44
VA
7:33
Dan
Aghdam
Male
40
VA
7:40
Anna
Bradford
Female
45
VA
7:56
Farouk
Elkassed
Male
59
VA
7:56
Robert
Phillips
Male
53
VA
7:56
Mike
Lipton
Male
43
VA
8:14
Bill
Sublett
Male
51
VA
8:14
Caroline
Williams
Female
46
WV
8:20
Carolyn
Gernand
Female
60
VA
8:26
Tammy
Massie
Female
36
MD
36m
Emmett
Delaney
Male
42
VA
30m
Dave
Weiss
Male
60
NY
28m
Mike
Bailey
Male
27
VA
27.5m
Charles
Bowles
Male
26
VA
26m
Ernesto
Casarez
Male
52
MD
26m
Charlie
Miracle
Male
55
VA
26m
CJ
Blagg
Male
42
VA
25m
Steve
Boyce
Male
39
MD
25m
Robert
Richardson
Male
37
VA
25m
Chris
Andres
Male
44
MI
24m
Tim
Cohn
Male
51
VA
24m
David
Fleming
Male
32
VA
24m
Marcia
Peters
Female
52
PA
24m
Jill
Quivey
Female
43
VA
24m
Jennifer
Ragone
Female
38
VA
24m
Laura
DeWald
Female
51
MD
24.3m
Ragan
Petrie
Female
42
GA
23m
Brendan
Hanlon
Male
51
VA
22m
Martha
Nelson
Female
27
DC
22m
Jeff
Reed
Male
49
VA
22m
Keith
Hosman
Male
54
VA
22.3m+G29
Mary
Campbell
Female
40
VA
20m
Pam
Gowen
Female
56
MD
20m
Nanette
Melton
Female
40
MD
20m
David
Achenbach
Male
51
MD
18m
Michele
McLeod
Female
50
MD
18m
David
Olsen
Male
41
VA
18M
Debbie
Daughtry
Female
51
VA
17.5m
Cathy
Blessing
Female
37
VA
16m
Stanley
Duobinis
Male
58
MD
16m
David
Gaudette
Male
51
VA
16m
Linda
Gaudette
Female
45
VA
16m
Bobby
Gill
Male
24
MD
16m
Dan
Mackeben
Male
48
VA
16m
Pete
Pontzer
Male
44
VA
16M
Harry
Smith
Male
60
PA
16m
Luanne
Turrentine
Female
49
MD
16m
Peter
Westcott
Male
45
VA
16m
James
Moore
Male
64
MD
15m
Ted
Hsu
Male
35
VA
13m
Francesco
Smith
Male
54
MD
12m
Pamela
Franklin
Female
39
VA
10m
Karen
Krieg
Female
36
DC
10m
Art
Perraud
Male
50
MD
10m
Kris
Swanson
Female
37
VA
10m
Linda
Wack
Female
52
MD
10m
Roselle
Abregu
Female
32
VA
0.1m
Hunt
Bartine
Male
56
PA
0.1m
Carl
Camp
Male
47
DE
0.1m
Paul
Charlton
Male
30
WA
0.1m
Paul
Crickard
Male
55
MD
0.1m

†Judges are reviewing this performance
Last updated December 16, 2019