2011 Report
December 10, 2011 • Clifton, VA
178 starters, 71 finishers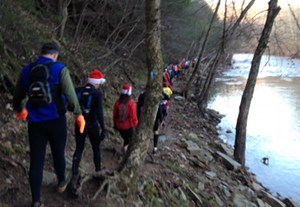 It was a little less that 20 years ago that a small group did a run on the Bull Run Trail. Out of that run came the idea for the Bull Run Run 50 mile. That idea would have died had Chris Scott not been along. He took the idea and ran with it.
One of the things that Chris insisted on was that we have a shake down run before we actually took anyone's money. That run was held in December 1992. It started from Bull Run Regional Park. About 10 of us started it, not all finished. (It was supposed to be 50 miles.)
This year, three of those runners, Steve Boutillier, Joe Clapper, and Anstr Davidson joined almost 200 others for the 20th Magnus Gluteus Maximus 50km. The weather was great and a good time was had by most.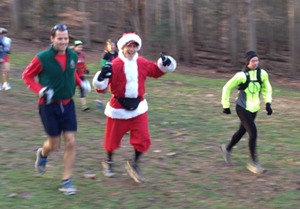 We tried a new thing this year. To cut down on no shows, we charged $10 to RSVP and then gave people their money back at the start. This seemed to work well. The registered people were just about 200. About 178 showed up. That is a very reasonable no show rate.
It is not the goal of this event to make money. It has always been a gift from the club to the running community. But our new system reduced the expense of that gift. Generous runners returned $330 of their fees. That, with no shows, produced about $500 of income to the club. After that is taken from the cost of renting Fountainhead, pizza, and the aid food, the event cost the club about $400. (We don't have all the bills yet.)
In a return to tradition, the Do Loop was not marked. Many runners ignored the advice to find a vet to run the Do Loop with. The result was some misdirection. But everyone made it back ok.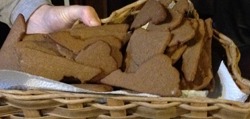 In a break with recent tradition, we do have results. The bad news is that the results suck. Why do they suck? Because you have crappy handwriting or, worse, didn't even write down your time and distance. For those of you who wanted precise, accurate results, we have this to say. You were in the wrong event. You can send corrections to Anstr or Joe, and we will get right on fixing them.
Thanks to Joe Clapper for getting it all organized, Gary and Bob for putting aid out, Wendy and Sara for watching over the aid stations, Keith, Stan, and Bob for helping with parking, and Raj for manfully translating everyone's handwriting as best he could.
Results
| PLACE | LAST | FIRST | AGE | SEX | Time | Distance |
| --- | --- | --- | --- | --- | --- | --- |
| 1 | Kara | Huseyin | | M | 4:40 | 50K |
| 2 | Weidman | William | 28 | M | 4:42 | 50K |
| 3 | Cornibe | Jonathan | 26 | M | 4:48 | 50K |
| 4 | Kurisky | Jack | 44 | M | 4:50 | 50K |
| 5 | Albalopez | German | 25 | M | 5:22 | 50K |
| 6 | Ragone | Jennifer | 41 | F | 5:28 | 50K |
| 7 | Swiatocha | Alexandra | 24 | F | 5:28 | 50K |
| 8 | Swiatocha | Doug | 23 | M | 5:28 | 50K |
| 9 | Blendell | Robin | 28 | F | 5:38 | 50K |
| 10 | Watkins | Adam | 31 | M | 5:38 | 50K |
| 11 | O'connor | Sean | 50 | M | 5:47 | 50K |
| 12 | Yeakel Jr | Dave | 47 | M | 5:49 | 50K |
| 13 | Anderson | John | 49 | M | 5:50 | 50K |
| 14 | Matheson | Adam | 32 | M | 5:50 | 50K |
| 15 | Prescott | Mark | 52 | M | 5:51 | 50K |
| 16 | Herron | Jason | 33 | M | 5:52 | 50K |
| 17 | Gerard | Prasad | 53 | M | 5:53 | 50K |
| 18 | Soles | Andrew | 39 | M | 6:03 | 50K |
| 19 | Colenso | Rob | 37 | M | 6:06 | 50K |
| 20 | Castrillon | Carlos | 34 | M | 6:08 | 50K |
| 21 | Hagerman | Shane | 41 | M | 6:09 | 50K |
| 22 | Herring | Dave | 40 | M | 6:09 | 50K |
| 23 | Nobles | Barry | 45 | M | 6:09 | 50K |
| 24 | Knipling | Gary | 68 | M | 6:12 | 50K |
| 25 | Stewart | Ryan | 41 | M | 6:12 | 50K |
| 26 | Breidenstine | Bill | 46 | M | 6:18 | 50K |
| 155 | Bahe | Jacqui | 29 | F | 6:18 | 50K |
| 27 | Mitchell | Birgit | 40 | F | 6:20 | 50K |
| 28 | Smart | Selena | 43 | F | 6:22 | 50K |
| 29 | Cole | Jim | 51 | M | 6:25 | 50K |
| 30 | Stegemiller | Megan | 23 | F | 6:30 | 50K |
| 31 | Lorenc | Willie | 31 | M | 6:30 | 50K |
| 32 | Meyer | Gerald | 49 | M | 6:30 | 50K |
| 33 | Gaudette | Linda | 48 | F | 6:32 | 50K |
| 34 | Robinson | Whitney | 26 | F | 6:33 | 50K |
| 35 | Anderson | Jack | 29 | M | 6:33 | 50K |
| 36 | Ammann | Paul | 50 | M | 6:36 | 50K |
| 37 | Cacciapaglia | Edward | 57 | M | 6:36 | 50K |
| 38 | Hannon | Michael | 47 | M | 6:38 | 50K |
| 39 | Tyler | Ham | 48 | M | 6:38 | 50K |
| 40 | Gaudette | David | 54 | M | 6:40 | 50K |
| 41 | Welch | Michael Scott | 40 | M | 6:40 | 50K |
| 42 | Bhanot | Rajinder | 43 | M | 6:41 | 50K |
| 43 | Campbell | Michael | 61 | M | 6:43 | 50K |
| 44 | Sherlock | Paul | 55 | M | 6:45 | 50K |
| 45 | Huffman | Larry | 51 | M | 6:57 | 50K |
| 47 | Boutilier | Steve | 52 | M | 7:00 | 50K |
| 48 | Quivey | David | 49 | M | 7:00 | 50K |
| 49 | Conradi | Jessie | 25 | F | 7:15 | 50K |
| 50 | Nguyen | Amy | 37 | F | 7:16 | 50K |
| 51 | Gautsch | Stacy | 41 | F | 7:23 | 50K |
| 52 | Frank | Mike | 43 | M | 7:23 | 50K |
| 53 | Batten | Chris | 60 | M | 7:28 | 50K |
| 54 | Gildea | Michael | 48 | M | 7:28 | 50K |
| 55 | Gowen | Alan | 62 | M | 7:28 | 50K |
| 56 | Gowen | Jonathan | 27 | M | 7:28 | 50K |
| 57 | Wiecking | Carter | 41 | F | 7:30 | 50K |
| 58 | Bird | Matt | | | 7:45 | 50K |
| 59 | Platt | Steve | 41 | M | 7:50 | 50K |
| 60 | Elkassed | Farouk | 62 | M | 7:54 | 50K |
| 46 | Kim | Sarah | 32 | F | 7:59 | 50K |
| 61 | Bates | Rebecca | 37 | F | 7:59 | 50K |
| 62 | Nester | Courtney | 35 | F | 8:10 | 50K |
| 63 | Gaylord | Robert | 63 | M | 8:10 | 50K |
| 64 | Sadiq | Hamza | | | 8:10 | 50K |
| 65 | Spencer | Katy | 17 | F | 8:15 | 50K |
| 66 | Reed | Jeff | 52 | M | 8:19 | 50K |
| 67 | Sherman | Wayne | 39 | M | 8:27 | 50K |
| 68 | Walsh | Ed | 62 | M | 8:30 | 50K |
| 69 | Phillips | Bob | 56 | M | 8:49 | 50K |
| 70 | DeCarolis | Pete | 35 | M | 9:10 | 50K |
| 71 | Lowery | Phil | 45 | M | | 50K |
| 72 | Haine | Tom | 44 | M | 5:08 | 30 Miles |
| 73 | Aghdam | Dan | 43 | M | 6:09 | 30 Miles |
| 74 | Pontzer | Pete | 47 | M | 6:10 | 30 Miles |
| 75 | Josendale | Peter | 38 | M | 6:29 | 29.89 Miles |
| 76 | Hubbard | Quatro | 51 | M | 7:00 | 29 Miles |
| 77 | Aurilio | Toni | 37 | F | 7:58 | 28.5 Miles |
| 78 | Fitzsimmons | Kelley | 30 | F | 7:58 | 28.5 Miles |
| 79 | Spence | Stan | 55 | M | 6:40 | 28 Miles |
| 80 | Coll | Denise | 51 | F | 6:42 | 28 Miles |
| 81 | Ahmed | Omer | 28 | M | 5:30 | 27 Miles |
| 82 | Boyce | Cortney | 31 | F | 5:45 | 27 Miles |
| 83 | Dang | Yi | 53 | M | 7:05 | 27 Miles |
| 84 | O'Connor | Kevin | 64 | M | | 27 Miles |
| 85 | Shigley | Nolan | 35 | M | 5:43 | 26.5 Miles |
| 86 | Murase | Yosuke | 39 | M | | 26.5 Miles |
| 87 | Welch | Kristin | 40 | F | 6:30 | 26.2 Miles |
| 88 | Simonds | Tom | 57 | M | 7:15 | 26.2 Miles |
| 89 | Dietz | Randy | 61 | M | | 26.2 Miles |
| 90 | Harmon | Michele | 45 | F | 6:12 | 26 Miles |
| 91 | Clapper | Joe | 53 | M | 6:12 | 26 Miles |
| 92 | Hall | Joe | 51 | M | 5:13 | 25 Miles |
| 93 | Zaruba | Greg | 45 | M | 5:13 | 25 Miles |
| 94 | Dewald | Laura | 54 | F | 5:15 | 25 Miles |
| 95 | Diecchio | Rick | 63 | M | 5:45 | 25 Miles |
| 96 | Byrd | Samantha | 34 | F | 5:57 | 25 Miles |
| 97 | Green | Tom | 61 | M | | 25 Miles |
| 98 | Guevara | Kc | 35 | F | 5:14 | 24 Miles |
| 99 | Bennett | Beverley | 47 | F | 5:30 | 24 Miles |
| 100 | Lindemann | Marty | 50 | F | 5:30 | 24 Miles |
| 101 | Smith | Francesco | 57 | M | 6:07 | 24 Miles |
| 102 | Mckennett | Mark | 33 | M | | 24 Miles |
| 103 | Ouellette | Jimm | 39 | M | | 24 Miles |
| 104 | Sondermann | John | 58 | M | | 23.5 Miles |
| 105 | Miracle | Charlie | 58 | M | 6:03 | 23 Miles |
| 106 | Isom | Barbara | 64 | F | 5:37 | 22.87 Miles |
| 107 | Kendall | Vicki | 59 | F | 5:37 | 22.87 Miles |
| 108 | Demoney | Nova | 77 | M | 6:43 | 22 Miles |
| 109 | Nelson | Martha | 30 | F | | 22 Miles |
| 110 | Williams | Caroline | 49 | F | | 22 Miles |
| 111 | Guendelsberger | John | 60 | M | | 22 Miles |
| 112 | Evans | Russ | 52 | M | | 20.5 Miles |
| 113 | Alvarado | Max | 27 | M | 4:10 | 20 Miles |
| 114 | Bourgeois | Gaynor | 43 | F | | 20 Miles |
| 115 | Kovener | Marti | 47 | F | | 20 Miles |
| 116 | Navin-Greenfield | Patricia | 52 | F | | 20 Miles |
| 117 | Richards | Patty | 43 | F | | 20 Miles |
| 118 | Shaffer | Debbie | 46 | F | | 20 Miles |
| 119 | Gingrich | Andy | 32 | M | 3:15 | 18 Miles |
| 120 | Watson | Drew | 48 | M | | 18 Miles |
| 121 | Schuster | Michael | 38 | M | | 17.59 Miles |
| 122 | Hawkins | Beni | 28 | F | | 17.5 Miles |
| 123 | Mouri | Randy | 52 | M | 3:15 | 16 Miles |
| 124 | Adams | Mike | 50 | M | 3:40 | 16 Miles |
| 125 | Scott | Jerry | 46 | M | 3:58 | 16 Miles |
| 126 | Wack | Linda | 55 | F | | 16 Miles |
| 127 | Zinger | Melanie | 33 | F | | 16 Miles |
| 128 | Price | Michelle | 45 | F | | 15 Miles |
| 129 | Davidson | Anstr | 66 | M | 5:11 | 14 Miles |
| 130 | Gowen | Pamela | 59 | F | | 14 Miles |
| 131 | Williamson | Carole | 50 | F | | 14 Miles |
| 132 | Hosman | Keith | 57 | M | | 14 Miles |
| 133 | McClellan | Lisa | 43 | F | 3:08 | 13.34 Miles |
| 134 | Lancaster | Matthew | 37 | M | 2:12 | 13 Miles |
| 135 | Gittelman | Alison | 39 | F | 3:15 | 13 Miles |
| 136 | Davidson | Lucia | 66 | F | 5:11 | 13 Miles |
| 137 | Ong | Jacqueline | 50 | F | 5:48 | 12.13 Miles |
| 138 | Zimmermann | Mark | 59 | M | 3:48 | 12 Miles |
| 139 | Woll | David | 46 | M | 2:10 | 11 Miles |
| 140 | Corris | Kirstin | 40 | F | 3:00 | 11 Miles |
| 141 | Corris | Tom | 58 | M | 3:00 | 11 Miles |
| 142 | Chapman | Abigail | 31 | F | | 10.45 Miles |
| 143 | Meistrich | Nicole Emma | 25 | F | | 10.3 Miles |
| 144 | Kovacic | Cathy | 54 | F | 3:30 | 10 Miles |
| 145 | Scott | Lilly | 47 | F | | `06 Miles |
| 146 | Ennis | Scott | 45 | M | 4:50 | `04.5 Miles |
| 147 | Moore | Keith | 42 | M | 3:00 | unk |
| 148 | Langor | Luke | 31 | M | 3:31 | unk |
| 149 | McLeod | Michele | 53 | F | 4:00 | unk |
| 150 | Fenninger | Joanne | 45 | F | 5:00 | unk |
| 151 | Lin | Victor | 31 | M | 5:59 | unk |
| 152 | Quivey | Jill | 46 | F | 6:00 | unk |
| 153 | Pearsall | Todd | 43 | M | 6:12 | unk |
| 154 | Adams | Diane | 49 | F | | unk |
| 156 | Donohue | Karen | 42 | F | | unk |
| 157 | Foster | Beth | 33 | F | | unk |
| 158 | Keier | L'ast Name: Kara | 41 | F | | unk |
| 159 | Mabry | Ann | 51 | F | | unk |
| 160 | Meehleder | April | 28 | F | | unk |
| 161 | Nesbit | Casey | 52 | F | | unk |
| 162 | Peters | Donna | 49 | F | | unk |
| 163 | Stricklett | Rhonda | 37 | F | | unk |
| 164 | Upchurch | Melissa | 42 | F | | unk |
| 165 | Andrish | Sean | 42 | M | | unk |
| 166 | Bowman | Tom | 50 | M | | unk |
| 167 | Covert | Andy | 44 | M | | unk |
| 168 | Crickard | Paul | 57 | M | | unk |
| 169 | Desjardins | Amos | 30 | M | | unk |
| 170 | Fagan | Von | 44 | M | | unk |
| 171 | Goodrich | Kai | 47 | M | | unk |
| 172 | Hultquist | Daryl | 42 | M | | unk |
| 173 | Landreth | Joseph | 36 | M | | unk |
| 174 | Schnoeller | Alexander | 36 | M | | unk |
| 175 | Spencer | Chris | 42 | M | | unk |
| 176 | Stapleton | Kevin | 28 | M | | unk |
| 177 | Swanson | Bruce | 66 | M | | unk |
| 178 | Fulton | Mathew | | | | unk |
Last updated December 16, 2019