2013 Report
December 14, 2013 • Clifton, VA
151 starters, 72 finishers
The VHTRC put on the 22nd version of the Magnus Gluteus Maximus 50km - a free holiday social event for the area trail running community - on December 14. A large group braved the adverse weather reports. The rain held off to make it a good day for running. Thanks to Joe Clapper and several other folks who made it all possible.
Here are a couple of more photos from John Shepard. Results are below.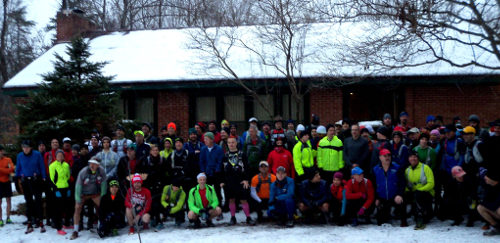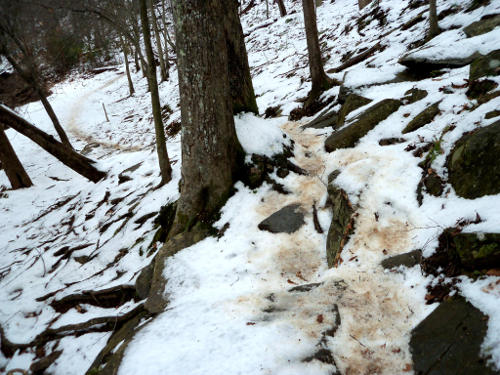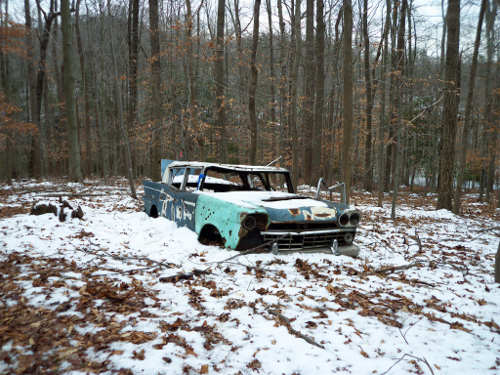 Results
The results are by far the best we have ever had. Incorrect times or distances are the penalty for bad handwriting. If anyone complains about his or her Ultrasignup ranking, he or she will get a dose of reality by being totally ignored.
Folks had a good run, on a nice course, with fun people, and a great party. Everything else is not important.
| Place | Last | First | Age | Sex | State | Time | Distance |
| --- | --- | --- | --- | --- | --- | --- | --- |
| 1 | Kuper | Will | 34 | M | VA | 4:35 | 50km |
| 2 | Contois | Justin | 33 | M | VA | 4:44 | 50km |
| 3 | Fisher | Evan | 33 | M | VA | 4:45 | 50km |
| 4 | Wolf | Chad | 37 | M | VA | 4:47 | 50km |
| 5 | Anderson | John | 51 | M | VA | 5:00 | 50km |
| 6 | Zaruba | Greg | 47 | M | MD | 5:01 | 50km |
| 7 | Hoff | T.J. | 34 | M | VA | 5:05 | 50km |
| 8 | Kruse | Jacob | 33 | M | MD | 5:20 | 50km |
| 9 | Turrentine | Bill | 65 | M | VA | 5:23 | 50km |
| 10 | Brown | Sean | 25 | M | DC | 5:37 | 50km |
| 11 | Campbell | Bryce | 33 | M | VA | 5:38 | 50km |
| 12 | Tyson | David | 29 | M | MD | 5:38 | 50km |
| 13 | Pesjak | Bernard | 44 | M | VA | 5:39 | 50km |
| 14 | Herring | Dave | 42 | M | VA | 5:40 | 50km |
| 15 | Combs | Nicklaus | 30 | M | VA | 5:45 | 50km |
| 16 | Foster | Ryan | 33 | M | MD | 5:45 | 50km |
| 17 | Peterson | Thomas | 53 | M | PA | 5:53 | 50km |
| 18 | Simpson | Andrew | 43 | M | VA | 5:53 | 50km |
| 19 | Lorenc | Willie | 33 | M | VA | 5:55 | 50km |
| 20 | Jenik | Dalibor | 28 | M | VA | 5:56 | 50km |
| 21 | Seiberg | Jaret | 44 | M | MD | 5:58 | 50km |
| 22 | Kinsella | Bret | 44 | M | VA | 6:13 | 50km |
| 23 | Barge | Steve | 47 | M | VA | 6:17 | 50km |
| 24 | Potter | Mitchell | 59 | M | VA | 6:17 | 50km |
| 25 | Yurek | Stephen | 51 | M | VA | 6:17 | 50km |
| 26 | Daubert | Chris | 43 | M | MD | 6:21 | 50km |
| 27 | Hendell | Tom | 38 | M | VA | 6:37 | 50km |
| 28 | Baker | Mark | 41 | M | VA | 6:48 | 50km |
| 29 | LeNard | Steve | 40 | M | VA | 6:48 | 50km |
| 30 | Mang | Stephen | 32 | M | MD | 6:48 | 50km |
| 31 | Nelson | John | 63 | M | VA | 6:53 | 50km |
| 32 | Hunley | Ray | 46 | M | VA | 6:55 | 50km |
| 33 | Murray | Patrick | 41 | M | VA | 6:55 | 50km |
| 34 | Perez | Miguel | 31 | M | MD | 6:55 | 50km |
| 35 | Buell | Tom | 39 | M | VA | 7:00 | 50km |
| 36 | Fuller | Jesse | 29 | M | VA | 7:00 | 50km |
| 37 | Cooper | Stephen | 59 | M | MD | 7:01 | 50km |
| 38 | Knipling | Gary | 70 | M | VA | 7:01 | 50km |
| 39 | Delaney | Emmett | 47 | M | VA | 7:02 | 50km |
| 40 | McGlinchey | Eric | 40 | M | VA | 7:07 | 50km |
| 41 | Josendale | Peter | 40 | M | VA | 7:08 | 50km |
| 42 | Melvin | Chris | 38 | M | VA | 7:08 | 50km |
| 43 | Pearsall | Todd | 45 | M | MD | 7:08 | 50km |
| 44 | Glass | Brian | 30 | M | VA | 7:11 | 50km |
| 45 | Krause | Faye | 47 | F | VA | 7:16 | 50km |
| 46 | Sondermann | John | 60 | M | VA | 7:16 | 50km |
| 47 | Fisher | Marilyn | 46 | F | VA | 7:20 | 50km |
| 48 | McComick | Kevin | 35 | M | VA | 7:20 | 50km |
| 49 | Stefanon | Michael | 45 | M | VA | 7:20 | 50km |
| 50 | Corris | Tom | 60 | M | VA | 7:23 | 50km |
| 51 | Creed | Scott | 44 | M | VA | 7:23 | 50km |
| 52 | Pabian | Chris | 37 | M | PA | 7:28 | 50km |
| 53 | Eakins | Amanda | 26 | F | VA | 7:30 | 50km |
| 54 | Wiecking | Carter | 43 | F | VA | 7:30 | 50km |
| 55 | Yeates | Nick | 33 | M | MD | 7:30 | 50km |
| 56 | Ammann | Paul | 52 | M | VA | 7:35 | 50km |
| 57 | Raab | Stefan | 38 | M | VA | 7:35 | 50km |
| 58 | Keier | Katie | 43 | F | VA | 7:40 | 50km |
| 59 | Dahl | Tracy | 34 | F | VA | 7:41 | 50km |
| 60 | Wood | David | 51 | M | MD | 7:42 | 50km |
| 61 | Grey | Carly | 29 | F | DC | 7:44 | 50km |
| 62 | Reames | Andrew | 30 | M | VA | 7:44 | 50km |
| 63 | Bell | Laurel | 52 | F | MD | 7:45 | 50km |
| 64 | Seiss | Dani | 43 | F | MD | 7:46 | 50km |
| 65 | Green | Thomas | 63 | M | MD | 7:49 | 50km |
| 66 | Walsh | Ed | 64 | M | VA | 7:57 | 50km |
| 67 | Krueger | Angel | 42 | F | VA | 7:58 | 50km |
| 68 | Cacciapaglia | Edward | 59 | M | VA | 8:00 | 50km |
| 69 | Shields | Maria | 62 | F | MD | 8:00 | 50km |
| 70 | Nichola | Reid | 55 | M | MD | 10:05 | 50km |
| 71 | Kegan | Amelia | 30 | F | DC | 10:20 | 50km |
| 72 | Morrissey | Kevin | 49 | M | VA | 10:27 | 50km |
| 73 | Campos | Al | 40 | M | VA | 6:27 | 29 miles |
| 74 | Busey | Jon | 36 | M | VA | 6:51 | 29 miles |
| 75 | Bradford | Jim | 51 | M | | 6:50 | 28 miles |
| 76 | Morrissey | Jean | 50 | F | | 10:27 | 28 miles |
| 77 | Klaff | Mary | 47 | F | VA | | 28 miles |
| 78 | Gunkel | Alvin | 41 | M | VA | 6:49 | 26.88 miles |
| 79 | Moore | Lorraine | 50 | F | VA | 5:09 | 26 miles |
| 80 | Rousseaux | Charles | 43 | M | DC | | 26 miles |
| 81 | Evans | Russ | 54 | M | VA | | 25 miles |
| 82 | Mckennett | Mark | 35 | M | MD | 5:58 | 24.7 miles |
| 83 | Reed | Jeff | 54 | M | VA | 6:42 | 24.2 miles |
| 84 | Guendelsberger | John | 62 | M | VA | 3:50 | 24 miles |
| 85 | Andrish | Sean | 44 | M | VA | 4:05 | 24 miles |
| 86 | Nelson | Martha | 32 | F | DC | 4:05 | 24 miles |
| 87 | Schmidt | Brian | 45 | M | VA | 4:05 | 24 miles |
| 88 | Nguyen | Johnny | 30 | M | VA | 5:00 | 24 miles |
| 89 | Campbell | Michael | 63 | M | VA | 5:19 | 24 miles |
| 90 | Drummond | Carrie | 39 | F | VA | 6:20 | 24 miles |
| 91 | Gonzalez | Jose | 32 | M | VA | 6:21 | 24 miles |
| 92 | Weber | Judith | 54 | F | MD | 7:08 | 24 miles |
| 93 | Escobar | Tony | 50 | M | VA | 5:56 | 23.5 miles |
| 94 | Jester | Jon | 54 | M | VA | 5:56 | 23.5 miles |
| 95 | Aghdam | Dan | 46 | M | VA | 5:59 | 23.5 miles |
| 96 | Myers | Michael | 27 | M | DC | | 23.37 miles |
| 97 | Demoney | Nova | 79 | M | VA | 8:02 | 23 miles |
| 98 | Kennedy | Natalie | 45 | F | VA | 5:56 | 22.5 miles |
| 99 | Chiles | Brian | 40 | M | VA | 4:15 | 22 miles |
| 100 | Quivey | David | 51 | M | VA | 5:00 | 22 miles |
| 101 | Mackeben | Dan | 53 | M | MD | 6:22 | 22 miles |
| 102 | Sherlock | Paul | 57 | M | VA | 7:20 | 22 miles |
| 103 | Pontzer | Pete | 49 | M | VA | 4:32 | 21.5 miles |
| 104 | Quivey | Jill | 48 | F | VA | 5:00 | 21 miles |
| 105 | Crabb | Scott | 42 | M | VA | | 20.6 miles |
| 106 | Britton | Richard | 58 | M | MD | 5:07 | 20.5 miles |
| 107 | Simonds | Tom | 59 | M | VA | 4:55 | 20 miles |
| 108 | Coll | Denise | 53 | F | VA | 4:59 | 20 miles |
| 109 | Unger | Unger | 45 | M | VA | 5:10 | 20 miles |
| 110 | McNulty | Thomas | 36 | M | DC | 5:14 | 20 miles |
| 111 | Aurilio | Toni | 39 | F | VA | 5:16 | 20 miles |
| 112 | Beckwith | Stanley | 29 | M | VA | 5:16 | 20 miles |
| 113 | Davidson | Sara | 30 | F | DC | 5:16 | 20 miles |
| 114 | Guevara | Kc | 37 | F | VA | 5:16 | 20 miles |
| 115 | Wiegand | Meg | 28 | F | DC | 5:16 | 20 miles |
| 116 | Braxton | Naoko | 35 | F | VA | 5:30 | 20 miles |
| 117 | Comstock-Green | Tara | 27 | F | DC | 6:04 | 20 miles |
| 118 | Clapper | Joe | 55 | M | MD | | 20 miles |
| 119 | Nguyen | Hai | 30 | M | MD | 5:15 | 19.85 miles |
| 120 | Matsui | Alexis | 30 | F | DC | 4:00 | 19 miles |
| 121 | Lin | Victor | 33 | M | VA | 5:36 | 19 miles |
| 122 | Donohue | Karen | 44 | F | MD | 4:13 | 18 miles |
| 123 | Wack | Linda | 57 | F | MD | 4:43 | 18 miles |
| 124 | Roots | Lauren | 28 | F | MD | | 18 miles |
| 125 | Azzolina | Jennifer | 35 | F | VA | 5:05 | 16.31 miles |
| 126 | Trask | Tommy | 67 | M | VA | 5:19 | 16 miles |
| 127 | Tibbs | Kevin | 36 | M | VA | 3:31 | 14 miles |
| 128 | Dzur | Roxann | 40 | F | VA | 4:07 | 14 miles |
| 129 | Dave | Tarun | 41 | M | VA | 4:20 | 14 miles |
| 130 | Mattis | Laura | 39 | F | VA | 4:50 | 14 miles |
| 131 | Ayers-Rigsby | Sara | 30 | F | VA | 3:50 | 13 miles |
| 132 | Grassi | Cherry | 41 | F | VA | 3:50 | 13 miles |
| 133 | Naik | Priya | 29 | F | MD | 3:50 | 13 miles |
| 134 | Page | Jen | 41 | F | VA | 3:50 | 13 miles |
| 135 | Rogers | Dan | 38 | M | VA | 4:34 | 13 miles |
| 136 | Williams | Monica | 33 | F | VA | 4:10 | 12 miles |
| 137 | Rose | Dan | 36 | M | VA | | 12 miles |
| 138 | Hoff | Melissa | 34 | F | VA | 2:52 | 11 miles |
| 139 | Sims | Jared | 24 | M | MD | 3:50 | 11 miles |
| 140 | Smith | Francesca | 24 | F | MD | 3:50 | 11 miles |
| 141 | Smith | Francesco | 29 | M | MD | 3:50 | 11 miles |
| 142 | Tibbs | Cheryl | 34 | F | VA | 3:59 | 11 miles |
| 143 | Davidson | Anstr | 68 | M | VA | 4:30 | 11 miles |
| 144 | Springman | Alisa | 39 | F | VA | | 11 miles |
| 145 | Jackson | Kierra | 28 | F | DC | 2:20 | 10 miles |
| 146 | Rorem | Annie | 28 | F | VA | 3:30 | 10 miles |
| 147 | Daniels | Jim | 40 | M | VA | | 10 miles |
| 148 | Howard | Catherine | 37 | F | DC | 2:21 | 9 miles |
| 149 | Trolene | Melissa | 34 | F | PA | 3:50 | 6 miles |
| 150 | Clulow | Greg k | 55 | M | MD | 6:22 | |
| 151 | Burns | Alice | 34 | F | VA | 7:59 | |
Last updated December 16, 2019