Potomac Heritage
An honest-to-God trail ultra in the District.
Date

Start location

Start time

Distance

Total ascent/descent

Aid stations
Cost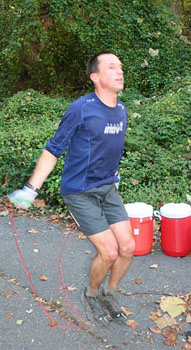 As with all VHTRC Events, there is no fee to run. But we will ask that you contribute some food for the aid stations. Expect an email the week of the run with your assigned fee (e.g., two gallons of water, two liters of Coke, cookies, chips, etc.).
Course
Mostly trail, with a couple of miles on dirt along the canal, and a mile or two of pavement. The route begins at Peirce Mill in Rock Creek Park in DC, crosses over the Key Bridge into Virginia, continues on single track up to the Beltway, then returns to DC over the Chain Bridge.
Aid stations
| Aid Station | Split | Cumulative | Cutoff | Map |
| --- | --- | --- | --- | --- |
| Battery Kemble | 4.7 mi | 4.7 mi | | |
| Theodore Roosevelt Island | 4.2 mi | 8.9 mi | | |
| Chain Bridge | 3.9 mi | 12.8 mi | 11:30 am | |
| Turkey Run | 4.0 mi | 16.8 mi | 1:00 pm | |
| Turkey Run | 3.6 mi | 20.4 mi | | |
| Chain Bridge | 3.9 mi | 24.3 mi | 3:45 am | |
Markings
The trail will be marked in DC with flour/chalk. In Virginia, you will follow blue blazes, with the exception of the detour to the Turkey Run Aid station. This portion will be marked with flour/chalk.
Pre-run Briefing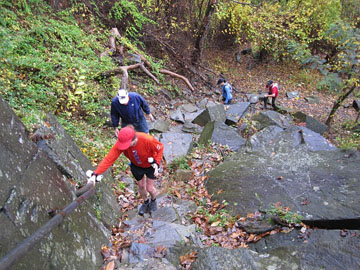 Check-in is required of all runners prior to the start. Check-in, which include issuance of a runner number, will happen run morning. Pre-run briefing at 7:45 A.M. at the start line. Finishers should self-report times and distances (legibly!) at the same place where they checked in pre-run.
Post run party
The post run party will include plenty of food and refreshments! You will want to plan to spend some time after your run enjoying the hospitality of the VHTRC.
Results
Results will be posted, but will not be reported to Ultrarunning Magazine or any other publication. Check the results from previous years to get a sense of why that is the case. Please enter your finishing time on the sign-in sheet at the finish; this sheet will be at the same spot where you checked in on run morning. And while we know you have just set a new 50k PR, and you must be exhausted, do what you can to make your finishing time (and any accompanying notes) legible! Thanks.
Potomac Heritage 50 km History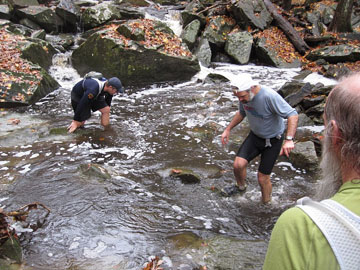 The Potomac Heritage 50km was created by Jeanne Christie and Larry DeHof. Larry was the RD for many years. When Jeanne and Larry left for Maine, Kerry Owens took over the event in 2003 and gave it a new start/finish, where it continued to flourish. The event has continued on with current RD "White House" Tom McNulty with a third and now fourth change in location for the host site, as in 2021 the start/finish location was shifted to Peirce Mill in Rock Creek Park. See the former PHT 50km page.
Last updated November 12, 2022
Club Event Participant Medical Policy
This is an event with very real risks to your well being. The VHTRC does not provide medical care for runners at this event. Runners are responsible for their own health, safety, and well being at this event. No doctors, nurses, or emergency medical technicians, or anyone with any medical training are available along the course, at any aid station, or at the finish. The club does not supply any medical goods or services, including bandages, splints, antiseptic, or Ibuprofen or any other drugs to maintain the health of runners. Physical, medical, and emergency care is the runners' responsibility. In case of an emergency, we will endeavor to get local emergency personnel to an injured runner as soon as possible. Since most of our events are in remote areas, medical care may be far away in distance or time. Each year, runners finish — or are forced to drop out — with scrapes, deep cuts, hematomas, dislocations, and sprains. Runners have experienced cuts, bruises, bee stings, and asthma attacks. This is an event with very real risks.