Reverse Ring
A counter-clockwise wintertime tour of the 71-mile Massanutten Trail surrounding Fort Valley, VA.
Date

Start location

Start time

Distance

Total ascent/descent

Aid stations
Entry

Entry opens on Tuesday January 2, 2024 at 9:00 am.

GPX file

Print or download

In charge

Reports

Course records
Information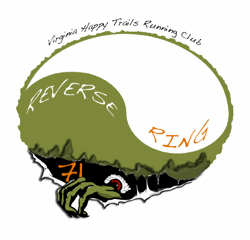 Entry is open ONLY to members of the Fellowship of The Ring. Please read through the event details and then, if you are eligible and available, we know you will want to join us for this highlight of the winter running season!
This late February tradition is back again to haunt a handful or two of trail runners this year – the Reverse Ring. 2024 will be the 18th running of this invitational event. The Reverse Ring is a roughly 71-mile counter-clockwise circuit of the Massanutten Trail. The "invitational" label means that there is one important requirement to get in: a runner must have successfully completed a fall running of The Ring and be a member of the "Fellowship of The Ring." Very simple — and an absolute requirement. (List of Fellowship Members)
Those eligible to run (see first paragraph) should enter by February 22, 2024. If you have questions about the run, e-mail Mike Bur and/or Quatro Hubbard. We will also be looking for a handful of volunteers to help on run weekend, so if you would like to come out and play for a few hours, please let us know.
2023 Volunteers
Mike Bur - RD
Quatro Hubbard - Assistant to the RD
Jeff Best - Rover
Kevin Bligan - Rover
Allison Holko - Woodstock Tower
Beth Foster - Woodstock Tower
Alex Papadopoulos - Edinburg Gap
Charlene Howard - Edinburg Gap
Tom Simonds - Moreland Gap
Tracy Cooley - Moreland Gap
Tony Taylor - Crisman Hollow Road
Jesse Fuller - Crisman Hollow Road
Isaiah Martin - Camp Roosevelt
Bruce Martin - Camp Roosevelt
Sarah Smith - Milford Gap
Larry Tumblin - Milford Gap Quartermaster
Mike Dobies - Milford Gap
Keith Dunn - Milford Gap
Ed Walsh - Milford Gap/Daytime Rover
Stephanie Fonda - Milford Gap
Ivory Lira - Signal Knob Café
Emily Jacobs - Signal Knob Café
Chelsea Smith - Signal Knob Café
Kim Herring - Signal Knob Café
Faith Hengesbaugh - Signal Knob Café
Bob Gaylord - Signal Knob Café
Dan Aghdam - Signal Knob Café
The Details for the Reverse Ring
The Reverse Ring is a fat ass run – there is no entry fee required, there will be no awards (2022 update: there are now stickers!). It should also be noted that any whiners will be heckled unmercifully. Actually, everyone will be heckled unmercifully, but as you have all run The Ring, you should be fully aware of that already. As the Reverse Ring runners are all members of the Fellowship of The Ring already, we are confident that there will be no wimps or whiners in the group. Again, the ONLY qualification needed to run the Reverse Ring is a previous completion of The Ring. Some things in life just are what they are. If you can't do it this year, just go do what you need to do to run this in the future: finish The Ring next Fall. Those who have completed the Reverse Ring in the past are of course welcome to return for future Reverse Rings.
The run will start at 6 AM at the northern end of the Signal Knob parking lot (the Massanutten trailhead). Note the early start time - yes you will need a light for at least the first half hour of the climb up Signal Knob. Since all of the runners will be repeat offenders, there is no need for additional directions here, other than the reminder of the single directive needed to run the Reverse Ring: follow the orange blazes. Stay On Orange.
Each runner will be allowed a single, sturdy, well-marked drop bag, which will be collected prior to the start in the parking lot. By well-marked, we mean your name should be clearly emblazoned on the outside of the bag where we can easily see it. Please try to keep the size of your bag within reason! We will shuttle that single bag around the course for you. There will be aid available to the runners over much of the course – see the checkpoint list below.
There are two hard cutoffs for runners in the Reverse Ring:
The first hard cutoff is at the Moreland Gap aid station, 30.4 miles into the run. Runners need to arrive by 4 PM in order to continue on the full course. That means that a runner who starts at 6 AM will have 10 hours to go those 30 miles in order to continue. Runners who come in after this time can elect to be driven to Camp Roosevelt and continue their run from there.

The second cutoff is at the Camp Roosevelt aid station. Runners who wish to continue with the possibility of an official finish will need to arrive at the aid station no later than 10 PM. This gives the runner who makes the first cutoff another 6 hours to go just under 16 additional miles from Moreland Gap to Camp Roos. The 10 PM cutoff at the 46 mile mark in the horse parking lot at Camp Roosevelt gives the runner over 12 hours to tackle the closing stretch of the run. The goal is to get all the runners in to the finish at Signal Knob prior to what is our traditional closing time there of 11 AM. This makes for 29 total hours of run time to cover the 71 mile distance around the Fort Valley.
For runners who think that they may need more time on the course or who are concerned about making the cutoffs, there is an early start option. Contact Mike and Quatro to discuss this if you are interested.
Check Points on the Ring
Aid Station
Split
Cumulative
Crew access
Dropbags
Cutoff
Notes
Map
Woodstock Tower
13.9 mi
13.9 mi
✓
✓
Edinburg Gap
8.2 mi
22.1 mi
✓
✓
Moreland Gap
7.9 mi
30.0 mi
✓
✓
4:00 pm
Crisman Hollow Road
6.3 mi
36.3 mi
Camp Roosevelt
9.6 mi
45.9 mi
✓
✓
10:00 pm
Milford Gap
11.6 mi
57.5 mi

Notes

Drop bag availability — weather permiting.
Runners who come in after the cutoff can elect to be driven to Camp Roosevelt and continue their run from there.
Hiked-in aid station — weather permiting.
The access road to Powells Fort Camp is closed at this time of year, so there will not be aid at that very early point along the Massanutten Trail (for context, during the Labor Day weekend running of The Ring, this is the site of the last aid station). The spring at Mudhole Gap is open 24/7/365, so bear in mind that this delicious flow of water is available to you from the pipe on the right side of the course as you approach Powells Fort Camp and the Mudhole Gap trailhead (literally steps past a gate, and just over halfway through this first section of the run).
The first aid runners should anticipate will be after 14.2 miles at the Woodstock Tower Road crossing. On the off-chance that the Woodstock Tower Road is closed due to icy conditions, do NOT expect to find your drop bag at this first aid station. If we can drive it up to there, then your bag will be at this first aid station, but otherwise, you will just encounter volunteers with hiked-in aid.
The same situation will apply to the traditional halfway point on the orange trail, the Crisman Hollow Road crossing aid station, as the runners descend from the Kerns Mountain section of the trail. Crisman Hollow Road is closed at this time of year, so the aid will be hiked in the 3/4-mile from the end of the paved section of that road. That Crisman Hollow aid will not include your shuttled bag.
And of course, the notorious 25-mile long night section along the east ridge of the Massanuttens, from Camp Roosevelt to the finish back in the Signal Knob parking lot, did not have formal aid in the early years of this event. Thanks to Sarah Smith, a manned aid station is planned at the junction of the Milford Gap Trail and the Massanutten Trail, about 12.5 miles from the finish. But as with the Crisman Hollow Road aid station, your drop bag will NOT be here. After you utilize it at Camp Roosevelt (mile 46.1), your drop bag will be shuttled back to the Signal Knob parking lot, and should be available for your pick up at the Signal Knob Café after you finish. Have no fear, however, when it comes to the aid at MILFord - you will NOT be disappointed!
Keith Knipling has put together some very handy pocket charts. This two-page pocket chart is intended to be folded into quarters and placed in a sandwich Ziplock protective bag. Start the run with the first chart and then pick up the second at Moreland Gap. For those who prefer larger charts (and carrying more paper) here is a version that shows each segment on its own page. The .gpx track is also a very useful addition to your run day gear. You can download that from the side of this page.
Directions to the start at Signal Knob
From the DC Beltway (I-495) take 1-66 West approx. 60 miles to US 340 south (Exit 6, - the second Front Royal exit). Follow US 340 south 1.1 miles to the traffic light at VA Route 55. Turn right onto VA 55 and follow it west for 5.2 miles to Waterlick. Turn left (south) onto VA Route 678. Follow VA 678 1.8 miles into George Washington National Forest, and a total of 3.4 miles to the marked entrance of the Signal Knob parking lot, located on the right-hand side of the road. Plenty of parking spaces are available in this lot. Map
Photos
Masters of the Ring
2005
2006
Mike Broderick
Bob Combs
Mike Dobies
Margie Hughes
Barb Isom
Vicki Kendall
Bill Losey
Kerry Owens
Deb Pero
Graham Zollman
2007
No First-Time Finishers
2008
Jim Harris
Debbie Shaffer
David Snipes
John Straub
Bill Wandell
2009
Keith Knipling
Greg Loomis
David Garman
Jen Jacobs
Bill Wandell
Mark Mckennett
2010
No Finishers
2011
Dan Rose
Zsuzsanna Carlson
Bob Anderson
Kim Love-Ottobre
Ernesto Casarez
Cam Baker
2012
Randy Brown
Kari Brown
Jeff Best
Jeff Gura
2013
Kent Gallup
Ken Wolters
Alex Papadopoulos
Jack Kurisky
Matt Smythe
Larry Huffman
Yukiko Nishide
Hiroyuki Nishide
Gary Lukacs
Paul Crickard
2014
Jack Anderson
Ron Eshleman
Kathleen Cusick
Stephen Cooper
Charlie Joyce
Michael Gildea
2015
No Finishers (and no casualties, so a good year)
2016
Justin Faul
Danny Mowers
Grun Fisher
Chris McIntosh
Gavin Watson
Aaron Ellison
Paul Leflhocz
Stephanie Dempsey
Scott Lee
Ed Rangel
Andrew Thomas IV
Bruce Tweedie
Chris Pabian
Irawan Balcet
2017
Jake Rankinen
Joey Cohen
Jeffrey Garstecki
Dan Rogers
Dan Aghdam
Larry Watson II
Michal Kawecki
John Fitz
Robert Kolb
Adeline Ntam
Jayme Dubinsky
Marty Fox
Gilbert Gray
Don Riley
Steve Pero
Sarah Curtis
Leonard Martin
Ed Walsh
2018
Christopher Moore
George Sefzik
Patrick Vaughn
Todd Ellick
Philip Yeager
Jesse Fuller
Andy Peterson
Doug Massengale
Brett Martin
Justin Peake
Alvin Lee
Jeff Pence
Andrew Burnette
Dan Hawk
2019
Dan Fogg
Josh Howe
Matt Christovich
Jose Cardenas
Daisy Weill
Paul Valenzuela
2020
Levi Mason
Kevin Walker
Raymond Rogers
Ashley Carr
Steve Andrews
Greg Trapp
Larry Tumblin
Sirisha Golla
2022
(no run in 2021)
Heather Dougherty
Luc Claessens
Jesse Parker
John Calabrese
Tony Taylor
2023
Tristan Baxendale
David Peppelman
Matt Burke
Chad Cato
Barry Hauptman
Last updated September 20, 2023
Club Event Participant Medical Policy
This is an event with very real risks to your well being. The VHTRC does not provide medical care for runners at this event. Runners are responsible for their own health, safety, and well being at this event. No doctors, nurses, or emergency medical technicians, or anyone with any medical training are available along the course, at any aid station, or at the finish. The club does not supply any medical goods or services, including bandages, splints, antiseptic, or Ibuprofen or any other drugs to maintain the health of runners. Physical, medical, and emergency care is the runners' responsibility. In case of an emergency, we will endeavor to get local emergency personnel to an injured runner as soon as possible. Since most of our events are in remote areas, medical care may be far away in distance or time. Each year, runners finish — or are forced to drop out — with scrapes, deep cuts, hematomas, dislocations, and sprains. Runners have experienced cuts, bruises, bee stings, and asthma attacks. This is an event with very real risks.