2019 Report
February 23, 2019 • Fort Valley, VA
21 starters, 9 finishers
Report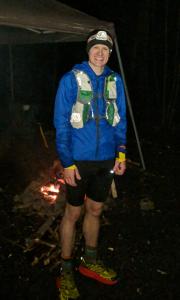 The 2019 was the 14th running of the Reverse Ring. This year's run was made more challenging than usual by the weather conditions. All the runners were tested by the wet weather, the entrenched cold (temps did not stray out of the 30's all day or night), and what turned out to be more snow and ice on the trails than expected, vestiges of a mid-week storm. These did not seem to be record-setting conditions. And ultimately they were not. But they were not conditions for the second fastest running of this run, either - and ultimately they were. While Danny Mowers' incredible time of 13:47 for this 70.1 mile loop remains the event record, 2019 Reverse Ring winner Dan Fogg's time of 14:31 is now the second fastest.
8 other runners completed the Reverse Ring, with a total of 6 of the 9 finishers now joining the Master of The Ring club, having now completed the loop in both directions for the first time. First place woman and second overall Kathleen Cusick is of course not only a legacy Master of The Ring, she is a two-time Bad A* MF* of The Ring, as well, having completed back-to-back Ring and Reverse Ring runs on consecutive days on two previous occasions. This year she settled for just running the regular run with everyone else without first warming up with a loop in the opposite direction on the previous day. Scott Lee is another previous Master, and this year's record-setting last place finisher, Larry Huffman, was the final Master to return and get a finish this year. Larry's run was a record, in that none of the 13 previous editions of the Reverse Ring had a final finish close to his 25 hours. We are not used to wrapping up the proceedings and hitting the highway so early on Reverse Sunday! Well done, Larry, and all the runners!
Results
Preliminary Results for the 2019 Reverse Ring. Final results once everyone associated with this year's race dries out, warms up and has a chance to review the results to see where I messed up …
Congrats to Dan Fogg for taking the overall win, in an incredible time of 14:31!! This is not a course record, but it is a record for this race considering the conditions he faced. Well done, sir. Second overall, and first woman to the finish was Kathleen Cusick. She covered the 70.1 miles of the Orange Trail in 19:39. Or better, put, she finished the Reverse Ring in that time, after roughly an hour off-trail on the east ridge on Saturday night. All the runners commented on the challenges that the fog, blowdowns, slick footing and the steady rain that started for most of them around midnight. In Kathleen's case, it led to some misadventures off-trail. Her total distance is not recorded, since she is not on Strava(!??!)
Seven other runners left Camp Roosevelt after 46 miles and all of them made their way to the finish in one piece. Larry Huffman may have set a record for the fastest final finisher. Larry arrived in the Signal Knob parking lot at 7 AM, for the finish of his 25 hour tour around the Fort Valley. We are normally not finished collecting the final runner(s) until much closer to noon on Reverse Ring Sunday.
All of the runners who started should be commended, considering the forecast and what that was likely to mean for an event run along a mountain ridge in late February. This was going to be a true test of everyone's resolve - and their rain gear. It is tough to learn the difference between "water resistant" and "water proof" when you are still dozens of miles and many, many hours from the finish, your warm car, dry clothes, and Mario Raymond's great Signal Knob Cafe cooking!
Place
Name
Class
Sex
Age
State
Woodstock - 14.2
Edinburg - 22.4
Moreland - 30.4
Crisman - 36.8
Camp Rosey - 46.1
Milford - 57.5
Finish - 70.1
1
Dan Fogg
2018
34
M
DC
2:19
3:48
5:29
7:00†
8:45
11:22
14:31:00
2
Kathleen Cusick
2013
43
F
FL
2:59
4:48
6:56
9:00†
11:07
15:25
19:39:00
3
Josh Howe
2018
39
M
VA
2:52
4:44
7:01
9:05†
11:20
15:31
20:34:00
4
Matt Christovich
2018
40
M
VA
2:49
4:50
7:09
9:12
11:34
15:57
20:55:00
5
Jose Cardenas
2018
30
M
VA
3:08
5:13
7:32
9:22
11:53
15:58
21:02:00
6
Daisy Weill
2018
30
F
DC
3:18
5:34
8:09
10:28
13:16
17:56
23:03
7
Scott Lee
2015
48
M
VA
3:34
6:03
9:02
11:32
14:50
19:44
24:51:00
8
Paul Valenzuela
2018
52
M
VA
3:34
6:03
9:02
11:32
14:50
19:44
24:51:00
9
Larry Huffman
2012
58
M
VA
3:50
6:22
9:16
11:41
14:45
19:39
25:00:00
Nope
Elsa Araujo
2018
41
F
VA
3:27
5:49
9:16
11:44
15:06
xxx
DNF
Nope
Ashley Carr
2017
33
F
MD
3:51
6:26
9:17
11:51
15:15
xxx
DNF
Nope
Michael Gildea
2013
54
M
VA
3:51
6:30
9:24
11:52
15:35
xxx
DNF
Nope
Michal Kawecki
2016
39
M
PA
3:08
5:25
8:06
xxx
xxx
xxx
DNF
Nope
Stephen Cooper
2012
64
M
MD
3:50
6:22
9:18
xxx
xxx
xxx
DNF
Nope
Marty Fox
2016
68
M
VA
3:51
6:25
9:24
xxx
xxx
xxx
DNF
Nope
Mandy Pierce
2018
44
F
PA
4:20
7:07
10:09
xxx
xxx
xxx
DNF
Nope
Guy Towler
2016
49
M
VA
3:53
6:46
10:17
xxx
xxx
xxx
DNF
Nope
Katie Keier
2015
48
F
VA
4:24
7:42
11:19
xxx
xxx
xxx
DNF
Nope
Brian Carr
2017
43
M
MD
3:51
6:30
xxx
xxx
xxx
xxx
DNF
Nope
Chris Pabian
2015
42
M
PA
2:53
xxx
xxx
xxx
xxx
xxx
DNF
Nope
Ryan Brown
2018
33
M
MD
3:24
xxx
xxx
xxx
xxx
xxx
DNF

20 of the 21 starters escaped Mike Bur's pre-race briefing and began their run up the trail towards Signal Knob at 6:01 AM on Saturday.

Kathleen Cusick got off to an undocumented later start, no doubt staying after class to ask Professor Bur some questions.

† Crisman A.S. times for early runners indicate that "ish" should be added to the number, as times were not precisely recorded for the first three runners.
Last updated December 16, 2019