2011 Report
February 26, 2011 • Fort Valley, VA
17 starters, 10 finishers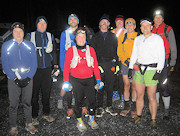 In perfect running weather and on dry trails, Dan Rose broke Keith Knipling's 2009 Reverse Ring record by one minute in 14:57. Zsuzsanna Carlson was the first woman to finish in 24:30. Of 17 starters, ten finished, five of them being first-time Reverse Ring finishers (a.k.a. new Masters of The Ring).
Photos: Jim Harris | Zsuzsanna Carlson | Mike Bur
Reports: Kim Love-Ottobre | Dan Rose (on his blog)
Results
6:00 am start. Times are elapsed.
Powell's
8.4 miles
Woodstock
14.2 miles
Edinburg
22.4 miles
Moreland
30.4 miles
Crisman
36.8 miles
Roosevelt
46.1 miles
Veech
62.7 miles
Finish
71.1 miles
Comment
Dan Rose
1:27 / 1:27
2:17 / 2:19
3:43 / 3:46
5:30 / 5:33
7:06
9:02 / 9:18
12:52
14:57!
Kept hoping Keith would catch up (for the company) - still waiting . . .
Keith Knipling
1:28 / 1:28
2:27 / 2:27
3:59 / 4:02
5:51 / 5:54
7:23
9:27 / 9:35
13:15
15:12
Fell just one Colossal donut short of catching Dan
Cam Baker
2:02 / 2:02
3:11 / 3:14
4:55 / 4:59
6:57 / 7:07
8:45
10:57 / 11:31
15:53
18:26
Paid RD top dollar to run 20 miles with Jim the day before Reverse Ring
Jim Harris
2:02 / 2:02
3:11 / 3:14
4:58 / 5:05
7:14 / 7:20
9:08
11:31 / 11:45
16:48
19:50
After 91 mile weekend, may need to rethink his pre-race taper strategy
Tom Corris
2:03 / 2:03
3:15 / 3:16
5:12 / 5:16
7:32 / 7:40
9:45
12:10 / 12:26
??
22:24
Corris's pickle bucket chem lab too complex for Frick & Frack aid station crew
Zsuzsanna Carlson
2:12 / 2:12
3:36 / 3:42
6:03 / 6:13
8:40 / 8:55
11:05
14:10 / 14:24
20:40
24:30
Women's winner spent the day interviewing potential male night time pacers
Bob Anderson
2:03 / 2:03
3:30 / 3:32
5:53 / 6:00
8:40 / 8:46
11:04
14:09 / 14:24
20:40
24:30
Accepted offer to pace women's winner through the night
Bob Combs
2:14 / 2:14
3:35 / 3:36
5:42 / 5:46
8:27 / 8:35
10:21
14:05 / 14:17
21:00
24:45
Suffered like an animal to wrest King of The Ring title from AWOL Mike Dobies
Kim Love-Ottobre
2:25 / 2:25
3:56 / 4:00
6:19 / 6:24
9:05 / 9:10
11:23
14:37 / 14:55
22:07
26:12
Kimba traveled all the way from Ohio to finish as first female loser
Ernesto Casarez
2:15 / 2:17
3:45 / 3:49
6:07 / 6:13
8:40 / 8:46
11:08
14:34 / 14:54
??
27:07
Made most of his race dollar value, including stay at Veech Gap Motel
Gary Maier
2:08 / 2:09
3:30 / 3:34
5:51 / 6:01
8:40 / 8:46
11:06
14:22 / Drop
x
46 miles
Hoped to get Reverse Ring done on muscle memory alone - nope.
Bill Turrentine
2:10 / 2:10
3:37 / 3:41
6:04 / 6:11
8:50 / 8:55
11:21
15:01 / Drop
x
46 miles
RDs let the Bobs go on, but drew the line at letting any Bills finish
Bill Wandel
2:20 / 2:25
3:51 / 3:53
6:05 / 6:13
8:46 / 9:00
11:25
15:06 / Drop
x
46 miles
Bills were going to sink or swim through the night together - they sank
Caroline Williams†
2:36 / 2:37
4:13 / 4:16
6:56 / 7:00
10:03 / 10:10
13:53
18:08 / Drop
x
46+ miles
News Flash - got lost on course
Debbie Shaffer
2:12 / 2:12
3:36 / 3:42
6:03 / 6:18
8:40 / 8:55
11:20
12:49 / Drop
x
43 miles
Long run on ridge of Massanuttens perfect BRR training
Barbara Isom††
2:26 / 2:26
3:56 / 4:00
6:25 / 6:31
9:01 / 9:10
11:33
13:02 / Drop
x
43 miles
Fear of cut offs led to quitting way before any cut offs
Vicki Kendall††
2:26 / 2:26
3:56 / 4:00
6:25 / 6:31
9:01 / 9:10
11:33
13:02 / Drop
x
43 miles
Fear and loathing of 6 am start led to 5:47 start

† 4:52 AM Start
†† 5:47 AM Start
Last updated December 16, 2019