Parking
Parking is generally tight at the Bull Run Run. Our parking volunteers will work hard to make parking easier for you. We hope you will help us.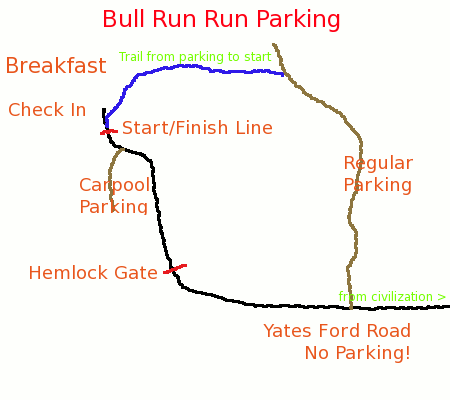 Parking can be challenging at BRR, particularly if the weather conditions are wet. The shortest possible walk from the parking lot to the start is at least ¼ mile and many will have to walk up to ½ mile. The lot is grass (with some mud, depending on the weather) and not flat. Despite having fewer runners for the 2022 Bull Run Run than we have had in recent years, parking may still be challenging, particularly if we experience wet conditions prior to the race.
What You Can Do to Help
Here is how you can help us:
Be Patient and Polite - We will have a crew of volunteer parking attendants. Please be polite to them. Be patient.
Park Close Together - Our parking attendants will ask you to park close to your neighbor. This is inconvenient, we know. But we need to get everyone in! Please help.
Bring the Right Car - If you have a choice of car, bring one that will do well on mud. Do not, however, bring a large car if you can avoid it. Please leave campers, big trucks, etc. at home.
Park Legally! - See below for important rules. Please park correctly.
Crew Parking
DON'T!
Please abide by these rules. Illegally parked cars may be towed.
Do not Park ANYWHERE on Yates Ford Road - You approach Hemlock on Yates Ford Road. It is the last mile or so of your trip. Do not park on this road. Especially don't park on the left side of this road. You will see places to park on the right side of this road, and within a small fenced area in the entrance to the field used for parking. On Saturday, we must leave those spaces for turning around, and for hikers who are using the trail. It is important that you obey these parking restrictions, as our ability to obtain future permits to use Hemlock as our host site would be endangered otherwise.
Don't park at the Paradise Spring Winery - As you approach Hemlock, there is a winery on the left side of the road. Do not park there! Again - do not park anywhere on the left side of the road. Saturdays in April are busy times for the winery, and they need all of their own parking for their visitors. They have towed desperate late-arriving BRR runners' vehicles in the past, and they will surely do so again if presented with the occasion to do so! You do NOT want to be the runner who finishes a 50 mile race only to find your car has been towed away.
Do Not Block Anything - Don't park in front of gates, roads, other cars, etc.
Friday Parking
The Saturday parking lots will be closed on Friday. Please watch for signs or monitors for correct parking on Friday.
Thank you for your cooperation. Happy trails!
Last updated September 10, 2021