Directions to Start/Finish
The start/finish of the Bull Run Run is at Hemlock Overlook Regional Park. Hemlock is not that hard to find, but it is a bit complicated. Here are some instructions. Allow a great deal of time if it's your first attempt to reach the park.
Warning! There are many deer in this area. The deer are particularly active in the early morning. Be careful driving these roads in the morning or evening, and especially on the way to the start. If you hit a deer, you may miss the start, or even worse. Yates Ford Road leading into Hemlock Regional Park is also narrow and winding, with limited field of vision. It has a slower speed limit for all of these reasons, so please drive with care and within the limit.
If you print this page, much of its content will disappear and you will get only our map and directions below. If you want Google or Mapquest's directions, put one of those pages in your browser and print from there.
Professional Help
Web help
Your GPS
The coordinates for Hemlock Overlook are 38.766721, -77.405037.
This address worked on our Garmin:
13220 Yates Ford Rd
Clifton, Virginia 20124
Routing: Garmin, like Google and Mapquest, did not use what we believe is the best way. But they will get you there.
Other Web site
Here is information from an additional site that might help you.
Parking
Here is more information about parking.
Our Directions
I-66 Directions | I-95 South | Braddock Road
Load Map in Separate Page for Printing
These directions assume you are already in the Washington area. If you are coming from the north on I-95 or I-270, we suggest you go counter-clockwise around the Beltway (I-495) to I-66 and use the I-66 Directions below. If you are coming from points south on I-95, use the directions for I-95 South. If you are coming from the west on I-66, you can take exit 52 (the second of two Hwy 29 exits) and take Hwy 29 east to Clifton Road and otherwise follow the I-66 Directions below. If you are coming from southern Maryland and crossing the Wilson Bridge or coming from Alexandria or Springfield, you can take the Beltway to I-66 and follow the I-66 Directions, or you can take the alternate route on Braddock Road. This route is probably shorter, but more complicated.
From I-66 (the easiest way)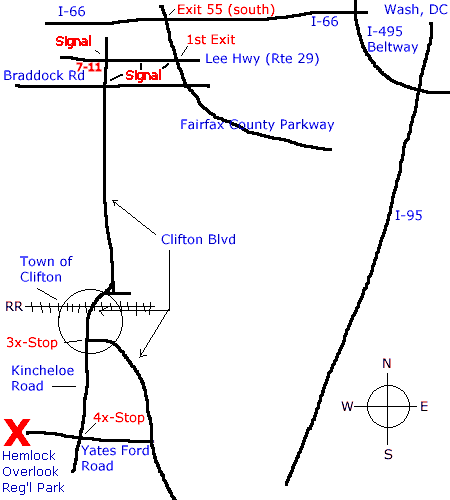 The easiest way (but not always the fastest) is to come from I-66 to the north. Here are the written directions. They start on the Capital Beltway, which is I-495 (on the western half at least):
Take I-66 off the Beltway going west toward Front Royal (don't go inbound toward Washington). (Note: I-66 East of the Beltway is restricted to high occupancy vehicles (HOV) during weekday rush hours. West of the Beltway, there is an HOV lane, but non-HOV traffic may use the rest of the road at all times.)
Go about 10 miles to Exit 55, the Fairfax County Parkway. Take the exit south toward Springfield. That's the second of the two Exit 55 exits if you are going westbound.
Go about a mile south on the Fairfax County Parkway to the first exit, and go right on Lee Highway, Hwy 29. You will be heading west but the sign will say south because Hwy 29 is, overall, an north-south road. Here, however, it is going east-west. In any event, when you get off of the Parkway, go right.
Go west/south on Lee Highway for over a mile or so to the signal at Clifton Road (Route 645). That is the third signal. Go left (south) at this signal. (There is a 7 Eleven on the southwest corner of this intersection.)
Take Clifton Road south, through the signal at Braddock Road then about four miles down to Clifton. Just before the town of Clifton, the road comes to a "T" intersection. There is a stop sign if you go straight, but you bear right and only have a Yield sign. (You know you are getting close to Clifton when the speed drops to 35 mph and then 25 mph. The T intersection is just after you start the 25 mph zone.)
Go into the village of Clifton. Cross the railroad tracks. Stay straight.
In Clifton, you come to a three way stop. Clifton Road goes off to the left. You don't take that. You go straight up the hill on what eventually becomes Kincheloe Road. (At first, this is Main Street.) As you go up the hill, there is a Y intersection. Bear right.
About a mile out of Clifton you reach a four way stop. This is Yates Ford Road. Turn right (west) on Yates Ford Road.
Go to the end of Yates Ford Road (a little over a mile). You have arrived! (Please drive slowly and carefully on Yates Ford Road.)
From the South on I-95
Take the Occoquan Exit (Exit 160) to Rt. 123 (Ox Road) 8.0 miles to Clifton Road (Rt 645), then left toward Hemlock Overlook. Just shy of 4 miles from the Ox Road intersection, Yates Ford Road enters from the right. Then Henderson Road will come in from the left. Less than one quarter mile later, turn left onto Yates Ford Road, and follow 1.9 miles to Hemlock Overlook. (If you miss this left turn onto Yates Ford, you will end up in Clifton at a three-way stop. Turn left at that stop and go about a mile on Kincheloe Road to a four-way stop and turn right. This puts you on Yates Ford Road and you have about a mile to Hemlock.)
From the Wilson Bridge, Alexandria, and Springfield
From the Beltway I-495, take Exit 5, Braddock Road west 1.7 miles to the double left turn onto Burke Lake Road; travel 4.7 miles to the juncture where Burke Lake Road becomes Clifton Road. Just shy of 4 miles from this point, Yates Ford Road enters Clifton Road from the right; one quarter mile later, turn left onto Yates Ford Road, and follow 1.9 miles to the end into Hemlock Overlook.
Last updated November 11, 2020