Entry
Entry is open for the 2024 race.
Entry opens

Wed Oct 25, 2023 at 9:00 am
Entry Process
Entry will be capped at 300. You must be at least 18 years old when you enter to run.
Entry will be on a rolling, first-come, first-entered process. You fill out the application and pay online. If we reach our capacity of 300 runners, we may build a wait list.
Entry, including joining the wait list, is online. We use the site RunSignup for Bull Run Run race registration. The registration fee is $125. There will be a small additional cost of processing your payment. There is no paper option to enter or pay.
Entry is not transferable. You may not sell or give your bib number to another runner. If you transfer your number, you and your replacement will be barred from participating in future Bull Run Runs. The "bandit" runner will be disqualified.
You may receive a refund of your entry fee if you withdraw by the deadline shown in the column to the left. We hold back $15 from any refund. Please see the important conditions on refunds.
Scholarships
If you are interested in pursuing a VHTRC entry fee scholarship, do NOT enter the race prior to consulting with the RDs.
Again this year, we continue the VHTRC tradition of offering entry fee scholarships to deserving runners. These scholarships are based on need, not speed. There will be up to two scholarships available. The VHTRC will pay the base entry fee less $15 for scholarship recipients. (In effect, the scholarship is a credit of $110.) We do not disclose the names of scholarship recipients, and they are treated like all other entrants. To apply for a scholarship, contact the race director before entering the race. (Just let the RDs know you are interested in applying. They will send you more information about how to apply.)
Before you Enter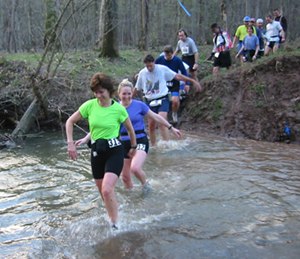 This event is not for everyone. Before you enter the Bull Run Run, you should know that:
Cost: The 2024 Bull Run Run 50 Miler base entry fee will remain at $125.
Parking is close by, but does require a short walk: Parking will require a 1/4 mile to a 1/2 mile walk to the start and from the finish.
Initial aid stations are low key: The first two stops at aid stations offer only fluids and limited food — they aren't brunch buffets.
Personal listening device use: We don't want you using personal listening devices on the first 17.6 miles of the course (and advise using them with care and courtesy on the rest of the course). VHTRC Policy on use of personal listening devices.
No pacers: You are not allowed to have anyone who is not entered in the event accompany you on the course (i.e. no pacers), with the exception of family members on the final approach to the finish line.
No hiking poles: The Bull Run Run course is not mountainous and is often congested. The use of hiking poles are discouraged.
Time limits: There are both intermediate and overall time limits that are strictly enforced — this is not a hike.
Limited bathrooms on the course: You need to otherwise use the woods in an environmentally correct way (i.e. bury it). Your fellow runners will be using the woods also.
Mud and High Water: Parts of the trail will be muddy if there has been rain before or on race day. Stream crossings could require fording. (See view from 2003 above.)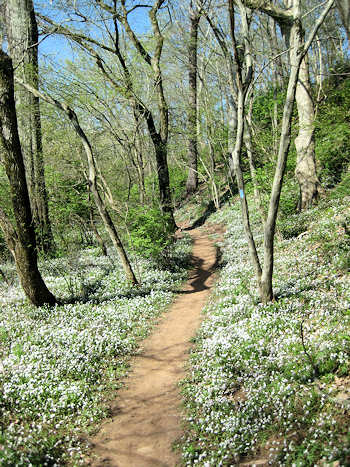 Last updated October 26, 2023