PB&J 50k + 25k
A runnable, rolling loop on the trails of Prince William Forest Park. New in 2022, there will be a 25k distance (one loop) option in addition to the traditional 50k (two loop) option.
Date

Start location

Start time

Distance

Total ascent/descent

Aid stations
Entry

GPX file

Print or download

In charge

Reports

Course records
The 7th annual PB&J trail run will be held in Prince William Forest Park on Saturday, Oct. 29, 2022. New in 2022, there are two run distance options: a 50k (two loops) and a 25k (one loop). Choose your adventure!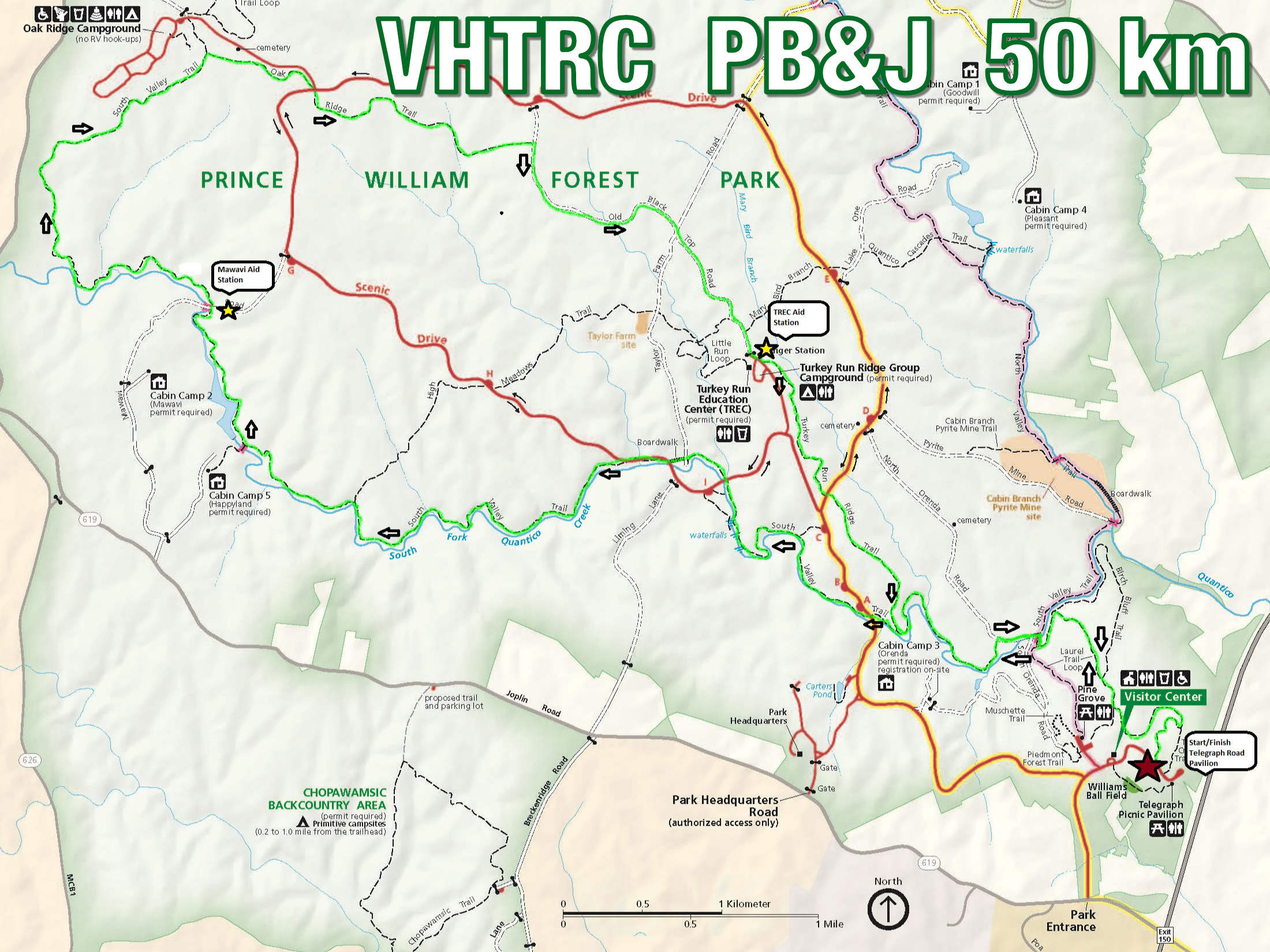 Course
The PB&J run is located in Prince William Forest Park, located less than 40 miles south of our nation's capital, just off of I-95. It's a hidden gem with shaded, undulating trails, a refreshing creek, and swinging bridges. It offers a fair mix of smooth and technical trails - perfect for new and experienced runners alike.
The start/finish area is at the Telegraph Road Pavilion, located a short distance past the park's visitor center, within a half mile of the entrance to the park off of Joplin Road near I-95.
The course is a lollipop format with two on-trail aid stations (Mawavi Road and Turkey Run Education Center) along with the Start/Finish aid station. It will be well-marked; in fact, we've been told it's one of the best-marked courses runners have seen!
This run may be free but our aid stations are top-notch! While we do ask runners to bring one donated food or drink item (assigned before run day), our volunteers often treat runners with home-cooked meals and snacks to fuel your run. It's a special atmosphere that will keep you running strong and reach your goals.
| Aid Station | Split | Cumulative | Cutoff | Map |
| --- | --- | --- | --- | --- |
| Mawavi Road | 7.3 mi | 7.3 mi | | |
| Turkey Run Education Center (TREC) | 5.7 mi | 13.0 mi | | |
| Start/Finish | 3.0 mi | 16.0 mi | 12:00 pm | |
| Mawavi Road | 7.3 mi | 23.3 mi | | |
| Turkey Run Education Center (TREC) | 5.7 mi | 29.0 mi | | |
Run distances & cut-offs
50k run
Consists of two identical 16-mile loops
Loop one has a 4 hour time limit.
The time limit for the full distance is 9 hours.
25k run
Consists of one 16-mile loop with a 4 hour time limit.
Both loops are the same; you should print out and bring with you the marked map, and the simple turn directions. Bear in mind, even though the course will be marked with blue ribbons, you should do your homework, and make yourself aware of the general nature of the course and the trails used for the PB&J 50k.
The details
Both runs will start at 8 AM.
Pre-run briefing will start at around 7:50 AM, so arrive and prepare early.
The briefing will be held at the start line (on the pavement adjacent to the large shelter at Telegraph Road).
The course will be marked.
There will be two aid stations located on the course.
There will be an additional mid-way aid station set up at the start/finish.
You may bring a zip-lock bag of personal food for each aid station (this may not be returned - food only).
Finish line food will be provided.
Rest rooms at the start/finish, and at the second aid station.
Entry
Run registration
Entry opens on Sept. 15, 2022. There is no formal entry fee - this is a "Fat Ass" event. That said, you will be ask to bring one aid station item as a tribute to the run.
Only 110 runners may participate. While the run did not sell out in 2021, it has in the past. Keep an eye out for registration.
Park entry
You will need to pay the park entrance fee ($20 per vehicle) at the Visitor's Center at Pine Grove. If you have a National Park pass, you can display that in lieu of making day visitor payment. The booth will not be manned pre-run, but a ranger will likely be there as you leave after your run.
Volunteers
Volunteer sign-up is open! Click here to find a slot.
Why the "PB&J 50K"?
The name of the run is an homage to the late, great training run series hosted on local NoVa trails by Toni Aurilio and Jo Leigh Lockner. The intent of this event is to provide an organized trail run on a relatively easy course in the DC area, and also to provide a great supported training run opportunity on some rolling, non-technical trails.
Last updated September 25, 2022
Club Event Participant Medical Policy
This is an event with very real risks to your well being. The VHTRC does not provide medical care for runners at this event. Runners are responsible for their own health, safety, and well being at this event. No doctors, nurses, or emergency medical technicians, or anyone with any medical training are available along the course, at any aid station, or at the finish. The club does not supply any medical goods or services, including bandages, splints, antiseptic, or Ibuprofen or any other drugs to maintain the health of runners. Physical, medical, and emergency care is the runners' responsibility. In case of an emergency, we will endeavor to get local emergency personnel to an injured runner as soon as possible. Since most of our events are in remote areas, medical care may be far away in distance or time. Each year, runners finish — or are forced to drop out — with scrapes, deep cuts, hematomas, dislocations, and sprains. Runners have experienced cuts, bruises, bee stings, and asthma attacks. This is an event with very real risks.