2020 Report
October 17, 2020 • Quantico, VA
41 starters, 33 finishers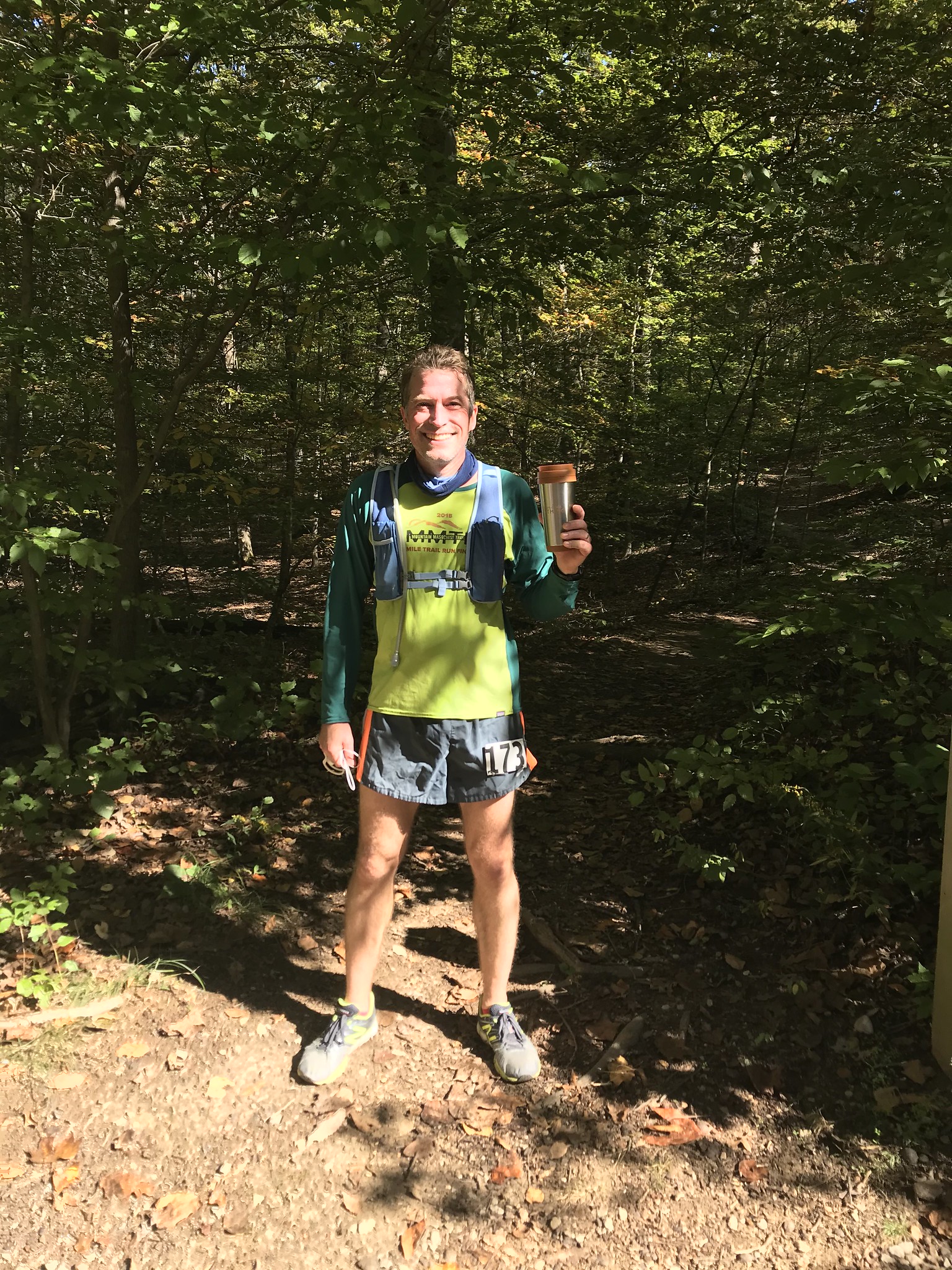 Results for the Pumpkin Spice 50k, held on Saturday October 17, in the Year of our Covid 2020. It was an amazing day in Prince William Forest Park, with perfect fall weather conditions. The run started with temps in the mid thirties to low forties, and under sunny skies it rose into the low sixties by the afternoon. There was a nice turnout of over 40 participants. Thanks to everybody for being respectful and following precautions to keep each other safe. It was great to see runners with numbers on the trails again!
Big thanks to Run Director Sarah Curtis (and her wonderful co-RD, Rye the Wonder Pup) for putting on this fun event, and in particular for putting it together in just over three weeks. The event was conceived as a "Covid-safe" replacement concept to fit into the October calendar instead of the traditional PB&J 50k. Thanks also to the VHTRC for its sponsorship of this first run held under the club's banner since the start of the pandemic in March of 2020.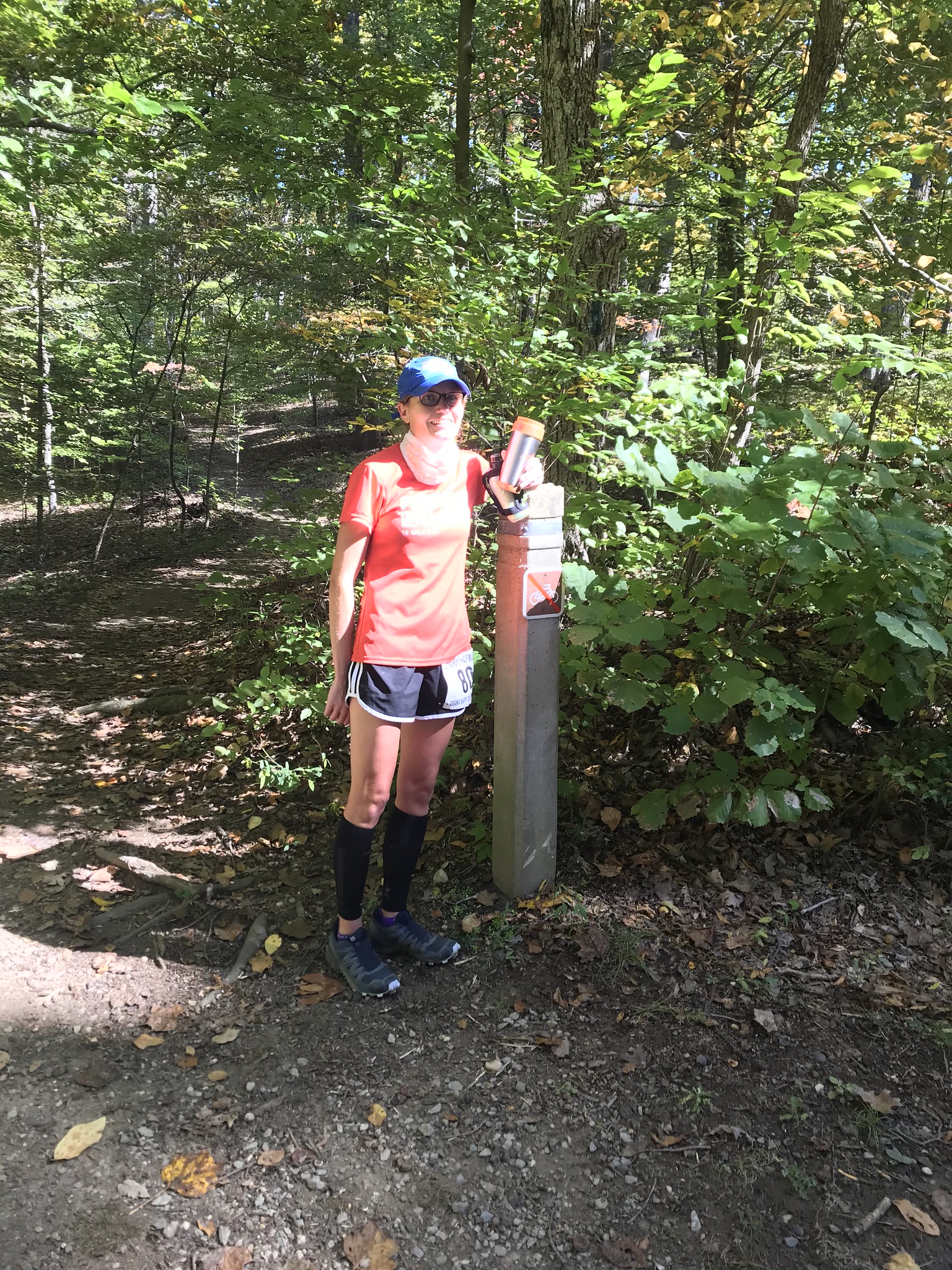 The event was won by Dirk Schulze, with a sparkling time of 4:14! The Pumpkin Spice 50k women's champ was Stephanie Hill, who also placed fifth overall, with a time of 4:53. Six runners in total were able to break five hours on this fast, and admittedly a tad short course. A consensus developed over the afternoon that the actual distance may have been closer to 30 miles rather than the full 31+ miles measured during the initial course selection.
Results
The Pumpkin Spice 50k Results
| Place | Name | Sex | Age | State | Loop 1 | Loop 2 | Loop 3 | Loop 4 | Loop 5 | |
| --- | --- | --- | --- | --- | --- | --- | --- | --- | --- | --- |
| 1 | Dirk Schulze | M | 47 | VA | 0:49 | 1:40 | 2:30 | 3:23 | 4:14 | |
| 2 | William Weidman | M | 37 | VA | 0:51 | 1:44 | 2:39 | 3:39 | 4:39 | |
| 3 | Andrew Miller | M | 28 | MD | 0:46 | 1:33 | 2:21 | 3:20 | 4:42 | |
| 4 | Jason Jugar | M | 45 | VA | 0:51 | 1:44 | 2:36 | 3:37 | 4:43 | |
| 5 | Stephanie Hill | F | 30 | VA | 0:55 | 1:53 | 2:51 | 3:51 | 4:53 | |
| 6 | Jon Long | M | 42 | VA | 0:54 | 1:50 | 2:47 | 3:48 | 4:54 | |
| 7 | Wayne Kline | M | 66 | VA | 0:54 | 1:55 | 2:55 | 3:59 | 5:10 | |
| 8 | Alvin Lee | M | 45 | MD | 0:58 | 2:06 | 3:13 | 4:22 | 5:35 | |
| 9 | Emma Clark | F | 36 | VA | 1:08 | 2:17 | 3:23 | 4:35 | 5:47 | |
| 10 | Rodica Ursu | F | 51 | MD | 1:11 | 2:16 | 3:24 | 4:37 | 5:50 | |
| 10 | Patricia Scott | F | 53 | MD | 1:08 | 2:17 | 3:25 | 4:38 | 5:50 | |
| 12 | Paul Aumayr | M | 50 | MD | 1:06 | 2:14 | 3:26 | 4:40 | 6:01 | |
| 13 | Filip Jasinski | M | 44 | MD | 1:02 | 2:11 | 3:28 | 4:56 | 6:16 | |
| 14 | Jamie Greenawalt | F | 52 | PA | 1:05 | 2:15 | 3:34 | 4:56 | 6:24 | |
| 15 | Eliot Gonzalez | M | 38 | VA | 1:07 | 2:17 | 3:32 | 4:57 | 6:30 | |
| 15 | Michelle Barrick | F | 56 | MD | 1:09 | 2:25 | 3:47 | 5:09 | 6:30 | |
| 17 | James Goetschius | M | 48 | MD | 1:09 | 2:22 | 3:38 | 5:05 | 6:40 | |
| 18 | Kuang Li | M | 41 | VA | 1:06 | 2:20 | 3:42 | 5:08 | 6:43 | |
| 19 | Andrew Arbuckle | M | 45 | DC | 1:11 | 2:23 | 3:39 | 5:10 | 6:51 | |
| 20 | Al Diemel | M | 41 | MD | 1:05 | 2:17 | 3:44 | 5:26 | 7:10 | |
| 21 | Sarah Humphrey | F | 63 | VA | 1:17 | 2:37 | 3:59 | 5:39 | 7:10 | |
| 21 | Anna Baskina | F | 43 | VA | 1:17 | 2:37 | 4:09 | 5:39 | 7:10 | |
| 23 | Cara Regan | F | 31 | DC | 1:13 | 2:37 | 4:05 | 5:36 | 7:12 | |
| 23 | Nate Mauger | M | 31 | DC | 1:13 | 2:37 | 4:05 | 5:36 | 7:12 | |
| 25 | Sherry Lewis | F | 45 | VA | 1:20 | 2:41 | 4:09 | 5:45 | 7:31 | |
| 25 | Ram Oruganti | M | 50 | VA | 1:20 | 2:40 | 4:07 | 5:46 | 7:31 | |
| 27 | Tamari Ramishvili | F | 29 | DC | 1:16 | 2:44 | 4:15 | 5:53 | 7:32 | |
| 28 | Neisa Condemaita | F | 46 | DC | 1:19 | 2:46 | 4:21 | 6:03 | 7:35 | |
| 29 | Minh Tran | M | 31 | VA | 1:16 | 2:44 | 4:15 | 5:53 | 7:38 | |
| 30 | Ari Darmon | M | 37 | VA | 1:22 | 2:50 | 4:23 | 6:04 | 7:53 | |
| 30 | Tom Gamber | M | 40 | MD | 1:22 | 2:50 | 4:23 | 6:04 | 7:53 | |
| 32! | Michael Stefanon | M | 51 | VA | 1:05 | 2:15 | 3:59 | 6:37 | 9:10 | |
| 50k* | Liliana Martinez | F | 42 | VA | 1:39 | 3:16 | 4:39 | 6:09 | ROAD | |
| 26.2** | Angela Hayes | F | 50 | MD | 1:26 | 2:51 | 4:30 | 6:15 | XXX | |
| Nope | Jessica Lucas-Judy | F | 46 | VA | 1:17 | 2:37 | 4:09 | 5:48 | XXX | |
| Nope | Brian Schmidt | M | 52 | VA | 0:49 | 1:35 | 2:23 | XXX | XXX | |
| Nope | Erin Altemos | M | 46 | MD | 0:55 | 1:52 | 2:53 | XXX | XXX | |
| Nope | Michael Jury | M | 45 | VA | 1:09 | 2:21 | 3:40 | XXX | XXX | |
| Nope | Shelly Cable | F | 51 | PA | 2:02 | 3:59 | 5:53 | XXX | XXX | |
| Nope | Carol Cohen | F | 43 | VA | 1:03 | 2:07 | XXX | XXX | XXX | |
| Nope | Matthew Erb | M | 42 | VA | 1:03 | 2:07 | XXX | XXX | XXX | |
Last updated August 26, 2021