2021 Report
October 30, 2021 • Quantico, VA
51 starters, 41 finishers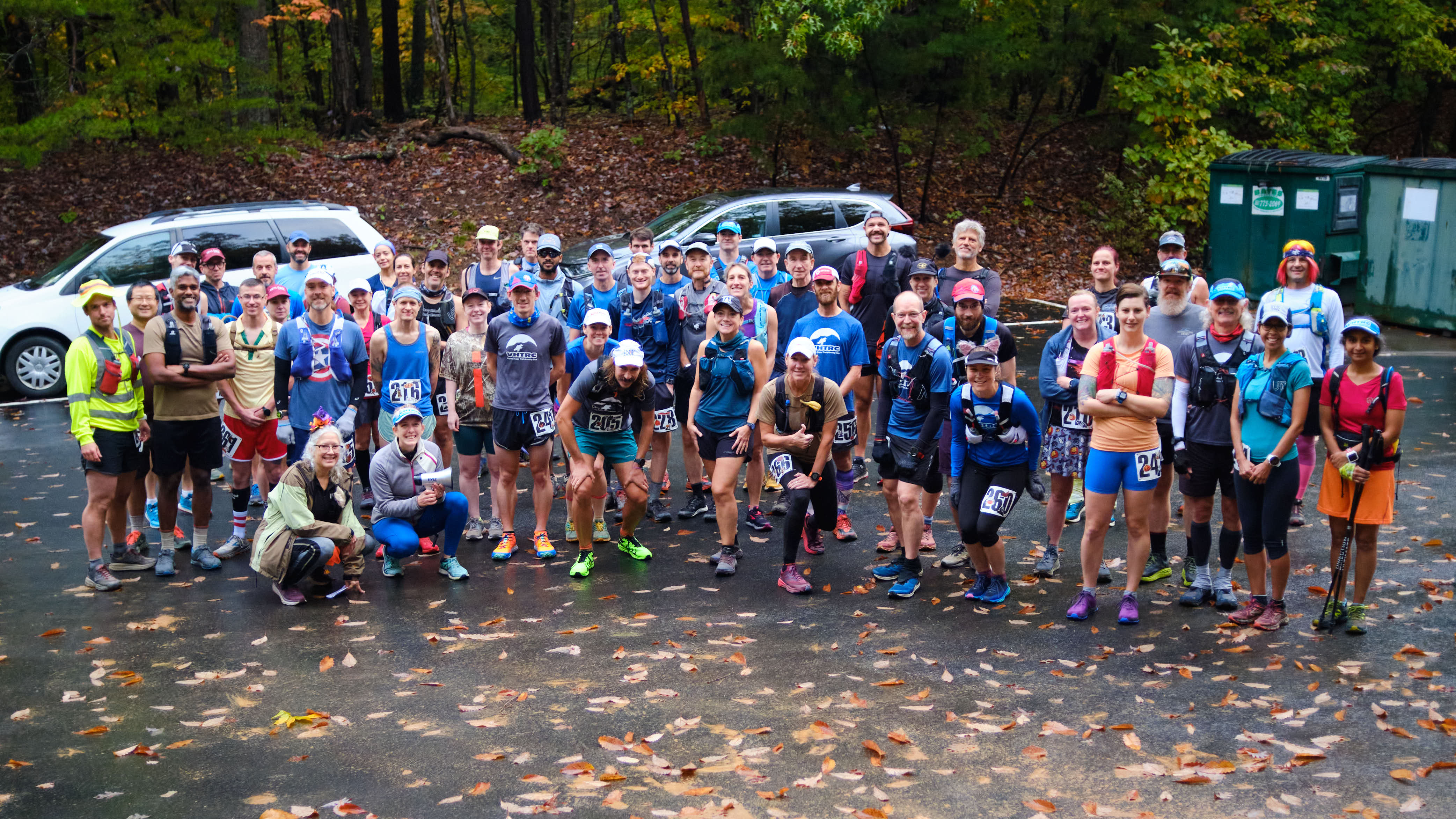 2021 was a year of change for the PB&J 50K. Two new event directors, Maria Bertacchi and Lauren Gabler Masterson, filled the very big shoes of Sarah Curtis. Due to the ongoing pandemic, the date moved about one month later than normal to accommodate the many moving pieces of today's run world.
Starting at the Telegraph Picnic Pavilion in Prince William Forest Park, runners followed the same course as the 2019 edition. Despite a full day of rain preceding the event, trails were in great condition and runners were greeted with perfect running weather: high 50s and partly cloudy, leading to an 80% finishing rate.
Dan Fogg won the run overall, with a blazing fast time of 4:44, a course record on this particular PB&J course (fun fact: Dan holds the course record from the previous starting location at Pine Grove). Will Weidman and Chris Moore followed closely behind, with times of 5:16 and 5:19, respectively.
The women's run was incredibly close. Heather Dougherty won on the women's side in the fantastic time of 6:20. Second place female Heather Phelps followed closely in 6:24, with Jennifer Cortesi on her heels in 6:30.
A huge shoutout to those first-time ultra runners, like Joseph Palgutt, Jeff Tessian, Samantha O'Connor, and Tirukumar Murugayan (some of whom ran their first ½ marathon, marathon, AND 50K all in the same run - wow!). Kudos to them and to all new and seasoned VHTRCers alike.
Of course, we can't forget the large contingent of volunteers that supported the runners along the way. Without them, this run would not be possible!
New this year: costume contest!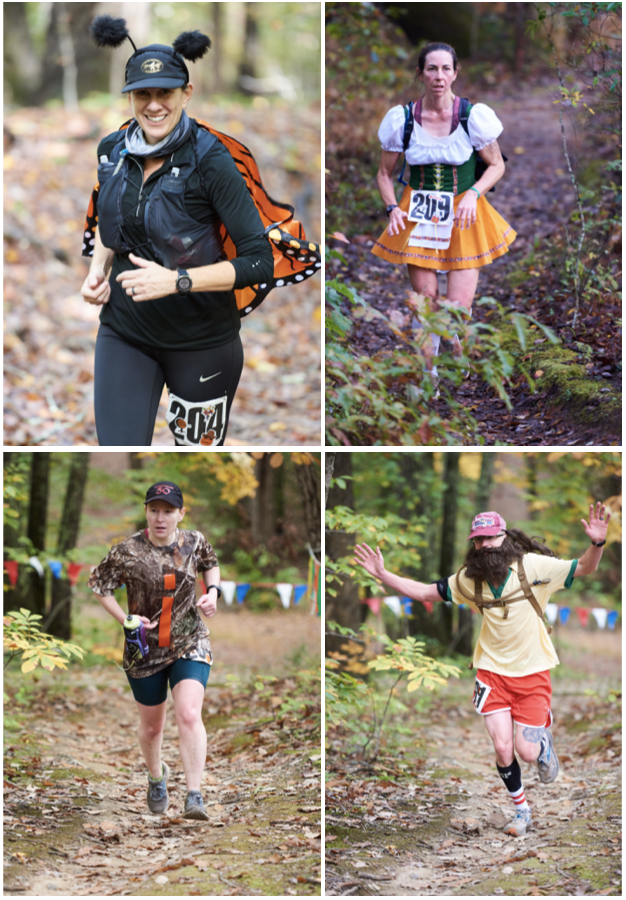 Because the run was held the day before Halloween, it was only right to have a costume contest! Congrats to our winners in the following categories:
Best overall: Butterfly - Vicki Bryant
Most timely: Oktoberfest - Jennifer Cortesi
Most creative: Stay on orange - Daisy Weill
Best to run in: Forest Gump - David Walker
Photos
Kirk Masterson's photos | Bryan Zelley's photos (VHTRC Facebook membership required)
Results
| Place | First Name | Last Name | Sex | Age | State | AS 1 Mawavi | AS 2 TREC | AS 3 Telegraph | AS 4 Mawavi | AS 5 TREC | Time | Notes | | | | | | | | | | | | |
| --- | --- | --- | --- | --- | --- | --- | --- | --- | --- | --- | --- | --- | --- | --- | --- | --- | --- | --- | --- | --- | --- | --- | --- | --- |
| 1 | Dan | Fogg | Male | 36 | DC | 0:58 | 1:39 | 2:10 | 3:14 | 4:04 | 4:44 | 1st male + course record holder! | | | | | | | | | | | | |
| 2 | William | Weidman | Male | 38 | VA | 1:03 | 1:49 | 2:27 | 3:40 | 4:36 | 5:16 | 2nd male | | | | | | | | | | | | |
| 3 | Christopher | Moore | Male | 36 | VA | 1:04 | 1:49 | 2:24 | 3:37 | 4:36 | 5:19 | 3rd male | | | | | | | | | | | | |
| 4 | Matthew | Erb | Male | 43 | VA | 1:04 | 1:49 | 2:24 | 3:40 | 4:36 | 5:19 | | | | | | | | | | | | | |
| 5 | Andrew | Miller | Male | 29 | MD | 1:03 | 1:48 | 2:22 | 3:44 | 5:00 | 5:56 | | | | | | | | | | | | | |
| 6 | Joseph | Palgutt | Male | 32 | VA | 1:08 | 1:54 | 2:30 | 3:56 | 5:08 | 6:02 | 1st ultra! | | | | | | | | | | | | |
| 7 | Adam | Stolzberg | Male | 45 | VA | 1:20 | 2:10 | 2:49 | 4:10 | 5:12 | 6:04 | | | | | | | | | | | | | |
| 8 | Heather | Dougherty | Female | 35 | DC | 1:27 | 2:23 | 3:06 | 4:38 | 5:36 | 6:20 | 1st female | | | | | | | | | | | | |
| 9 | Dylan | Kolb | Male | 26 | DC | 1:27 | 2:23 | 3:06 | 4:38 | 5:36 | 6:20 | | | | | | | | | | | | | |
| 10 | Heather | Phelps | Female | 47 | VA | 1:19 | 2:15 | 2:57 | 4:22 | 5:28 | 6:24 | 2nd female | | | | | | | | | | | | |
| 11 | Jon | Long | Male | 43 | VA | 1:13 | 2:07 | 2:49 | 4:25 | 5:37 | 6:26 | | | | | | | | | | | | | |
| 12 | James | Magee | Male | 43 | VA | 1:21 | 2:21 | 3:06 | 4:38 | 5:42 | 6:29 | | | | | | | | | | | | | |
| 13 | Jennifer | Cortesi | Female | 44 | VA | 1:21 | 2:21 | 3:09 | 4:38 | 5:42 | 6:30 | 3rd female | | | | | | | | | | | | |
| 14 | Andrew | Schaaf | Male | 53 | VA | 1:22 | 2:21 | 3:06 | 4:38 | 5:42 | 6:30 | | | | | | | | | | | | | |
| 15 | Daisy | Weill | Female | 33 | DC | 1:22 | 2:18 | 3:04 | 4:38 | 5:42 | 6:30 | | | | | | | | | | | | | |
| 16 | David | Walker | Male | 35 | VA | 1:20 | 2:18 | 3:03 | 4:39 | 5:47 | 6:38 | | | | | | | | | | | | | |
| 17 | Scott | Lee | Male | 50 | VA | 1:31 | 2:28 | 3:14 | 4:47 | 5:56 | 6:42 | | | | | | | | | | | | | |
| 18 | Jeff | Tessein | Male | 35 | VA | 1:22 | 2:21 | 3:10 | 4:44 | 5:54 | 6:42 | 1st ultra! | | | | | | | | | | | | |
| 19 | John | Calabrese | Male | 41 | VA | 1:20 | 2:18 | 3:03 | 4:44 | 5:51 | 6:46 | | | | | | | | | | | | | |
| 20 | Marcel | Lettre | Male | 49 | MD | 1:27 | 2:23 | 3:06 | 4:44 | 5:51 | 6:46 | | | | | | | | | | | | | |
| 21 | Laura | Chipkin | Female | 41 | VA | 1:27 | 2:27 | 3:16 | 4:56 | 6:04 | 6:56 | | | | | | | | | | | | | |
| 22 | Rob | Kolb | Male | 53 | VA | 1:30 | 2:28 | 3:17 | 4:57 | 6:09 | 7:03 | | | | | | | | | | | | | |
| 23 | Jennifer | Cooper | Female | 33 | VA | 1:30 | 2:32 | 3:23 | 5:04 | 6:13 | 7:07 | | | | | | | | | | | | | |
| 24 | Robert | Grolemund | Male | 53 | VA | 1:31 | 2:38 | 3:30 | 5:29 | 6:28 | 7:23 | | | | | | | | | | | | | |
| 25 | Liliana | Martinez | Female | 43 | VA | 1:28 | 2:30 | 3:22 | 5:11 | 6:27 | 7:28 | | | | | | | | | | | | | |
| 26 | Neil | Pareddy | Male | 22 | DC | 1:31 | 2:37 | 3:30 | 5:20 | 6:42 | 7:38 | | | | | | | | | | | | | |
| 27 | Bernard | Pesjak | Male | 52 | VA | 1:47 | 2:52 | 3:42 | 5:36 | 6:45 | 7:41 | | | | | | | | | | | | | |
| 28 | Dani | Seiss | Female | 51 | MD | 1:31 | 2:43 | 3:28 | 5:30 | 6:49 | 7:46 | | | | | | | | | | | | | |
| 29 | Larry | Ferguson | Male | 46 | VA | 1:39 | 2:46 | 3:41 | 5:36 | 6:53 | 7:52 | | | | | | | | | | | | | |
| 30 | Carol | Joe | Female | 31 | VA | 1:39 | 2:46 | 3:41 | 5:33 | 6:53 | 7:53 | | | | | | | | | | | | | |
| 31 | Michael | Jury | Male | 46 | VA | 1:39 | 2:46 | 3:41 | 5:33 | 6:53 | 7:53 | | | | | | | | | | | | | |
| 32 | Karen | Wille | Female | 50 | VA | 1:32 | 2:38 | 3:35 | 5:35 | 7:00 | 8:01 | | | | | | | | | | | | | |
| 33 | Tim | Moles | Male | 62 | VA | 1:39 | 2:50 | 3:45 | 5:44 | 7:06 | 8:05 | | | | | | | | | | | | | |
| 34 | Marty | Fox | Male | 70 | VA | 1:44 | 2:53 | 3:52 | 5:55 | 7:15 | 8:13 | | | | | | | | | | | | | |
| 35 | Samantha | O'Connor | Female | 31 | VA | 1:40 | 2:53 | 3:48 | 5:55 | 7:14 | 8:15 | 1st ultra! | | | | | | | | | | | | |
| 36 | Vickie | Bryant | Female | 52 | VA | 1:47 | 3:07 | 4:08 | 6:06 | 7:31 | 8:31 | | | | | | | | | | | | | |
| 37 | Brian | Maday | Male | 45 | VA | 1:41 | 2:55 | 3:52 | 5:57 | 7:26 | 8:32 | | | | | | | | | | | | | |
| 38 | Rebecca | Kessler | Female | 47 | MD | 1:41 | 2:59 | 4:00 | 6:06 | 7:35 | 8:39 | | | | | | | | | | | | | |
| 39 | Sirisha | Golla | Female | 47 | VA | 1:47 | 3:07 | 4:08 | 6:10 | 7:35 | 8:40 | | | | | | | | | | | | | |
| 40 | Jeffrey | Klemm | Male | 70 | VA | 1:50 | 3:17 | 4:18 | 6:26 | 7:58 | 9:00 | | | | | | | | | | | | | |
| 41 | Tirukumar | Murugayan | Male | 42 | VA | 1:43 | 3:03 | 4:02 | XX | 8:23 | 9:58 | 1st ultra! | | | | | | | | | | | | |
| | Steven | Andrews | Male | 40 | MD | 1:32 | 2:47 | 3:50 | XX | XX | DNF | | | | | | | | | | | | | |
| | Dawn | Gray | Female | 47 | VA | 1:48 | 3:09 | 4:21 | XX | XX | DNF | | | | | | | | | | | | | |
| | KC | Orgeron | Female | 45 | VA | XX | XX | XX | XX | XX | DNF | | | | | | | | | | | | | |
| | Jimm | Ouellette | Male | 49 | VA | 1:32 | 2:28 | 3:19 | XX | XX | DNF | | | | | | | | | | | | | |
| | Brian | Schmidt | Male | 53 | VA | 1:01 | 1:47 | 2:10 | XX | XX | DNF | | | | | | | | | | | | | |
| | Eric | Thomson | Male | 53 | VA | 1:30 | 2:37 | 3:34 | XX | XX | DNF | | | | | | | | | | | | | |
| | Sheila | Vibert | Female | 39 | VA | 1:21 | 2:18 | 3:05 | XX | XX | DNF | | | | | | | | | | | | | |
| | Shaojun | Wen | Male | 49 | VA | 1:35 | 2:48 | 4:08 | XX | XX | DNF | | | | | | | | | | | | | |
| | Chrissy | Blankenship | Female | 40 | VA | 1:47 | 3:07 | 4:08 | XX | XX | DNF | | | | | | | | | | | | | |
| | James | Thull | Male | 64 | VA | 1:57 | 3:21 | 4:22 | XX | XX | DNF | | | | | | | | | | | | | |
Last updated September 10, 2022