2017 Report
October 8, 2017 • Quantico, VA
85 starters, 51 finishers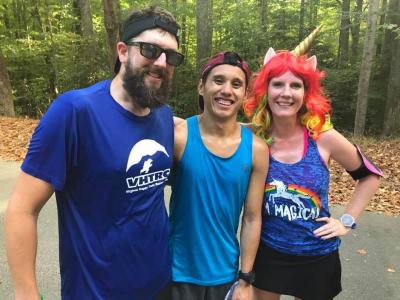 Thank you to everyone who participated in the 4th annual PB&J 50K. A special thanks to all the volunteers who made this year's event a success! The volunteers are listed here in no particular order (unless alphabetical is considered an order): Rick Amernick, Steve Barge, Justin Beck, Diane Behm, Ella Berkowitz, Julie Briskman and Family, Erin Brown, Andy Burnette, Phil Cuppernell , Marty Fox, Jesse Fuller, Cherry Grassi, John Hodge, Jennifer "Unicorn" Hotchkiss, Sean Hotchkiss, Josh Howe, Quatro Hubbard, Brett Martin, David Robertson, Judith Weber, and Steve Yurek.
It was a beautiful, albeit unseasonably humid, October day. While I can't speak for the conditions experienced by the runners out on the trail, the weather at the start/finish was beautiful the entire day through; perfect conditions for sitting around and making snarky comments all day. The aid stations were very fortunate to be visited by multifarious swarms of hornets (which are good luck, in case you were unaware). Casualties were few.
This year's run saw a record number of starters and finishers (85 starters; 51 finishers) a 60% finishing rate. The 2017 edition of the PB&J 50k saw the largest starting field, and the highest number of finishers. The two-loop course format traditionally takes a toll on the finishing rate, as a much higher than usual number of runners drop mid-way through the run each year.
Dan Fogg set an impressive new course record with a time of 4:04, shattering the previous course record of 4:23 (set in 2014 by Grace Fisher). Dan also beat his own previous PB&J course record (4:34) and earned a new 50K PR in the process! (*The 2015 PB&J was Dan's first ultra)
Mark Langham, second place finisher also beat the previous course record with a finish time of 4:19. This is also a 50k PR for Mark. Matt Christovich was the 3rd place finisher with a time of 4:52. This is an improvement on Matt's previous PB&J best time by nearly an hour (5:46 in 2014).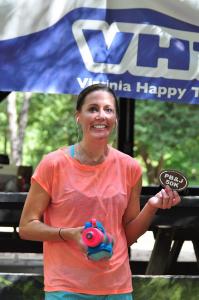 Krista Offield was the 1st place female and 4th finisher overall with a time of 4:57. New to the area, Krista charmed everyone with her easy running form and her friendly manner. But more to the point, she ran with style – her pink and green running ensemble precisely matched the colors on her phone cover. Mary Beth Strickler cruised to a 2nd place finish among the women, in 5:18, and Daisy Weill placed 3rd female (6:13).
Photos
Photos - Andy Burnette | Photos - Windy Aziz & Jennifer Hotchkiss
Last updated October 31, 2021