24th Running
VHTRC Massanutten Mountain Trails 100 Mile Trail Run
Fort Valley, VA
Saturday, May 19, 2018
190 starters, 126 finishers
66% finishing rate
Results
Entrants
Report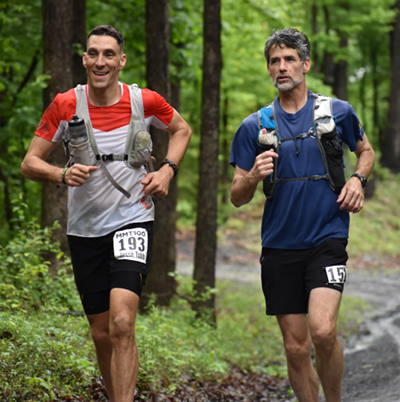 Water was the word at the 24th Massanutten Mt Trails 100. There was less than an inch of rain during the event, but the days before had several inches. Kathleen Cusick won her fourth MMT in a row. Matthew Thompson won his first MMT.
No event time records were harmed at this year's event. Kathleen Cusick became the first person to win the event four years in a row. Keith Knipling and Roy Heger have 19 finishes. Susan Donnelly is the female with the most finishes (17). Kathleen Cusick joined the 10-time finisher list.
Visitors List
These four runners left the Visitors List because they finished this year (with the year they joined): Peter Daly (joined 2014), Adam Korona (2002), James Heun (2016), and David Glaser (2017).
The following people joined the Visitors List: Jennifer Hotchkiss, Brian Brown, Khalid Miah, Tracy Cooley, Sarah Harry, Jeffery Hayes, Gary Long, Gilles Poulin, Nicole Ponte, Alejandro Zapata, Brad Bansner, Michael Johnson, David Peppelman, Ryan Vandenberg, Justin Hersh, Hompeng Komthirath, Giles Gregory, Martin Bherer, Adam Dyas, Edward Wang, Kelly Shaer, Jesse Parker, Vincent Gauthier, Ryan Stuart, and Adam McGinnis.
Other reports
Last updated May 12, 2020