A Shiny Start to 2023
by John Calabrese & Denise Freeman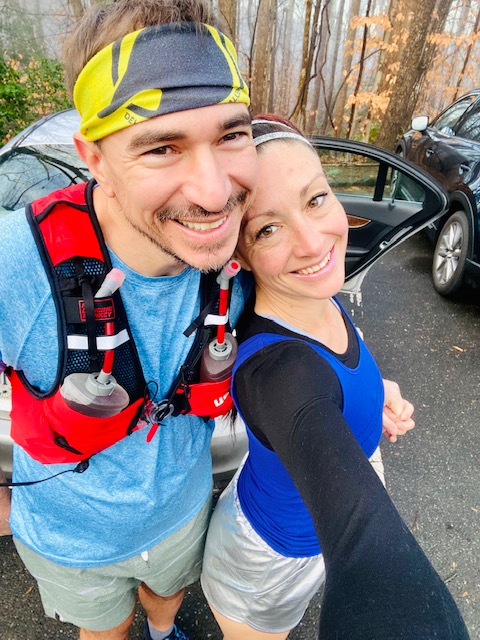 2023 Redeye Race Report - John Calabrese
Even though I run the Devil Dog 100 every year and should be sick of Prince William Forest Park, I always come back to Redeye.
There's something amazing about staring the new year with an ultra and I have always loved this race for a few reasons. Part of this race experience to me is the thrill of a whole new year ahead of you. A whole year of possibilities and to reflect the previous year. What will you do differently? What races will you run? How will you train? And so on. It's a perfect day to get away and think about these things. I'm always fascinated by the runners who show up at Redeye. You get a lot of VHTRC regulars, first time trail runners, road runners, people in the area visiting family or friends and many different types of runners. You get such a cool mix of people and the food. There's so much food! Everyone brings their holiday leftovers (maybe they're trying to get rid of crazy amounts of holiday food) and they are great.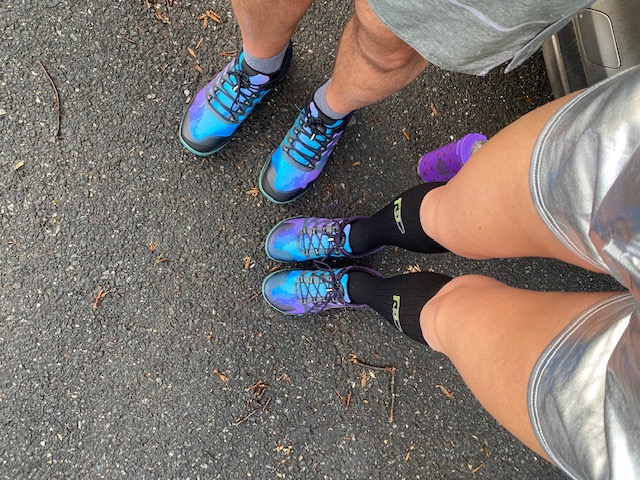 I've done Redeye in 2020, showed up in 2021 and it didn't really happen (it was a shitty, miserable day so I just ran a loop), the rainy Redeye 2022 and this fine year of 2023.
I enjoy this race so much I wanted my girlfriend Denise to run it with me. She has hiked a lot and ran some of Prince William Forest Park in the past but never done an ultra. Denise and I have been together for a year but have known each other since 2018. I wanted to bring her here and share reflection and plans for the new year on the trails.
In this race report you'll hear my perspective and Denise's. Denise and I are very different runners. We get along well and both come from the road but she's a better runner than I am. She'll tell you otherwise but when she runs with me on trails, you can tell she's in low gears.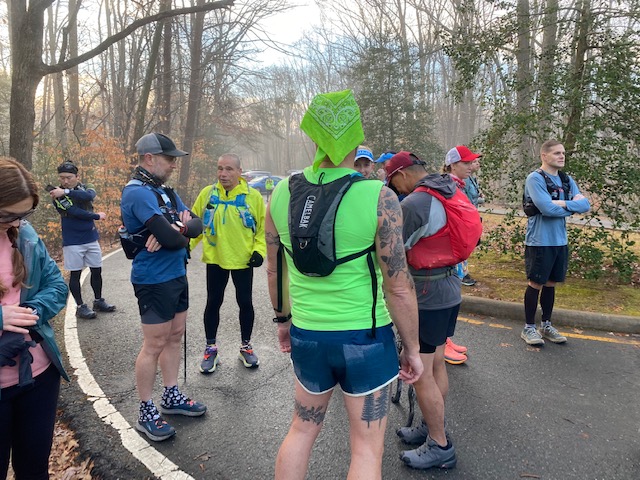 2023 Redeye Race Report - Denise Freeman Counterpoint:
A friend of ours thought a "he said, she said" commentary on a race would be a delight, so I will do my best to respond to my other half's rhetoric. That being said, I was extremely excited to run with John in PWFP on New Years Day, for a multitude of reasons. I've heard a ton about his love-hate relationship with running at PWFP in different capacities and for different events.
I am a lover of running and wanted to experience it for myself. I have run the 17.75 mile Marine Corps Marathon prep race there, but to be honest, I remember very little of that race. I have definitely hiked there with my kids years ago, but this would be a first actually running the trails. I was so excited, I conjured up a delightful little spectacle for myself to wear come race morning. I'm of the mindset that running should be fun and flashy. If you aren't having fun, you are definitely doing it wrong. And, just to clarify, John is the faster runner. He has beat me in all our pre-couple races and is much better at staying on his feet on the trails than I am. I may sparkle like a twinkling star, but I fall just as hard as a shooting star.
Back to you McRunfast.
Loop 1 - John
When we arrived there was a pretty good number of people there already and the cool thing was that as soon as we parked, we were immediately talking to people we know. Kerlin Doss, Brent Blythe and Bob Gaylord all were right there as soon as we get out of the car! That was great and I love how many local runners are at VHTRC races. As I was getting setup Chris Chalkley and Chris Rinehardt come over and I was like a reunion because they live out around King George way so I don't see them much. Denise was putting on the finishing touches to her running outfit (glitter and silver short) and she looked great. Although, I don't like her glitter spray because it smells like a methlab.
Loop 1 - Denise Retort
Bwahahahaha! A methlab, huh?! Anyone who has ever run a race with you knows you start panhandling for meth once you hit mile 60 or so, so I should have smelled like 100 dolla bills y'all to you, my sweet. To be fair, John did immediately tell me I smelled like chemicals, so I put a little extra on, for prosterity's sake. I was once described as a magical tinker bell fairy at a race from the amount of glitter that was flying off my hair and sparkling on my skin as I flitted along my merry way. I grew up in the 90's rave and dance culture, so that's my excuse and I'm sticking to it. It also makes you faster. Trust me:-) Our little runner group was probably more entertained with our matching purple sparkly galaxy Merrell's that I had gotten for us for Christmas. I was impressed nobody openly took pity on John, but, purple also makes you faster and they were a fantastic deal.
Back to Loop 1 - John
Denise and I ran the road together going to the trail head but for most of my loop 1 I was with someone I met named Dhanesh Shah. Dhanesh is from the Cleveland area, and we discussed Burning River and Conquer the Castle races. The area he lives in is a great running community like what we have here in VA. Another person I ran with was Charlie Poffenberger, who I met at MGM 50k a couple weeks ago - that had been his first ultra, and here he was, back for more already!
Denise is better than me on trails, whether she wants to admit it or not, she's always ahead of me but she's very kind and at some point she stops and waits or takes pictures. I met back up with her about 6 miles from the end of loop 1. She was hanging out with Q, Carol Cohen, Ram Oruganti, and I think Bob Gaylord. We ran together for awhile then she went ahead again. We met back up at the end of loop 1 aid station and pummeled food. There was so much amazing junk food but this would definitely be a problem next loop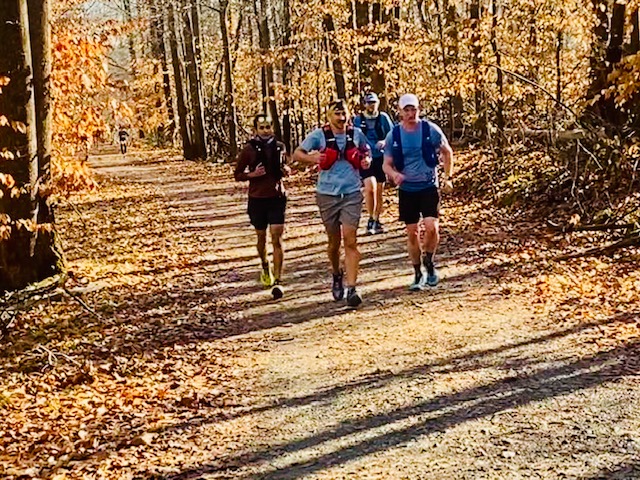 Back to Loop 1- Denise Retort
John and I headed out together and assessed his thoughts on his new Intergalactic shoes as we ran from pavement to trail. One thing I have always enjoyed about John is his excitement over all things running, and that includes shoe analysis. What a pleasure to chat about how a new shoe is working out as it's happening; it's like reading a Runner's World shoe review in real time. Fabulous fun.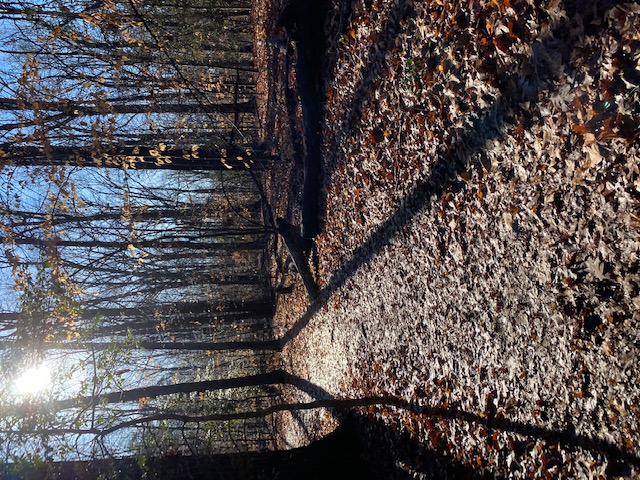 We hooked up with some trail boys right off the bat and they started talking some run shop as we ran. John makes friends fast and that serves him very well for the millions of miles he has, does and will spend with different people out there on the trails. An excellent strategy for building your running tribe. I dig it. I am and have always been a very solitary runner. I can and do run with others at times, and grew up amusing teammates, friends and buddies (who wanted help getting into running ) with stories and songs to keep it lively. That being said, John is my running partner and I love that, but, with him distracted, I sort of headed off on my own. Hoping to not get lost lol.
I stumbled across my buddy Alex from MGM 50k and said howdy. I also picked up with a new friend who just moved to Fredericksburg and is getting into ultras like me. He got to see me epically wipe out just before Aid Station 1. It was beautiful. Like a swan dive straight into the mud. A 10 for sure, my shimmering presence is only ever outshone by my grace. As we entered the Aid station, I explained to my new friend I absolutely don't eat solid food when I run. It makes me sick. And just like that. I saw snacks and set myself up for a rough ride on loop number 2 lmfao.
Loop 2 - John
This was probably the warmest Redeye 50k I've ever done. I was dressed right but after having single digit days the last couple weeks my body was extremely unhappy. I was still running with my buddies but about 4 miles in they bailed, and I don't blame them, I was sluggish. Denise was also somewhere ahead. My friends Chris Rhinhardt and Chris Chalkley caught up and I ran with them for a while. We talked a lot about gas station food and Five Guys being expensive. I caught up with Denise and while on Redeye I signed up for Viaduct 100 in PA. I normally don't like signing up for races while doing a race but Viaduct got canceled last year and I DNFd the year before. They only allow a limited amount of runners so I made sure to grab a spot. There's not many fatass 100s out there.It's such an amazing event. Also, there's a really coolpizza shop in the town there. It's the most PA thing I've ever seen, there's cats running around it and the people are crazy cool. I want to show Denise.
I was happy to get the signup done and finish the rest of the loop. We started running faster. Both Denise and I had issues on this loop but were happy to be done and moving onto the last loop.
Loop 2 - Denise Retort: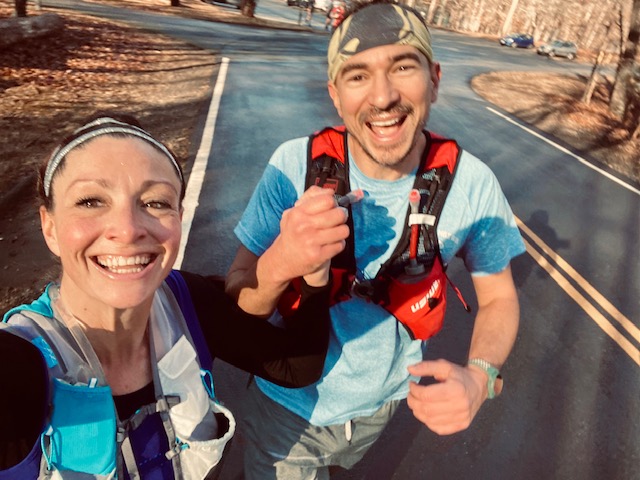 The summary of all my fears was realized on loop 2. I had eaten all the tasty snacks and was about to pay the piper. I started with John, but I wanted to cruise along before I began to die. I knew I was not going to do well. I've been running for 30 years as of this summer and I'm pretty in tune with what I can and can't get away with when it comes to running. Baby food and Fuel for Fire have been my best friends when I need calories on races over the years, but I set that plan right on fire. I was ok for a bit. Running with Alex and then this really awesome guy who John tells me is kind of an epic runner. He was good. We ran for a good bit together and joked about lapping my love, but I was ready to return to my best running bro and try to not get too sick. When we met up, we just started running and walking together. Signing up for races and taking selfies. It was fun and brightened up my previous miles of intestinal torture.
Loop 3 - John "The End"
Denise and I ran this whole loop together but not at a fast pace, both of us were ready to be done. We didn't really run into anyone here and there. The main person I remember seeing was a man named Eric. We paced off him until the big hill after the bridge towards the end of the loop. I was not able to run that thing at this point I was tired.
Loop 3 - Denise "The Retort"
That about sums it up. Eric WAS pretty cool for letting us draft him.
End part
VHTRC has so many unique runners / characters and there's so many I respect and try to emulate with the races I do, my attitude and love for being outside, free from all the crazy of modern life. I get caught up in a lot of stuff with how many races I do and there's so many more I want to rub but it's hard between money, time and luck getting in some of the big ones. I'm still young and got more running to do but I know it could end at any time. Life is more fragile than we all realize at times. I'm always torn between going all out 24/7 for races and being a responsible parent, it's hard.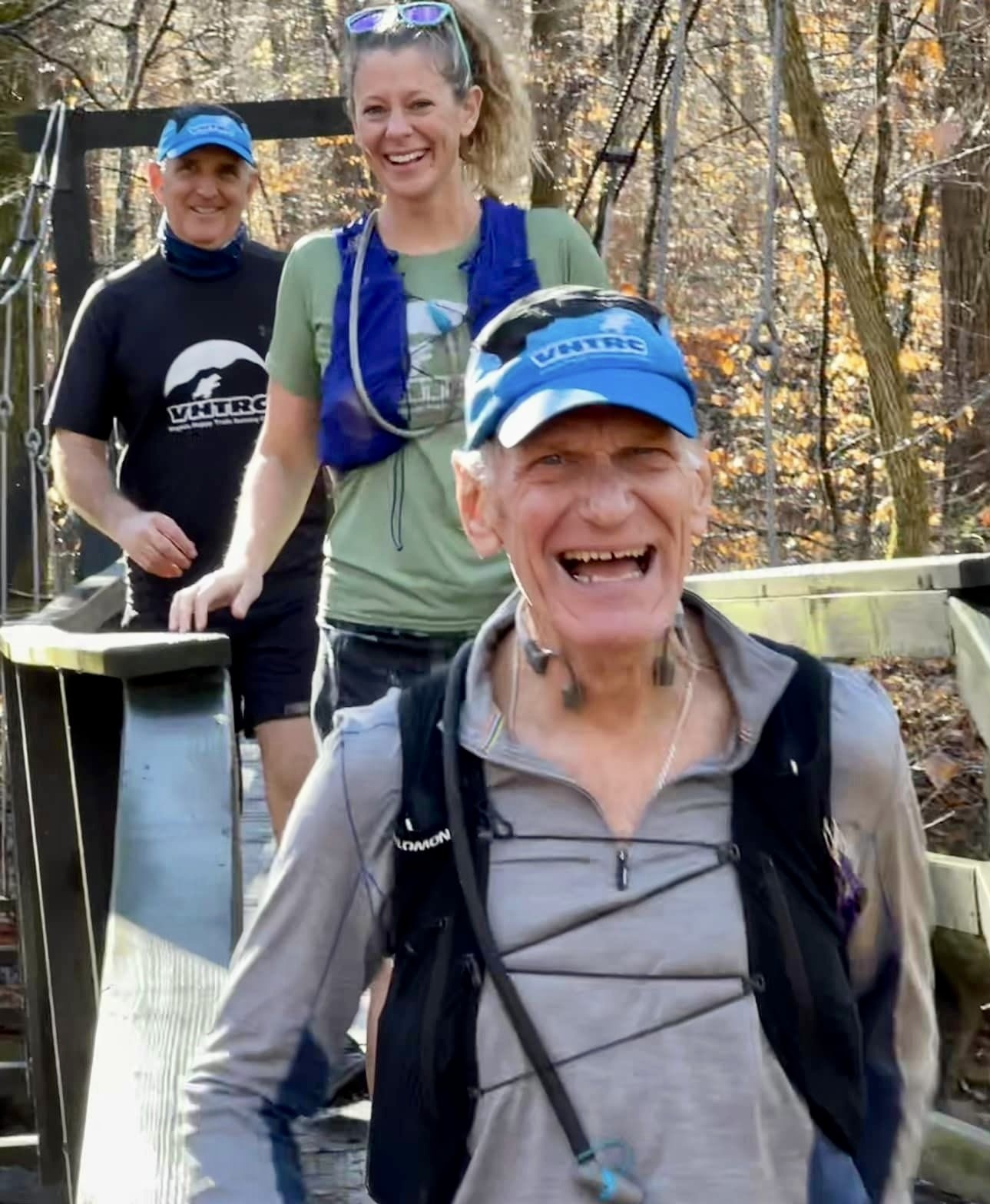 I really hope when it's time for me to punch out of this world I can say I did all the adventures I possibly could have and inspired others to do the same as Bob Gaylord, Marty Fox and everyone in VHTRC have done for me.
End part - Denise Retort
Yes. Bob Gaylord was there and some people ran some miles in the woods. See Bob? I didn't forget. Also, John is more poetic. And faster. I just have better outfits. And longer hair. I am glad to have fallen into this Wonderland of ultra running, and I look forward to many more miles and memories with all who I have had the pleasure to meet thus far, and all those I have yet to encounter. Starting a new year off with friends, running, food and fun is the best way to kick off a whole new trip around the sun. I hope there is inspiration in here for anyone reading this to join us again next year. I mean, there is magic out there on the trails. Why not start next year off with a little fairy dust of your own :-)
No matter how you got to Redeye 50k you're a better person for it and, if you haven't, I hope this race report will make you consider running or volunteering next year. It's a great way to start the year, and find or maintain inspiration.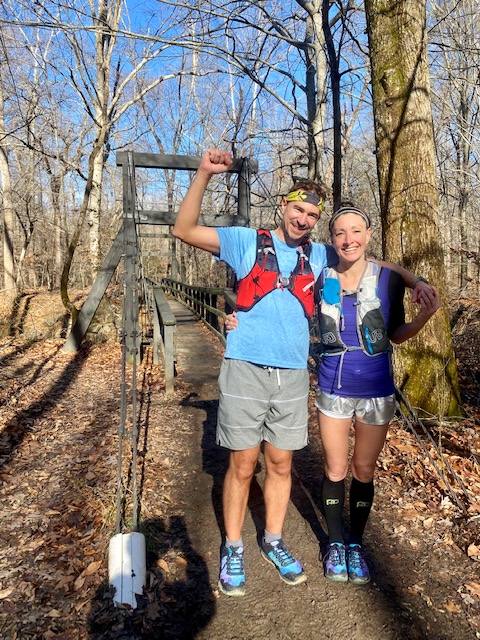 Last updated January 10, 2023