2022 Report
January 1, 2022 • Quantico, VA
46 starters, 20 finishers
Report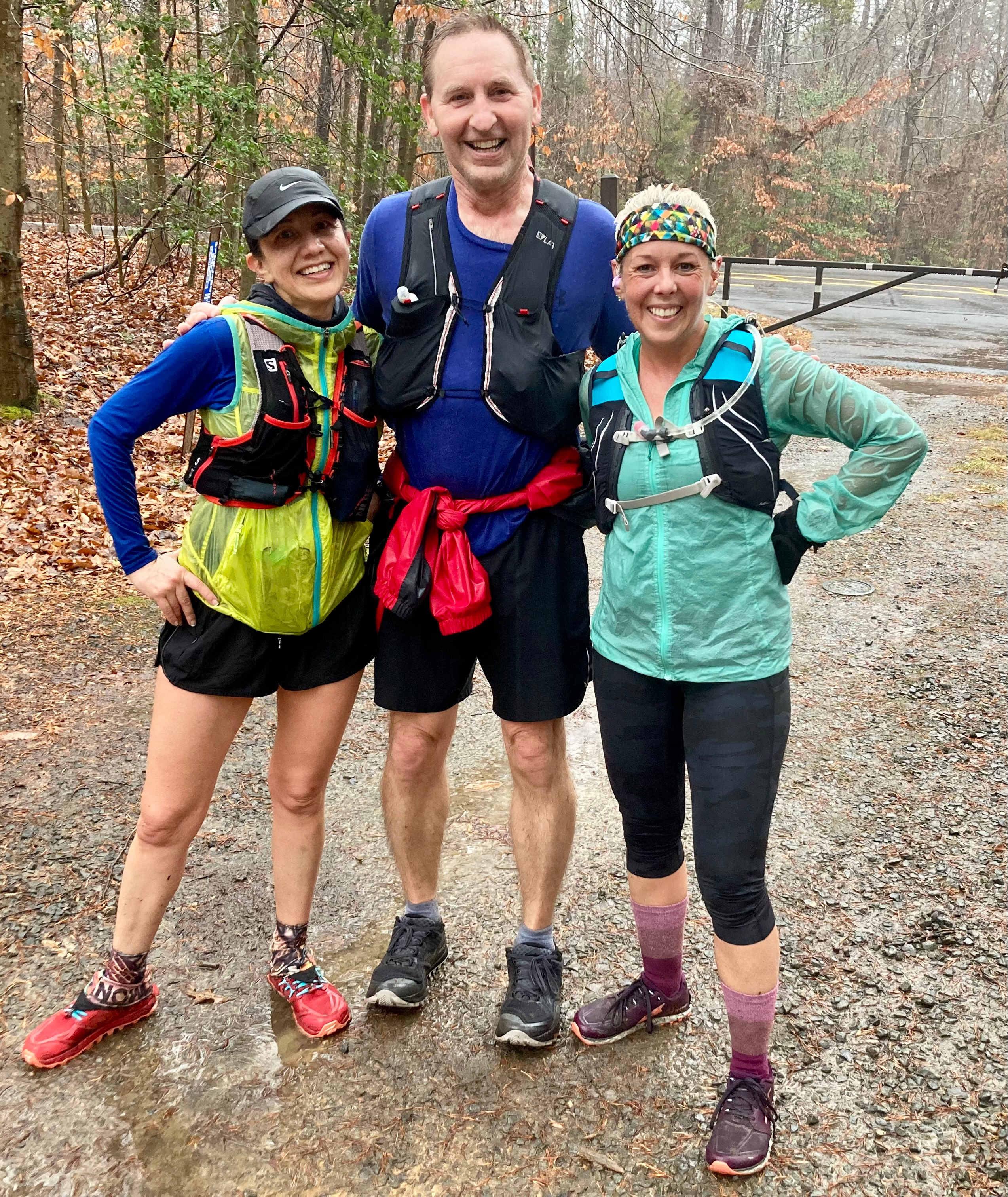 2022 got off to a wet start. A very, very wet start. The runners who braved the rainy forecasts and came out to play on the trails of Prince William Forest Park for the VHTRC's annual Redeye 50k on New Year's Day were "treated" to more than they had bargained for, as the fearcasters in this instance underestimated the amount of precipitation. Nearly half the entrants did join the run, and everyone appeared to have a blast splashing about on the course.
20 of the nearly 50 participants started their new year off by finishing the 50k run. It was great seeing Brian Schmidt back to his old 50k form. He ran a very steady pace for his three loops and finished ahead of the field in 4:36:42. Jared Byrd also broke 5 hours, coming in second in 4:56:48, with Brad Hawley rolling in a few minutes later, in just a seconds over 5 hours. Sara Davidson, whose primary goal appeared to be a desire not to get lapped by Jared, was thusly motivated to finish first among the women, with a time of 6:13:31. Michele Jacoby ran negative splits(!) to come in second in 6:35:32.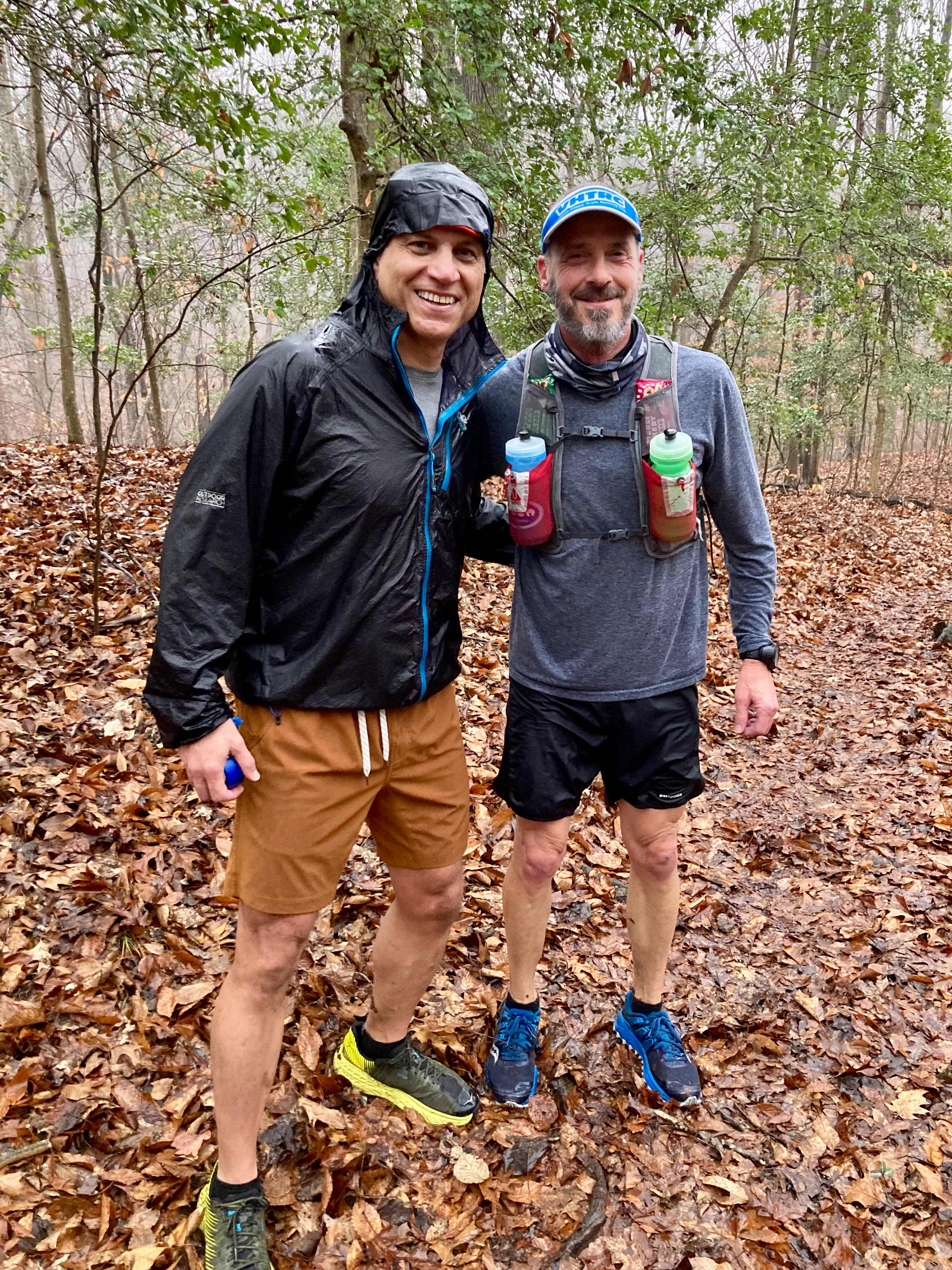 Covid was again impactful on the Redeye. The pandemic caused the 2021 run to be canceled. This year, not only were several runners unable to attend due to positive tests or exposure, but run director Dave Woll was also a late scratch due to his need to quarantine. His volunteer crew subbed in to put on a successful show in his absence, however. Regular VHTRC run report viewers have no doubt noted some unusual precision in the results; for this, relative trail racing newcomer Heather Phelps must be thanked. Heather kept very close tabs on her runners on this day, and brought out the old-school Timex Ironman watch to track their arrival times back to her start/finish tent down to the second. Leigh McCue was out on a gorgeous New Year's Eve afternoon helping Quatro Hubbard mark the course. Despite the slew of hikers who were out that afternoon enjoying the trails in near spring-like conditions, the course experienced virtually no vandalism, other than late on run day, when the entire area around TREC (the Turkey Run Education Center), about 7 miles into the loop, was cleared of its blue ribbons. The rest of the course was eventually cleared by volunteer Ram Oruganti. Big thanks also to Dan Aghdam for helping with run set up and break down, and early recon to ensure that the course remained marked. Finally, RD Emeritus Gary Knipling sprang for several boxes of pizza to provide a hot afternoon treat for the runners and volunteers alike.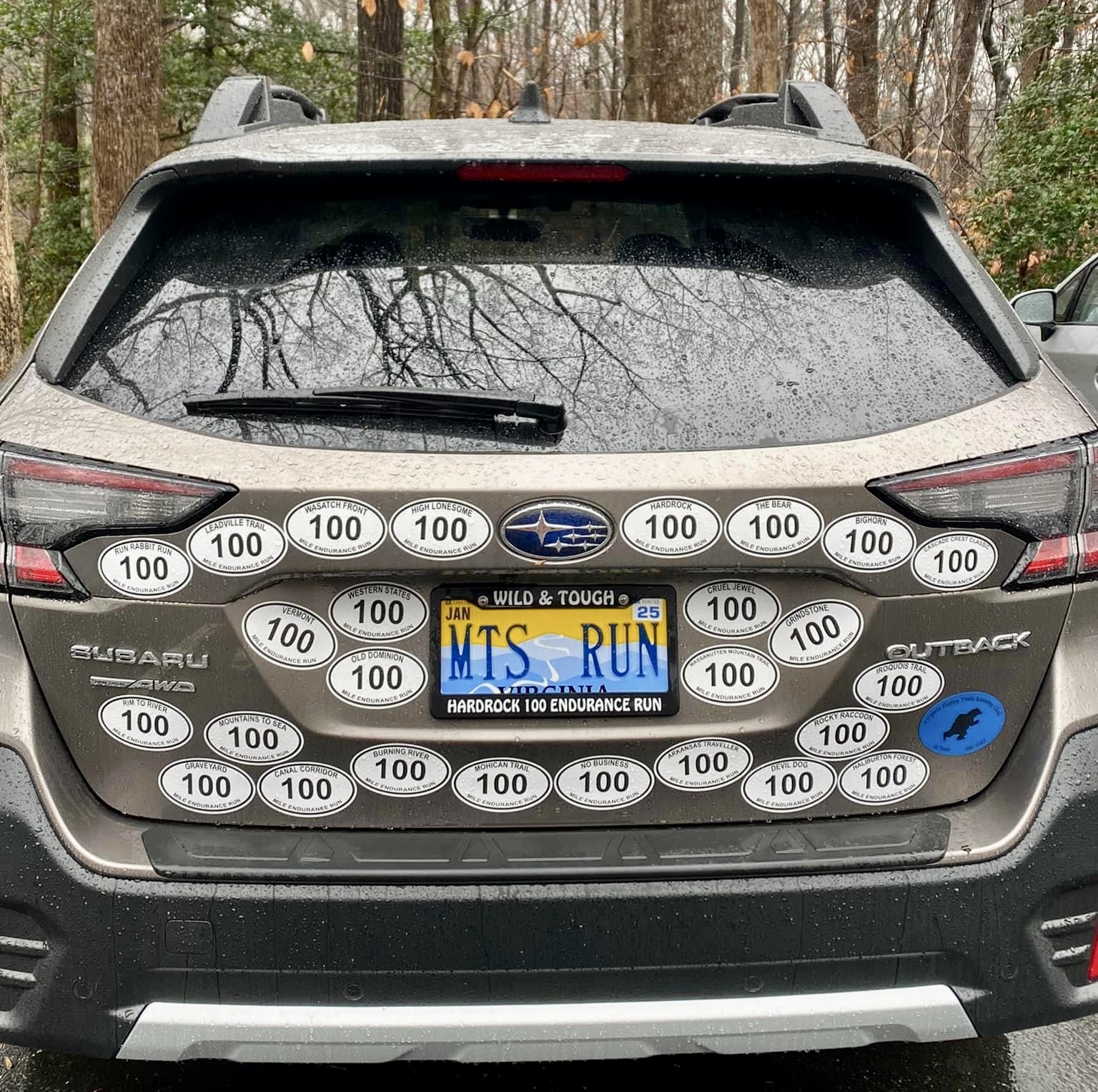 Results
| Place | Name | Loop 1 | Loop 2 | Loop 3 | Comment |
| --- | --- | --- | --- | --- | --- |
| 1 | Brian Schmidt | 1:36:56 | 3:03:28 | 4:36:42 | 50k |
| 2 | Jared Byrd | 1:46:25 | 3:20:39 | 4:56:48 | 50k |
| 3 | Bradley Hawley | 1:47:45 | 3:22:29 | 5:00:49 | 50k |
| 4 | Christopher Flint | 1:46:49 | 3:20:45 | 5:03:13 | 50k |
| 5 | Josh West | 1:46:38 | 3:21:20 | 5:30:05 | 50k |
| 6 | Keith VanGraafeiland | 1:46:25 | 3:30:57 | 5:30:24 | 50k |
| 7 | Shawn Baker | 2:03:06 | 3:52:28 | 5:33:09 | 50k |
| 8 | Al Murray | 1:58:35 | 3:40:55 | 5:35:19 | 50k |
| 9 | Jun Komiyama | 1:58:15 | 3:42:35 | 5:35:52 | 50k |
| 10 | Kerlin Doss | 2:03:02 | 3:52:28 | 5:43:26 | 50k |
| 11 | Bruce Tweedie | 1:58:09 | 3:57:04 | 6:06:10 | 50k |
| 12 | Sara Davidson | 2:05:38 | 4:11:55 | 6:13:31 | 50k |
| 13 | Paul Valenzuela | 2:02:57 | 4:09:40 | 6:17:05 | 50k |
| 14 | Wayne Kline | 2:16:38 | 4:26:51 | 6:35:17 | 50k |
| 15 | Michele Jacoby | 2:19:03 | 4:27:39 | 6:35:32 | 50k |
| 16 | Brian Chiles | 2:07:32 | 4:16:38 | 6:36:50 | 50k |
| 17 | Larry Huffman | 2:25:17 | 4:41:38 | 6:59:48 | 50k |
| 18 | John Calabrese | 2:03:12 | 4:27:12 | 7:15:01 | 50k |
| 19 | Marty Fox | 2:28:00 | 4:46:38 | 7:16:09 | 50k - long course |
| 20 | Jeffrey Klemm | 2:59:53 | 5:47:48 | 8:48:00 | 50k |
| DNF | Hompeng Komthirath | 2:02:52 | 4:08:54 | XXX | 2 loops |
| DNF | Todd Ellick | 2:05:49 | 4:08:54 | XXX | 2 loops |
| DNF | James Brennan | 2:10:49 | 4:25:18 | XXX | 2 loops |
| DNF | Greg Loomis | 2:10:57 | 4:25:30 | XXX | 2 loops |
| DNF | Veronica Crawford | 2:16:22 | 4:38:53 | XXX | 2 loops |
| DNF | Tim Moles | 2:29:21 | 5:01:49 | XXX | 2 loops |
| DNF | Blake Larkin | 2:34:15 | 5:35:44 | XXX | 2 loops |
| DNF | James Miller | Missed | 4:47:37 | XXX | 2 loops - missed AS 1 |
| DNF | Eric Thornton | 1:49:19 | XXX | XXX | 1 loop + 16 bonus miles |
| DNF | Rebecca Ivester | 2:03:22 | XXX | XXX | 1 loop |
| DNF | Ken Robitaille | 2:03:30 | XXX | XXX | 1 loop |
| DNF | Chris Reinhardt | 2:06:44 | XXX | XXX | 1 loop |
| DNF | Jeffrey Kent | 2:06:53 | XXX | XXX | 1 loop |
| DNF | Joe Hain | 2:17:35 | XXX | XXX | 1 loop |
| DNF | Karen Knight | 2:18:41 | XXX | XXX | 1 loop |
| DNF | Tom Simonds | 2:19:28 | XXX | XXX | 1 loop |
| DNF | Debi McGuire | 2:27:02 | XXX | XXX | 1 loop+/late start |
| DNF | Angela Huang | 2:40:40 | XXX | XXX | 1 loop |
| DNF | Martin Dubbs | 2:59:10 | XXX | XXX | 1 loop + prologue repeat |
| DNF | Ram Oruganti | 2:51:00 | XXX | XXX | Blue Ribbon Sweep |
| DNF | Mike Edwards | 3:01:48 | XXX | XXX | 1 loop/late start |
| DNF | Kari Anderson | 3:22:57 | XXX | XXX | 1 Loop Walking |
| DNF | Gary Knipling | 3:22:57 | XXX | XXX | 1 Loop Walking |
| DNF | Dave Yeakel | 3:22:57 | XXX | XXX | 1 Loop Walking |
| DNF | Cathy Roberts | 3:22:57 | XXX | XXX | 1 loop walking |
| DNF | Israel Archuletta | 1:39:01 | XXX | XXX | 1:39:01 |
| DNF | Steve Gould | XXX | XXX | XXX | 5 miler |
Last updated January 5, 2022