2015 Report
January 1, 2015 • Quantico, VA
131 starters, 44 finishers
The 19th running of the Redeye 50K run took place on Thursday January 1, 2015 from Pine Grove in Prince William Forest Park. It was another great winter day for running with sunshine, light breezes, and temps in the 40's. Well over 100 runners (131) started just a few minutes (4:00) after the 8:00 AM planned start. Among the assembled crowd were three of the Team Slug members who originated the Redeye Run in 1997: Dan Grayson, Rebecca & James Moore.
Evan Fisher who completed the 3-loop course in 4:29 set a new "event" record. Kathleen Cusick defended her women's title from last year with a solid run in 5:27. There were 44 runners (14 women/30 men) who met the pre-race challenge to "keep running", and made 2015 have the highest number and highest % of finishers of any Redeye. A total of 131 runners ran at least one loop, and 34% finished the 50K + distance.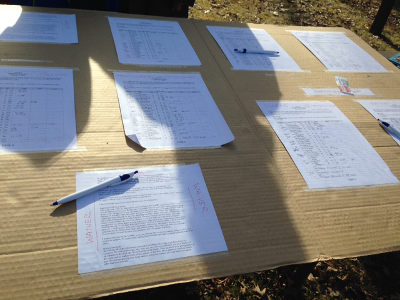 Bruce Tweedie started helping out the day before by marking the course with our standard blue ribbon. He also led the runners on the preliminary unmarked loop, and then took down ribbons on his 3rd loop to make the trails just as clean as when we started (maybe cleaner?). Bruce is in perfect position to soon take over the RD of this "crazy" VHTRC event. Allison Holko, who is nursing a leg injury, came early to help park runners and then kept the aid station clutter free as entrants came and went after each loop. Sarah Smith did one loop and then opened up her kitchen, complete with oven & stove, to offer soup, pancakes, and adult warm drinks to the welcoming endorphined crowd. Thanks to Sarah, Allison and Bruce for helping the runners get even more for their money.
Speaking of payback, I always use the Redeye to get rid of leftover Halloween candy, but it is apparent that many runners put some effort into their contribution to the single aid station. John Sondermann brought his tray of sub sandwiches again, and both Bob Anderson & Bret Kinsella brought bacon. All of these contributions were gone by the second time runners came through the S/F area. There was never a lack for nourishment, but the homemade items seemed to be gone before the standard chips and cookies.
Dave Herring brought a new pair of Montrail Masochist shoes and put them "up for grabs" on the table. Megan McCluer went home as Cinderella wearing a smile (and her new shoes). Megan should have gotten home easily since it was well before midnight when she left.
There were several well-behaved tandems of dogs and runners (at least the dogs were), and perhaps appropriately there were three veterinarians in the crowd on Thursday. Two of them "stepped up" to complete all 3 loops. Way to represent, Kristen and Mary Ellen – two out of three aint bad!
Two sets of brothers started the run, and to prove sibling rivalry is good: all four runners finished. Kudos to the Kline and Mathews "boys". Stephanie Wilson kept her finish rate going and is now 5 for 5 at Redeye's. And, Quatro finished for the second year in a row. I'm worried he may feel a streak coming on.
Ranger John, who was the only one on duty for the 15,000+ acre Park, stopped by a couple of times. He was tolerant of our controlled antics, proper use of cups and brown bags, and just-slight overflow parking.
Also of note among finishers was the first ultra run for Betsy Campos. The longest run for Betsy before Thursday was about 10 miles. Husband Al stayed with her the entire time. I hope they are still happily under the same roof.
This year, I did not leave two runners stranded out on the course like last year. But the same two runners were in competition for the DFL Award. The winner of the 2015 DFL was Stanley Podlasik who finished 2 minutes behind Gretchen Bolton. Gretchen is a 69-year-old "hottie" who can still smoke the trails. I slipped her a pack of matches for her 3rd loop just to make sure didn't lose her spark, but she didn't need to strike a one. When Gretch & Stan checked in, we knew we were done for the Day. Per usual, the "Three Musketeers" from up I-95 in Maryland (Alan, Paul, and "Smitty") were there to help clean up the residual of the Day's activities. Someone called them the "Three Stooges", but I disagree.
Run management has been confident of the distances represented in the advertising and marketing of the Event, but it is always good to get reinforcement. John Nelson has documented the distances of the various dropping points with his "always present" GPS receiver. These are: 1 loop - 11.8 mi, 2 loops - 21.6 mi, Finish - 31.4 mi.
Results
The results as deciphered and guessed are as follows:
| Name | Time | Comments |
| --- | --- | --- |
| Evan Fisher | 4:29 | (new Event record) |
| Brandon Mathews | 4:37 | (brother DNA) |
| AJ Cillo | 4:38 | (finished in spite of a nasty fall on beginning of loop 3) |
| Seth Jayson | 4:47 | (finished 2nd last year) |
| Chris Bennett | 5:08 | |
| Kathleen Cusick | 5:27 | (finished in FL fashion in nothing but haltertop) |
| Jack Kurisky | 5:29 | (talking Barkley) |
| Keith Knipling | 5:29 | (talking Barkley) |
| Todd Ellick | 5:31 | |
| Seth Mathews | 5:34 | (brother DNA) |
| Bernard Pesjak | 5:42 | |
| Aaron Ellison | 5:46 | |
| James Whiteside | 5:52 | (another one of those studly young guys) |
| Lorraine Moore | 6:06 | (Mom of 4) |
| Lynn Kline | 6:17 | (brother DNA) |
| Dave Herring | 6:17 | (shoes to give away) |
| Stephanie Wilson | 6:21 | (5 for 5) |
| Wayne Kline | 6:23 | (brother DNA) |
| Prasad Gerard | 6:24 | (too cold to be shirtless) |
| Adele Fenwick | 6:31 | (took time off from fighting fires) |
| Bret Kinsella | 6:48 | (probably didn't get any of own bacon) |
| Stephanie Chivis | 6:55 | (needs to get a blemish on knees or clothing) |
| John Sondermann | 6:55 | (probably didn't get any of own sub sandwiches) |
| Ed Walsh | 6:59 | (no longer a "back of packer" – don't leave me Ed) |
| Tracy Dahl | 7:01 | (gearing up for BH) |
| Mary Ellen Hutchins | 7:14 | (DVM) |
| Kristen Pence | 7:14 | (DVM) |
| Stacy Jer | 7:18 | |
| Rob Kolb | 7:25 | ("Necker" from Mason Neck) |
| Paul Crickard | 7:26 | (Musketeer) |
| Larry Bartlett | 7:30 | (Bighorn bound) |
| Carolyn Wilson | 7:39 | |
| Jill Jacobs | 7:39 | (Devereux) |
| Mark Zimmerman | 7:44 | |
| Bill Gentry | 7:44 | |
| Q-Man Hubbard | 7:44 | (on a roll with 2 consecutive finishes) |
| Gen. Rob't Gaylord | 7:44 | |
| Betsy Campos | 7:52 | (1st ultra distance) |
| Al Campos | 7:52 | |
| Bruce Tweedie | 8:01 | (from start to finish; ribbons in hand) |
| Tabitha Hedrick | 8:04 | (MMT hopeful) |
| Larry Huffman | 8:10 | |
| Gretchen Bolton | 8:36 | ("hot" sexagenarian) |
| Stanley Podlasek | 8:38 | (DFL) |
| | | |
| TWO LAPS (21.6 miles) | | |
| Brian Schmidt | 2:52 | (helped Evan get record run by being "rabbit" for 2) |
| Alex Hetherington | 3:03 | |
| Brian Glass | 3:54 | |
| Jeff Kent | 3:56 | |
| David Grossweiler | 3:56 | |
| Scott Lee | 4:02 | (tried to get credit for running Redeye '14) |
| Charles Rousseaux | 4:06 | |
| Rob Colenso | 4:07 | |
| John Nelson | 4:13 | (GPS consultant) |
| Nicklaus Combs | 4:14 | |
| Jesse Parker | 4:21 | |
| John Stacy | 4:24 | (running and monitoring trails at same time) |
| David Radcliffe | 4:28 | |
| Alice Loughran | 4:29 | |
| Conrado Soria | 4:36 | (probably botched your name?) |
| Stefan Shirley | 4:36 | |
| Kerry O'Brien | 4:36 | |
| Ben Schrag | 4:36 | |
| Sara Fanous | 4:38 | (part of the Loudon underground) |
| Darren Eaton | 4:39 | |
| Dan Agdham | 4:54 | (arrived late but made up time) |
| Rob Tidwell | 5:01 | (MMT rookie – chuckle, chuckle) |
| Carrie Drummond | 5:04 | (entire family crewing for Mom) |
| Jaret Seiberg | 5:04 | (Bighorn bound) |
| Linda Wack | 5:05 | |
| Farouk Elkassed | 5:10 | |
| "Smitty" Smith | 5:10 | (Musketeer) |
| Don Libes | 5:16 | |
| Jared Byrd | 5:17 | |
| Sara Davidson | 5:17 | (sneaky fast 100 Miler) |
| Alan Lagon | 5:19 | (Musketeer) |
| Chris Pabian | 5:35 | (MMT hopeful) |
| Neisa Condemaita | 5:47 | (Bighorn bound) |
| Andrew Arbuckle | 5:47 | (Bighorn bound) |
| WHTom McNulty | 5:53 | |
| Heather Ryder | 6:08 | ( ~ 26.2mi ) |
| Jon Busey | 6:24 | |
| Holly Franz | 6:41 | (lucky dogs – Nicky & Nickie) |
| Kate Montgomery | 6:41 | (lucky dogs – Nickie & Nicky) |
| Stephanie Danahy | 7:34 | ( ~24 mi ) |
| Janice Burford | 7:34 | ( ~ 24 mi ) |
| | | |
| Those doing ONE LOOP ( ~ 12 miles ) ; Listed alphabetically | | |
| Kari / Bob Anderson | | |
| Molly Bennett | | |
| Erin Brown | | |
| Mike Campbell | | |
| Whitney Carruth | | |
| Denise Coll | | |
| Kitstin / Tom Corris | | |
| Anstr Davidson | | |
| Vivian Delgado | | |
| Ted Diss | | |
| Laura Drake | | |
| Peter Duerst | | |
| John Fitz | | |
| Joseph Flint | | |
| Michael Gildea | | |
| Nitin / Smita Gokhale | | |
| Keith Hosman | | |
| Leah Kasowitz | | |
| Katie Keier | | |
| Natalie Kolb | | |
| Shannon Krause | | |
| Alvin Lee | | |
| Susan Lynch | | |
| Steve Mabeus | | |
| Adam Matheson | | |
| Megan McCluer | | |
| Rebecca / James Moore | | |
| Jeremy Nelson | | |
| Adel Ntam | | |
| Paul Oman | | |
| Melissa Phillips | | |
| Pete Pontzer | | |
| Jeremy Rausa | | |
| Jeff Reed | | |
| Dave Robertson | | |
| Rob Saraniero | | |
| Jamile Shirley | | |
| Sarah Smith | | |
| Kathy / Larry Tumblin | | |
| Caroline Williams | | |
| John Wirth | | |
Last updated December 16, 2019