2011 Report
January 1, 2011 • Quantico, VA
20 finishers
Report
The 15th running of the Redeye 50K (with options) took place Saturday January 1, 2011. This event was started by Team Slug in 1997 and has taken place with the cooperation of Prince William Forest Park on New Years Day ever since. There was almost a hint of impending spring in the air this year as the temperature got above 50 degrees. Almost 100 participants did at least one of the three 10-mile loops, either running or walking or sometimes in between. There were several family groups represented including spouses and sons.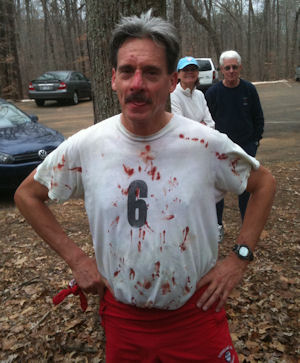 A few runners showed up Saturday morning after having run a New Years eve outing in the Massanuttens the evening before. One of these, Joe Clapper, claimed "best blood" after a hard nose-dive fall resulting in red dalmation-spots on his white tee. Could he have been sleep running ?
An even twenty runners did the full 50K (3 loops plus) led by Matt Woods for the guys (5:06) and Emily Ferguson for the ladies (5:56).
Thanks to Johanna Lockner and Bob Phillips for helping to organize the run, and also to Holly Franz and Bruce Tweedie for help marking the trail the day before. Bruce also slowed down his 3rd loop by taking down the ribbons to try to leave the trail cleaner than when we found it.
Although no aid or beverage assignments were given to participants, a fabulous variety of carbo-loaded foods and drinks filled the picnic tables at the start/finish area. Thank you to the runners for making this such an easy run to support and make happen.
Results
| | Name | Time | Distance |
| --- | --- | --- | --- |
| 1 | Matt Woods | 5:06 | 50 km |
| 2 | Jeff Holdaway | 5:22 | 50 km |
| 3 | Dan Rose | 5:22 | 50 km |
| 4 | Emily Ferguson | 5:56 | 50 km |
| 5 | Mike Campbell | 6:18 | 50 km |
| 6 | Stephanie Wilson | 6:26 | 50 km |
| 7 | Ted Bielawa | 6:26 | 50 km |
| 8 | Linda Gaudette | 6:26 | 50 km |
| 9 | Dave Gaudette | 6:33 | 50 km |
| 10 | Alisa Springman | 6:35 | 50 km |
| 11 | Jim Daniels | 6:35 | 50 km |
| 12 | Melissa Upchurch | 6:40 | 50 km |
| 13 | John Stacy | 6:45 | 50 km |
| 14 | Bruce Tweedie | 6:50 | 50 km |
| 15 | Bob Hagan | 7:15 | 50 km |
| 16 | Dave Robertson | 7:15 | 50 km |
| 17 | Toni Aurilio | 7:27 | 50 km |
| 18 | Heather Hayter | 7:27 | 50 km |
| 19 | Bill Turrentine | 7:29 | 50 km |
| 20 | Kira Zevan | 7:52 | 50 km |
| | | | |
| Two-loop runners | Max Alvarado | Alphabetical order | 22 miles |
| | Matt Ammann | | 22 miles |
| | Paul Ammann | | 22 miles |
| | Cappuccino | | 22 miles |
| | Denise Coll | | 22 miles |
| | Tom Corris | | 22 miles |
| | Stephanie Danahy | | 22 miles |
| | Karen Donohue (plus dogs) | | 22 miles |
| | Karen Egyud | | 22 miles |
| | Dr Farouk | | 22 miles |
| | Tony Escobar | | 22 miles |
| | Joanne Fenninger | | 22 miles |
| | Holly Franz | | 22 miles |
| | Gen Gaylord | | 22 miles |
| | Joe/Michele Harmon | | 22 miles |
| | Matt Holdaway | | 22 miles |
| | Keith Hosman | | 22 miles |
| | Larry Huffman | | 22 miles |
| | Gary Knipling | | 22 miles |
| | Barry Kreisa | | 22 miles |
| | Marty Kovener | | 22 miles |
| | Alan Lagon | | 22 miles |
| | Jo Lockner | | 22 miles |
| | Dan Mackeben (plus dogs) | | 22 miles |
| | Pat Miller | | 22 miles |
| | Criag Penrose | | 22 miles |
| | Pete Pontzer | | 22 miles |
| | Jill Quivey | | 22 miles |
| | Joe Schramka | | 22 miles |
| | Sniper | | 22 miles |
| | Megan Stegemiller | | 22 miles |
| | JoJo Studer | | 22 miles |
| | Tony Studer | | 22 miles |
| | David Woll | | 22 miles |
| | Martha Wright | | 22 miles |
| | | | |
| One-loop runners | Kate Abbott | Alphabetical order | 12 miles |
| | Eryn Boyles | | 12 miles |
| | Karen Bybee | | 12 miles |
| | Rob Colenso | | 12 miles |
| | Patrick Collette | | 12 miles |
| | Bob Cooper | | 12 miles |
| | Steve Core | | 12 miles |
| | Bob Coyne | | 12 miles |
| | Anstr Davidson | | 12 miles |
| | Lucia Davidson | | 12 miles |
| | Sara Davidson | | 12 miles |
| | Ed Demoney | | 12 miles |
| | Diane DeRoia | | 12 miles |
| | Rick Diecchio | | 12 miles |
| | Prasad Gerard | | 12 miles |
| | Karen Holdaway | | 12 miles |
| | Quatro | | 12 miles |
| | Caren Jew | | 12 miles |
| | Marty Lindemann | | 12 miles |
| | Charlie Miracle | | 12 miles |
| | Rebecca Moore (Slug) | | 12 miles |
| | James Moore (Slug) | | 12 miles |
| | Dave Mueller | | 12 miles |
| | Brian O'Connor | | 12 miles |
| | Kevin O'Connor | | 12 miles |
| | Jen Page | | 12 miles |
| | Bob Phillips | | 12 miles |
| | Pete Pontzer | | 12 miles |
| | Julie Prescott | | 12 miles |
| | Mark Prescott | | 12 miles |
| | Mike Priddy | | 12 miles |
| | Bill Rysanek | | 12 miles |
| | Bunny Runyan | | 12 miles |
| | Phil Silas | | 12 miles |
| | Luanne Turrentine | | 12 miles |
| | Ed Walsh | | 12 miles |
| | Drew Watson | | 12 miles |
| | Rob Wilkerson | | 12 miles |
| | Mark Zimmerman | | 12 miles |
Last updated December 16, 2019