1998 Report
January 1, 1998 • Quantico, VA
26 starters, 17 finishers
Report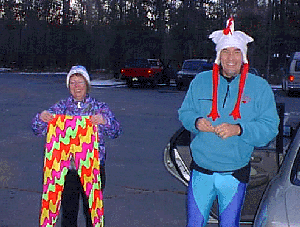 Scott "Fire Ball" Mills of Alexandria, VA was the first to finish the "first Ultra" of the New Year, completing the figure eight forest trail course in 4 hrs and 40 minutes. As in Team Slug tradition, Marsha Craig of Charlotte, NC, who was the last runner to complete the Red Eye (sorry Charlie Wojcik) was recognized as the hardest worker of the remaining "winners".
Twenty six (52 red eyes) toed the line New Years's day to establish their 1998 daily mileage, ranging from twelve to thirty one miles. The Red Eye started at 7:30am, in clear and cold weather, with the runners being doused with colorful "crazy string". The cold weather was not a factor at all, the camaraderie and zest of the runners warmed the trails up considerably.
The Red Eye consisted of three, five mile loops and two, seven mile loops, (David Horton miles), allowing the runners to pass the aid station and their cars upon completion of each loop. It also allowed them the "bail out option" at the completion of each loop. Chris Scott of Left Coast, USA made the trip to "Right Coast, USA "just" for the Red Eye teaming up with VHTRC president Joe Clapper. Unfortunately, neither Chris nor Joe was able to complete the entire course (you're welcome, Anstr). Red Eye founder, Dan (G-Man) Grayson completed his first attempt at an Ultra this year. You're on a roll, Dan.
Each runner finishing their distance received the Bill (Bagel Bill) Sublett Peppermint Pattie award for their effort. This award was designed by Bill and is suitable for eating.
The veteran ultra runners at the Red Eye welcome and congratulate the newer runners and hope you experience and enjoy the many great ultra runs that are just waiting for you.
This year's directors of the Red Eye, James (All-Nighter) and Rebecca (Sluggette) Moore, along with all the other Slugs, would like to thank all the runners for sharing the first day of the New Year with us. You are all Slugs. Even the "fast people".
James and Rebecca
Results
(In order of sign-in.)
Place
Name
From
1.
Barry Craig†
Charlotte, NC
2.
Marsha Craig†
Charlotte, NC
3.
Charlie Wojcik†
Falls Church, VA
4.
Jeanne Christie
Washington, DC
5.
Karsten Brown†
Front Royal, VA
6.
Lynn Gannon†
Falls Church, VA
7.
Lou Jones†
Springfield, VA
8.
Jean Lichtenberger†
Fort Valley, VA
9.
Larry Hoishman†
Fort Valley, VA
10.
Ed Demoney
Arlington, VA
11.
Terrie Wurzabacher†
Fred'sburg, VA
12.
Larry DeHof
Clinton, MD
13.
Bill Sublett†
Fredericksburg, VA
14.
Joe Hurley
Quantico, VA
15.
Steve Hesseltine
Quantico, VA
16.
Geraldine Wales†
Ardsley, PA
17.
Anstr Davidson†
Arlington, VA
18.
Lawrence Severt†
Richmond, VA
19.
Joe Clapper
Vienna, VA
20.
Carl McClure
Fairfax, VA
21.
Paul Walczak†
Arlington, VA
22.
Phil Young†
Woodbridge, VA
23.
Scott Mills†
Alexandria, VA
24.
Gary Knipling
Mason Neck, VA
25.
Chris Scott
Left Coast, USA
26.
Dan Grayson†
Stafford, VA

† Completed the entire Red Eye Distance
Last updated January 1, 2022