A Crew Dog's Perspective
by Oscar (with some keyboard help from Charlene Howard)
Crew Dog Oscar's Observations
0600 Friday: we are up early yet we are not going out for a walk. Instead I am loaded into the backseat (not even in the way back on MY bed) because the car is getting filled with all sorts of things.
0745 Friday: Sheetz! I love this place. I am a fan of tater tots and anything else that gets thrown at me from the front seat. The Lady (Charlene) and the Fella (John) share breakfast with me, yay! But sadly I do not get my own platter.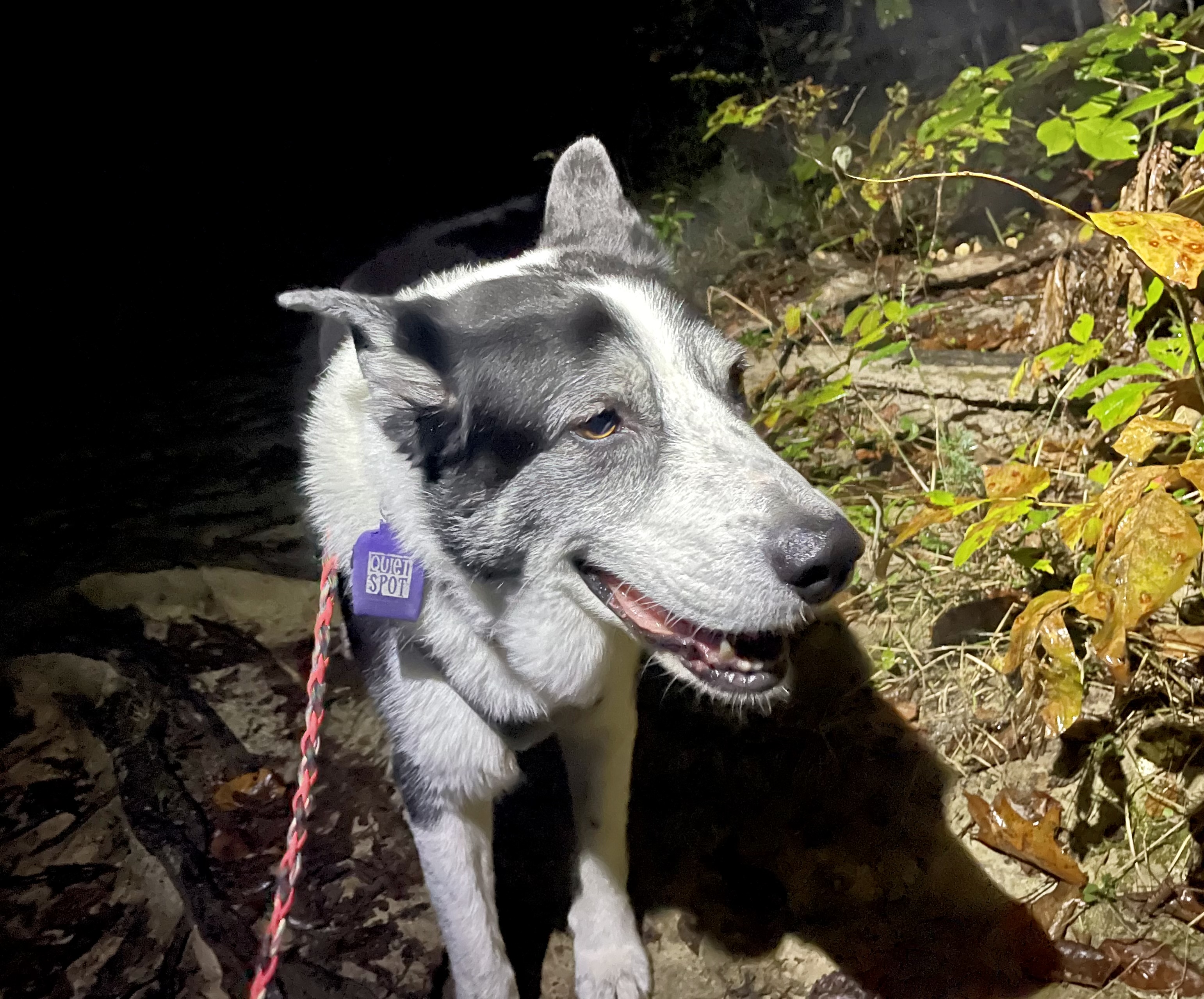 0915 Friday: I exit the vehicle and immediately find some nice weeds in need of watering. Meet some new friends. Inspect the The Fella's load of crap in my backseat. Get more pets, scarf some food. Look for a place to poop.
1000 Friday: There seems to be a race going on and I was not invited. I try to get to the front of the pack but The Lady pulls my leash, wtf? When is it my turn?
1100 Friday: whoo hoo! Finally, we are moving. I lead the charge to Kennedy Peak. Pass lots of school kids on the way up (out of my way, slow asses) and get lots of pets. At the top, pee all over the tower, pose for selfies with The Lady and I actually do not look like a hostage for once. The Lady looks at her watch and realizes that we may not see The Fella at Habron, whatever that is. She decides to run down the trail back to the car and I am more than happy to oblige….passing more kids that are way impressed with my trail skillz.
1300 Friday: say what? Another Sheetz stop? Well The Lady had to poop, so off we went. I got my own order of chicken tenders and we picked up two hot dogs for The Fella and a half of hoagie for the nice lady called Tracy- she gave me lots of pets earlier.
1430 Friday: We arrive at Veach West. I immediately water some more weeds and check out the scene. Meet a new friend called Jesse - he seems to dig me. We converse a little in Border Collie and I proceed to hang out with all the dudes under the canopy while The Lady looks on. Some other runners come to see us and I make sure they are eating their food or else I will. We hang out for a while, it is past my dinner time and I am getting hangry. What the hell are we doing here?!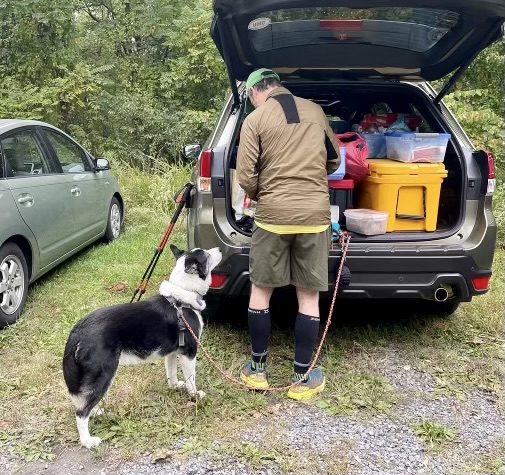 1700 Friday: I see The Fella! He and Tracy are running toward me so I return the favor and run toward them. They look a little damp as it started raining shortly before their arrival. The Fella eats a hot dog, I eat the other one. He even feeds me California Rolls, but they do not taste like the left coast, more like rice with a hint of seafood. Nevertheless, I feel like a fellow fancy bitch. I get some more pets and then those two leave me behind again…..I am ready to go! But back into the car…
1800 Friday: We kill some time. The Lady stops to pee AGAIN (what's with her?) and we make our way to Edinburg Gap. There is a white minivan all alone in the parking lot….if I did not know better I would think it was a serial killer. But it's only Rob—he gives me pets, I like this guy. He joins us in the car and off we go—it is raining pretty good now and I am a little relieved to not to be on the trail with the two weirdos who came to see me at Veach.
2030 Friday: We have been in a parking lot for what seems forever. People are coming and going and leaving us. Rob and I are in the car trying to snooze but The Lady's phone is buzzing nonstop with people asking about this place and these people. I decide I need to stretch my paws, so The Lady takes me for a short walk where I meet a new friend, opossum, but he does not seem to want to meet me. We are on the trail again! But the rain picks up so we turn around. We wait longer and what seems like an eternity I see lights- it is The Fella and Tracy! That means I get food because they get food. They both seem happy to see me. They leave, Rob leaves, the guy called Q leaves and that leave me and The Lady.
2240 Friday: Walmart, really? They close in 20 minutes. But The Lady is determined to get some food so she can make hot things for The Fella and Tracy. She feels bad that they have not had anything like that. We also stop at Sheetz- AGAIN. This is a good day for me! I check out the bored teenagers while The Lady loads up on coffee for her and anyone else around—but is there anyone out there?
0000 Saturday- It is raining a lot. There is no one else around- so much for the party. The Lady makes me walk back and forth from the car to carry supplies. Finally she tethers me- what am I bear bait or something?! We see our friend Eddie who scares the crap out of The Lady. He keeps us company for a long time. The Lady makes hot food and I eat any crumbs left over from other people passing through.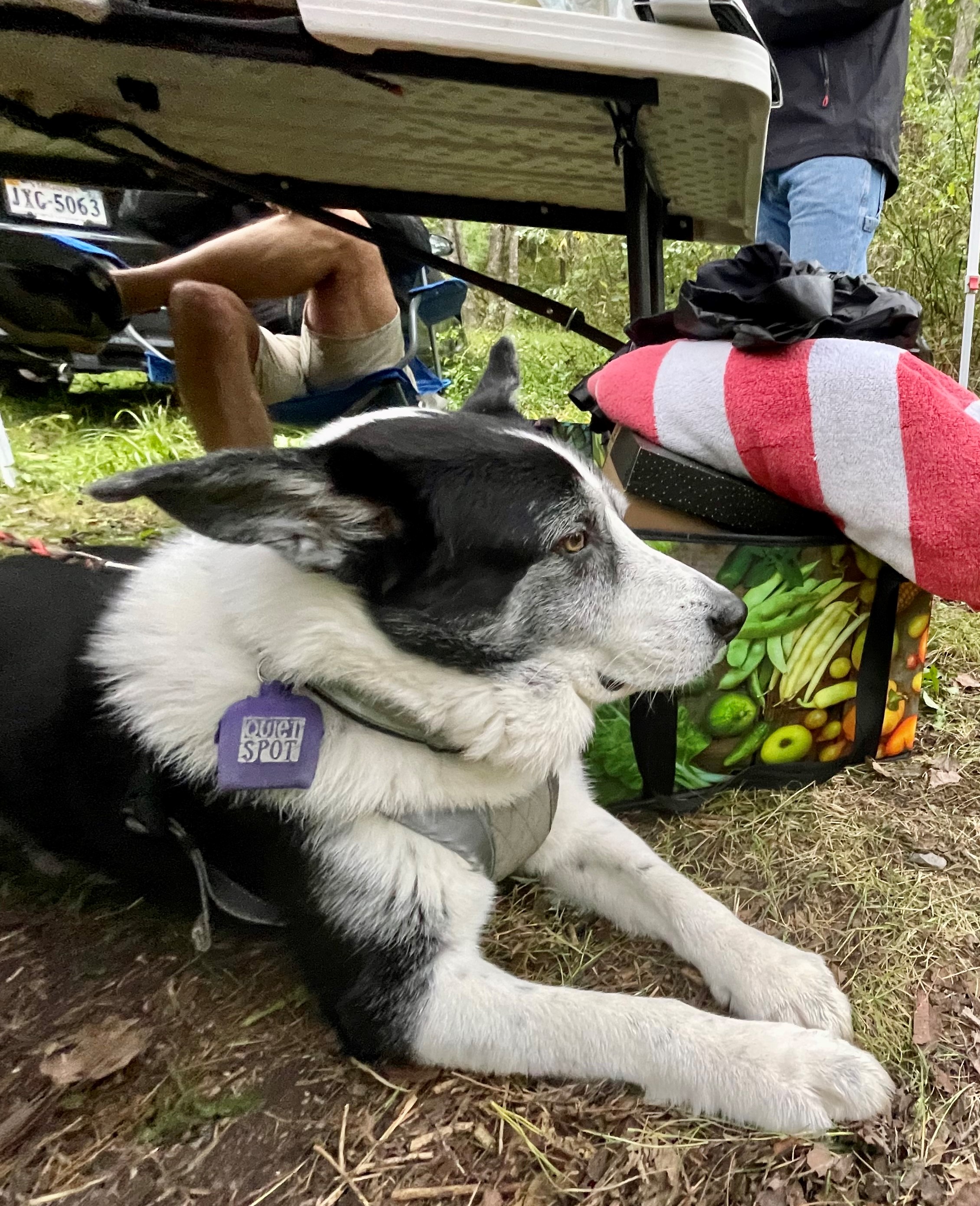 0100 Saturday: Q comes to see us and a few minutes later I see Rob - where is The Fella and Tracy? He goes to direct them to me. The Fella seems relieved to see me (and maybe The Lady). He eats mashed potatoes with gusto. We all eat grilled cheese. The Fella seems to want to hang out with us longer this time. I do not understand….but then I do. It is raining even more.
0230 Saturday: Sheetz! Again! Need I say more….I get snacks and then sack out.
0500 Saturday: I arrive at The Fella's house. I try to say hi to my friend Harry Debbie but she isn't interested. That's okay….I will still sleep in her kitty bed.
Last updated October 7, 2022