2022 Report
September 30, 2022 • Luray, VA
5 starters, 0 finishers
Run Report
The inaugural Massanutten's Revenge 100 miler kicked off from Camp Roosevelt at 10 AM on Friday, 30 September 2022. I have known Mike Bur since the night before the 2002 Promise Land, when we met over dinner at the nearby Milford Tea Room. Those were the days when both of us could really run. Bur finished the next day's run before noon, and I finished at 12:06 with a time of 6:36. 20 years later, I can't even imagine moving that fast … but I digress. We have gone on to either found or take over a fair number of trail runs over the years since. But it has been Bur's big dream for well over a decade to create a fall Massanutten 100+ mile run that would be MMT with a mighty kick. For some odd reason, he gave himself that kick this year and actually put his Massanutten Revenge on. This was the Beta Test Year. Not much advertising, so just a small die-hard group of entrants intrigued but what his No Roads, Reverse Version of MMT would be like.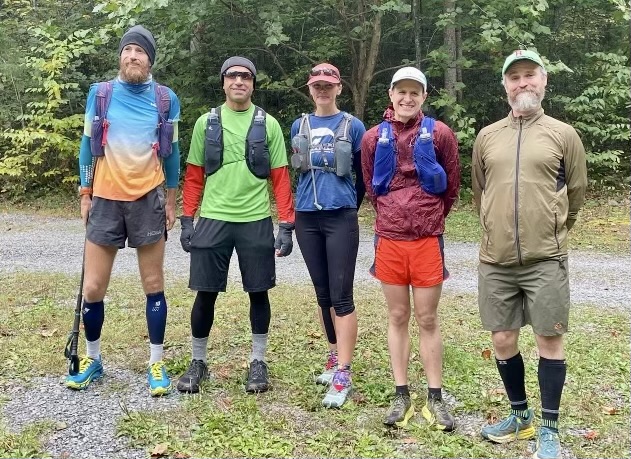 Five runners out of an initial entrants list of about ten ultimately made the drive out to the start, in the horse lot at Camp Roosevelt. Conditions for the runners for the first few hours were perfect: cloudy, 50's, and no wind, with reports of some fog on the ridges. Hurricane Ian, which had ravaged first southwestern Florida and then the coast of South Carolina, rolled into western Virginia around 4 that afternoon; bands of some rain interspersed with what was primarily drizzle and mist then persisted for the entire weekend.
Friday night conditions deteriorated as the remnants of Ian really settled in. Temps dropped into the 40's, with steady drizzle/rain, fog, and some wind slowing everyone waaay down. Especially the fog! It was insanely dense.
Dan Fogg was the clear leader of Bur's Band from the get-go, and he hit 50 miles at Woodstock Tower after 12 hours of trail time. Dan tried to warm up for a while but ultimately opted to drop (see his report linked to the bottom of this page).
Fingers were then crossed among the volunteers and crew out on the course that the other four runners could keep moving thru the night and into the light of Saturday morning.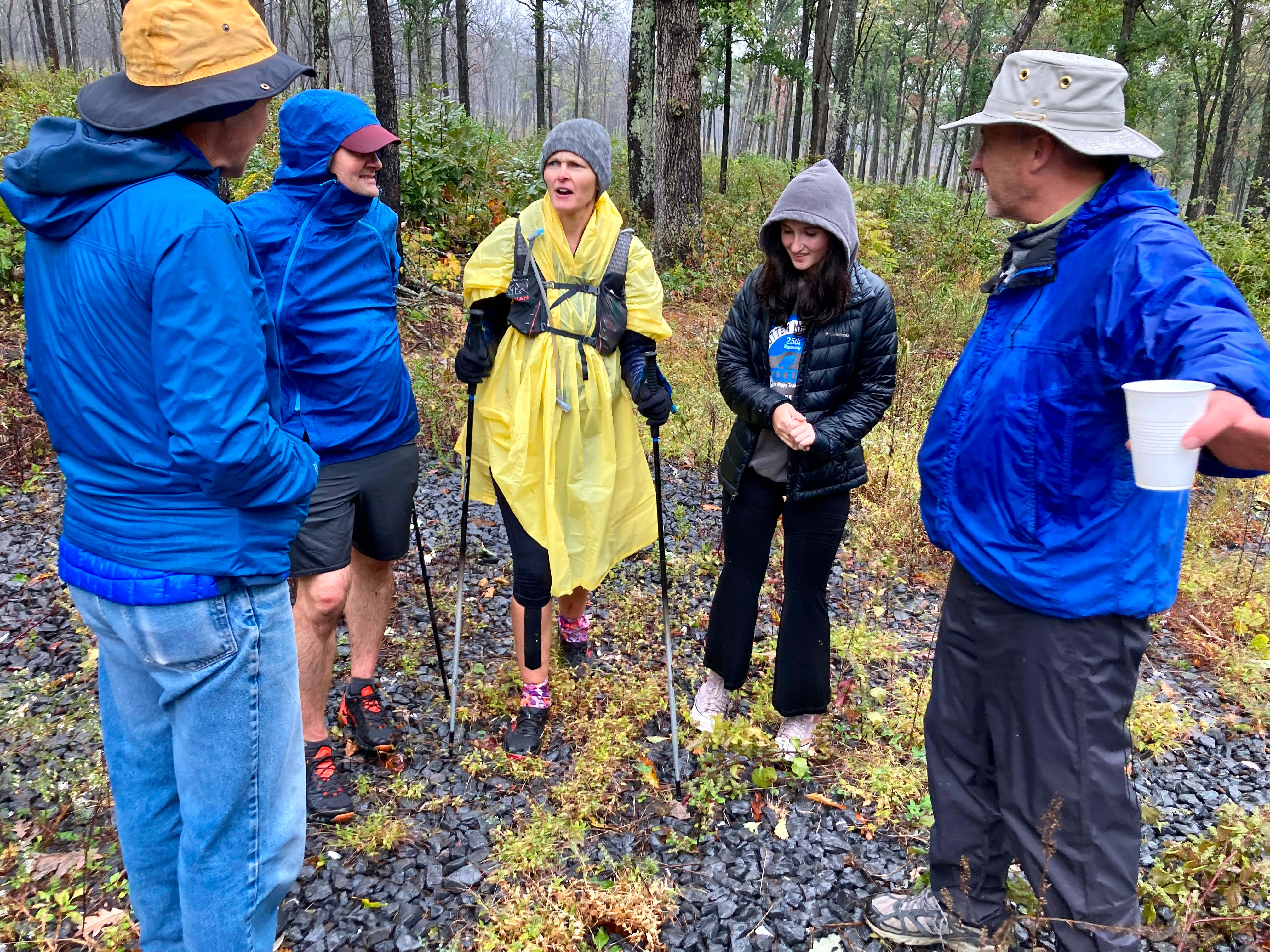 By the wee hours of Saturday we needed to cross our fingers AND our toes for Tracy Cooley, the only runner still in the run (and only woman to start the run). The boys were all out: Mike Wardian and Ali Mohammed, like Dan, dropped at Woodstock; John Hord had been with Tracy for the entirety of the first third of the run, but he called it a day at Elizabeth Furnace.
Tracy powered thru Saturday with the invaluable aid of her consistently upbeat pacer Rob Tidwell, and what was now the concentrated efforts of the small band of volunteers. At Moreland Gap, Rob passed the pacing reins on to Homer Komthirath, who took her through her second night, and into day three of her adventure.
Tracy and Homer rolled into Picnic II (91 miles) at 12:54 PM on Sunday. For the next section, which included a second ascent of Waterfall, Tracy's daughter Josie took over as her third pacer. This proved to be the last section of the 2022 run. After arriving at Crisman Hollow Road at 5:05 PM, RD Bur pulled the plug, for safety's sake.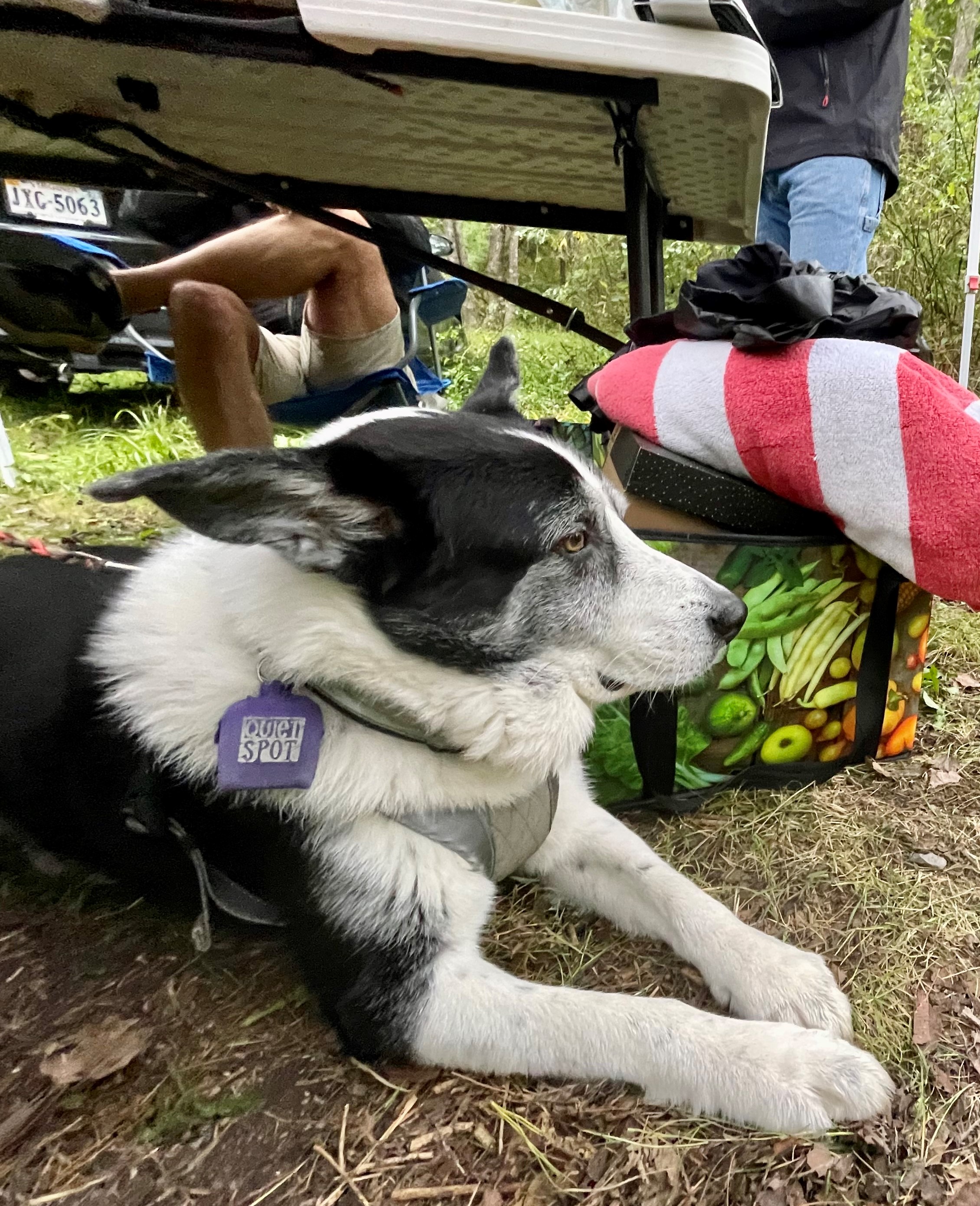 Tracy was looking at a section across the very rocky Kerns Mountain portion of the Orange trail and down Jawbone to Gap Creek II, with nightfall occurring at some point in the middle. While she had crew and a pacer, Bur no longer had any volunteers on the course. If anything had gone wrong, his margins were now too thin considering the weather and course conditions. Tracy's effort thru these 96+ miles left nothing left to prove. So after 55 hours and 5 minutes, the Massanutten Revenge 100 came to an end for 2022.
For much more detail on Tracy's day, night, day, night, day and almost night at Massanutten's Revenge, you will absolutely want to refer to her report, linked at the bottom of this run synopsis. As are a number of other reports: from Dan Fogg, John Hord and from Oscar the crew dog.
After you read all the reports and check out the details on the run page in regards to the course, you will no doubt be thinking: How can I get me some of that?! Well, luckily the answer is already published up. The 2023 Massanutten Revenge will be held over the long weekend of Sept 29 - Oct 1, with the same 10 AM Friday start. Entry will open the day after the MMT 100 finishes up: so set your calendar alert for Monday, May 22, 2023 at 9 AM!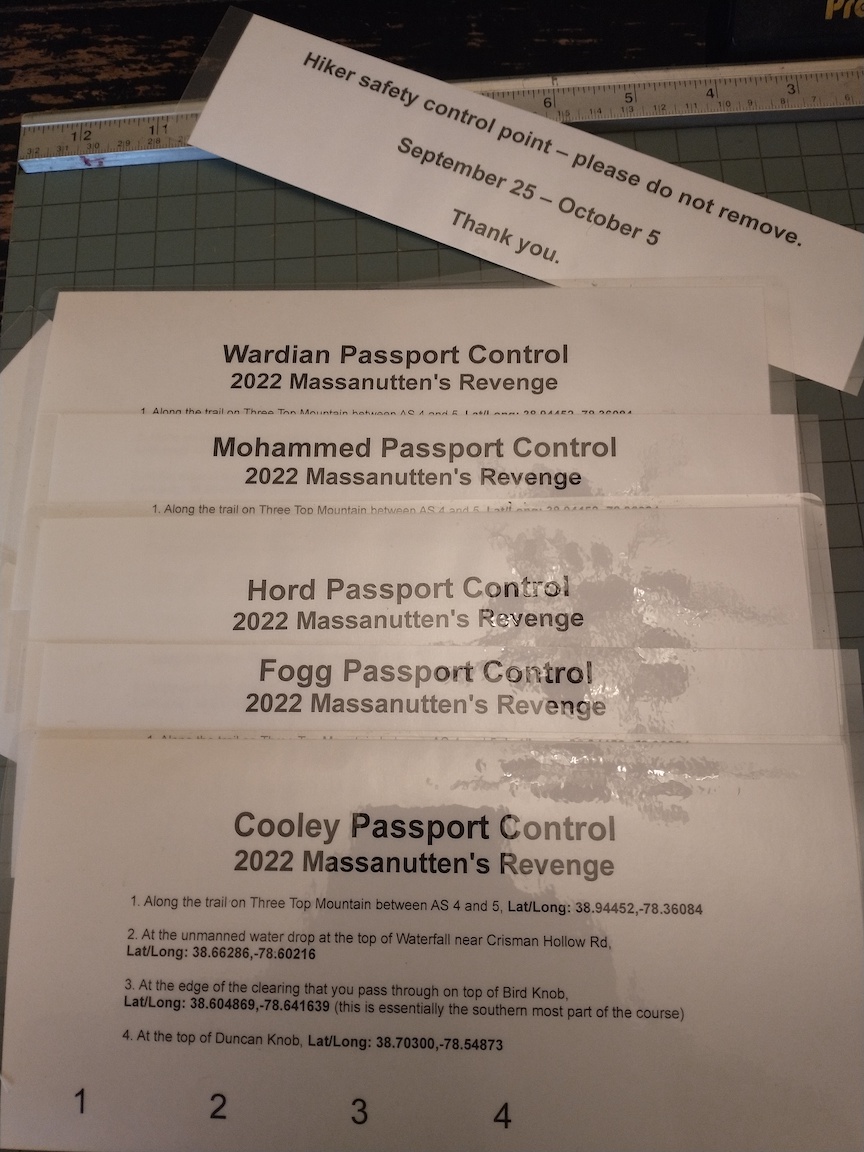 Photos
Splits
Results show elapsed time; event started at 10 AM, Friday September 30.
Name
Age
Sex
Habron
Veach
Buzzard
Furnace
Woodstock
Edinburg
Gap I
Picnic I
Picnic II
Crisman
Gap II
Finish
Tracy Cooley
50
F
2:33
7:00
11:46
15:08
22:08
26:18
33:40
44:31
50:54
55:05
DNF
Nope
Dan Fogg
37
M
1:38
4:12
6:37
8:08
12:00
DNF
XXX
XXX
XXX
XXX
XXX
Nope
Ali Mohammed
44
M
1:53
5:04
8:40
10:52
16:30
DNF
XXX
XXX
XXX
XXX
XXX
Nope
Michael Wardian
48
M
1:53
5:04
8:40
10:52
16:30
DNF
XXX
XXX
XXX
XXX
XXX
Nope
John Hord
54
M
2:36
7:01
11:46
15:08
DNF
XXX
XXX
XXX
XXX
XXX
XXX
Nope

Aid Stations (in Bur Miles; your mileage may vary):
Habron Gap - 9.0 miles
Veach West - 21.2 miles
Buzzard Rock - 31.4 miles
Elizabeth Furnace - 37.5 miles
Woodstock Tower - 50.1 miles
Edinburg Gap - 58.3 miles
Gap Creek I - 68.9 miles
Crisman Hollow I - 76.8 miles
Picnic Area I - 81.4 miles
Picnic Area II - 91.3 miles
Crisman Hollow II - 96 miles
Gap Creek II - 101.7 miles
Camp Roosevelt (Finish) - 107.8 miles
Volunteers
A huge thank you to the following volunteers who braved the elements and long hours to help.
Mike Bur (run director)
Eddie Leno
Larry Tumblin
Tom Simonds
Sarah Smith
Jesse Fuller
Dr. Jeff Pence
Quatro Hubbard
Last updated October 7, 2022