Rose River – Lewis Falls – Mill Prong – Dark Hollow
This fantastic run passes three major waterfalls, goes by a park campground and wayside (with food in season), and visits a historic Presidential retreat.
Distance

Running time

Total ascent/descent
Start/finish

GPX file

Print or download

What to wear
Directions
From the Rose River Trailhead climb the Rose River Fire Road. This is the remnant of the Blue Ridge Turnpike built in the 1850s to connect farms of the Shenandoah Valley to the railroads in the east. After 1.45 miles, pass the Upper Dark Hollow Trail coming in from the left (you will return on this trail at the end of the run). Stay on the fire road and continue the climb on broad switchbacks. After 4.7 miles, pass the Stony Mountain Trail to the left. Again, stay on the fire road. At 5.6 miles, arrive at Dark Hollow Falls.
Take the blue-blazed Rose River Trail as it descends and then ascends for just over 2 miles along two upper tributaries of the Rose River, each with innumerable cascades. You will also pass by an old copper mine along the way. At the intersection with the horse trail, mile 7.75, take a left onto the yellow-blazed Rose River Horse Trailand ascend 0.5 miles to Fishers Gap (mile 8.2).
Cross Skyline Drive and then intersect with the Appalachian Trail. Take a left onto the AT (southbound) towards Big Meadows Campground. At mile 9.9 take a right onto the Lewis Falls Trail, which you will follow for 2 miles, passing the 70 foot tall Lewis Spring Falls before climbing back up to the AT.1
At the AT, take a right (southbound) and follow for 1.7 miles to the intersection with the Mill Prong Trail (mile 13.6). Take a left and descend along Mill Prong Creek for nearly 2 miles to Rapidan Camp (mile 15.5), the Presidential retreat built in 1929 by Herbert Hoover, an avid fisherman.2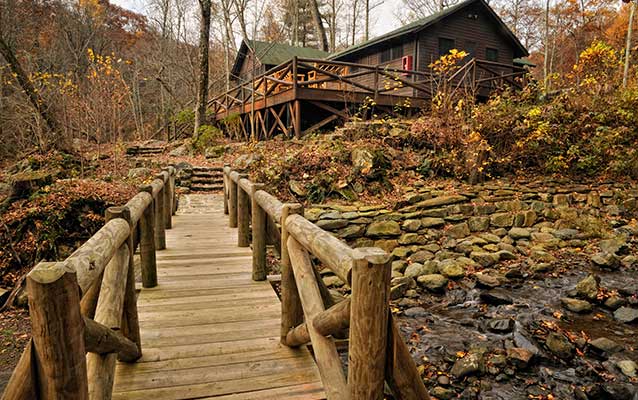 Leave Rapidan Camp on the fire road and follow it for 0.6 miles to the Rapidan Fire Road. Take a left and climb, on sweeping switchbacks, for 1.75 miles to Broyles Gap and the intersection with the Upper Dark Hollow Falls Trail (mile 17.9). Take a right on that trail and descend 1.5 miles. You will intersect another trail (look for the "W" on a tree). Take the trail off to the left, staying on the Upper Dark Hollow Falls Trail for 0.7 miles down to the Rose River Fire Road. Take a right and follow the fire road 1.45 miles back to your car.
Shorter options
There are several ways to trim the distance of this run.
Make a beeline to Big Meadows. At Dark Hollow Falls (mile 5.6), take the Dark Hollow Falls Trail to Skyline Drive and then over to the Byrd Visitor Center. This trims 4.4 miles and 600 feet of ascent/descent from the route.
Skip the Rose River Trail. At Dark Hollow Falls (mile 5.6) stay on the Rose River Fire Road and take it 1 mile to Fishers Gap. Pick up the AT there and finish the loop as written. This will save you 1.6 miles of distance and about 600 feet of ascent/descent.
Skip Lewis Spring Falls. Near Big Meadows Campground, skip the diversion on the Lewis Falls Trail. This will save about a mile and 700 feet of ascent/descent.
Run the fire road back. From Big Meadows, you can take the Rapidan Fire Road and the Upper Dark Hollow Falls Trail back to your car. It's about 7.5 miles, much of which is on fire road.
---
If you did not refuel in the campground, here you should make a diversion to the Big Meadows Wayside for aid. You will be on a gravel road when you intersect the AT. To get to the wayside, continue climbing on this road up to Skyline Drive. The Big Meadows Wayside is off to your left. ↩

At Rapidan Camp, Herbert Hoover and First Lady Lou Henry Hoover entertained family, friends, celebrities, politicians, and representatives of foreign governments. The status of the camp changed when President Franklin D. Roosevelt took office in 1933. Bound to a wheelchair, Roosevelt found the remote, rugged camp unappealing and instead established Shangri-La, which eventually became Camp David. ↩
Photos
Last updated October 21, 2022
What you do is up to you, but you shouldn't rely on these directions alone; they are often not specific enough to navigate by, and may be incorrect or out of date. Review a map beforehand and carry it with you. Tell a friend where you are going and when you plan to return. Do not count on having cell phone service while on the run. The VHTRC is not responsible for your welfare on any of these runs. If you go on one of these runs and get lost, run out of water, get injured, mauled by a bear, or die, or if anything else goes wrong, it's your fault; not ours. You assume all risks here and the VHTRC assumes none at all. Legal issues aside, some of these runs are more remote than others and the VHTRC is not suggesting that you do any of these runs, unless you are prepared to accept full responsibility for yourself.