Report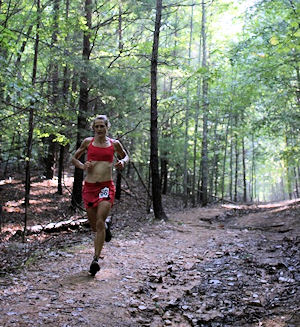 Last year's report said, "The course was dry given the lack of recent rain." This year, the course was very wet, but not too muddy. The rain had finally stopped and the participants in the 2011 Women's Half Marathon had good weather. A bit humid, but not too warm in the shade.
Martha Nelson claimed her second win. She had set the course record in her 2009 win. This year, she was just off her own record, but she had a race on her hands with Ragan Petrie and Eliza O'Connell battling her all day. In the end, the three women finished within 40 seconds of one another.
All of the information about this year's event will be linked from this page. Come back later in the week to see, among other things, Aaron Schwartzbard's pictures. There should be a picture of everyone and the "negative" is free.
Happy trails!
Kate Abbott, RD

Last updated December 16, 2019