18th Running
VHTRC Women's Half Marathon Trail Run
Fairfax Station, VA
Saturday, September 11, 2010
196 starters, 181 finishers
92% finishing rate
Results
Photos
Entrants
Report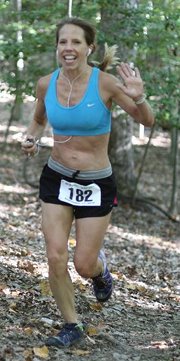 It was a beautiful day for running! Heather Schaffer posted her third WHM win by pulling away from a close pack of pursuers. Heather was second in 2002 and won the event in 2004 and 2005. Allison Craig and Kasha Schoolmeester, who had run together at Virginia Tech some years ago, shared the lead over the first part of the run, but Heather passed them to take the win.
Behind Heather led a group of happy, tired, and dusty runners. The course was dry given the lack of recent rain.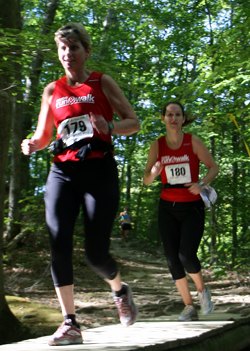 The winning mother-daughter team was Team Russell, Helen and Marjorie. They finished together, dressed alike, and also won the "Which one is the mother?" contest. Team Emery/Brown, a regular at the WHM, was second. Two of the four finishing teams finished together.
As usual, a large cast of volunteers tended to the needs of the runners. As a traditional prelude to the start, the VHTRC Men's Chorus serenaded the the runners with "Happy Trails." We are sure that Roy and Dale were looking down approvingly!
The VHTRC Women's Half Marathon started 18 years ago as an attempt by a crazy bunch of guys to get more women to run with them on trails. Today, there are many women in trail running, and the VHTRC has become a female trail running power house. The tone of the event is a bit different now. But the point is still the same. The winner is a woman and she didn't cross the line behind four men. That is sort of neat!
Happy trails!
Thanks!
Thank you to Shikai for providing free samples of their wonderful products. Thank you to REI for providing all our runner bags. A big thank you to Yellow Dog Cookie Company for the beautiful basket of cookies to raffle!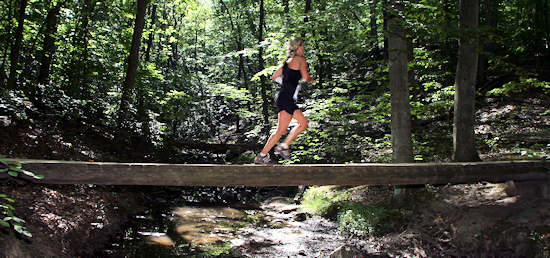 Last updated December 16, 2019