14th Running
VHTRC Women's Half Marathon Trail Run
Fairfax Station, VA
Saturday, September 9, 2006
185 starters, 175 finishers
95% finishing rate
Results
Photos
Entrants
Report
A field of 185 women started the 14th Annual Virginia Happy Trails Running Club Women's Half-marathon Trail Run under clear, sunny skies. Over hill and dale they ran over rocks and roots and fallen trees to reach the finish line and achieve their goals.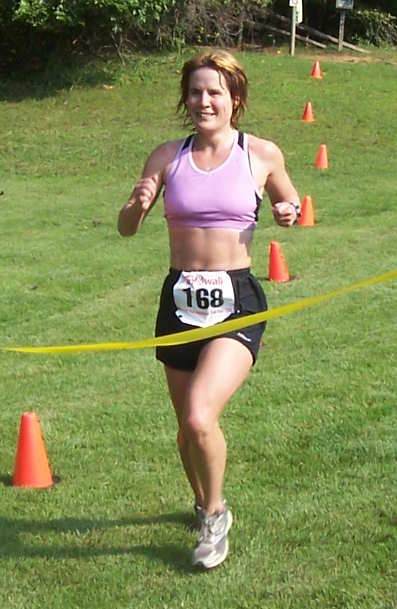 Laura Nelson was the overall winner, reaching the finish line in 1:51:09. On Laura's heels was Amy Sproston, who finished second in 1:51:44. Susie Kinnecome was the third-place finisher with a time of 1:52:53. They received technical shirts and running tights for their efforts. Laura and Amy also received Road Runner and Wiley Coyote stuffed animals, respectively, to recognize their first- and second-place positions. Winners in the five-year age categories received $25 or $15 gift certificates from Metro Run & Walk or folding chairs.
This was the fourth year that mother-daughter teams competed for prizes. In this edition Mara and Monika Modest ran in an impressive combined time of 4:05:00. Mary and Maura White captured second place in a combined time of 5:16:20. Lucia and Maiko Davidson finished third in a combined time of 5:21:34. They received specially-inscribed vases. Again, runners received various stuffed animals at the last aid station to carry to the finish line and redeem for "trash or treasure". Runners also received various random prizes, such as Fuel Belt bottle carriers and hydration belts.
The volunteers at the aid stations were wonderful. They unselfishly served cookies, fruit, chips, pretzels, candy, and assorted beverages to the runners at the three aid stations to help them reach the finish line. The post- race fare, which included pizza, various sweets, and watermelon, proved very popular. I already made a note to buy more for next year's event.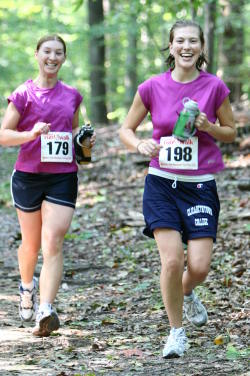 I would like to thank all the volunteers, especially Valerie Meyer for race timing and results and Lucia Davidson for handling registration, for their commitment, service, and time. Without them, the race would not be possible. I also would like to thank the Northern Virginia Regional Park Authority for its support, along with our sponsors — Metro Run & Walk, Fuel Belt, Echo & Wild, and Metro Sports.
Visit electronic gallery of pictures on this site. Also, go to Aaron Schwartzbard's site for many more pictures.
This year's race filled in approximately one week. Applications for the 2007 race will become available on this website on Monday, June 25, 2007. See you next September.
Margie Schlundt
RD
Last updated December 16, 2019