12th Running
VHTRC Women's Half Marathon Trail Run
Fairfax Station, VA
Saturday, September 11, 2004
193 starters, 179 finishers
93% finishing rate
Results
Photos
Entrants
Report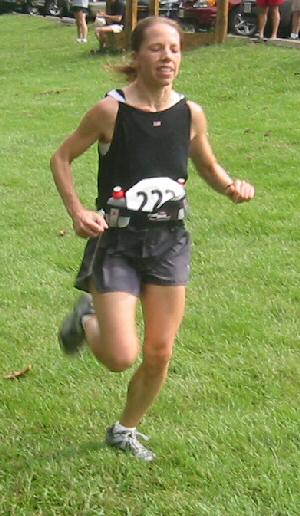 The 12th Annual Virginia Happy Trails Running Club (VHTRC) Women's Half-Marathon Trail Run began under sunny, blue skies. 193 women were at the starting line at the parking lot at Fountainhead Regional Park to heed the words of Priscilla Welch, masters marathon great. Priscilla said, "If you want to become the best runner you can be, start now. Don't spend the rest of your life wondering if you can do it." And start they did to show us their best.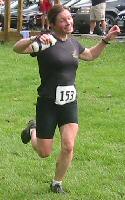 Heather Trainum, the winner, covered the course in 1:57:15. Kit Noonan finished second in 2:02:43, while Monika Bracken finished in third in 2:09:11. Each received a Timex watch for her efforts. Five-year age category winners received $25 gift certificates, day packs, or bottle holders. Among our mother-daughter teams this year, Eileen and Laurette Fisher finished first in a combined time of 5:53:53. Bunny and Christine Runyan were second in a combined time of 6:24:46. Deirdre and Francesca, who is only 15 years old, Smith captured third place with a combined time of 7:40:42. They received jewelry boxes with a specially-inscribed plaque. We again had the popular "run with an animal" contest, in which runners were given stuffed animals to carry to and redeem for prizes at the finish line.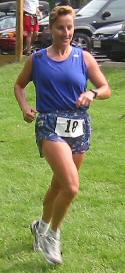 The three aid stations were staffed by cheering and supportive volunteers, who were deeply committed to making this run a first-class event. Without these people who generously donated their time and efforts, the race would not be possible. In addition to the truffles, homemade cookies and cake, fruit, chips, pretzels, and various beverages served along the course, there was a chocolate fountain, the ultimate treat for chocolate fanatics, at the finish line.
I would like to thank all of the volunteers for their commitment, service, and time. I also would like to thank the Northern Virginia Regional Park Authority for its support, along with our sponsors - The Chocolate Chick; Eastern Mountain Sports; Metro Run and Walk; Montrail; Patagonia; Susan E. Petty, Certified Massage Therapist; and the VHTRC. I would like to extend a special thanks to Valerie Meyer for race timing and her computer skills. Her efforts before the race and at the finish line were invaluable. Marge Burley deserves special thanks for shopping for and chopping pounds of fruit for the chocolate fountain and obtaining the Tylenol, which you received in your race bags. I also want to thank Lucia Davidson, who handled registration.
Thank you,
Margie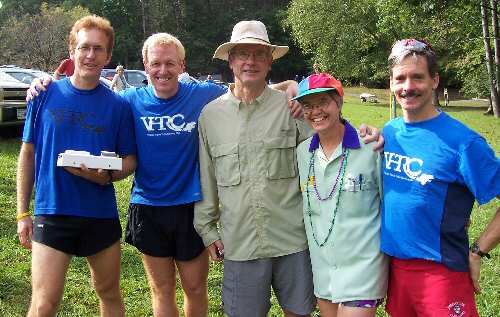 Last updated December 16, 2019