Report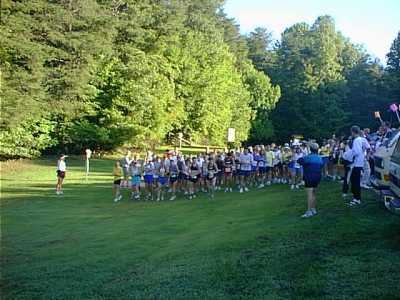 The 7th year was a big year for our annual 13.1-mile++ half-marathon (the ++ is for the extra half-mile or so we suspect exists on the second half of the course). We exceeded 100 runners for the first time ever with 104 starters and 92 finishers. Our volunteers went to extraordinary efforts to make this race a success and we wish to extend our heartfelt thanks to them for their untiring efforts. They were only matched by the courage and determination exhibited by an extraordinary field of women athletes.
Race day instructions and announcements were followed by a rousing rendition of "Happy Trails" by the VHTRC all-male chorus. This was the most successful public appearance by the chorus to date since this time we passed out the words to the song.
Patrick Raymond provided an accompaniment on his guitar. Then, the runners were off!
Lindsey Mohle returned to the course to defend her 1998 first place finish.. However, newcomers Suzanne Hunt Scoggins, Elisa Jeanne Beres, and Jessica Heiner would provide tough competition. At the 3.5 mile mark Suzanne was in front with Lindsey in close pursuit. Suzanne widened her lead over Lindsey to 30 seconds at the 6-mile aid station with Jessica and Elisa only 40 and 45 seconds behind. At the 10-mile, third aid station, Jessica had moved from third into first place vying with Suzanne for the lead. Elisa had moved into third and Lindsey fell back to fourth. After that, the finish was never in doubt as Jessica sustained and widened her lead over Suzanne by 1:30 finishing 1:54:54 followed by Suzanne 1:56:34, Elisa 2:00:10 and Lindsey 2:02:58.
Fifth across the finish line was the first place male Ned Zimmer at 2:03:35 followed by the Julie Campbell in sixth at 2:04:05 and Masters winner Mary Catherine Malin at 2:05:12.
Race day excitement was not confined to the front of the course. Nearly half the starting field was composed of first time trail runners grappling with steep hills, uneven footing, and a course a half-mile longer than advertised. Two women, Peggy Hernandez and Erika Lee sprained their ankles on the way out and dropped out of the race at the first aid station. Peggy's sprain, on a previously injured ankle, appeared serious. Luckily her husband Greg Power was one of the volunteers at the first aid station and both women were transported back to the start/finish. Concerns over a possible break proved unfounded when the ankle was x-rayed in the afternoon and Greg and Peggy were headed for an evening concert Saturday night. Other race day injuries were restricted to the normal scrapes and scratches incurred from falls by some of the participants.
Action was fast and furious at times at the first aid station supervised by Don Boyle a finisher from last year who returned this year as a race volunteer. At the second aid station, organized by Marty Szekeresh, the field was well-spaced with most entrants running by themselves with occasional groups of 3 or 4. For many first-time trail runners the sensation of running alone in a race was new. On a twisting, forested trail, a runner just seconds behind may be hard to spot, and many women had the trail to themselves for much of the race.
The third aid station, headed by Phil Young was heard long before it was seen with an enthusiastic group of volunteers shouting out the aid station menu. This included chips, cookies, fruit, and Godiva chocolates. (The Godiva chocolates were not sanctioned by the race management. However, given their apparent popularity, we may elect to find a "chocolate" sponsor next year.)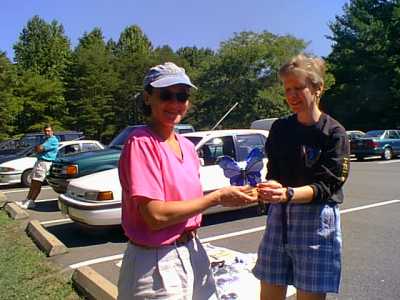 Runners returned, hot, tired and triumphant to the finish line where they collected their finishing t-shirts, munched on bagels, fruit, cookies and chips and shared their adventures with fellow runners and volunteers. At the awards ceremony, stained glass table lamps and gift certificates were distributed to the age class and overall women winners. As in previous years, the top-three men were awarded token prizes. None came forward to claim their winnings which were even tackier than previous years.
Special thanks to our sponsors: National sponsors for the race included: Road Runners Club of America, Runners World, and Moving Comfort. Our local sponsors were Fleet Feet, Virginia, Boot Camp for Women, and the Virginia Happy Trails Running Club.
We had more volunteers than ever before on race day and with the increased turn out, we needed every one of them. Special thanks to the following folks for making this day a success!
Randy Snyder
Larry DeHof
Anstr Davidson
Scott Mills
Joe Clapper
Phil Young
Don Boyle
Marty Szekeresh
Bunny Runyan
Mike McCumber
Jeff Davis
Greg Power
Mark Prescott
Tom Trask
Robin Kane
Frank Probst
Roger Allison
Patrick Raymond
Lou Jones
Ryan Manning
Jeanne Christie, RD
Last updated December 16, 2019