2019 Report
February 23, 2019 • Westminster, MD
113 starters, 98 finishers
Report
On February 23, 2019, the tenth running of the Hashawha Hills 50km Trail Run came off without a hitch.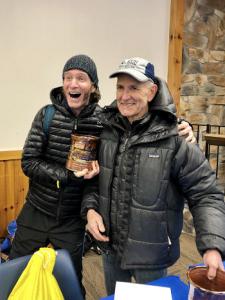 Incomparable mud, snow, dangerously high stream crossings, and standing water, that just got worse every day leading up to the run and threatened to make the run a horrible experience for the runners, were never a factor. The course magically froze the night before the run, transforming the worst ever course conditions into some of the best in several years. The forecast rain that threatened to make runners' lives miserable, never materialized. Of course we still had our trademark mud, but runners got some help from the knotted rope to pull themselves up a nearly vertical climb, and mercifully, no one slipped off the icy cliff. Good times.
Right from the gun, Aaron Schwartzbard, Adam Watkins, and Dustin Campion ran off the front, trading places almost within sight of each other for most of the run until Aaron put the hammer down and pulled ahead, building his lead to take the win in 4:23:28. Adam and Dustin crossed the line together in 4:32:12. Aaron's win represents a great comeback after a long battle with Lyme disease.
Right behind the top three men, previous winner and course record holder Sheila Vibert was fourth overall and first female in 4:48:08. Linda Boring and Shannon Cebron rounded out the top three for the ladies.
Thanks to the all the runners who showed respect for our unique venue and supported all our volunteers.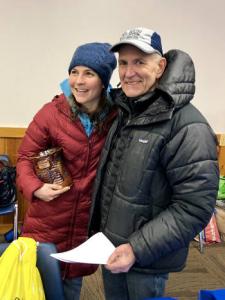 The Hashawha Hills 50km Trail Run has a core group of volunteers who year after year come together, take ownership of our run, and make it the very special and successful event that it is. Without their passion for our run, Hashawha Hills would be just another run instead of the sparkling gem that it is.
What do you get for an entry fee of $19.15? Coffee and muffins during the pre run inside the warm nature center. Aid stations second to none. An easy to follow course of trails, forest roads, open fields, plenty of hills, and that rope thing, as well as split second timing, a hot meal at the finish, and our trademark handmade mugs.
This run produced a profit for the Virginia Happy Trails Running Club. Therefore, we're still not sure runners are getting their money's worth, and so we will stick with our tradition of lowering the entry fee every year.
Please join us for the eleventh anniversary running of the Hashawha Hills 50km Trail Run to be held on February 29, 2020. The entry fee will be a just plain preposterous $19.05.
Happy Trails!
Alan Gowen
Run Director, Hashawha Hills 50 km Trail Run
Photos
Results
Aaron Schwartzbard and Sheila Vibert won the race. The rain held off, to make it a pretty good weather day — for Hashawha!
| BIB | NAME | AGE | SEX | AGE | TIME | FINISHES |
| --- | --- | --- | --- | --- | --- | --- |
| 1 | Aaron Schwartzbard | 41 | M | Washington, DC | 4:23:28 | 1 |
| 2 | Adam Watkins | 38 | M | Washington, DC | 4:32:12 | 3 |
| 3 | Dustin Campion | 33 | M | Keedysville , MD | 4:32:12 | 3 |
| 4 | Sheila Vibert | 37 | F | Arlington, VA | 4:48:08 | 2 |
| 5 | John Marciari | 47 | M | Baltimore, MD | 4:49:38 | 4 |
| 6 | Bryan McFarland | 37 | M | West Chester, PA | 4:53:09 | 1 |
| 7 | Ryan Espulgar | 36 | M | East Petersburg, PA | 5:06:27 | 1 |
| 8 | Chris Flint | 36 | M | Burke, VA | 5:09:40 | 2 |
| 9 | Michael Martinek | 40 | M | Fallston, MD | 5:11:23 | 1 |
| 10 | Dave Herring | 48 | M | Linden, VA | 5:22:17 | 2 |
| 11 | Chris Ridge | 35 | M | Springfield, VA | 5:25:47 | 1 |
| 12 | Linda Boring | 54 | F | Frederick , MD | 5:26:18 | 1 |
| 13 | Rick Henry | 34 | M | Reston, VA | 5:28:06 | 1 |
| 14 | Shannon Cebron | 27 | F | Baltimore, MD | 5:28:55 | 1 |
| 15 | Laura Yoder | 50 | F | Fleetwood, PA | 5:40:10 | 1 |
| 16 | Sarah Mikalauskas | 39 | F | New Market, MD | 5:41:26 | 4 |
| 17 | Matt Craig | 46 | M | Baltimore, MD | 5:44:43 | 4 |
| 18 | Suzie Brashler | 24 | F | Baltimore, MD | 5:46:02 | 1 |
| 19 | William Hoff | 49 | M | Hanover, PA | 5:46:55 | 2 |
| 20 | Ronald Henry | 57 | M | Adelphi, MD | 5:47:51 | 2 |
| 21 | Bryan Slotterbach | 45 | M | Quakertown, PA | 5:50:05 | 1 |
| 22 | Lori Johnson | 55 | F | Red Hill, PA | 5:51:34 | 4 |
| 23 | Pat Gilbert | 55 | M | Baltimore, MD | 5:51:59 | 6 |
| 24 | Ted Murphy | 42 | M | Baltimore, MD | 5:51:59 | 1 |
| 25 | Adam Heeley | 42 | M | Mt Airy, MD | 5:54:52 | 1 |
| 26 | Angelo Otterbein | 45 | M | Monkton, MD | 5:56:07 | 3 |
| 27 | Ryan Stuart | 45 | M | Alexandria, VA | 5:57:30 | 2 |
| 28 | Garret Christensen | 39 | M | Washington, DC | 6:02:31 | 1 |
| 29 | Sean Schmidt | 48 | M | Reisterstown, MD | 6:14:16 | 1 |
| 30 | Tonnie Warfield | 39 | F | Baltimore, MD | 6:15:02 | 1 |
| 31 | Erin Altemos | 44 | M | Baltimore , MD | 6:15:07 | 1 |
| 32 | Christiana Fogg | 41 | F | Kensington , MD | 6:15:39 | 3 |
| 33 | Chris Beers-Arthur | 50 | M | Frederick, MD | 6:15:47 | 2 |
| 34 | Jimm Ouellette | 46 | M | Burke , VA | 6:16:22 | 3 |
| 35 | Dwight Mikulis | 61 | M | Ellicott City, MD | 6:18:02 | 2 |
| 36 | Hussein EzzEldin | 36 | M | Columbia, MD | 6:18:02 | 1 |
| 37 | Billy Clem | 49 | M | Frederick, MD | 6:18:27 | 2 |
| 38 | Alan Johnson | 55 | M | Ocean View, NJ | 6:18:42 | 2 |
| 39 | Brian Chiles | 45 | M | Woodbridge, VA | 6:19:22 | 1 |
| 40 | Paul Crickard | 65 | M | Columbia, MD | 6:23:21 | 6 |
| 41 | Chris Coder | 37 | M | Westminster, MD | 6:26:25 | 5 |
| 42 | Adam Renninger | 38 | M | Westminster, MD | 6:26:32 | 3 |
| 43 | Adeline Ntam | 39 | F | Silver Spring , MD | 6:29:48 | 2 |
| 44 | Katrina Rodriguez | 38 | F | Baltimore, MD | 6:31:37 | 1 |
| 45 | Nathaniel Corn | 39 | M | Catonsville, MD | 6:34:55 | 2 |
| 46 | Pamela Geernaert | 51 | F | Frederick , MD | 6:35:07 | 1 |
| 47 | Allison Abbe | 43 | F | Leesburg, VA | 6:39:01 | 3 |
| 48 | Rachel Temple | 41 | F | Alexandria, VA | 6:39:05 | 1 |
| 49 | Robert Kazmierski | 38 | M | Baltimore, MD | 6:40:15 | 1 |
| 50 | Brett Martin | 38 | M | Arlington , VA | 6:41:47 | 2 |
| 51 | David Wood | 56 | M | Abingdon, MD | 6:42:25 | 3 |
| 52 | Jonathan Rosenberry | 30 | M | Silver Spring , MD | 6:43:15 | 1 |
| 53 | Jamie Greenawalt | 50 | F | Bedford , PA | 6:45:39 | 5 |
| 54 | Lindsey Weaver | 33 | F | Frederick, MD | 6:46:48 | 2 |
| 55 | Shelly Cable | 49 | F | Bedford, PA | 6:48:25 | 7 |
| 56 | Dawn Gray | 44 | F | Clifton, VA | 6:50:23 | 2 |
| 57 | Alyce Graham Stiles | 36 | F | Wilmington, DE | 6:55:04 | 1 |
| 58 | Christian Stanton | 45 | M | Fredericksburg, VA | 7:06:20 | 1 |
| 59 | Jeremy Gray | 45 | M | Clifton, VA | 7:08:12 | 1 |
| 60 | Peihan Orestes | 37 | F | Bethesda, MD | 7:08:12 | 1 |
| 61 | James VanHoozier | 38 | M | Airville, PA | 7:08:13 | 1 |
| 62 | Andrew Carta | 34 | M | Crofton, MD | 7:10:56 | 3 |
| 63 | Michael Stefanon | 50 | M | Manassas, VA | 7:10:56 | 2 |
| 64 | Robert Kolb | 51 | M | Lorton, VA | 7:11:45 | 2 |
| 65 | Daniel Cardenas | 49 | M | New Market, MD | 7:16:55 | 1 |
| 66 | Dee Gager | 54 | F | New Market, MD | 7:16:55 | 1 |
| 67 | John Dubicki | 39 | M | Hanover, PA | 7:18:34 | 1 |
| 68 | Michael Jury | 43 | M | Springfield, VA | 7:18:34 | 1 |
| 69 | Charles Hogan | 59 | M | Catonsville, MD | 7:19:33 | 2 |
| 70 | Jarrett Klein | 26 | M | Hanover, PA | 7:20:33 | 1 |
| 71 | Corey Newell | 39 | M | Abingdon, MD | 7:20:46 | 1 |
| 72 | Larry Ferguson | 43 | M | Alexandria , VA | 7:26:22 | 1 |
| 73 | Tavis Karrow | 39 | M | Gloucester City, NJ | 7:27:20 | 1 |
| 74 | Wendy Conley | 49 | F | Thurmont, MD | 7:31:34 | 1 |
| 75 | Kibby Powell | 49 | F | Middletowm, MD | 7:32:21 | 1 |
| 76 | Starla Snyder | 56 | F | East Freedom, PA | 7:32:24 | 2 |
| 77 | Gary Maier | 66 | M | Wallkill, NY | 7:32:30 | 2 |
| 78 | James Goetschius | 47 | M | Adamstown, MD | 7:32:37 | 1 |
| 79 | Craig Combs | 42 | M | Frederick, MD | 7:32:40 | 1 |
| 80 | Dipak Bhattacharyya | 55 | M | Fairfax, VA | 7:38:43 | 1 |
| 81 | Alan Lagon | 49 | M | Baltimore, MD | 7:40:50 | 9 |
| 82 | Michele Jacoby | 41 | F | Frederick, MD | 7:42:05 | 1 |
| 83 | Frank Ziemski | 61 | M | Bel Air, MD | 7:45:25 | 1 |
| 84 | Carole Williamson | 57 | F | Eldersburg , MD | 7:45:49 | 9 |
| 85 | Robert Grolemund | 50 | M | Ashburn, VA | 7:50:35 | 1 |
| 86 | Tracey Thibodeau | 48 | F | Stafford, VA | 7:50:47 | 1 |
| 87 | Elaina Stanton | 48 | F | Fredericksburg, VA | 7:53:51 | 1 |
| 88 | Steve Coco | 48 | M | Westminster , MD | 8:00:38 | 4 |
| 89 | Genice Rill | 45 | F | Finksburg , MD | 8:02:24 | 2 |
| 90 | Jose Quinchuela | 45 | M | Gunpowder , MD | 8:18:30 | 3 |
| 91 | Meghan Curley | 37 | F | Annapolis , MD | 8:22:27 | 1 |
| 92 | Richard McCleary | 48 | M | Little Egg Harbor, NJ | 8:22:37 | 2 |
| 93 | Sirisha Golla | 44 | F | Ashburn, VA | 8:22:50 | 2 |
| 94 | Jon Jester | 59 | M | Mechanicsville, VA | 8:23:13 | 2 |
| 95 | Stephanie Fonda | 51 | F | Kensington, MD | 8:23:13 | 1 |
| 96 | Joe Hanle | 61 | M | Germantown, ME | 8:39:22 | 3 |
| 97 | August Thurn | 60 | M | Havre De Grace , MD | 8:44:40 | 1 |
| 98 | Scott Lemmon | 49 | M | Mt Holly Springs, PA | 8:49:19 | 1 |
Last updated December 16, 2019