2017 Report
February 25, 2017 • Westminster, MD
106 starters, 99 finishers
Report
The traditional date for the Hashawha Hills 50km Trail Run is the last Saturday in February, and thus the big story invariably is the weather. We've had black ice, mud, snow, mud, bitter cold howling winds, mud, and just about everything else mother nature can dish up. On two occasions we've had to cancel the run due to ice storms and too deep snow. Last year, finally, we had the best weather ever that was so benign, that few really remember it.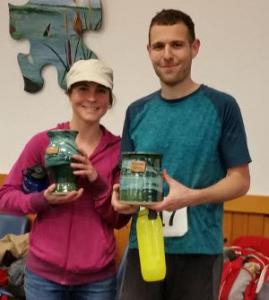 The eighth running of this special run brought temperatures at the start that were 60 degrees warmer than just two years ago, and so once again the weather played a big part in the outcome of the run.
Under partly cloudy skies and temperatures of nearly 70 degrees, it was the heat of all things that runners had to deal with for most of the day. Jarrod Brennet ran at the front of a tight men's field all day taking the win in 3:56:19. Shelia Vibert led the women from the gun, and crossed the line in 4:27:03, and in doing so set a new course record breaking Kristin Bremer's previous record by over 8 minutes.
It wasn't until afternoon that the lightning sirens at the nature center sounded their warning of the first storm of the day when the heavens opened and heavy rains cooled the runners still on the course. An hour or so later though, it was a different story when the next storm slammed in like a sledge hammer with driving rain and sideways hail pummeling the runners, and chilling them to the bone as temperatures fell nearly 20 degrees in just a few minutes.
Our aid stations kept on top of the changing weather; with our exemplary volunteers seeing to it that runners had what they needed whether it was cold water and ice to cool runners down, or hot soup and warm perogies to warm them up.
All finishers received one of our coveted Hashawha Hills handmade mugs, and everyone enjoyed hanging out indoors after the run enjoying hot post run food and the camaraderie of friends who have shared a special experience out there on those deceptively "harder the they should be" Hashawha hills.
Many thanks to all our volunteers and many thanks to all our runners who treated our venue with respect and helped to make the eighth running of Hashawha Hills one of the most memorable ever.
In a time when the supply of ultras seems to be outstripping the demand, we had more applicants for our 120 runner field this year than ever before. The next running of the Hashawha Hills 50km Trail Run will be on February 24, 2018. In a time of escalating entry fees, we continue to make every effort to see to it that runners receive their money's worth, and so in keeping with tradition the entry fee, as it does every year, will be reduced by 10 cents to a ridiculous $19.25
Results
| Place | Name | Age | Sex | Home | First Loop | Finish | Finishes |
| --- | --- | --- | --- | --- | --- | --- | --- |
| 1 | Jarrod Brennet | 26 | M | Mount Rainier, MD | 1:53:26 | 3:56:19 | 1 |
| 2 | Adam Watkins | 36 | M | Washington, DC | 2:04:29 | 4:09:59 | 1 |
| 3 | Chris Mead | 30 | M | Woodbine, MD | 1:54:02 | 4:16:13 | 1 |
| 4 | Timothy Greszler | 38 | M | Bethesda, MD | 2:14:22 | 4:24:16 | 1 |
| 5 | Jack Kurisky | 49 | M | Burke, VA | 2:05:40 | 4:25:16 | 1 |
| 6 | Sheila Vibert | 35 | F | Arlington, VA | 2:10:09 | 4:27:03 | 1 |
| 7 | John Marciari | 45 | M | Baltimore, MD | 2:06:05 | 4:28:58 | 2 |
| 8 | Robin Watkins | 33 | F | Washington, DC | 2:15:55 | 4:46:36 | 1 |
| 9 | Chris Flint | 34 | M | Burke, VA | 2:19:15 | 4:49:02 | 1 |
| 10 | Vincent Lucas | 39 | M | York, PA | 2:15:59 | 4:50:59 | 1 |
| 11 | Barry Hauptman | 53 | M | Bethesda, MD | 2:19:06 | 4:51:23 | 1 |
| 12 | Russell Dresher | 34 | M | Hudson, MA | 2:19:06 | 4:52:14 | 2 |
| 13 | Thomas Haine | 50 | M | Towson, MD | 2:10:22 | 4:53:59 | 5 |
| 14 | Rachel Greszler | 34 | F | Bethesda, MD | 2:23:42 | 4:55:17 | 1 |
| 15 | Grace Fisher | 36 | F | Hancock, MD | 2:26:12 | 4:57:28 | 1 |
| 16 | Matt McDonald | 47 | M | Hagerstown, MD | 2:08:10 | 4:58:43 | 3 |
| 17 | Christian Luhmann | 39 | M | Coram, NY | 2:28:21 | 5:02:58 | 1 |
| 18 | Gray Weaver | 33 | M | Apt 102, VA | 2:16:10 | 5:15:45 | 3 |
| 19 | William Hoff | 47 | M | Westminster, MD | 2:29:19 | 5:16:00 | 1 |
| 20 | Lori Johnson | 53 | F | Red Hill, PA | 2:29:29 | 5:16:08 | 3 |
| 21 | Andrew Murphy | 32 | M | Arlington, VA | 2:20:39 | 5:16:33 | 1 |
| 22 | Ryan Bauman | 38 | M | Lancaster, PA | 2:29:04 | 5:16:55 | 1 |
| 23 | Michael Lombardo | 49 | M | Elkridge, MD | 2:26:28 | 5:19:21 | 2 |
| 24 | Pat Gilbert | 53 | M | Baltimore, MD | 2:26:26 | 5:19:51 | 4 |
| 25 | Sarah Mikalauskas | 37 | F | New Market, MD | 2:24:35 | 5:20:33 | 2 |
| 26 | Heidi Tompkins | 29 | F | Hampstead, MD | 2:29:03 | 5:24:41 | 2 |
| 27 | Doug Camann | 49 | M | Clarksboro, NJ | 2:29:24 | 5:25:05 | 5 |
| 28 | Brian Carr | 41 | M | Baltimore, MD | 2:29:39 | 5:25:19 | 3 |
| 29 | Benjamin Cordell | 33 | M | Parkville, MD | 2:34:27 | 5:26:14 | 3 |
| 30 | Ashley Carr | 31 | F | Baltimore, MD | 2:36:23 | 5:30:21 | 1 |
| 31 | Paul Encarnacion | 56 | M | Brunswick, MD | 2:41:10 | 5:33:15 | 2 |
| 32 | Alex St. Clair | 41 | M | Alexandria, VA | 2:28:05 | 5:38:24 | 2 |
| 33 | Chris Beers-Arthur | 48 | M | Frederick, MD | 2:36:32 | 5:39:06 | 1 |
| 34 | Sean Ferguson | 32 | M | Baltimore, MD | 2:46:18 | 5:40:33 | 2 |
| 35 | Casey Fisher | 33 | M | Abingdon, MD | 2:32:32 | 5:45:17 | 1 |
| 36 | Tacy Powers | 48 | F | Newark, DE | 2:48:28 | 5:45:24 | 2 |
| 37 | Laura Bowman | 23 | F | New Providence , PA | 2:48:08 | 5:47:31 | 1 |
| 38 | Larry Huffman | 56 | M | Great Falls, VA | 2:42:37 | 5:51:06 | 2 |
| 39 | Brian Glass | 33 | M | Fairfax, VA | 2:47:32 | 5:51:12 | 1 |
| 40 | Chris Coder | 35 | M | Westminster, MD | 2:34:29 | 5:52:53 | 3 |
| 41 | Paul Headland | 48 | M | Frederick, MD | 2:37:13 | 5:54:41 | 3 |
| 42 | Sarah Ouadah | 26 | F | Columbia, MD | 2:42:52 | 5:55:30 | 1 |
| 43 | Joe McQuade | 42 | M | Cumberland, MD | 2:43:22 | 5:58:55 | 2 |
| 44 | Adam Renninger | 36 | M | Westminster , MD | 2:37:50 | 6:01:33 | 1 |
| 45 | Eleonora Duregon | 30 | F | Baltimore , MD | 2:45:53 | 6:10:56 | 1 |
| 46 | Al Campos | 43 | M | Springfield, VA | 2:39:45 | 6:11:00 | 1 |
| 47 | Donald Oreskovich | 51 | M | Fairborn , OH | 2:48:47 | 6:12:43 | 1 |
| 48 | Paul Sherlock | 60 | M | Arlington, VA | 3:03:55 | 6:13:14 | 4 |
| 49 | David Mitchell | 46 | M | Lovettsville, VA | 2:49:39 | 6:13:31 | 1 |
| 50 | Conan Mowbray | 43 | M | Sterling, VA | 2:32:05 | 6:14:43 | 2 |
| 51 | Laura Drake | 27 | F | Arlington, VA | 2:49:28 | 6:21:45 | 2 |
| 52 | Brian Hapeman | 44 | M | Charlottesville, VA | 2:57:48 | 6:22:10 | 1 |
| 52 | JoAnne Smart | 40 | F | Charlottesville, VA | 2:58:10 | 6:22:10 | 1 |
| 54 | Richard Sisson | 46 | M | Tappahannock, VA | 3:04:51 | 6:22:34 | 1 |
| 55 | Ron Eshleman | 48 | M | Catonsville, MD | 2:36:30 | 6:24:18 | 4 |
| 56 | Rob Tidwell | 46 | M | King George, VA | 3:05:08 | 6:29:17 | 1 |
| 57 | Alisa Springman | 42 | F | Front Royal , VA | 3:24:42 | 6:29:21 | 4 |
| 58 | Jim Daniels | 43 | M | Front Royal, VA | 3:24:48 | 6:29:22 | 3 |
| 58 | Shannon Kraus | 44 | M | Glen Echo, MD | 3:01:33 | 6:29:22 | 3 |
| 60 | Julius Garcia | 57 | M | Reston, VA | 2:52:08 | 6:30:45 | 1 |
| 61 | Jamie Greenawalt | 48 | F | Bedford , PA | 3:03:17 | 6:31:23 | 3 |
| 62 | Shelly Cable | 47 | F | Bedford, PA | 3:03:14 | 6:31:36 | 5 |
| 63 | Chris Batten | 66 | M | Taneytown, MD | 3:00:32 | 6:34:21 | 2 |
| 64 | Jackie Ong | 56 | F | Reston, VA | 3:13:35 | 6:40:01 | 1 |
| 65 | Richard McCleary | 46 | M | Little Egg Harbor, NJ | 3:03:12 | 6:40:15 | 1 |
| 66 | Megan Replogle | 36 | F | New Market , MD | 3:07:39 | 6:40:37 | 1 |
| 67 | Gary Knipling | 73 | M | Mason Neck, VA | 2:55:17 | 6:42:04 | 1 |
| 68 | Erik Iliff | 37 | M | Crofton, MD | 3:03:41 | 6:45:05 | 1 |
| 69 | David Wood | 54 | M | Abingdon, MD | 3:15:42 | 6:45:50 | 2 |
| 70 | Gary Bowman | 51 | M | Conestoga, PA | 3:14:03 | 6:46:22 | 2 |
| 71 | Meranda Pierce | 42 | F | Mount Joy, PA | 3:13:55 | 6:46:25 | 3 |
| 72 | Eva Basehart | 49 | F | Amherst, NY | 3:16:19 | 6:48:08 | 3 |
| 73 | Gary Maier | 64 | M | Wallkill, NY | 3:14:12 | 6:48:20 | 1 |
| 74 | Andrew Carta | 32 | M | Crofton, MD | 3:02:37 | 6:50:08 | 2 |
| 75 | Judith Weber | 57 | F | Ellicott City, MD | 3:20:28 | 6:50:55 | 3 |
| 76 | Jonathan Wilson | 41 | M | Pennsauken , NJ | 3:19:44 | 6:55:18 | 1 |
| 77 | Kenneth Webb | 42 | M | Silverspring , MD | 3:02:22 | 6:55:20 | 1 |
| 78 | Catherine Cohen | 47 | F | Cockeysville, MD | 3:14:25 | 6:56:12 | 1 |
| 79 | Mark Cable | 45 | M | Ruckersville, VA | 2:59:17 | 6:56:56 | 4 |
| 80 | Tyler Ashworth | 32 | M | Washington, DC | 3:01:47 | 6:57:04 | 1 |
| 81 | David Miller | 41 | M | Frederick, MD | 3:12:57 | 6:58:32 | 1 |
| 81 | Rachel Ridgway | 46 | F | Ijamsville, MD | 3:12:56 | 6:58:32 | 1 |
| 83 | Paul Crickard | 63 | M | Columbia, MD | 3:19:28 | 7:01:09 | 4 |
| 84 | Alan Lagon | 47 | M | Baltimore , MD | 3:30:45 | 7:01:23 | 7 |
| 85 | Edward Cacciapaglia | 62 | M | Reston, VA | 2:53:17 | 7:03:03 | 1 |
| 86 | Cassandra Lizza | 36 | F | Lancaster, PA | 3:20:26 | 7:11:27 | 2 |
| 87 | Brigitte Sheehan | 56 | F | Newark, DE | 3:19:13 | 7:16:12 | 3 |
| 88 | Steve Coco | 46 | M | Westminster, MD | 3:13:34 | 7:16:27 | 2 |
| 89 | Alberto Vazquez | 47 | M | Lutherville-Timonium, MD | 3:00:50 | 7:16:36 | 2 |
| 90 | Carole Williamson | 55 | F | Eldersburg, MD | 3:20:42 | 7:22:54 | 7 |
| 91 | Faye Weaver | 43 | F | Ellicott City, MD | 3:27:13 | 7:28:51 | 1 |
| 92 | Christine Schauerman | 51 | F | Ellicott City, MD | 3:27:07 | 7:31:54 | 2 |
| 93 | Frank Volny | 38 | M | Columbia, MD | 3:27:09 | 7:31:55 | 2 |
| 94 | Michael Hart | 53 | M | Front Royal , VA | 3:17:54 | 7:31:59 | 1 |
| 95 | Janet Kemp | 33 | F | Fredericksburg, VA | 3:34:15 | 7:37:32 | 1 |
| 96 | Lori Bentley | 52 | F | Manchester, MD | 3:33:38 | 7:48:38 | 1 |
| 97 | Dawn Smith | 37 | F | Pasadena, MD | 3:36:00 | 7:50:04 | 1 |
| 98 | Lang Mary | 63 | F | Pasadena, MD | 3:35:58 | 7:50:05 | 1 |
| 99 | Alan Zwart | 46 | M | Washington, DC | 3:45:46 | 8:19:02 | 3 |
Last updated December 16, 2019