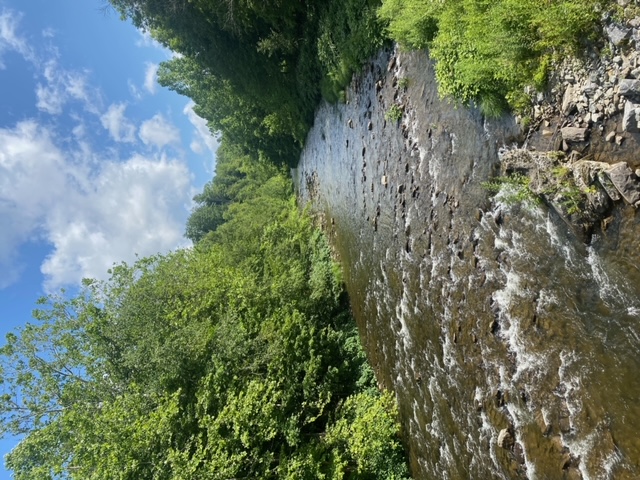 Viaduct 100
I first learned about Viaduct Trail 100 miler in 2021. I try to stay on top of all the fatass races out there and was thrilled to learn about not only another fatass race but also a 100 miler! Viaduct 100 is held in Luciana Park in Susquehanna, near the New York state border in northeastern Pennsylvania. It is Pennsylvania's oldest 100-mile footrace and has 2 distance options: a 50 mile and the 100 mile. The park also allows free camping for the event.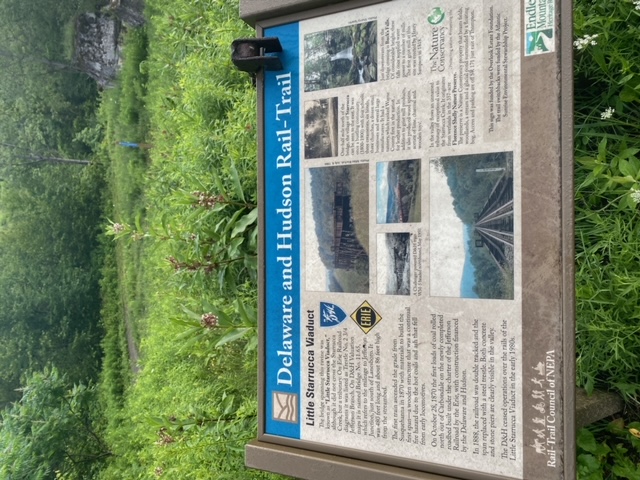 The course is on a former coal train line that has been converted to a unimproved trail. Each of four out-bound legs are about 12.5 miles in length and are slightly uphill; the return leg is thus slightly downhill. The total elevation change is about 1,000 feet for each of the four laps that make up the 100 miler.
I registered for the race in 2021 and had my Dad crew me. We drove his RV and camped there. I had a pretty good race and overall experience at the park. I loved the vibe, but I fell short and had to drop on the 3rd out-and-back.
In 2022 I was sad to find out Viaduct 100 was cancelled due to improvements being made to the park. The good news though was that the race would be even better as a result in 2023!
As soon as the word came through that Viaduct would be held in 2023, I was the first person to register. I was so bummed it didn't go down last year and I missed the vibe so bad. It feels almost like a Backyard ultra. Everyone camps out and hangs together for a unique old school ultra running experience.
I had been telling my girlfriend, Denise Freeman, about this race for a long time and she wanted to see a new place, meet new runners, and crew me.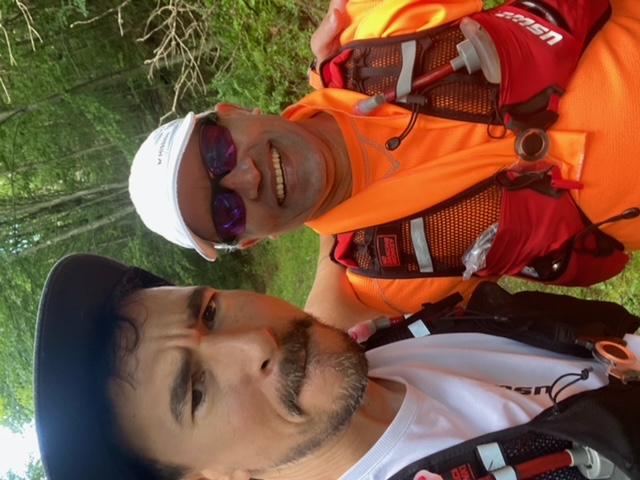 Denise and I also chose to make this weekend even more of an adventure. Thursday night we stayed with VHTRC member Stephen Wancowicz and attended a Believe In The Run group run in Baltimore. If you ever get the chance to attend a Believe In The Run group run do it! The creator of the ASICS Kayano was there, they gave out a lot of swag, there was pizza, and they led a wonderful run in the Inner Harbor.
Next day Denise and I said our goodbyes to Stephen after a lot of coffee and ultra talk, and headed to PA.
Denise and I did an easy 3 mile run in Deposit, NY, near the Viaduct race site. We ate dinner then headed to the start of the race and setup camp. We were immediately met by VHTRC member Ram Oruganti. We talked about how I was going to get the 100 this year and gave each other encouragement; Ram was doing the 50 mile option.
Viaduct brings out some very interesting characters in the ultra world. This year Donald Halke, Dipak Bhattacharyya, Michael Ortiz, Jim Lampman, and Meghan Curley just to name a few. This is collection of badasses, where some of them have done close to 100 100-milers, run with a pace maker, run Laz's adventure races like Vol State and Heart of the South, etc. It's not good for me being around these people because they make me want to do even more crazy! These are my people.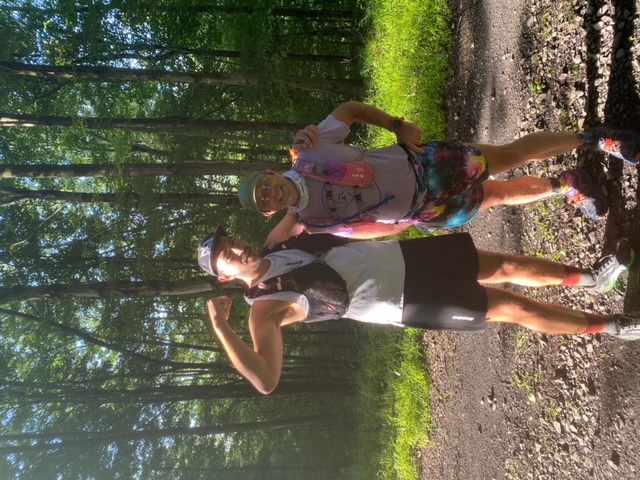 Viaduct has a 5 am start, which is another reason you want to camp there because if you stay somewhere other than the start, then it's tough to arrive in time for that early start.
I woke up at 3:30 am to get a jump on everything. The night before I set up everything, so it would be easy to get in food, put on my my gear, and get to the bathroom before heading out.
Go!!!
We lined up to hear the safety brief with the race directors, Carl Albright and David Kennedy. They outlined the 12.5 mile out-and-back course, mentioning that it's marked better than it ever has been before and how the park's modifications have improved the course, making it nicer with better bridges and pathways.
We take off at 5 am, and I stay towards the back. I know it's real easy to burn out on this course because it's very deceptive. There's only 4k feet of elevation but some sneaky golf ball-like rocks that once I get tired wreak havoc on me.
I ran with Jim Lampman. He had a really good pacing strategy to get it done. He's very good at staying ahead of cutoffs and not burning out.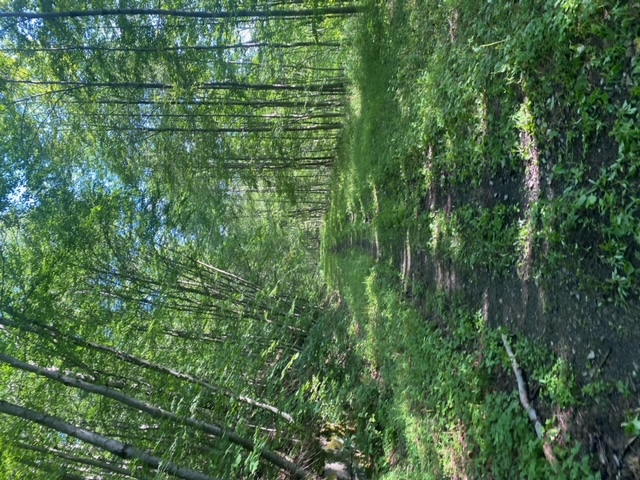 We talked to a lot of young people who had never run an ultra before, as well as many seasoned veteran ultra runners. It's such a great mix.
The course begins on a well-maintained rail trail, and you cross 3 bridges and 3 road crossings. Then the magic of Viaduct happens. You enter ungroomed portions of the rail trail. There's some tall grass, mud, and smaller, annoying rocks. I highly recommend wearing comfortable shoes with nice cushion. Some people don't wear trail shoes on Viaduct but I wouldn't recommend it, however I'm not a podium runner. I'll take lugs and a rock plate any day on parts of this trail.
Aid Station 1 
This aid station is a gift. Bob and Vicki have run this aid station over the entirety of the Viaduct 100's existence [editor's note: the event appears to have begun as a 68 miler in 2007, and the 100 started the following year. There have been years with 50 mile and 150 mile to 200 mile options]. Try Vicki's cookies, you'll be glad you did! This is also where your drop bag is located. It's situated at mile 6, so come prepared to go that distance in between needing whatever treasures you like to smuggle in there.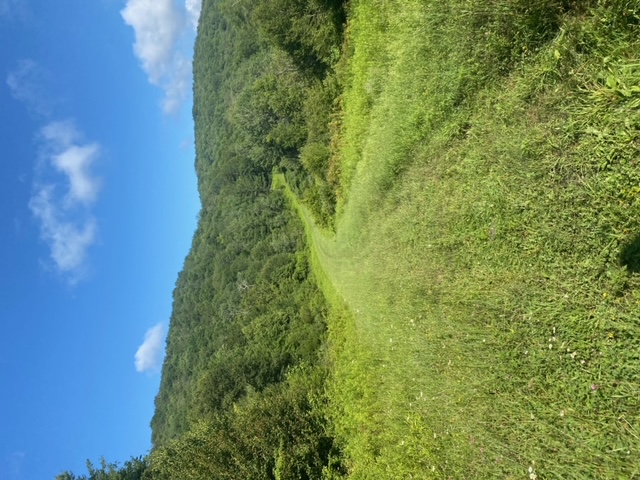 The next stretch you go through a lot of exposed areas, which on hotter days can be difficult. There are 2 large "dip" areas where train trestles used to be that now incorporate twisty switchbacks, and then you come to another aid station.
Aid Station 2
This is an extreme no-frills aid station and may not even be there some years (from my understanding). Make sure to check in with them periodically. They don't have an extreme amount of supplies; however, there is pizza and stuff there from time to time, so you may luck out.
The Trestle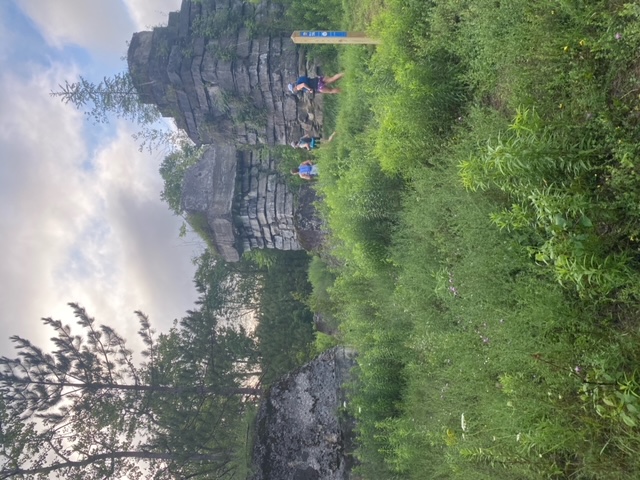 From aid station 2 you do more windy switchbacks, and there are remains of pylons from the old train trestle. From there you go up a hill and come to a turn around where you sign in. Most people I spoke to enjoyed this part the most.
Once you sign in you turn around and head back! Jim and I finished a pretty nice 6 hour 1st out and back.
Jim and I ran the first half of the race, then I went ahead to try to save daylight on loop 3. Denise, Jennifer Rankin, and Jen Cadenhead helped get me ready. Jennifer Rankin paced me 9 miles on loop 3. After she left and the sun went down I got really tired. It ended up taking me 8 hours for me to do loop 3. Carl helped lead me in at the end of the loop, which was nice because I was so tired.
Things Get Weird
Denise and I did loop 4. This was a rough loop. It was about 2:25 am when we headed out. I could not do much more than a walk this entire loop. Luckily Denise was well-rested because I needed someone to look out for me; as much sleep as I got Friday, I was crazy tired on this loop. I was sleep walking.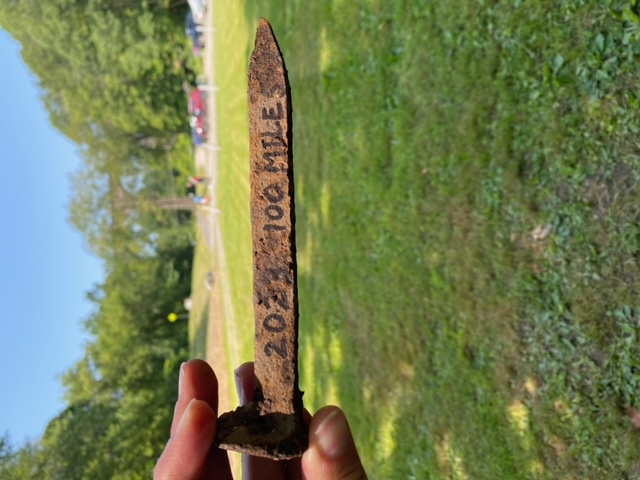 Once the sun came up I was more awake, but really tired and started getting hot. The last 3 miles I was close to throwing up. The temperature started on Friday in the 70s, then Saturday the same type of thing, but Saturday night got into the 50s. It was crazy cold and definitely got me moving slower. Then Sunday morning got hot, like the normal temps this time of year.
Denise did amazing work here staying with me to the end; I was in bad shape. Those Little Rock's out there wrecked my feet mainly because I'm still having foot problems from Manitou's Revenge last month. Eastern States in a few weeks is going to be interesting!
We got to the finish and I earned my rail spike and my second ever DFL. No shame at all, it was rough! Everyone was so nice after the race. I got a lot of love for the finish; it was really nice.
I highly recommend Viaduct; please check it out!
Thank you to my crew, everyone associated with the race and all the interesting runners who make Viaduct what it is!