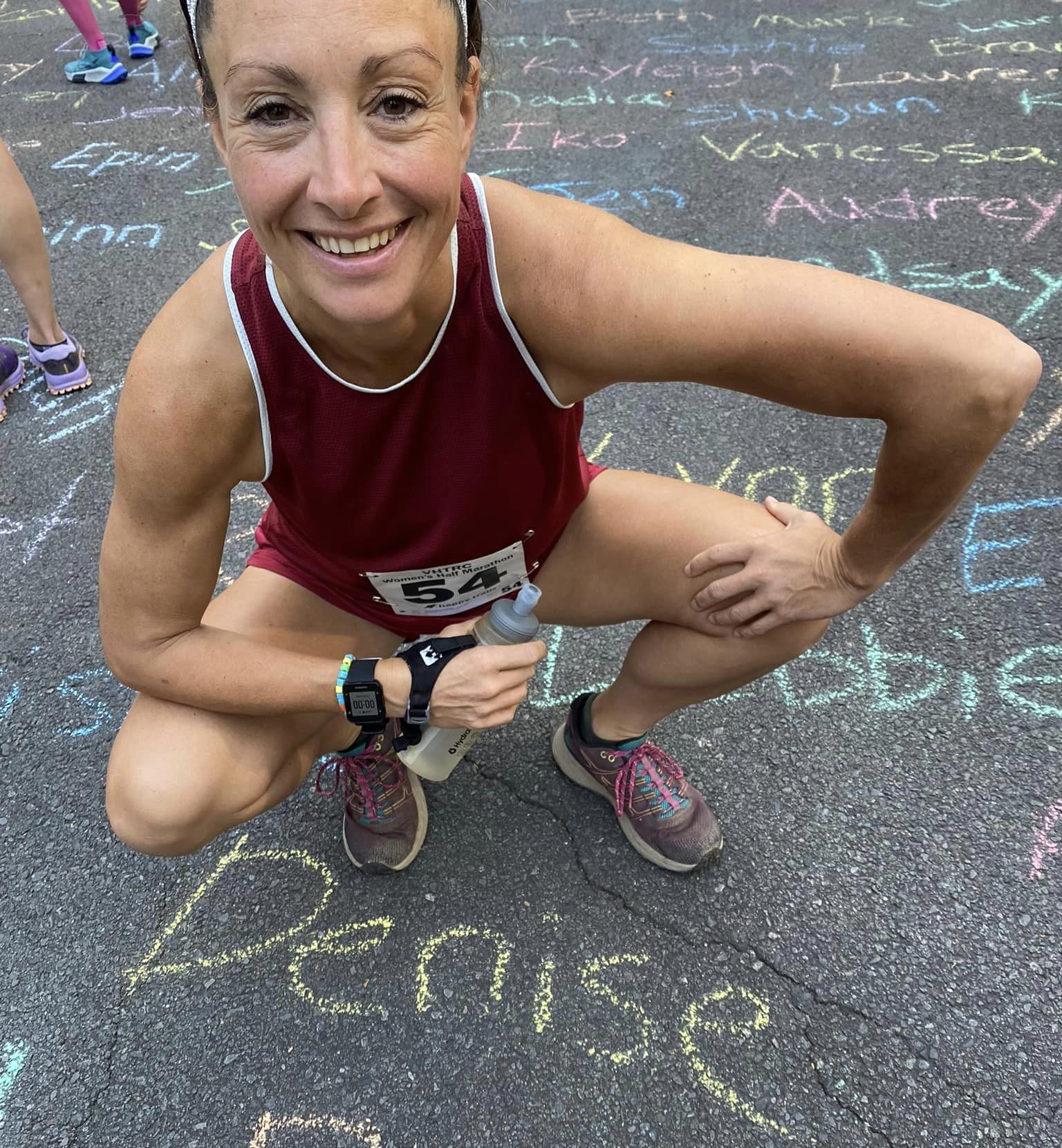 The Women's Half Marathon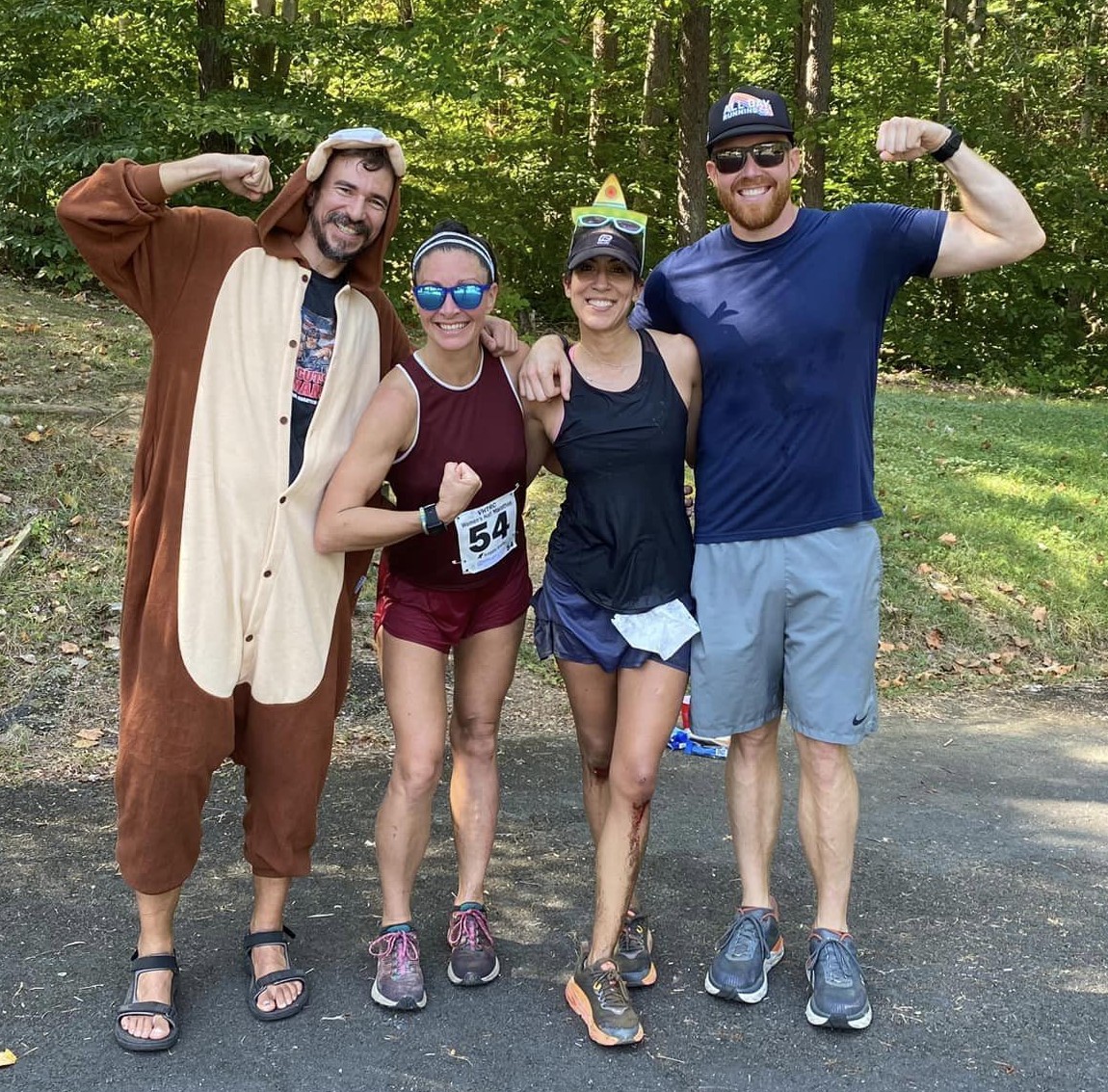 I had the honor of running the VHTRC Women's Half Marathon over this past weekend with over a hundred other strong and determined women, and let me tell you, this is a race you don't want to miss. Whether you are going to run with the companionship of your fellow Trail sisters or you are going to support them, this race truly has a place for everyone. The way this race embraces and celebrates everything that is important and special to us as women runners makes it worth a go even if running trails isn't your go to event. I'm excited to give you my impressions as a first time runner in this very unique race.
I am relatively new to Happy Trails, and I have been enjoying going to the different Fatass events, as well as their other major races over the past year or so in mostly a crew/pacer/volunteer capacity. I became a full fledged furbutt last November.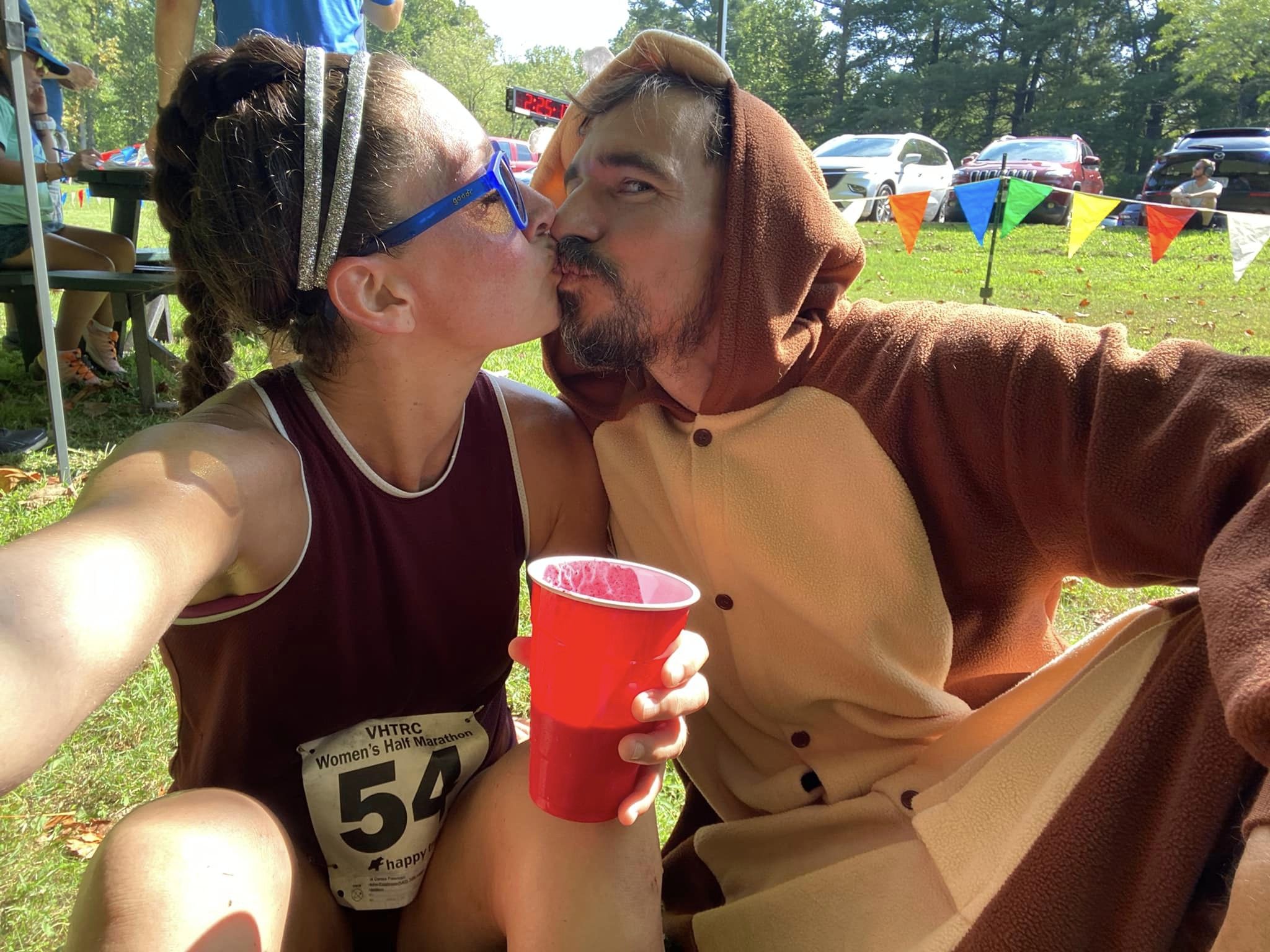 My boyfriend John Calabrese, who is also a member, really wanted me to run the WHM and proceeded to sign me up for it as soon as it opened. For months I was trying to figure out what I thought about trying to race a trail race again. I had done some mountain racing in my very early 30's that I enjoyed but then no trail racing for me until a 50k last fall that I had put all I had into it, with less than desirable results. To be candid, I was extremely nervous for this race. I am primarily a road runner that enjoys frolicking around on trails from time to time, but my racing usually involves carbon plated shoes and flat surfaces. This my lovelies, was not that kind of race!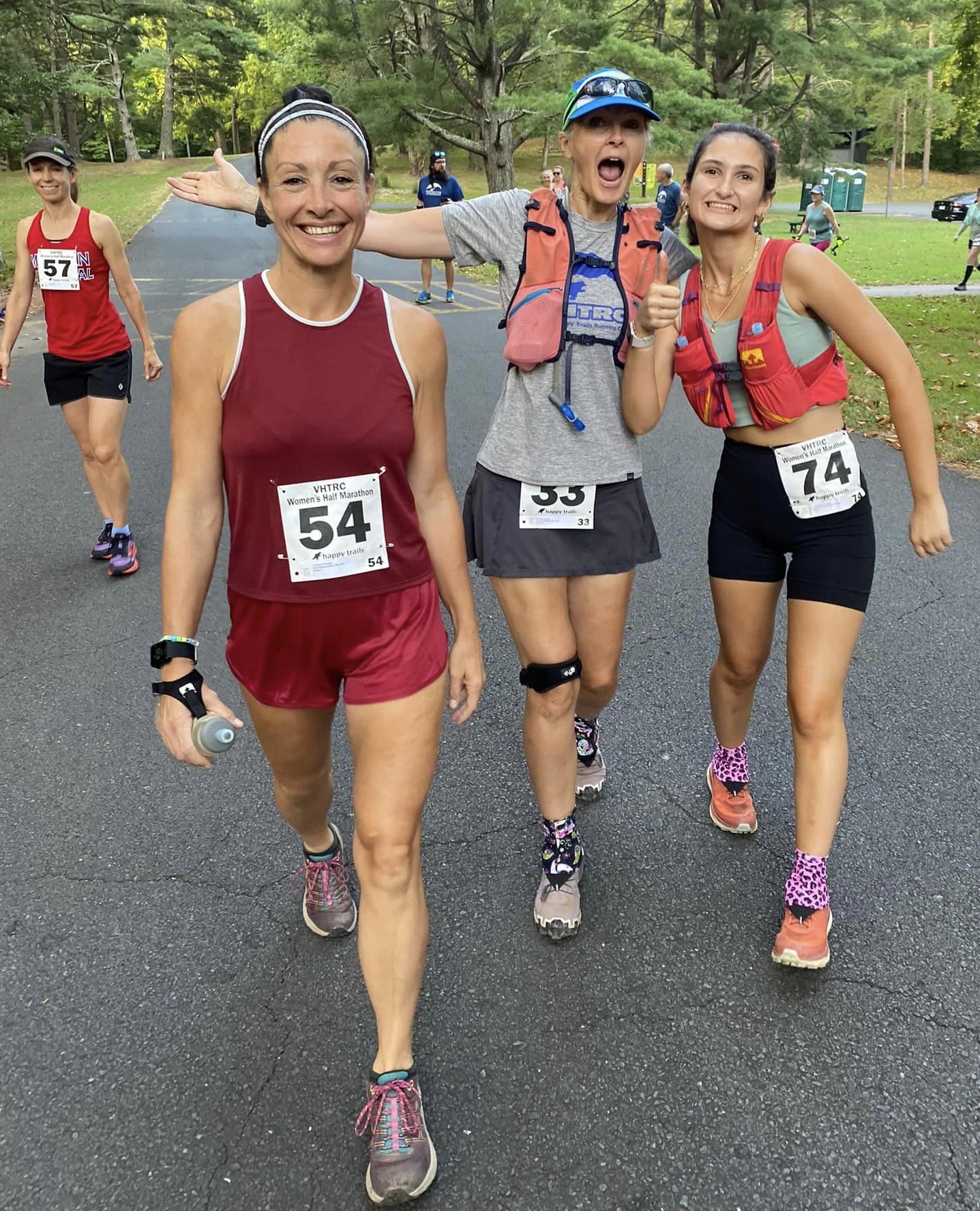 Race morning was cool and beautiful. We live about an hour away and I had plenty of time to chatter John's ear off about my race strategy that I had formulated from researching historical race data I found on the race's website. You know… that whole "best laid plans of mice and men" strategy. I saw that the race had been won for the past 2 years in around 1:52 by 2 different women. Ok. I was going to try for that lol. Why not. No idea if I could do that on these trails because there are some no nonsense hills and some sneaky rocks and roots I had encountered on my prior 3 visits to this park. But, I wanted a goal outside of "don't die" so that was it! This had me feeling slightly ridiculous and more than a little nervous as we pulled into the Fountainhead Park parking lot for the big show.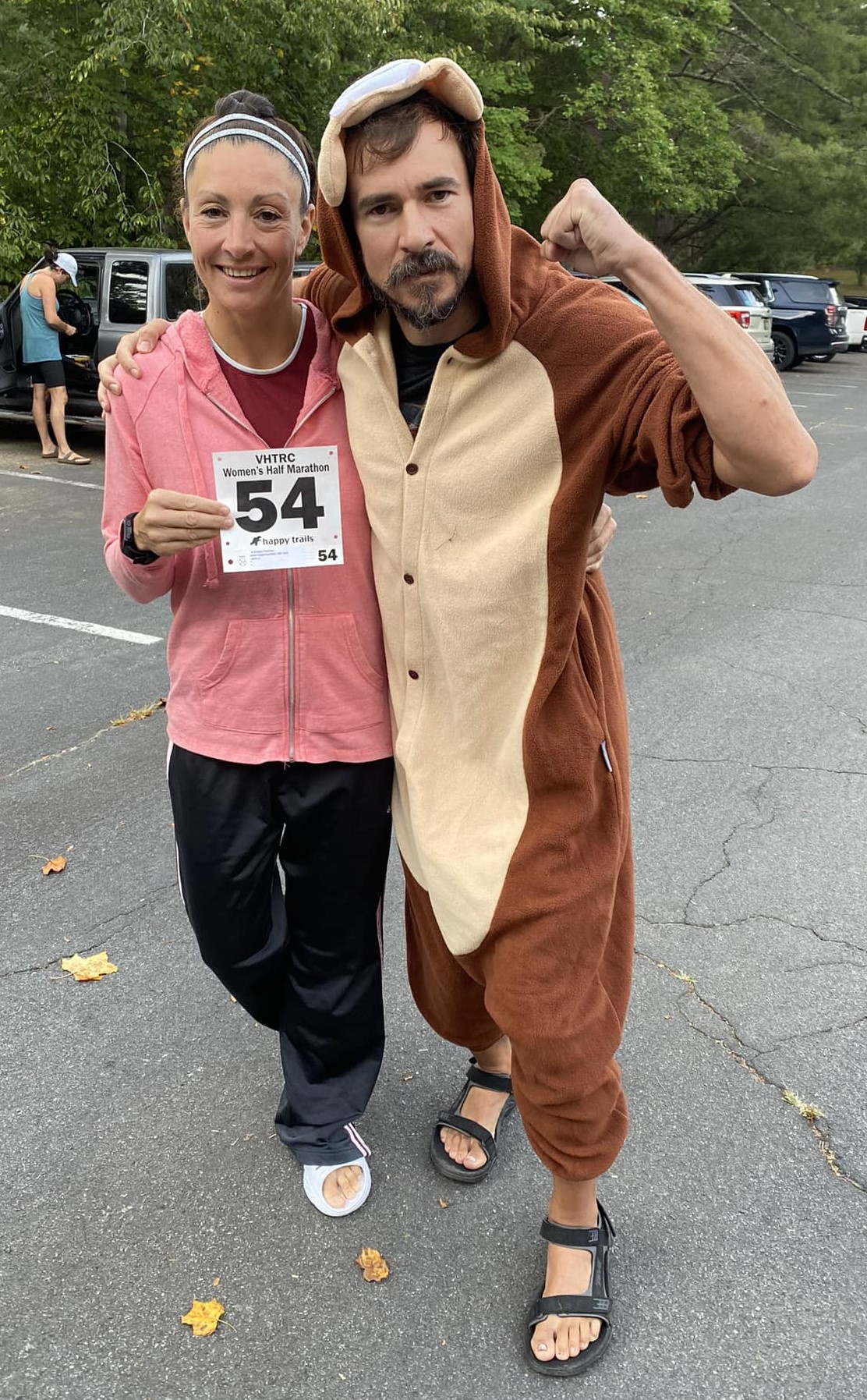 Pre-Gametime:
As soon as we parked I wanted to go potty and get my bib. I was really excited as I had been chomping at the bit to run a race for quite some time and this is my element. These are my people, these are my friends. I love the vibe and camaraderie that comes with big running events, and trail runners are just so cool and laid back. I kissed my love as he started donning his chipmunk costume he was wearing to volunteer in… what is happier than a 6ft tall chipmunk you ask? Nothing. I'm a lucky gal.
The music was just starting to get pumping as I made my way to the check in where we were given awesome Balega socks and a cool VHTRC reusable cup. I contemplated using the cup during the race as I wasn't sure how I was going to manage hydration yet, but remembered my trail 50k fail where I tried the ol' reusable cup strategy ( please never ever do that! Don't be Denise!) and immediately scrapped that thought. On my way back I started seeing people I knew showing up and it made me super happy. So many women getting ready to run together was really inspiring. What surprised me even more was all the men there to support their friends and family and loved ones. I saw tribes of children being shuffled away from the main starting area with hula hoops and toys and a general air of excitement and joy. What was happening here, you ask? They actually had organized an amazing kid camp for the runner's kids to have fun and support their running moms or family. Amazing.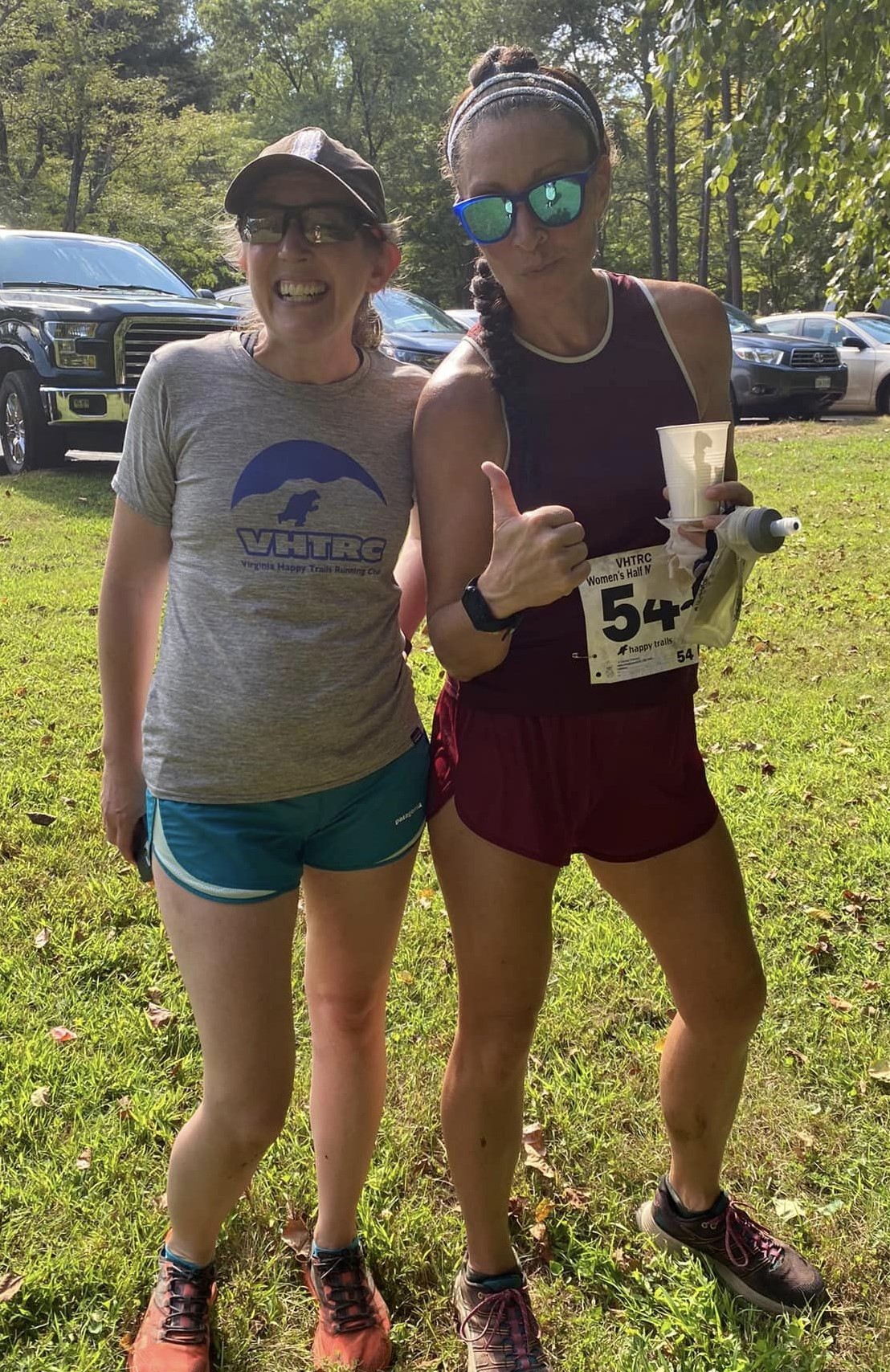 I had the pleasure of communicating with the RD, Tracy Dahl, before the event and was super impressed with her but this childcare organization was just something I hadn't seen before! When I got back to my magical trail chipmunk, my friend Tracy Cooley was just arriving with her daughter Jo. Mother and daughter running together. What a beautiful thing. They did inform me that Jo had been ill all week, but she was still going to try to give the race a go! I quickly put the rest of my running gear on and decided to not wear my hydration vest as it was feeling a bit soupy out already and I wanted the least amount of stuff on me as possible. Handheld it was! I don't like them, but I really had no intentions of stopping anywhere and no water is a race ending mistake. It was time.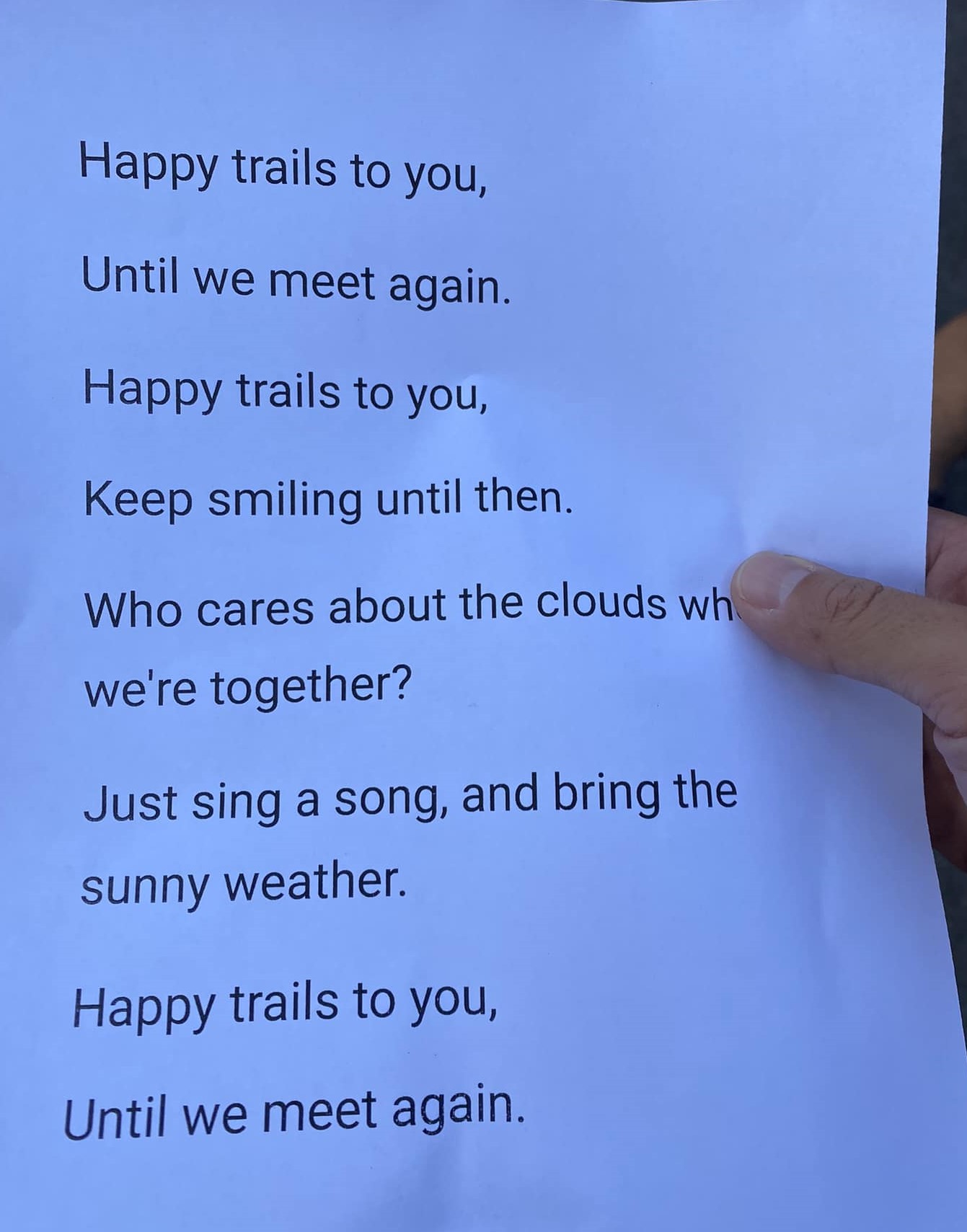 The Race:
The call was made to come to the start for a pre race briefing. I saw my friend Josh Howe out to support his trail friends, along with my friend Jamie Austin, who was also running, and they were both great to catch up with for a bit. Then RD Tracy had a surprise (it was a surprise for me as a newbie, at least)… the men of Happy Trails serenaded us before we headed off on our trail adventures! It was hilarious and I loved every off key line. She advised us to shimmy our way to the start and we headed there en mass.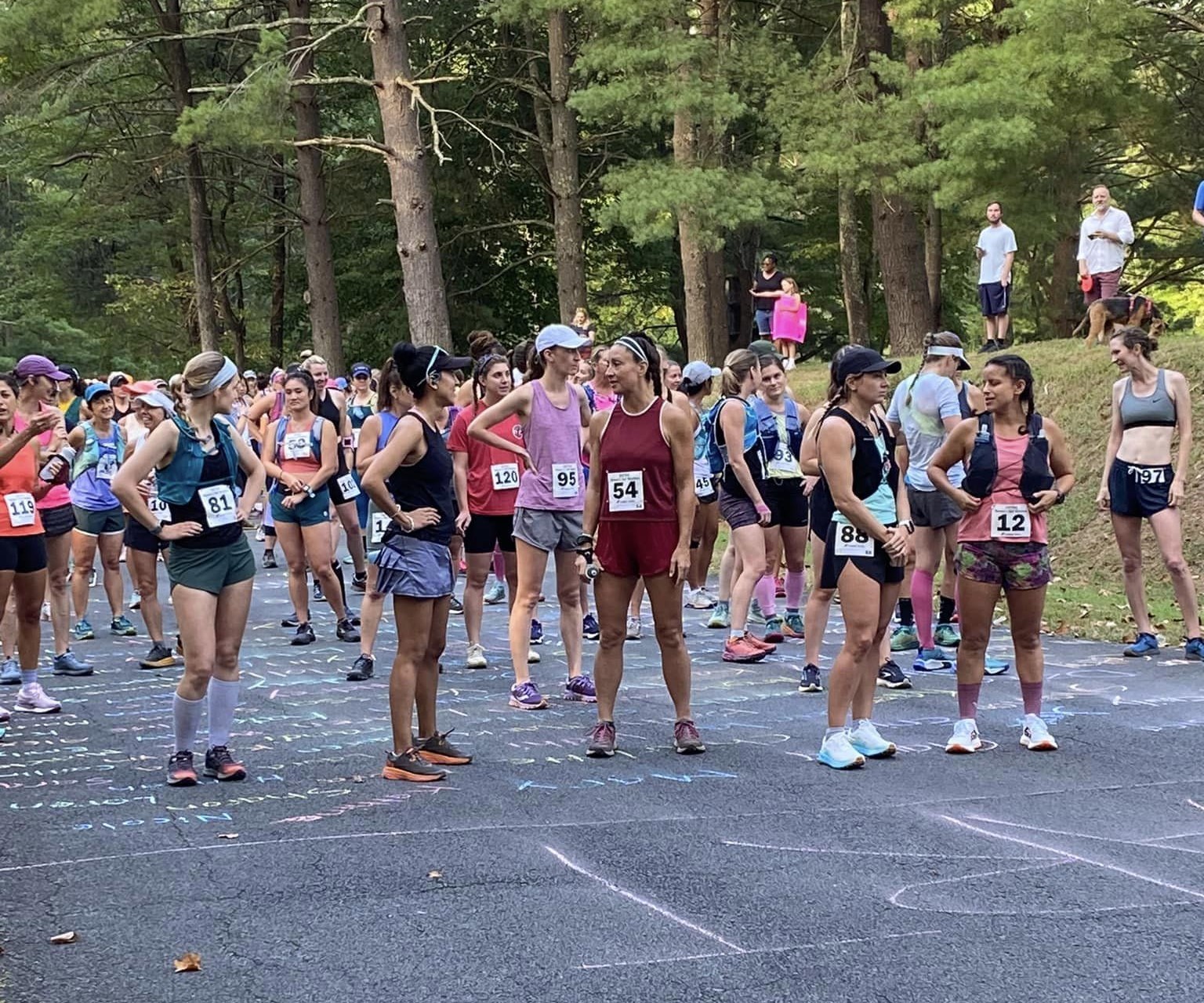 I took this time to officially meet our gracious hostess. She was a true delight. I was feeling much more relaxed now. This was fun. The start line was the best I had ever seen. All of our names were written on the line in rainbow chalk. It was very touching. I felt appreciated as an individual and the vibe was just out of this world. I lined up in the front and immediately met a new friend. Her name is Melissa Mejias and she was fantastic. She was also a road runner and it was her first trail race. She recognized me from my boyfriends online posts and I told her if we were going to race each other she should be prepared for me to be tripping everywhere! It is truly always my biggest fear because I'm really good at falling horribly on trails. She laughed and we toed the line.
Go!
My new friend and I take off, and I'm immediately passed by 2 tall, fast-looking ladies. Uh oh. I had read that you need to get into the position you want on the 3/4 of a mile of road that leads to the initial trailhead, as once you are trail-bound, it's not easy to jockey for position. No problems there. I laughed to myself as I looked at my 6:40 pace and said: "I guess I'm third". Now to keep it.
Entering the trail was wild. It was on. All the nerves were gone. So were those 2 girls, but I was, too. It felt amazing to be out there running fast through the trails and trees, watching for roots and rocks and trippy things. I was really having fun. I was also alone and that is perfect for me. I absolutely had no idea of pace or mileage as after 2.5 miles I knew my watch was… um … off. I flew by that first aid station waving to Carl Bligan as he thanked me for making bagels for The Ring (another fabulous Happy Trails race) the week before.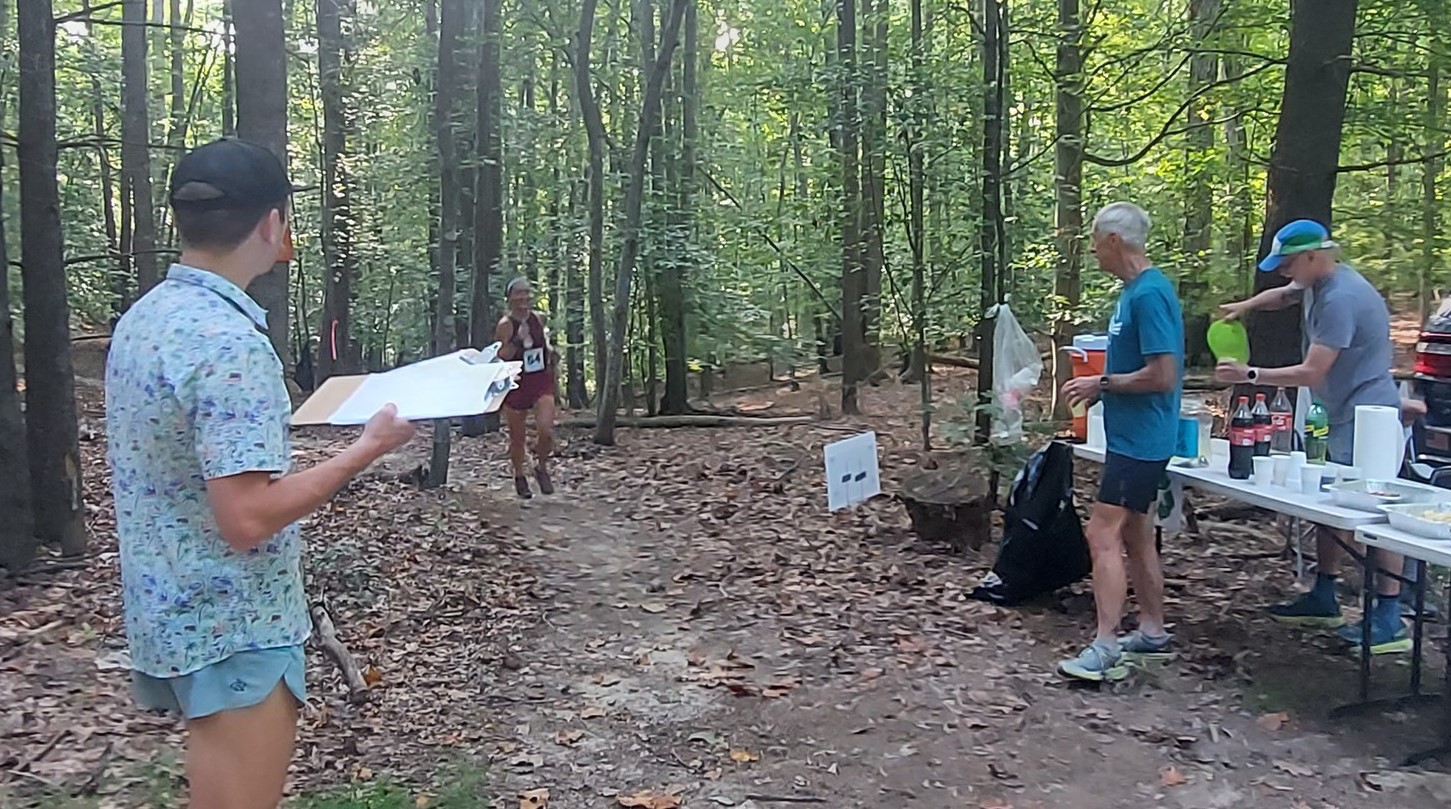 On to The Do Loop. Ah… my favorite part. My boy Siamese-ish kitty is named Doo. I had a shirt made for my boyfriend with Doo on it for MGM 50k (another VHTRC Fatass event, near Christmas) that also includes The Do Loop. So why not sing songs about my cat while I run his loop? I apologize if anyone heard me. I was really feeling it.
It was a challenging section as there is some vert out there and I know it can be trippy. I was extra careful but I was fresh and I cruised through, singing my songs and enjoying the water views and crew teams on the reservoir. Exiting Dooey's loop I still had no eyes on my fast friends ahead, but I knew I had some speedy ladies not too far behind. No idea of my accurate mileage or pace, so I just pushed what I could. I was also making sure to drink as it was getting swampy.
I was excited to come back to where we entered the trail off the road and was hoping to see my Chipmunk, but he wasn't there so I followed directions from the friendly dudes at the crossing and headed back on trail. It seemed to be following the road which gave me hope of still seeing my sweet love, and maybe finding out if I was really only 6 miles in as my watch said. I was given my wish only minutes later as I burst out into sunshine and confusion! Oh my! People everywhere and cheering and flags, kids and just general excitement everywhere. So much motivation! There was also a sign that said mile 7.5 (thank you to whoever put that there!). Whoa. I'm really like almost done??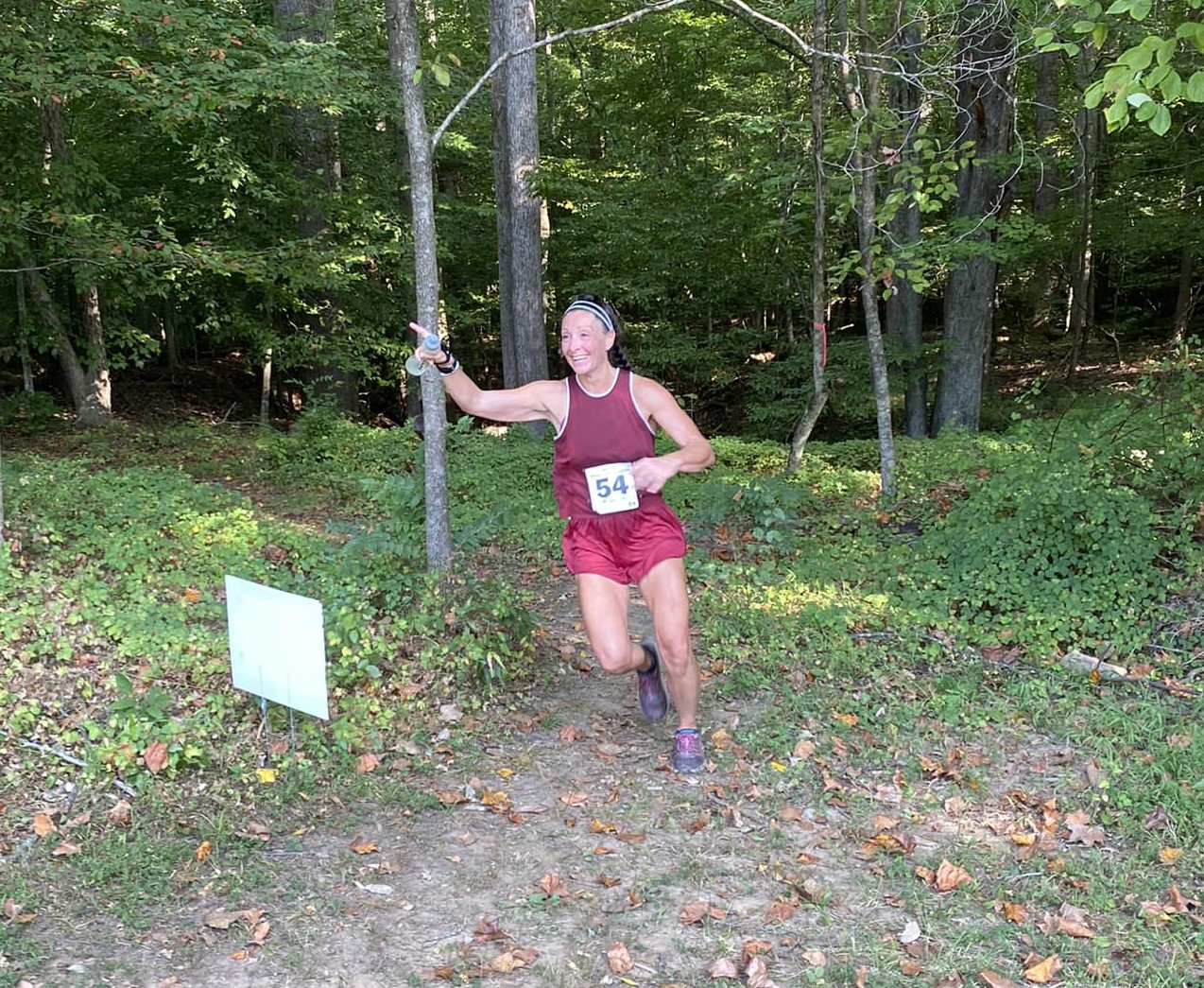 Sort of. My sweet woodland lover cheered me on and got me going in the right direction and I headed back into the woods like Little Red Running Hood, ready to get to Granny. Little did I know, I was about to meet my big bad wolf. I was realizing about a mile after I came into the woods and had climbed a bit that my water bottle was now flat. Hmmmmmm. That's bad. Normally I would just grab a cup at the next aid station and keep trucking. But this was no road race…. Why am I on the ground? This is exactly how it happened lol. One minute you are distracted with something and the next everything hurts and you need to get up. Get up!!! This was the moment my race changed. I had fallen and was bleeding pretty good and I had to choose. This was going to get hard now. If I kept falling, my race was over. I knew that. Not today Satan. Bloody.
Scaring children and bikers on the trail, I pushed my messy self along faster. It was now me against the trail. This is a good time to mention I'm wearing all maroon. It was perfect. Like camouflage! About 5 minutes later I saw lady number one! She was looking good and I told her so. I was really hoping it was almost turn around time, and I wasn't super far behind her. I was in luck! A few short minutes later I hit the aid station at 10.2 and said "I need water!". The wonderful volunteers there asked for my bottle and I said "No, please just pour it on my leg", it was stinging so bad with the dirt mixing with the blood, that didn't seem to want to stop flowing. They were amazing and doused my wounds. Told me I looked badass and asked if I needed them to wipe me up a bit. I thanked them and said no, I had to go. They asked me again for my bottle and I finally snapped out of my daze and let them fill it. As many times as I've volunteered, I now realized how important it can be to really help people who aren't thinking clearly. That water was a life saver! Thank you to those cool cats.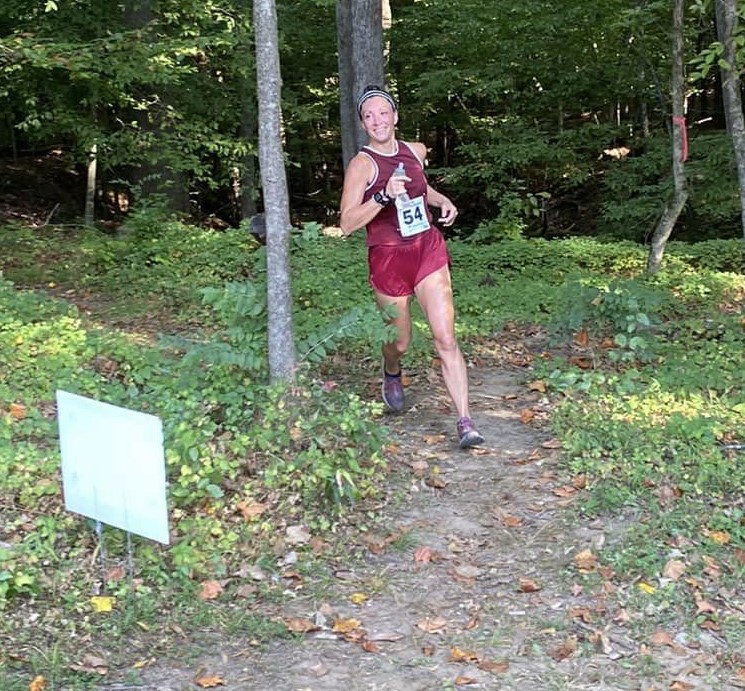 I knew there was only .25-mile until the turn around, and as soon as I was out of sight of the aid station I saw lady number 2!! We gave each other encouragement and I headed down to turn around, too. I'm not too far behind! I'm also a hot mess but not defeated. I passed my buddies at the aid station again on the way back and kept pushing forward.
This is the first time things get busy for me during the race. I'm definitely putting everything I have into this, and I'm now seeing where everyone else is. A big ol' black snake is across the trail and I hurdle the sucker as I spot girl number 4! I say "watch out for the snake!" as we pass. The ladies are passing fast and furious now. They see me and I see them. I know I'm putting 100% in and I can only hope it's enough. I'm cheering every single lady on as we pass, and as tired and hot we all are, everyone it just a ray of sunshine!
I'm seeing a lot of blood, women pushing and working hard. As much as I'm struggling to keep pushing, this renews me because I'm not alone in the struggle. We are all amazing and strong and we are getting this done together. I'm not giving in. I got this. With every passing women and our cheers for each other, I am really hoping someone will say " you're almost there!" Nope. Lol. My gps says there are miles to go and all I want is water and my happy waiting chipmunk.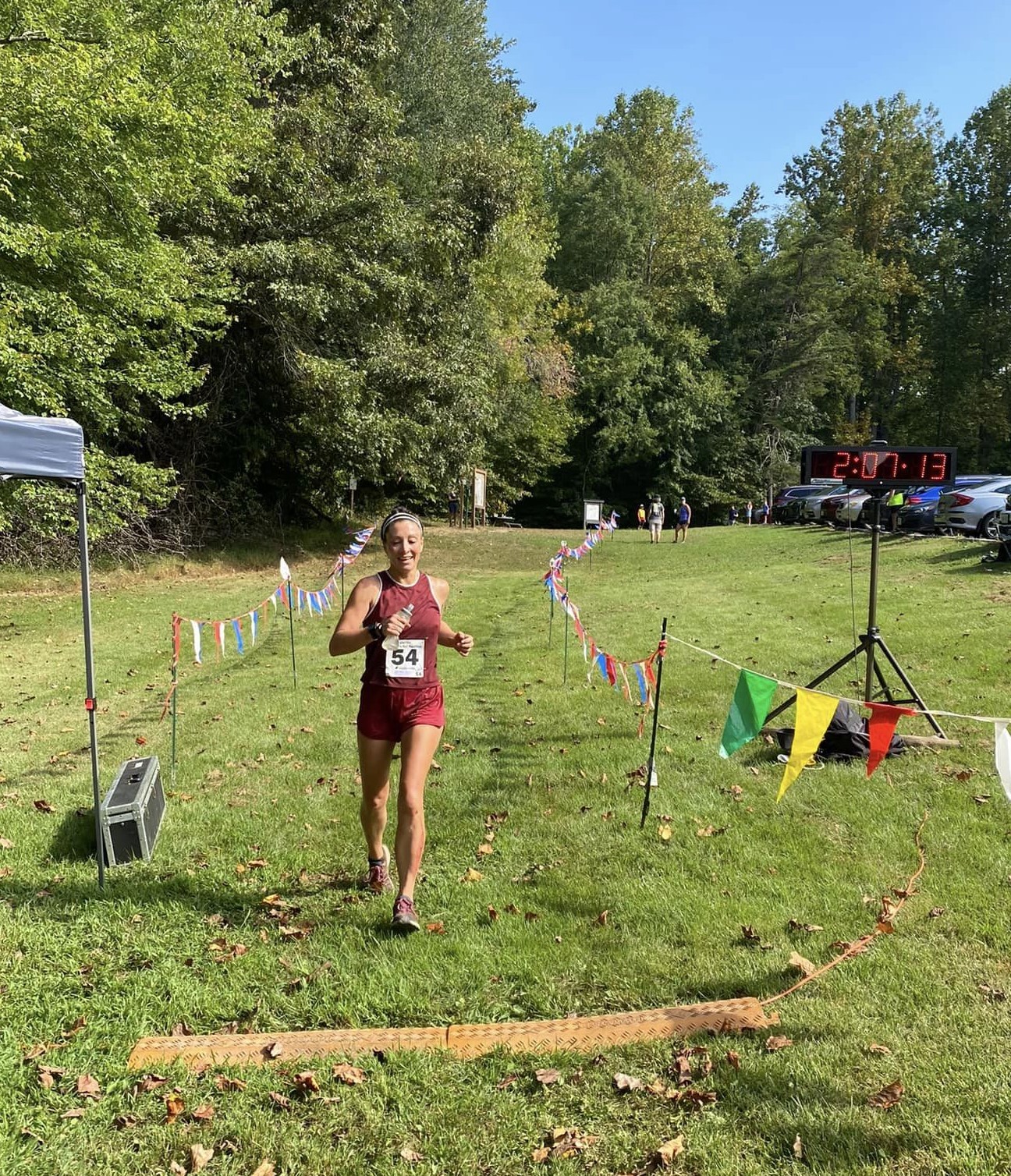 Then it happens! She said it! That lady said I was almost there! And I was! I could hear them first. Music! Laughing! I see them! I burst out of the woods into sunlight and cheering and love. I ran as fast as I could towards what reminded me of a cross country chute with its colorful flags and crossed smack into the waiting arms of my tall, costumed man trying to give me a coke. I don't drink soda often but I was down for whatever he was offering. I was done. I kept my place and finished strong. I saw my time but I already knew 1:52 was not happening when I hit it back on the trail some time before I finished. But 2:07 was just about the next best thing! Trail racing is wild y'all.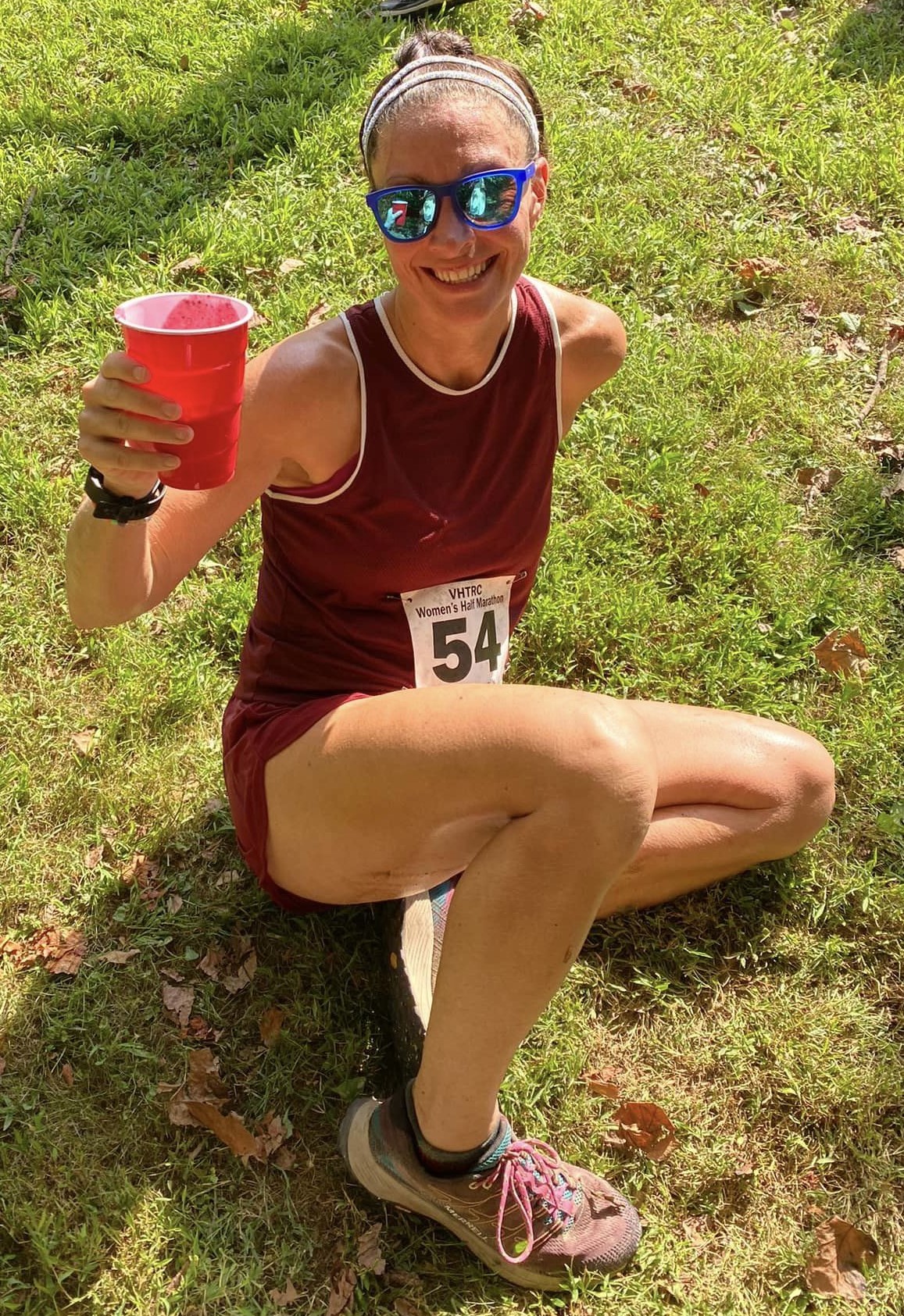 Final Thoughts:
I recommend this race to everyone. Women, men, children and whatever animal you may feel like being that day. Come out. If you're a lady, run your heart out! Go fast or slow. Win the race or wear a costume and claim your prize at the end! Do both! Cheer your friends on and have fun. If you're a man, sing to the strong and impressive women who represent your community. Give them high fives and smoothies ( thank you Jesse Fuller). Support your mom. Your wife. Your friends. There is nothing better than feeling that you are valued in what brings you joy or pushes you to make you strong. Bring those kids! They will have fun and see you having fun too. They are impressed by you, you inspire them with your strength. Thank you to everyone who makes this race possible. Never stop putting it on Happy Trails, and if you haven't given it a chance yet, I hope you do now.
Love your grateful friend,
Denise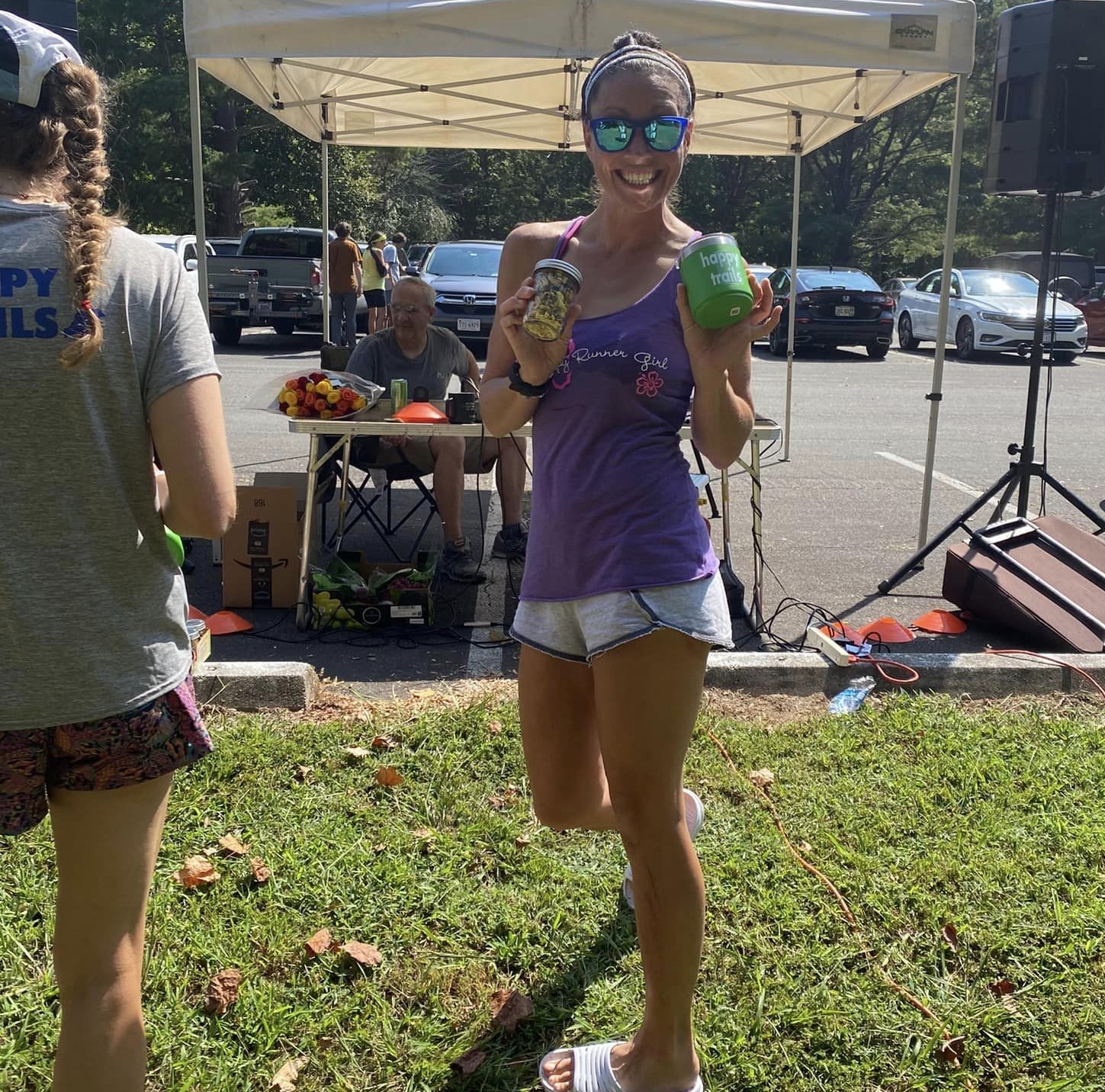 Photos