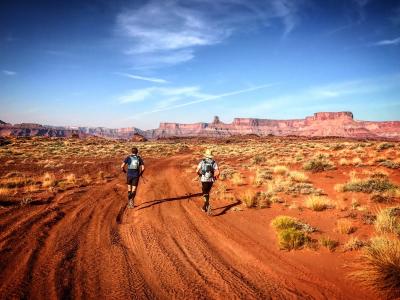 The Moab 240
The inaugural Moab 240—originally called the Moab 200 and actually 238 miles long—was an incredible experience, and I encourage anyone who is thinking of tackling the 200+ mile distance to go for it. This was the third leg of the Triple Crown of 200s (Bigfoot in August, Tahoe in September and Moab in October), and 11(?!) people completed all three. The races, put on by Candice Burt and Destination Trail, come with a lot of hype, but, in my humble opinion, that hype is well deserved.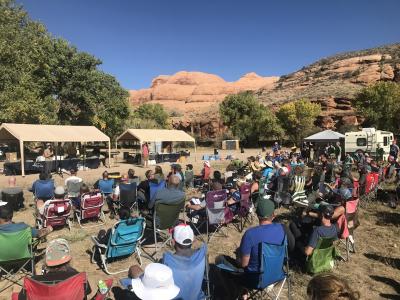 With the exception of the first two, which were quite remote, all aid stations had made-to-order hot food. Breakfast burritos, bacon cheeseburgers, quesadillas, soups, coffee, wraps, you name it. The aid stations were staffed with amazing volunteers who treated my feet on four separate occasions. I think the volunteers slept as much (i.e. little) as the runners did. They were all truly spectacular, and the overall organization of the race is very impressive.
The course follows a big 238 mile counterclockwise loop beginning in Moab, heading south within sight of Canyonlands, east across the Abajo mountains, then North through the La Sals, and finally looping back near Arches Nat'l Park, and through town to the finish. The course is a mixture of trails, 4x4 roads, dirt roads, gravel roads and a little bit of paved road. If I had to make one criticism of the course, it's that there are so many roads and not enough single track. BUT, at this distance, roads can be a welcome break from technical trails, and many of the 'roads' just feel like wide trails of varying technicality. Also, smoother roads allow you to look up and see the beautiful views stretching in miles in all directions. Criticism withdrawn.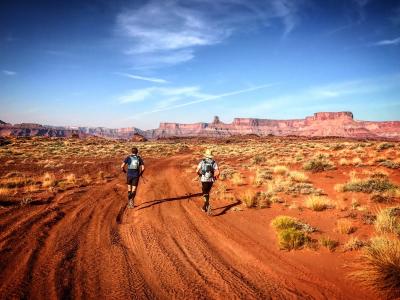 The course has ~29,500 feet of gain and loss, which relative to the distance is not too extreme. For context, a 100 mile race with the same proportional gain would have ~12,400 feet of gain and loss. Overall very runnable. Most people used poles, but I survived just fine without them. There is near-constant exposure to the sun—I'm still sporting some sun-burned lips. Temperatures didn't get too bad during the day (high 70s) and would cool off to the 30s or 40s at night. The mountains could be colder at night, but I ran through them during the day.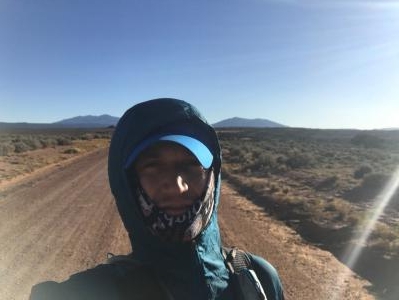 My training was not significantly different for this race than it would be for a 100 mile race. The single most important thing I did in preparing for the race was to have a 20 minute phone call with 200-mile-veteran Sara Davidson, who told me exactly what to do. I give myself credit for obeying her.
The variable of sleep is the biggest thing that differentiates 200's from 100's. Six of the aid stations were sleep stations, equipped with tents, cots, blankets sleeping pads, etc. Some people rest on the side of the trail as well. My machismo tempted me to plan to run until I could run no more, but, ultimately I listened to Sara's advice and planned out sleeps at miles 68.7 (1.5 hours) and 135.3 (2 hours). I powered through the last night to get it done. It's amazing what even a little sleep can do. It's also mentally helpful to have planned breaks, so you can think of the race as having three or four distinct stages, rather than one giant slog. I did not really feel loopy until the last section. Brain work not so good after race though.

Other most key piece of advice: take care of your feet. I took my socks off at nearly every aid station, cleaned them with baby wipes and frequently put on a fresh pair of socks. As noted, I had the pros tape my feet up at four of the aid stations, and I stopped to tape myself up a few times on the trail. An extra 10 minutes in the aid station fixing your feet is well worth it, and will probably make you run faster. Again, hat tip to Sara.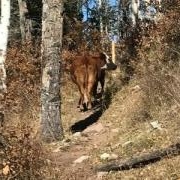 A furbutt cub ran across the road 100 feet in front of me at 2am on the second night. No mama sighting, but that woke me up a bit. The La Sal mountain section is full of grazing cattle. I survived walking between a heifer and her calf. No other close encounters with wildlife.
If you're looking for a role model / someone to root for in the professional ultrarunning world, look no further than overall winner Courtney Dauwalter. She beat the closest competitor by nearly 10 hours (!), wearing baggy shorts and an oversized t-shirt. She spent many many hours on Monday and Tuesday, putting her feet up at the finish and standing up to cheer on runners as they crossed the finish line. A gracious champion.
So sign on up, you can do it! Let's get VHTRC representation at all 3 next
year! (I hear PJ's already eyeing the triple crown…)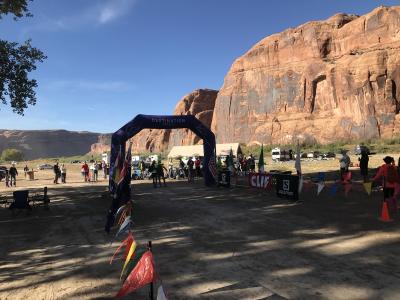 The event had 127 starters, and a remarkable 99 finishers. 98 officially came in under the 112 hour cutuff, and one additional runner completed the distance about an hour or so later. There were only 28 who dropped.]
Links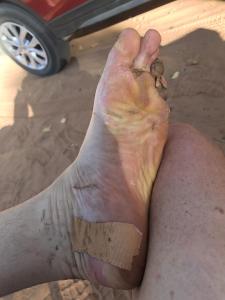 Editor's note
The inaugural Moab 240 was held on October 13-17, 2017. The race crosses deserts, canyons and mountains around Moab, which is in southeastern Utah, very close to the border with Colorado.