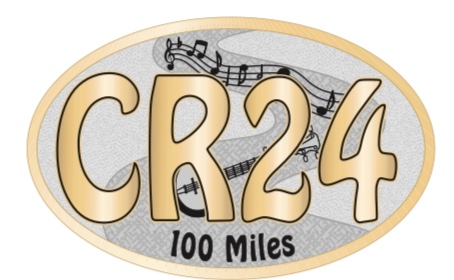 The Last Crooked Road?
Apparently I have neglected to post my race recap and some people are wondering about my finish. Although in a timed race there really is no finish. Anyway, here's some random thoughts about this weekend's race: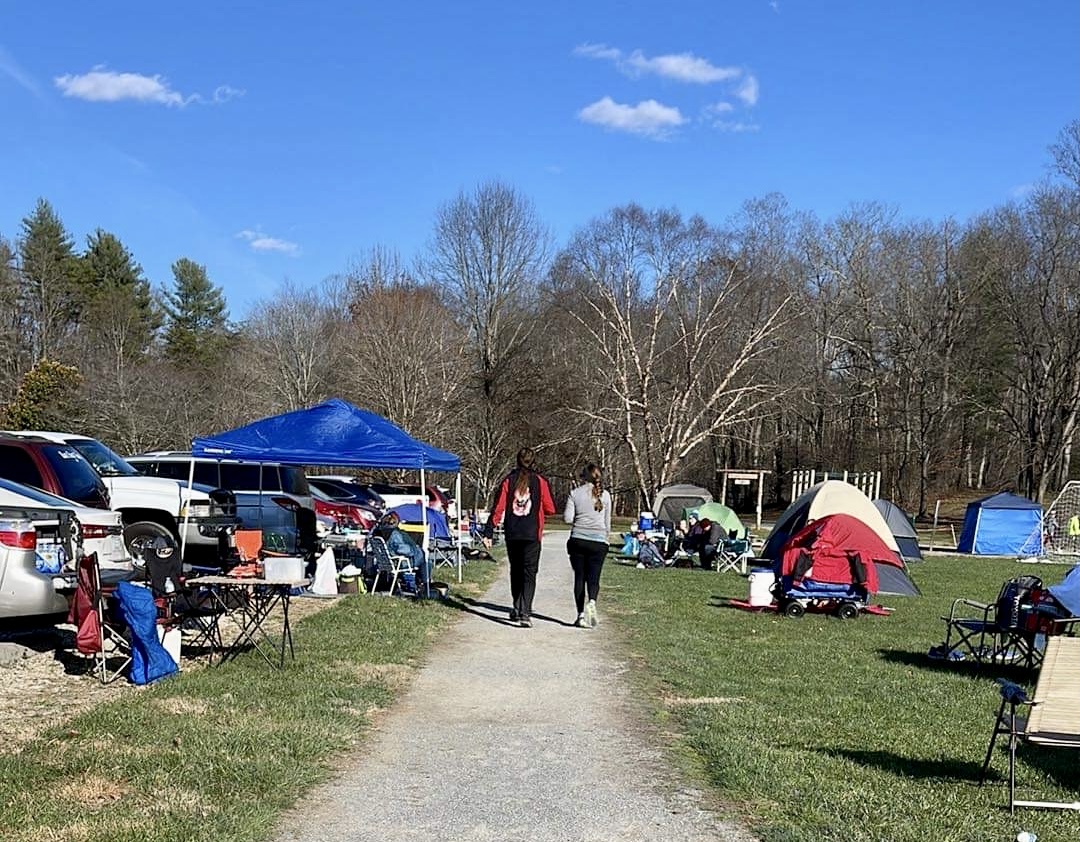 First, I wish I could start by recommending Crooked Road Ultra 24 Hour except this was the race's last year. It's too bad, because it has everything you could want in an outdoor 24-hr race, especially for folks looking to do big miles (disclaimer: not me). The super-flat course is a 1.178-mile loop; well, actually a lopsided figure-8, with the Start/Finish/Aid Station/Timing Tent/Bathroom right where the little loop and big loop cross. The short loop is also where people set up their tents and crew areas. At the start of each loop you cross the timing mat, head out on a nice jaunt around a field (dirt/crushed gravel) all within eyeshot of the start, come back and pass the aid station/bathroom and then take the little loop around camp central before crossing the mat again to go out on the next loop.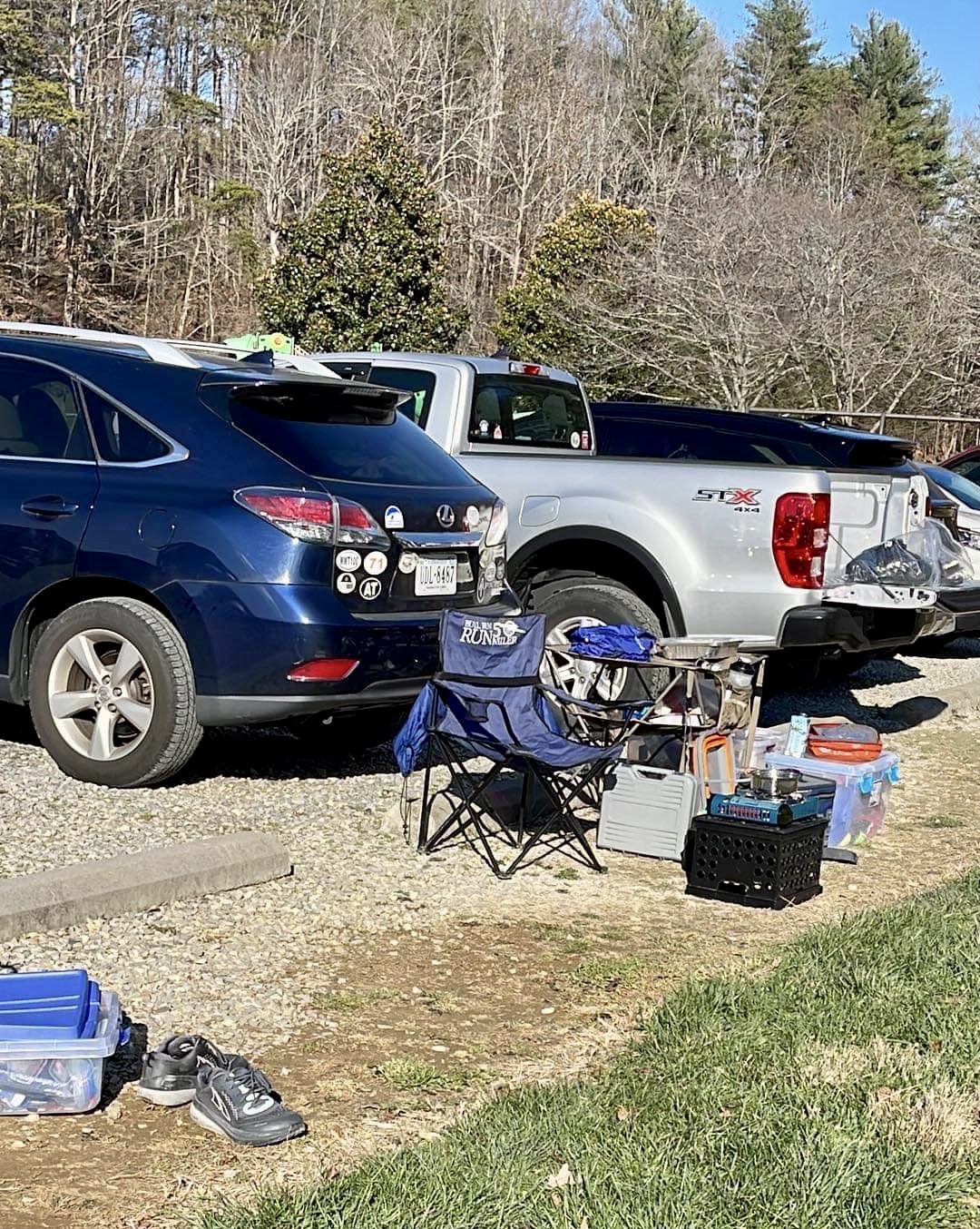 My little camp area was 3 ft from the trail. All of this meant I didn't have to carry a single thing with me on the loop. At one point or another I may have had a baggie of cheese curls to munch on. Otherwise I would grab a cup of water or Gatorade or coke and a nice morsel of something every other loop and sometimes grab my own snack or tailwind from my camp area.
As for my own race, I'll first say I don't like calling it a race. This was meant to be a training run with a very specific goal of boosting my confidence that I can still run over 50k and therefore complete the upcoming Devil Dog 100k.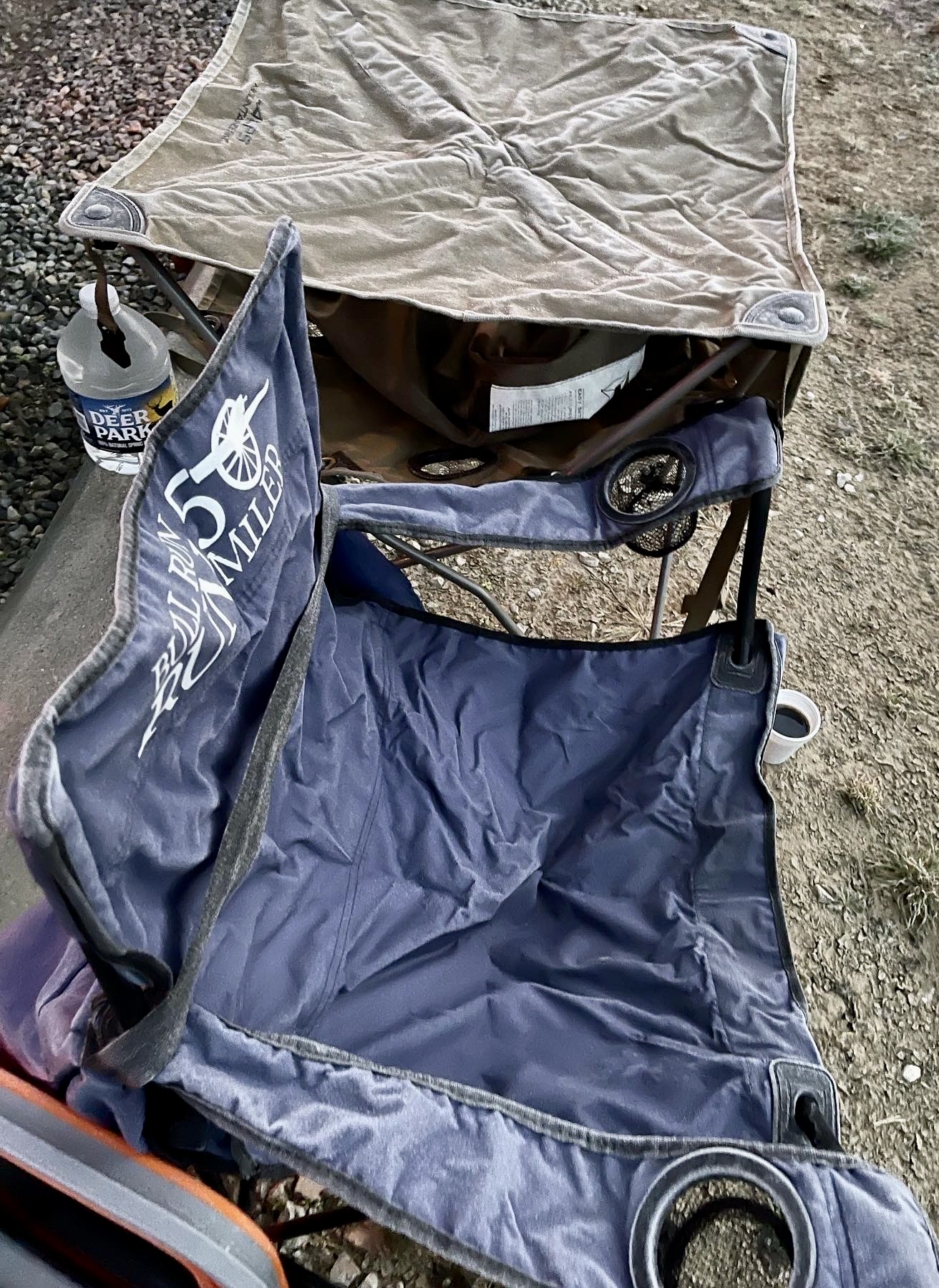 Backstory: I've been struggling to come back from burnout and depression after two strong years of running in 2020-2021. 2022 has been my absolute worst running year since 2014. I have not completed any races this year. I have run maybe a total of 650 miles all year. Before this weekend I had only three runs in the 30-35 mile range and three or four 20-mile runs. I signed up for Devil Dog 100k in the first weekend in December as an incentive to try to boost my motivation after a very disappointing DNF at what was meant to be my 6th consecutive Ring finish and after I decided to pull the plug on racing Rim to River 100 because I just couldn't get myself over the emotional and mental barriers to be ready for that race. Devil Dog 100k is also meant to give me a boost of confidence and nice training milestone for the Tarawera 100k in February [editor's note: and, more importantly, in New Zealand!], a bucket list race that I can finally fit into my schedule. But it has been very hard to conjure up the mental toughness that I feel has got me through many races in the past. Something is still missing.
In any case, I signed up for CR 24, which has long been on my wish list, because I needed an option in the 50+ mile range after my three 50ks (MMB in August, Ring DNF in September, and a solo 50k in October) in the lead up to Devil Dog and a timed race is a nice low pressure way to test fitness. I had in mind going to 100k, with the intention of running the first 50 miles and then walking some bonus miles. Give or take a couple of miles, that's what I ended up doing.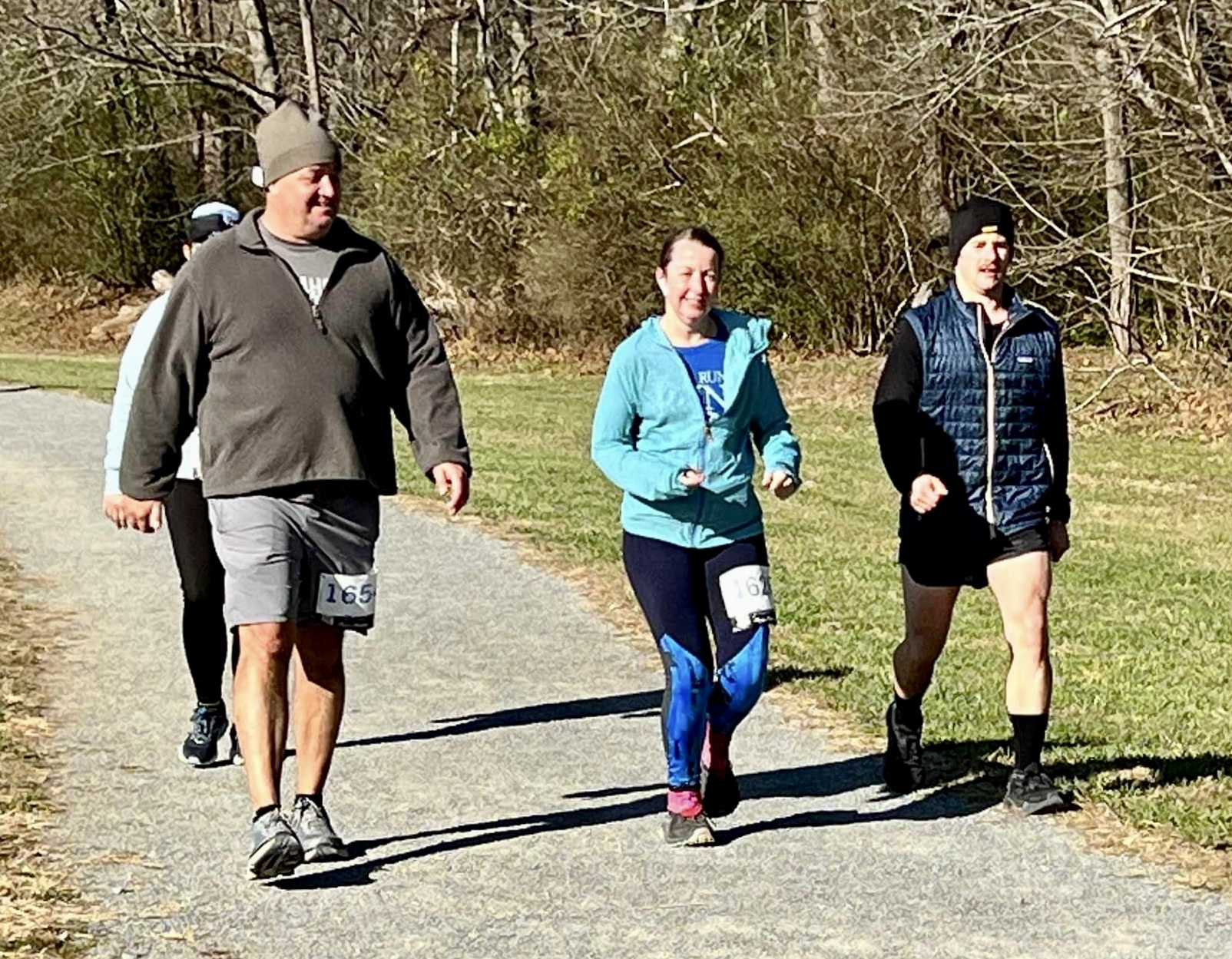 I found myself going out at a decent pace compared to the full field, which was composed of mostly dedicated walkers who would literally walk the entire 24 hours - amazing. From the get go you could tell who was in it to race and who was there for a fun challenge. I had intended to be in the latter group but found myself in the former after being sucked in by that timing display at the end of each loop showing gender place, lap number, overall time, and lap time every 1.17 miles. I had largely ignored the data for the first 15 or so miles, which went by super fast. And then I happened to glance at it and realized I was in 13th place. The concept of a ranking on such a short loop is a little silly because your rank could go up or down each loop based on someone stopping to go to the bathroom. However, I was intrigued so decided to put in some faster loops with no breaks to see what happened and found myself in 8th place. At mile 20, I took my first sitting break and made some rice and soup and used the bathroom. But crossing the mat after my break I found I was down to 15th place just from that break! I decided I'd take my next break at the 50k mark.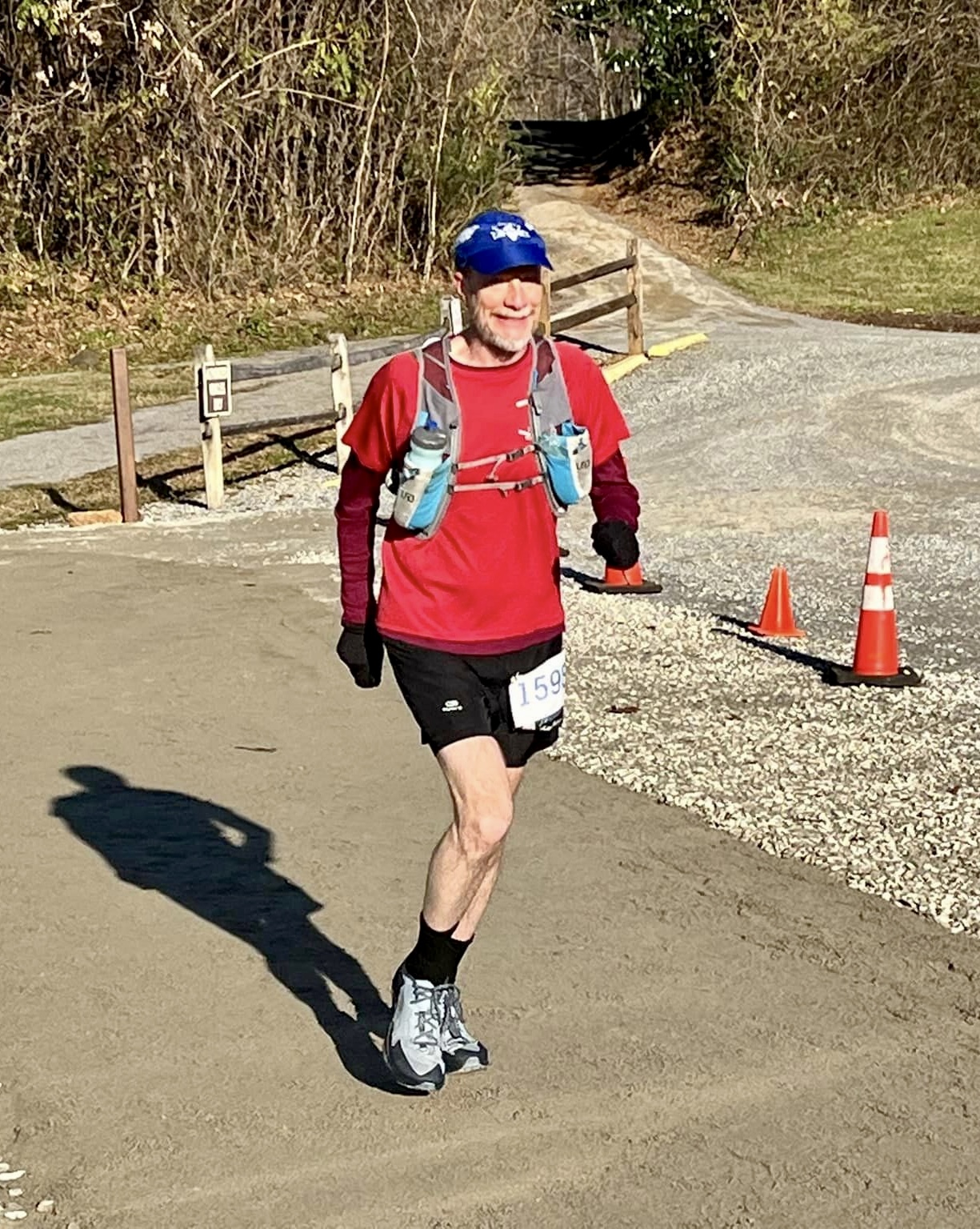 By this time the drudgery was setting in and I started running with music. I listened to the newest Taylor Swift album three times before I had to switch to something different, by which time I managed to move up to 10th. Once we hit 50k (oh, by the way, my 50k PR by around 20 mins), I realized a bunch of the fast women had ended their race because at the end of the next loop I was suddenly in 4th place. Over the last few miles I had been developing a pain on the top of my left foot. I had tried adjusting the laces but it was becoming unbearable. I decided to switch to my regular shoes, which are minimalist plastic/fabric shoes that I use daily to walk the dogs or go to the store. They are not appropriate for hiking or any type of run over a couple of miles. But with some temporary relief, some food, and my pacer Dave Matthews, I was ready to plow on to 50 miles.
It turned dark around mile 40 which was a nice change but came with plunging temperatures and increasing wind. I was getting bored and had little else to do than track my placing on each loop. To make things interesting I started trying to figure out who was ahead of me. I'd pick out someone I thought could be ahead because they were still running (very few of us were still running 6+ hours in). I'd then try to get past my suspected person, sometimes in the small loop by the camp and bathrooms where I'd see an opportunity. I'd then look at the timing booth to see if my placement changed. I kept doing this and after striking out with several candidates I could not figure out how to get above 6th until I realized that if I passed Rebecca Tidwell (running with Rob Tidwell) I could move up. In the last full loop before we hit 50 miles I flew past Rebecca and Rob during their walk break. However, that was my last "flying" loop. (Also, Rebecca ended up 5th female with 65 laps!!)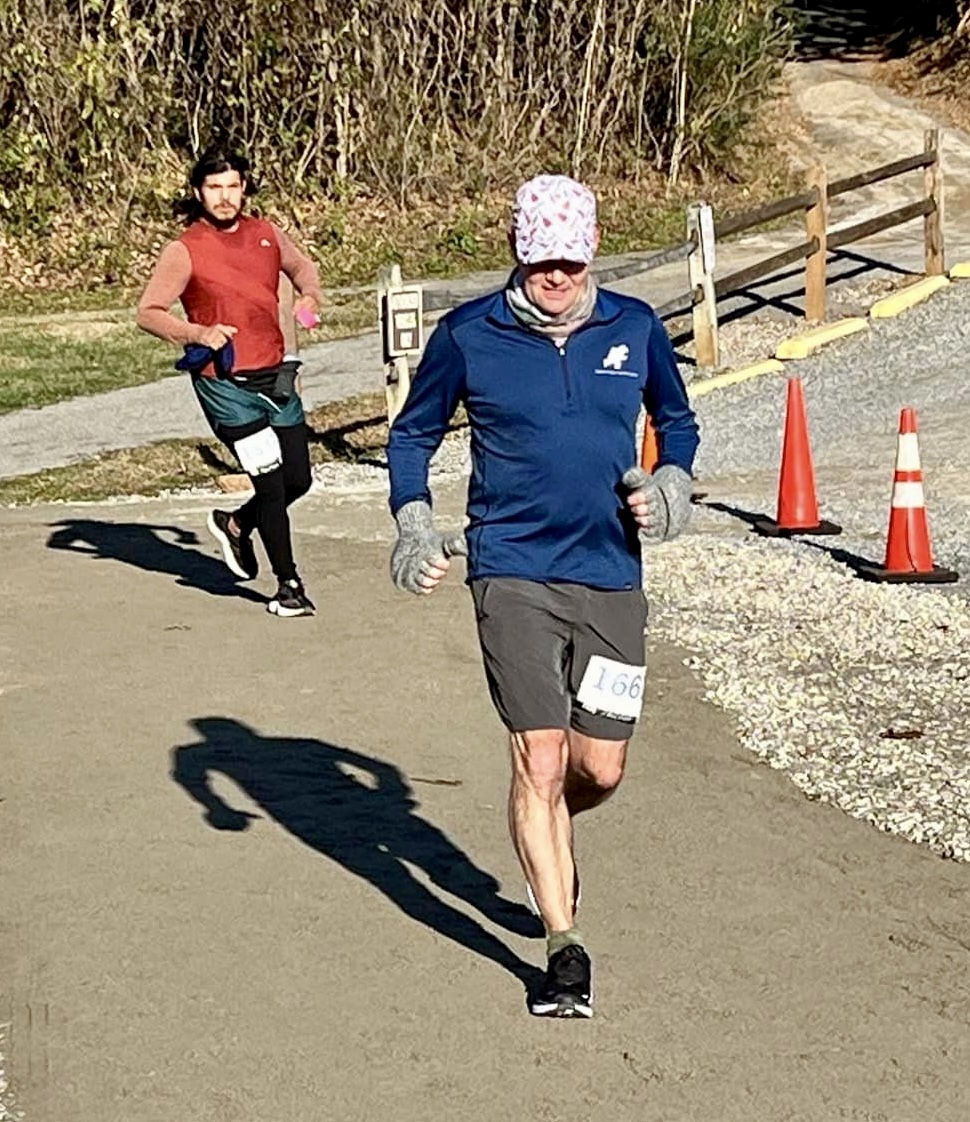 Once I hit 50 official miles I pumped the breaks. I was very demoralized because my watch was showing me 2+ miles over the official distance. Although my watch showed me getting closer to 100k, the official loop count made me feel like I was making no progress. My foot had begun to hurt again and I was trying to maintain a fast walk pace. But it was SOOOO cold. I was wearing four layers: two long-sleeve shirts, one puffy vest with hood up over my hat, and a regular puffy coat with that hood up over the other hood. But I was still shivering. Even Zach Brown Band couldn't warm me up.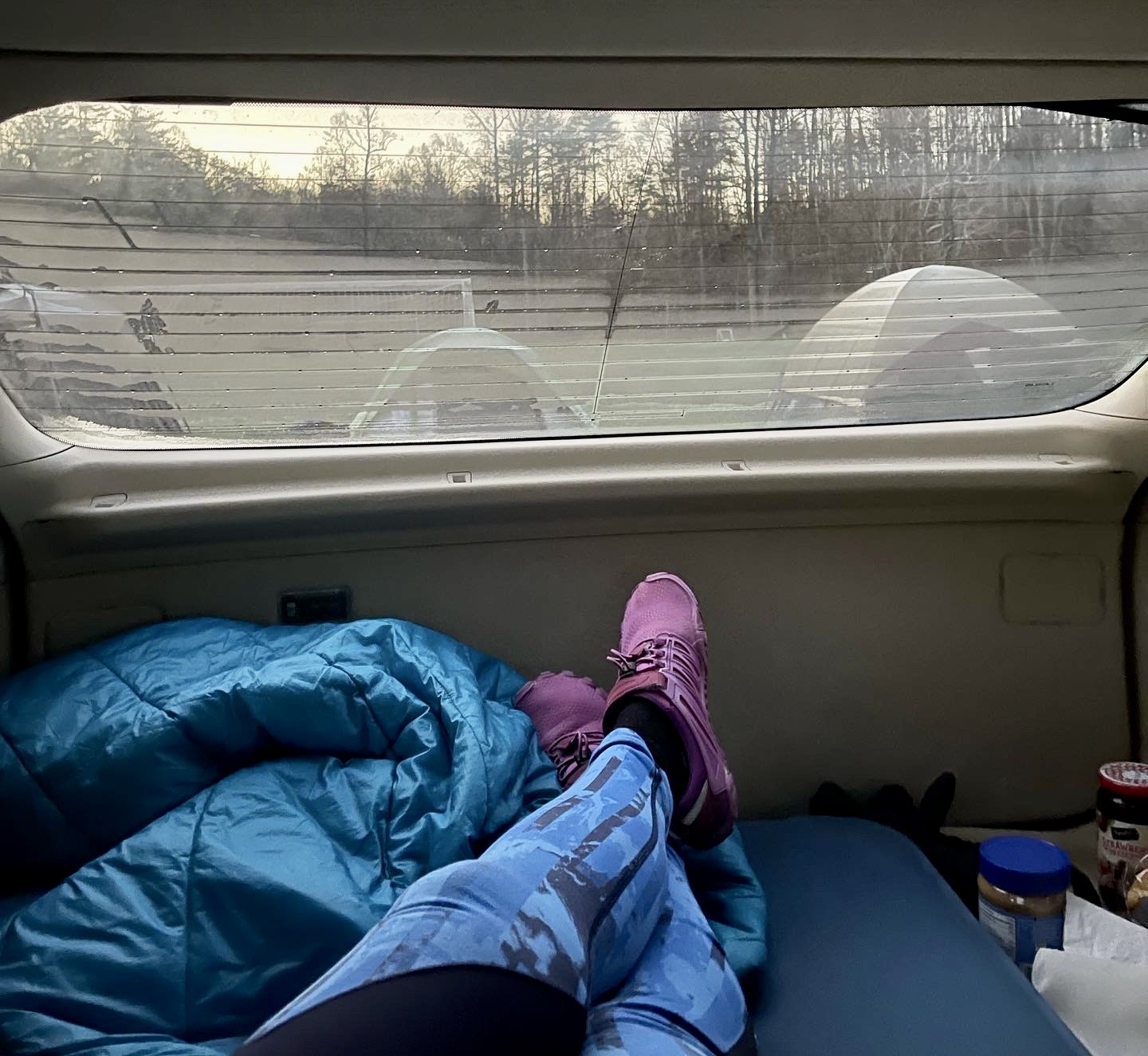 I had eight more loops to go before I would hit the official 100k mark and that just felt like such a slog. At mile 56+ on my watch I decided it would be my last loop, but I crossed the mat and figured, eh, might as well do one more and maybe I'll get my stride back. Nope. Just more shivering and hurt foot. I figured that 57+ miles would be a good enough training run and I didn't want to push too much with Devil Dog two weeks away. So, I picked up my cool medal, got in my car, changed into dry clothes, bundled up into a sleeping bag and 2 puffy blankets, and had the best sleep on my new Emped sleeping pad.
I woke up at 7:45am just in time to see the final runners/ walkers take that last 1/4 mile turn to the finish. Most were walking, but a few were flying by. I imagined a couple folks were over 100 miles. How cool that these people had been trudging around in circles in the freezing cold all night. I enjoyed those last moments looking out of my car window.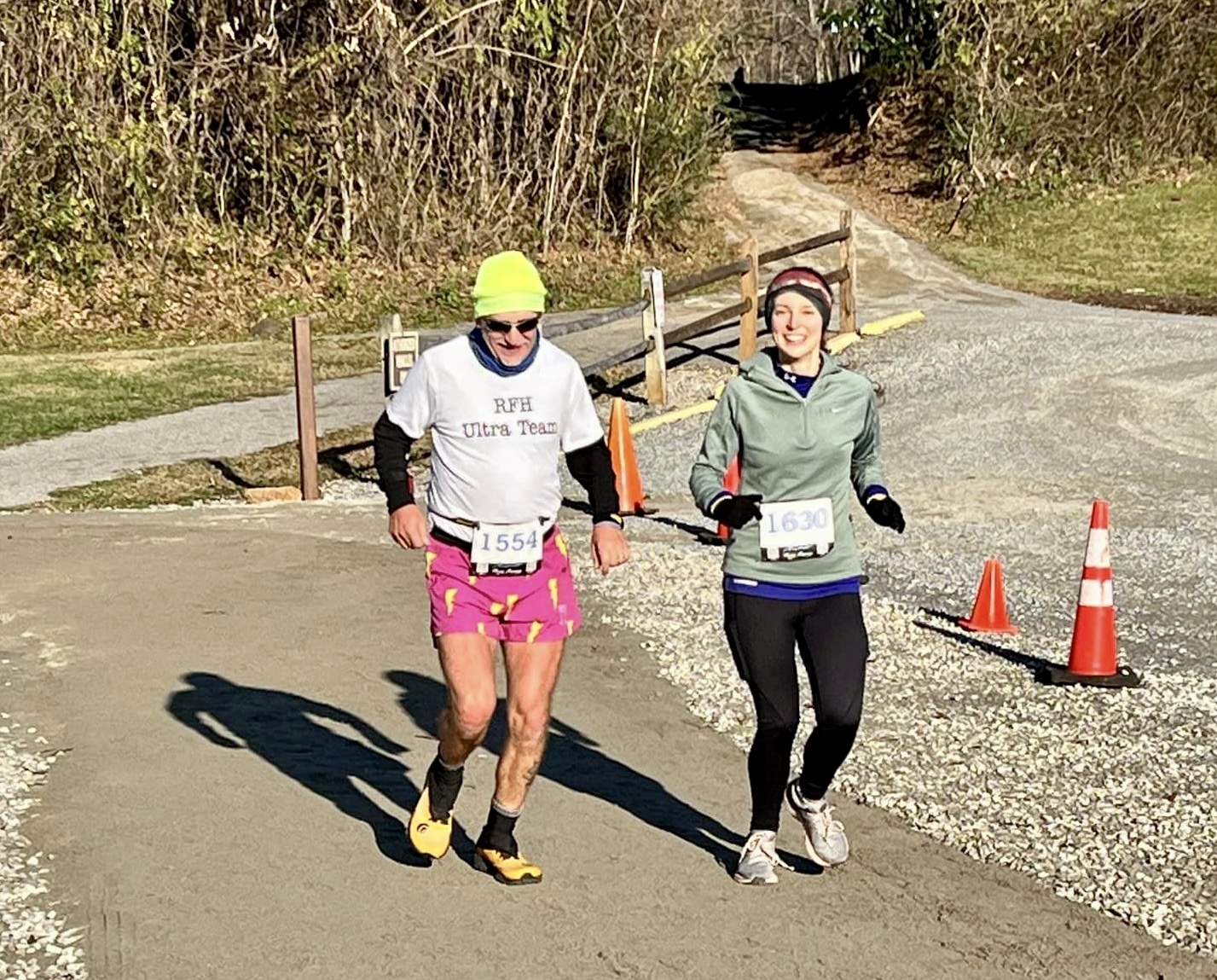 Before I close, I want to shout out to the race director and the volunteers. They must have been sooooo cold, yet they were so energetic and supportive. Loved it. Also the crews that were out there in the cold. Amazing!
So that's it. Body is sore after being out of practice. Foot hurts a lot. Hopefully with some rest (including a beach vacation over Thanksgiving), and Devil Dog not being a flat course my feet will get by through the full 100k.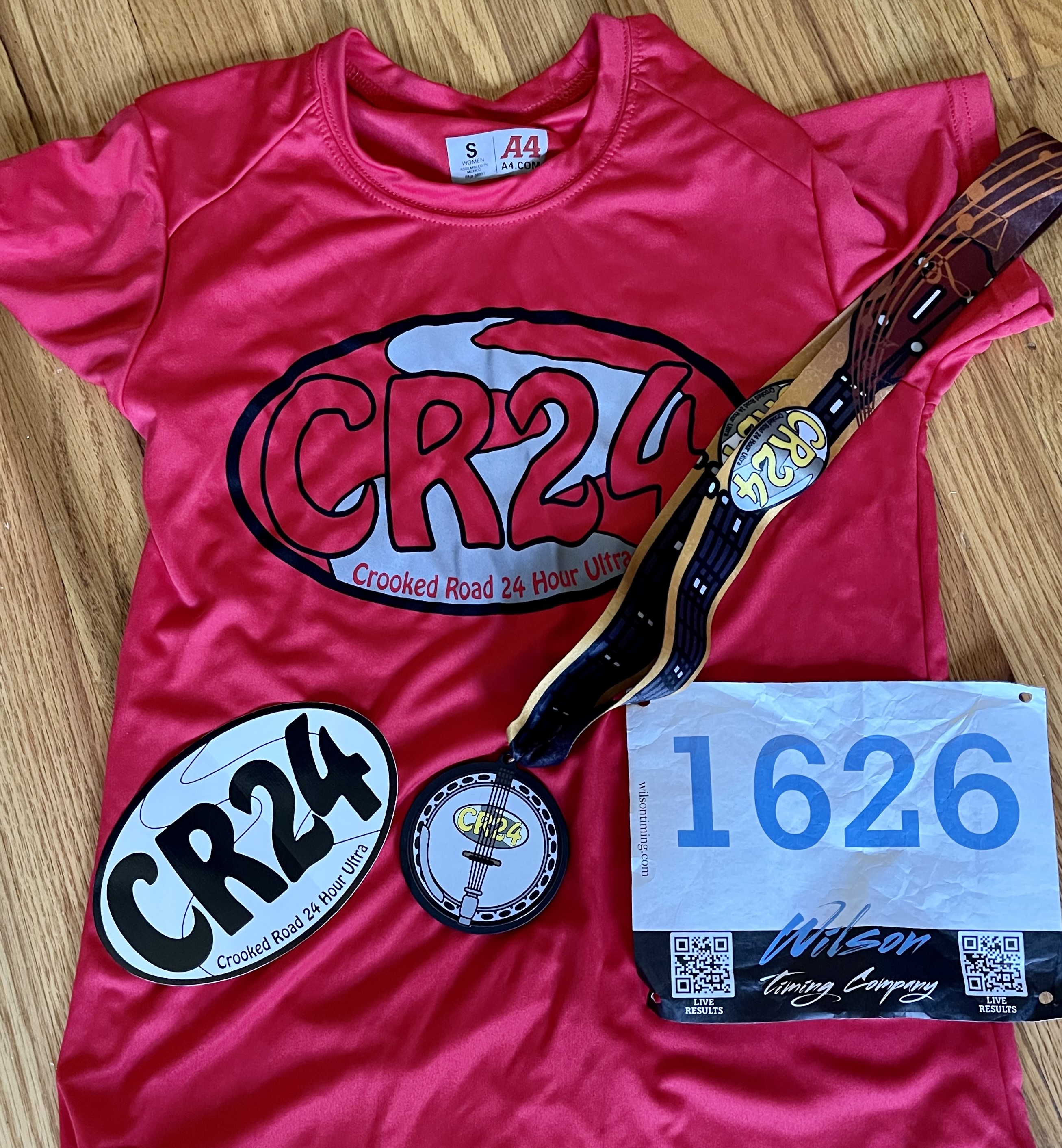 Editor's note
Race Results for the 2022 event.
The Crooked Road Ultra 24 Hour race is named for SW Virginia's "The Crooked Road" a Virginia Heritage Music Trail.
Race report originally posted by Sam Neakrase on her Facebook page.
Posted photographs of runners on the course were taken by Ricky Scott, the Crooked Road race director.
Posted photographs of inanimate objects supplied by the author.