Date

Start location

Start time

Distance
Furbutt's Backyard Ultra is modeled off of the Capital Backyard Ultra. The backyard format is based on Lazarus Lake's Backyard runs. Runners have one hour to complete the 4.167-mile course. Runners must be in the corral at the top of the next hour ready to start the next loop, or they're out.
In addition to being a challenging run, Furbutt's Backyard Ultra is also a great way to experience the backyard format. This is an excellent opportunity to run your first marathon, 50K, 50-mile, or 100-mile run because the backyard format forces you to rest early and often, which can help you run a longer distance than you thought possible. It is also a great way to meet other runners and build community since you'll be sharing the same loop and in close proximity at the one and only aid station.
Whether you are a seasoned ultrarunner or a beginner, Furbutt's Backyard Ultra is a great way to test your limits and see how far you can push yourself.
The Course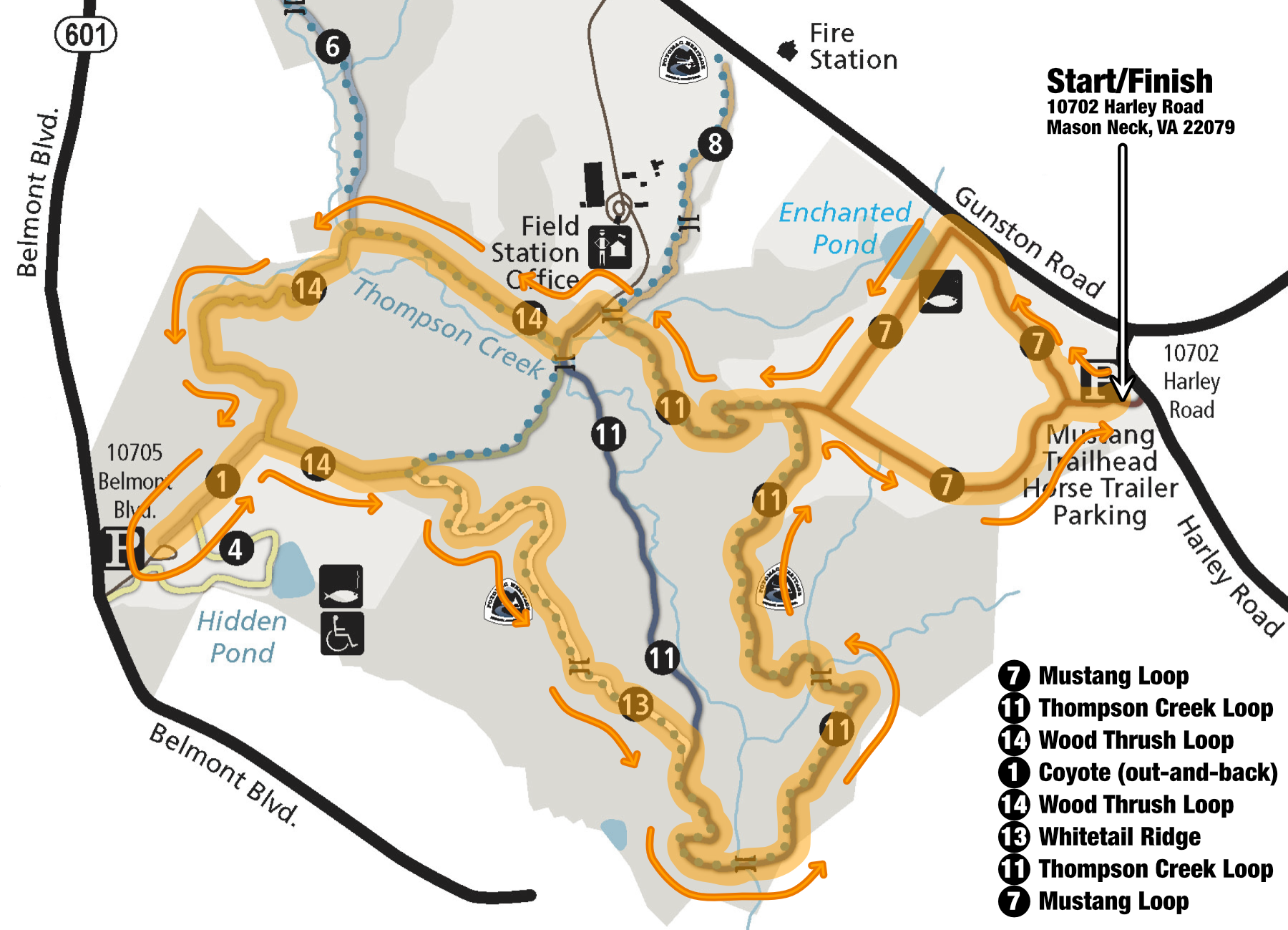 The terrain starts on a flat, open grassy field for 0.7 miles and then transitions to a mix of dirt and crushed gravel bridle trails that are mostly flat with some gentle ups and downs on the remainder of the course. The total elevation gain per loop is 300-350 feet.
Furbutt After Dark
For those who would like to utilize the Furbutt Backyard event to focus on extensive nighttime training miles, an 8 pm start to a 12 Hour run option is available. Maybe you are working that day, but still want to get in on the fun. Or perhaps you have a big run coming up that will keep you up well past your bedtime and you want to practice running for hours at night in advance. Or you may wish to test lights, food, drinks and other options in nighttime conditions. Or maybe you just like running in the dark more than running in the daytime. If any or all of those options appeal to you, contact RD Tracy Cooley for more details.

Aid Station
Runners will be responsible for bringing their own food and aid, but we will provide water and ice on a first-come, first-served basis. With a recently constructed pavilion, runners will have an ideal location to store whatever they will need for their backyard adventure, and no runner will be more than a 5-10 second walk from the starting line.
Crew Access
Crews will be allowed at the one and only aid station for the duration of the event.
Last updated October 17, 2023
Club Event Participant Medical Policy
This is an event with very real risks to your well being. The VHTRC does not provide medical care for runners at this event. Runners are responsible for their own health, safety, and well being at this event. No doctors, nurses, or emergency medical technicians, or anyone with any medical training are available along the course, at any aid station, or at the finish. The club does not supply any medical goods or services, including bandages, splints, antiseptic, or Ibuprofen or any other drugs to maintain the health of runners. Physical, medical, and emergency care is the runners' responsibility. In case of an emergency, we will endeavor to get local emergency personnel to an injured runner as soon as possible. Since most of our events are in remote areas, medical care may be far away in distance or time. Each year, runners finish — or are forced to drop out — with scrapes, deep cuts, hematomas, dislocations, and sprains. Runners have experienced cuts, bruises, bee stings, and asthma attacks. This is an event with very real risks.