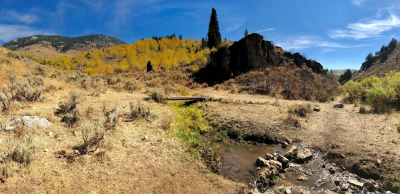 The Gift of the Bear
*"To give anything less than your best, is to sacrifice the gift."*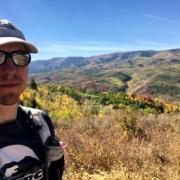 These famous words from American distance runner Steve Prefontaine, who contributed to the "running boom" of the 1970s, continue to inspire greatness in runners of all levels. This boom likely aided in the development of UltraRunning. But the more we test ourselves, the harder it is to explain what our best is, and what the gift is that Pre was talking about.
I first envisioned the Bear in the summer of 2016. At a race in California another runner told me he was training for a 100 in Utah called "The Bear," a challenging but highly rated race, and one of the "super seven" that's both a Western States and a Hardrock qualifier (VA's Grindstone is also one). Upon further investigation I was intrigued by its big climbs and promises of fall colors. Not being a lottery race, I pulled the trigger on sign-up almost a year out from race day, completely opening the door to any and all variables in both fitness and life to present themselves. Sometimes the best plans are for chaos and you just have to commit to getting to the start line.
The Bear was a headtrip; a whirlwind race experience. The Massanutten Mountain Trails 100 went well enough in spring, but I hobbled out injured and couldn't get back to running until July. My mindset at that point was to get in a few long runs at a comfortable pace and just get to the start line. Originally hoping for the sub-30 buckle, the only real goal was finishing under the Bear's 36 hour cutoff.
I was in the midst of a lot of personal and professional stress, but upon arriving in Utah, a calm set over me. I stuck with my game plan of starting slow and taking it easy. I debated if and how much to use hiking poles. I started with poles, thinking maybe I'd ditch them along the way, but I ended up using them the entire race. I felt like a little tank moving steadily through the Wasatch and Bear River mountain ranges. Not only did the poles help with the climbs, they were useful on the downhills; the final descent was so steep my quads might not have held up without the additional two points of contact.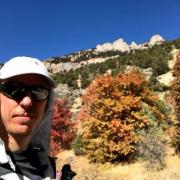 The Bear is listed at 22,500 feet of climbing, taking place in the upper Wasatch Range of Utah, with an average elevation of 7,700 feet. Sea-level runners will definitely feel the elevation, but it felt reasonable, even negligible by the end. Perhaps some of the races in the 12-14,000 ft. range would feel more oxygen deprived. I've heard the course is roughly as difficult as the Wasatch Front 100 miler, however since Wasatch takes places three weeks earlier it's much hotter and therefore harder on runners.
The weather was ideal this year for the Bear, but not without some difficulties. Some years see a mix of rain and snow; the "Polar Bear" from last year sounded particularly harsh. Even with a dry year, the intense western sun was downright hot in the daytime, but temperatures dropped precipitously to near freezing at night. Valleys were particularly chilly, but thanks to mysterious updrafts of warm air moving up the mountain face, I was welcomed with warm breezes towards the top of several climbs.
The race starts with an epic ascent of 5,000 ft. over five miles and continues to Logan Peak. This was the theme of the race – a huge climb with multiple false summits, and then a descent down to an aid station. The dry conditions made the trails incredibly dusty. Gusts of wind could blow it at you, but worse were ATV riders who kicked up dust devils nearby as they rode by.
The arid and exposed conditions won't leave you dripping with sweat, but can quickly dehydrate you out if you're not meticulous about hydrating and consuming electrolytes. I managed to stay ahead of the curve though, never feeling dehydrated. Sunburn is an issue as well, which I remedied with a white "badwater" hat and copious amounts of sunscreen. As I have said before, as much as we hate the humidity, moisture, and rocky nature of eastern trails, the western trails have their own challenges - not easier, just difficult in other ways.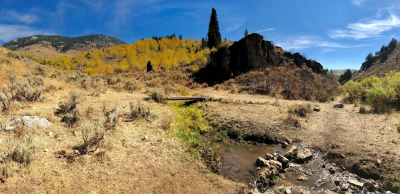 I kept plugging away; the toughest section of the day came after mile 45, near Temple Fork, where you have a 5 mile climb into darkness, followed by a descent into the next Aid Station. I got incredibly tired, especially around 4:00 AM, so much that I felt like I was stumbling through some of the tighter single track sections. I find I get hungrier than most runners at Ultras, and some of the aid stations did not have the offerings I've gotten used to out east. Perhaps having a crew would provide a nutritional leg up.
I was making strong Tailwind electrolyte drink throughout the day and that proved pretty effective at keeping me full of calories. The course markings were plentiful, however not always clear or prominent. I missed a few turns only to double back before too much damage was done. Sometimes there would be a fork in the trail and it wasn't clear which direction to take, only to discover both paths converged again later. There were large meadows with dozens of potential paths crisscrossing, but this wasn't a problem because you basically knew to get to the other side however possible.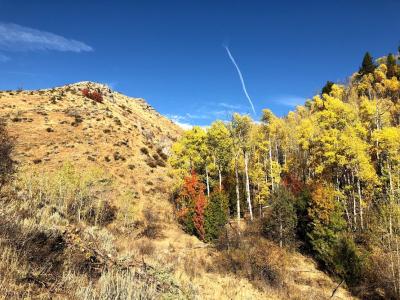 Difficulties aside, the Bear is a masterpiece in UltraRunning. With all the trouble the course throws at you, it's constantly eclipsed by the natural beauty of the Rocky Mountains and fall colors. It's a true point-to-point 100 mile race, across one of the steepest, most rugged sub-ranges in the Rockies. Leland Barker and his team know how to run a race and where to put aid stations. The volunteers would jump on you to assist but were never overwhelming. Their radio team records an "in" and an "out" time for every aid station. This was the 20th anniversary of the Bear, and I was inspired to hear that three of the runners of the first Bear were returning to run the 2018 edition.
There was never a moment that I thought I would have to drop out, however there were plenty of times at night when I was prepared to walk it in right under the 36 hour cutoff. Once the sun came up I started moving again and could run some flatter sections. By now I had been trading places with a group of about a dozen other runners and felt a growing comradery that carried to the finish. The final climb and descent, while torturous, were just formalities because the finish was within striking distance. That 3,000 foot final descent was one of the steepest and longest I've ever heard of, mostly over loose gravel. I was elated to run the final mile of pavement to the finish line in Idaho. I came in around 32 hour and 25 minutes. A little behind my stretch goal but well within the limits.
I find 100s to be my weakness. I developed enough speed to meet my marathon goals years ago, and can run strong in 50 km, 50 mile, and 100 km races, but 100 milers continue to humble me. There are so many variables to adjust for, the long total duration being one. I plan to return eventually to the Bear with all the lessons I have learned - I would train for vertical ascent and descent over mileage, and also for fitness to be better suited to running at altitude. I would not do a 100 the season before the Bear, to devote a full training cycle and lessen the risk of burnout or injury.
Finishing the Bear felt incredible, a transcendental experience that took me through all the highs and lows that trail running has to offer. It was as much an outward experience through the autumn scenery as it was an inward journey. This race gave me a lot of perspective on ultras, mostly how hard they are on both your body and mind. Some runners find satisfaction out of finishing the most 100s, some trying to see how many they can click off in a year. I don't think this strategy suits me, both physically and in terms of life balance. I'm going to step back and focus on quality over quantity and make Cascade Crest my goal 100 and travel race (lottery dependent) for 2019.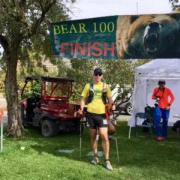 I had previously crafted a sub-goal with 100 milers to do 10 unique races before I start repeating. Current candidates for revisit are Bighorn, Old Dominion, Massanutten — and now The Bear.
Side notes:
Tyler Fox (of Greenwood Village, CO) won the Bear in 19:53:10, 2 hours shy of the course record.
The women's winner, and 3rd place overall, was Washingtonian (state not district) Kaytlyn Gerbin about an hour later.
Kudos to fellow VHTRC runners Enrique Rubio and Becca Weast for finishing well under the 30 hour echelon.
I ended up picking up a pacer on a whim which helped a ton. Ryan Craig (of Idaho Falls) had plenty of sage advice and a calming demeanor that helped get me to the finish, and kept me moving during the darkest hours of night. I met many other great people throughout the day too; I was particularly impressed that Alexander Palm traveled to Utah all the way from Sweden!