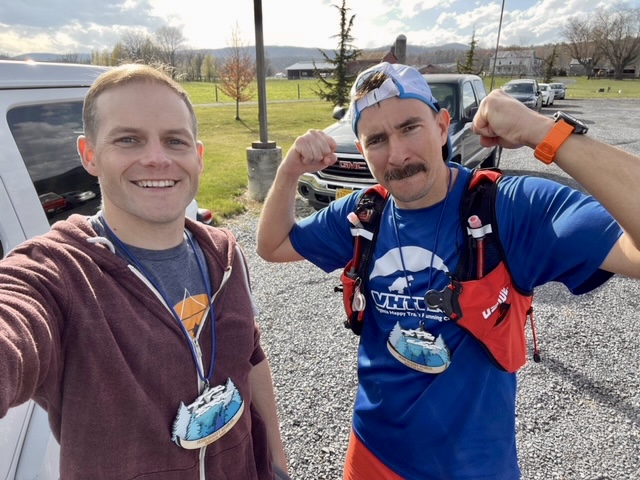 The best bathrooms in ultrarunning – Hone Quarry 40 Miler
I was in a bad spot going into this race. I had racked up back-to-back DNFs in the last ultras I attempted – The Reverse Ring and the Rabid Raccoon 100. Both these races were extremely difficult due to weather and other factors … but I make no excuses for why I didn't get either of them done.
I had a strong desire to finish Hone Quarry to get my confidence back. I am usually wary about doing inaugural races because of possible first-year hiccups, but when registration opened I noticed that there were a lot of VHTRC people signed up… plus I love running trails in the Dayton area.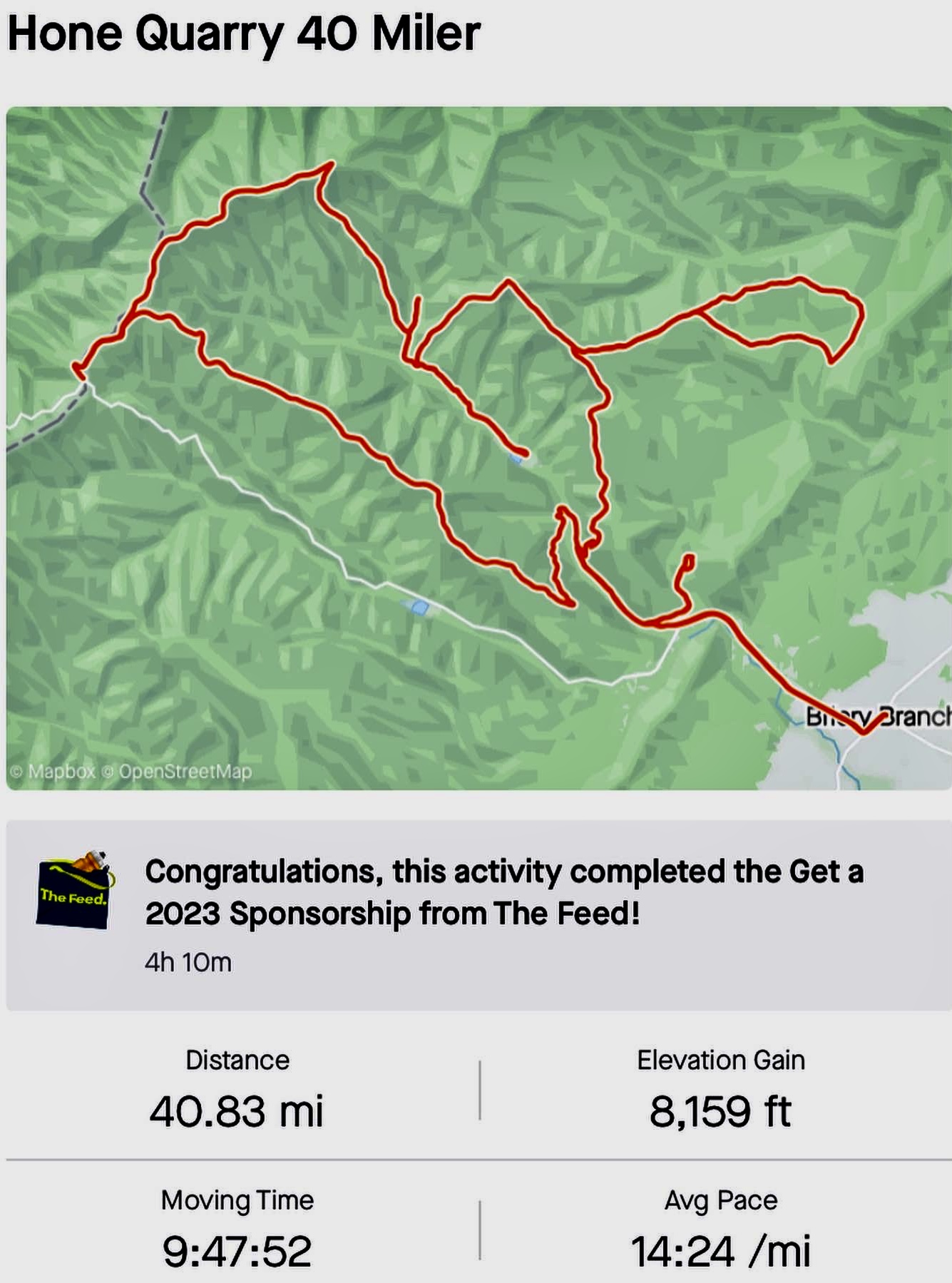 Also, 40 miles is compelling. Even if I really screwed up, I probably could still finish unless something catastrophic happened. Even though I knew deep down coming off those DNFs was a limitation mentally, I was fully up to the challenge of screwing something up big time!
The Course
The course is a little over 40 miles and approximately 8000 feet of elevation. There are three big climbs, many rolling hill sections, and some rewarding downhills. There's also a fair amount of road to help recover from the more technical parts and climbs.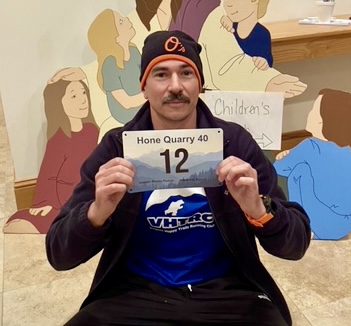 Arrival 
I got to the Briery Branch Church start location about an hour early. It was already starting to sprinkle but not really cold (40 degree temps). I proceeded into the church to get my bib and everyone was super friendly. I was greeted by the incomparable Bob Gaylord!
The church is very nice, and the bathroom in particular is incredible – the cleanest I've ever seen! People keep things cleaner in churches way more than other places and for this fact more races probably need to have churches as home base! Christian Stanton and I actually had a discussion after the race in the bathroom sitting on leather chairs and it was incredible.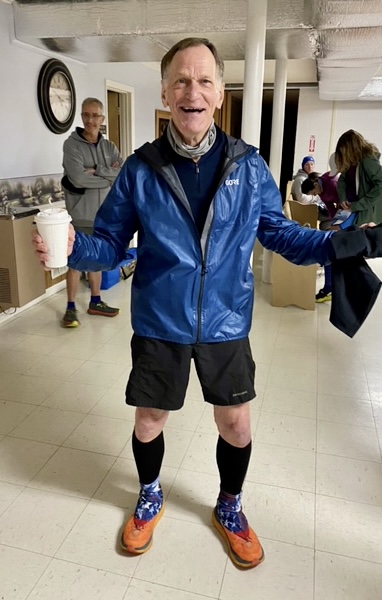 After hanging out inside the church, I went to my car and put on my shoes and a light coat. I knew I was probably going to need to take off this coat early in the race, but it was initially raining and 40 so I planned on adjusting to how things went down on the trail and adapt as the race went on. It was supposed to be 70 later in the day so early parts of the day I was just going to have to suck it up. On the way to the start I bumped into a lot more VHTRC folks, it almost felt like a VHTRC event!
 
The Start
 
The start was scheduled for 6:30 am (!). It was rainy and dark over the first few miles on the road, and I ran with Natalie Brown and Katie Keier. I remember not liking the road but when we got on the trail I was slow and made some dumb mistakes. I bumped into Christian Stanton and we missed two different turns, but luckily people were near us so they called us back. I started thinking, "it's going to be that kind of day!"
 
The first trail miles were rocky with some climbing and water crossings. I had to take off my light jacket as I was sweating a lot and getting rained on. The trail took us back onto the road again as we got to the first aid station. Because it was raining, I didn't want to stop. I brought a lot of food so I just pushed forward.
I started getting cold so I pushed harder than I wanted to just to stay warm. It was light out now and the fog was really cool (like a horror movie). I was becoming increasingly miserable but luckily the rain stopped and it immediately started warming up.
At this point, I was running with off and on with Jacob Johnson, a young local runner. We talked about a lot of different things to kill time.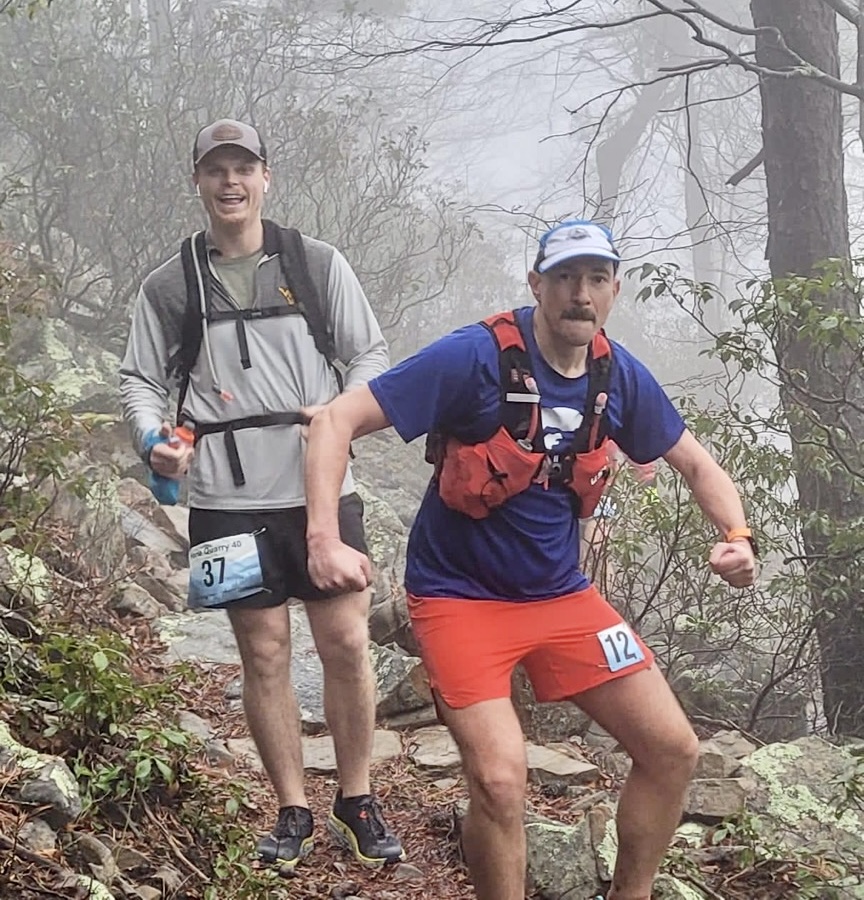 On the way to aid station two, you get a nice downhill. I wasn't even trying to run fast but these guys got me locked in to the pace they were doing, and it was fast. It was nice to get some faster miles in after the sluggish start.
I stopped at aid station two, but used all my own stuff from my pack. Luckily, I brought a lot of lube. I knew that because there would be rain early on, I was going to need it. I applied it all over, and then had pickle juice, a 5-Hour energy and I moved on.
The next part of the course was weird. Remember that nice downhill we were just crushing and feeling all good about ourselves? Well, now we were going right back up it. It was a long climb. I met back up with Jacob and we climbed it together. The trail took us on a series of ups and downs then to a gravel road. I got confused here but luckily Jacob knew where to go so we followed the road and started seeing people coming towards us coming from the out and back at the Hone Quarry aid station.
 
Hone Quarry
 
The quarry was really cool looking. There was still some fog and it looked eerie. We proceeded into the aid station. I joked around with the volunteers who were nice. I probably wasn't funny at all but they laughed at my jokes. I always like trying to make the volunteers laugh. They had the most amazing bacon. I had been eating gels and sports drinks and stuff so this was my first real food during the race and it was amazing.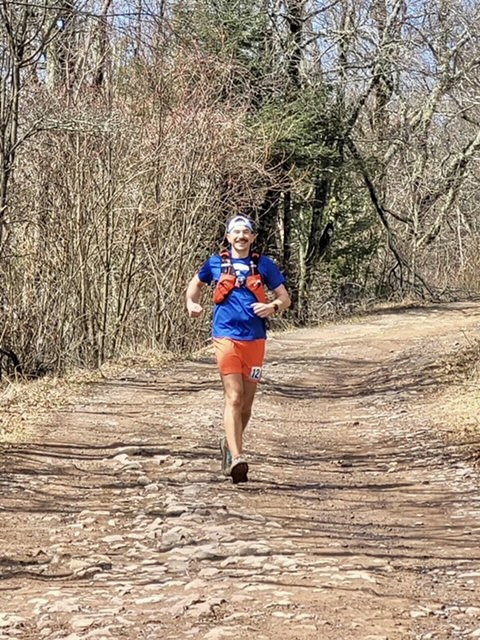 I didn't stay long at the aid station, just got food and headed out. I was running back out on the road, saw a lot of friends and then made the turn back on to the trail. There was a really nice waterfall there. I turned around from the waterfall went back and the trail took us on a climb. If I remember correctly this was the worst climb on the race, it kept going for awhile and I just went slow and hiked it the best I could. When I got to the top it was crazy windy out. I followed some jeep roads and got to the next aid station. I drank a lot of coke there and pickle juice – I was really thirsty!
The canopy kept flying away and the volunteers had to grab it. I didn't talk much to the volunteers here — just told them thanks and moved on. Followed more jeep roads for awhile. The distance to this aid station wasn't long and it was all on road, so I tried to pick it up some here because it was easier than a lot of the other parts of the course.
The weather was so weird, wind started dying down and as the forecast told us, it started getting warm. I kept following the roads and got to the Big Hollow aid station. Elaina Stanton was there, we talked for a bit and I spoke to the other volunteers, got refueled and headed out.  
I knew this stretch was going to be hard because Elaina told me it was eight miles, and we kind of got spoiled the last couple times in between aid stations. At this point I started running some with Jennifer Deforest and Ercilia Pereira, who had come up from southern Virginia for the race.
The first few miles were road then open areas and the sun started beating on us. The next section was not as hard as the climb going into aid station four, but it was a lot of up and down and there were some climbs that were a lot harder than you thought they were with some false summits and stuff.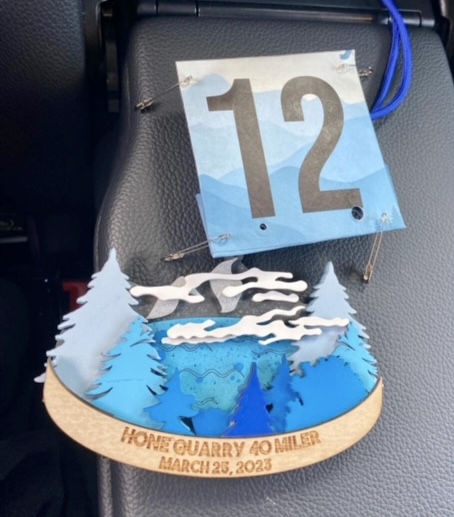 At this point, I was running out of water, but the next aid station was less than four miles from the finish, so I didn't freak out; I just took real little sips. I kept running where I could and hiking up the hills — plugging away until we finally got a more consistent runnable section. I ran as fast as I could at this time to just get to the aid station, I really wanted a coke and pickle juice badly.
When I got there, I drank a lot and felt much better. I thanked the volunteers and rolled out. The remaining portion was all road — about three miles. I really didn't want to run on the road but I also just wanted to be done. I ran about a 10-minute or so pace to the finish.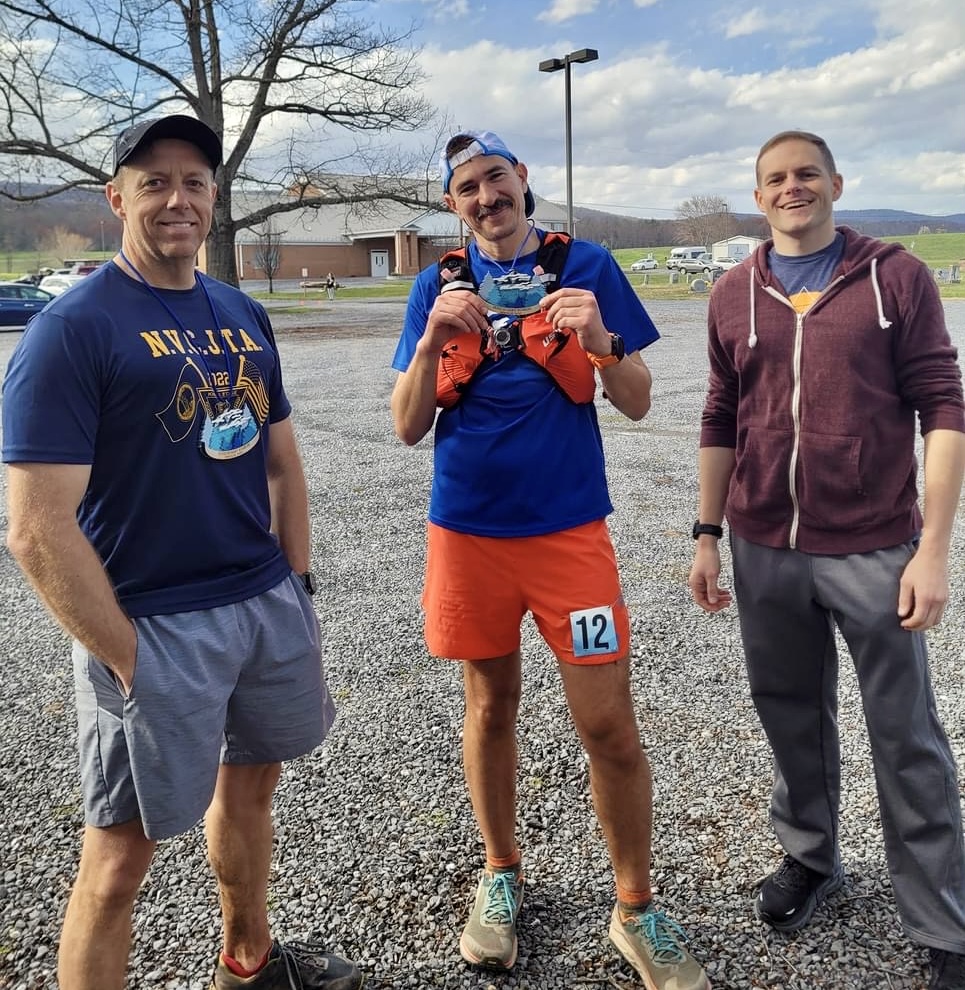 Finish
The RD was waiting at the church with a sweet wooden medal that looked like a Christmas ornament. My buddies Joshua Blythe and Christian Stanton were there waiting. We took some pictures, then I had to go to the bathroom. We all ended up going in there and that's when for some reason Christian and I sat down swapping war stories on the leather chairs; it was so weird, but I was tired and the chairs were really comfy! We all said our goodbyes, I talked to a few buddies then got dressed and went home.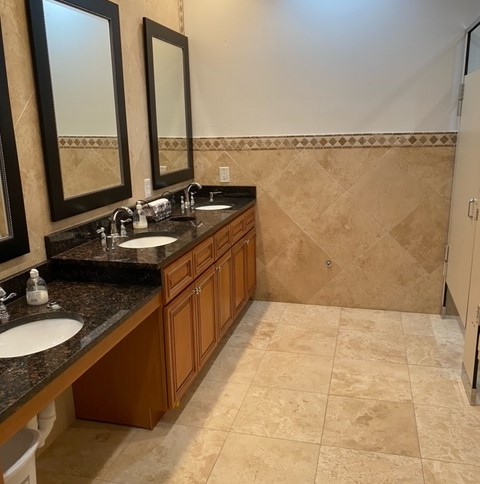 Final Thoughts
I needed this race and it was not easy. The weather was all over the place but at least it ended well this time. For being a first year event, I feel like everyone who ran this race felt like it went amazingly well. Again, I usually don't do a first year race, but seeing so many VHTRC signing up for this one I knew it was going to be fun, and it definitely was. Congrats to everyone involved with the Hone Quarry 40 miler! 
My next race is the C&O Canal 100 and I am real happy to see VHTRC again there! I have my confidence back and I have to finish C&O this time – I DNF'd there last year at mile 70!
[Editor's note: We all have our fingers crossed for John and his next big race at the C&O 100 in late April, 2023. Meanwhile, congratulations to all the participants in the 2023 Hone Quarry race, but particularly to the overall winner, Jonathan Gowen! Jonathan is the son of former VHTRC Prez Alan Gowen, and he has taken over from his father as the RD for the club's 50k race, Hashawha Hills.]