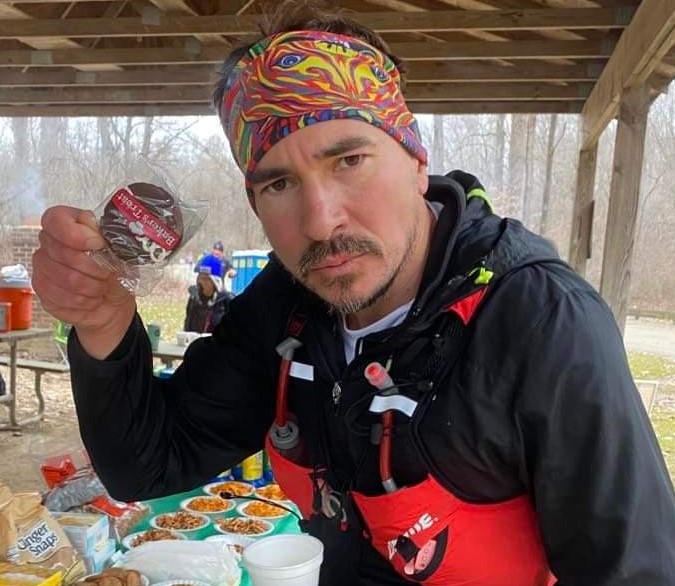 PHUNT 50k
I am going to go out on a limb here and assume that most of you know about PHUNT. In case you don't here's a quick catch up.
I learned about PHUNT in 2018 from another VHTRC member, Arif Khazi. You have to sign up for PHUNT a year before the actual race, but if something happens and you can't run, then it's real easy to just transfer the Bib. I met Arif at the PB&J Fatass and he offered the 25k bib to me because he was unable to run. PHUNT is very inexpensive at 40 dollars. Also if you sign up for the 25k, you can do the 50k. And if you sign up for the 50k, you can drop down to the 25k if you don't do the full 50k distance.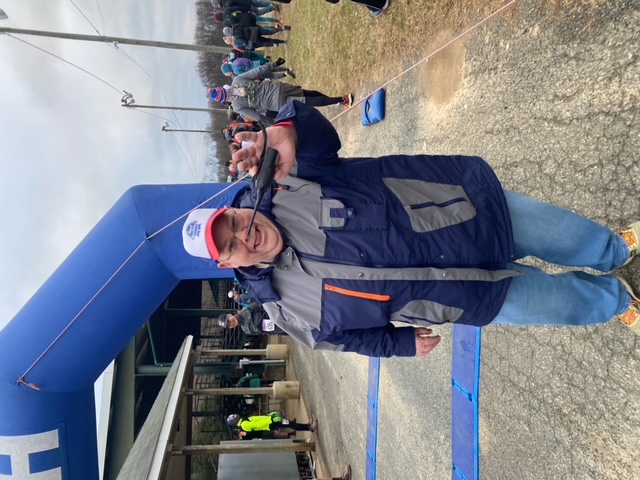 I ran PHUNT in 2019. I wanted to do the 50k, but just didn't have time because I had my daughter that weekend and Elkton, MD is a haul from Culpeper, VA. I immediately fell in love with PHUNT. The race director, Carl Perkins, cannot be matched. He sets the tone, he's a hilarious person, but he's also extremely mindful of the runners who do PHUNT. The vibe Carl and the Delaware Trail Dawgs set for this race cannot be replicated. It is a party with lots of delicious food, drinking and loud music (and its awesome) In 2019, when I last ran the race I didn't really stop at aid stations or hang out after the race. I wasn't being antisocial or anything, but I just didn't have much time. I have regretted this since 2019 and wanted to get the real PHUNT experience this year.
Your PHUNT Course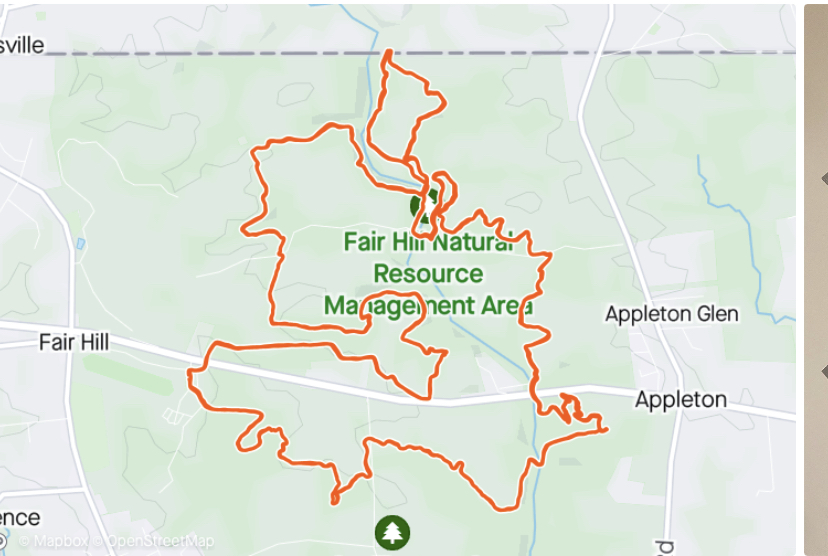 This course is fast. There are a few areas to walk but for the most part it's a lot of running. Some may argue this, but it reminds me of Stone Mill. You do 2 loops. It is a very winding course so especially on the first loop there's parts you see runners in every direction. it's really cool. It would be funny seeing it at night on a race with headlamps all over the place. There are 3 aid stations per loop and they go all out for the runners.
Your PHUNT Registration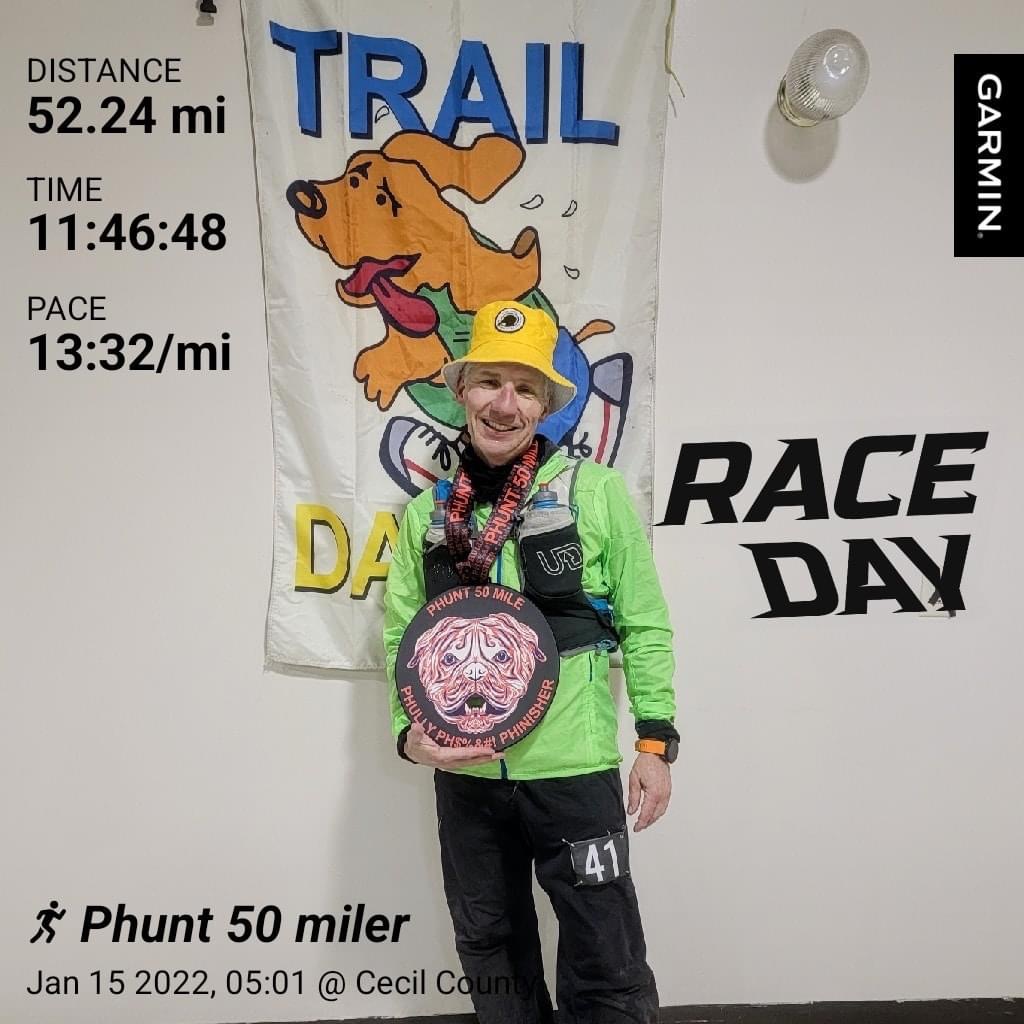 I have to confess here. I selfishly signed up for PHUNT this year for the medal. I do not chase medals, I've never worn a buckle from a race. I usually give my medals to my friends and family, but when I saw the PHUNT 50 mile medal on social media, I was shocked. It was amazing.
I saw a lot of pictures of people wearing them at bars and stuff and I thought it was hilarious.
So about a couple months ago Carl emailed the 50 milers that the distance was not going to happen this year. Again Carl looks out for the runners and definitely had legitimate reasons for pulling the plug on this. I debated even bringing this part of the story up but it's part of why I signed up and will come into play later in this report. I was sad the 50 miler wasn't going to happen but Carl was very accommodating and offered a full refund or to switch to the 50k or 25k.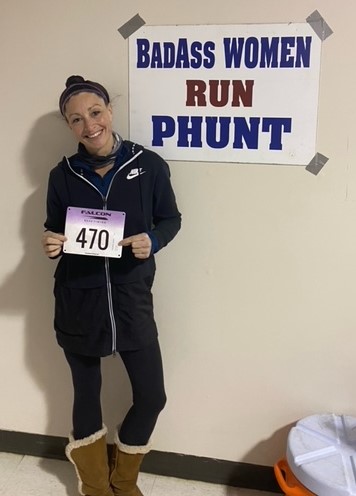 I almost just said screw it just because of the long drive (and sometimes with all I have going on, the more distant races can be challenging). But I loved PHUNT in 2019 so I chose to do it. Who cares about a medal when you have Carl, The Trail Dawgs and the fun and hilarious party they give us!
Also, my girlfriend Denise got in PHUNT at the last min and I was so happy to be able to show her this race. I knew she'd love it. The signs, food, and everyone at the race.
Your PHUNT Race morning
So this week was a mess. It was fun as hell, but crazy. I had my daughter all week, and it was my birthday on Wednesday, so we had been doing a lot, and I was kinda all over the place heading into PHUNT.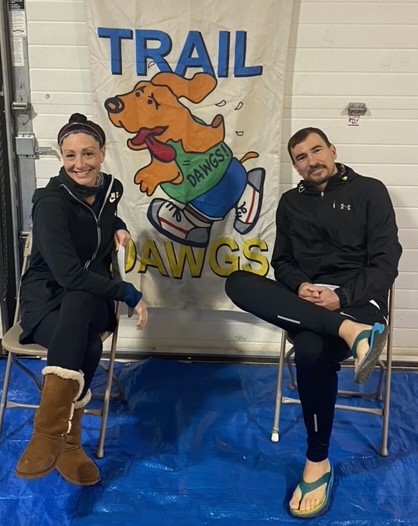 I left my watch at home in Virginia. I don't know why I did that, but I just basically tossed some random clothes in a bag for the race without thinking. I usually am careful about my clothing for a race, but I just had a lot going on and wasn't thinking. For some reason I brought tights instead of shorts, and I was so angry at myself over leaving the watch behind. I knew both these things would be problematic for the race, but I've also done so many races, so I can make it work and it would help me for future races, giving me experience in working past things that are not ideal.
Your PHUNT Drive
This was the part I was dreading most. We got up early and, I'm not going to lie, I was immediately like: screw this; we could sleep all day and it would be awesome. But we pulled it together, got our stuff to the car and headed from Denise's house in Williamsport, MD over to Elkton.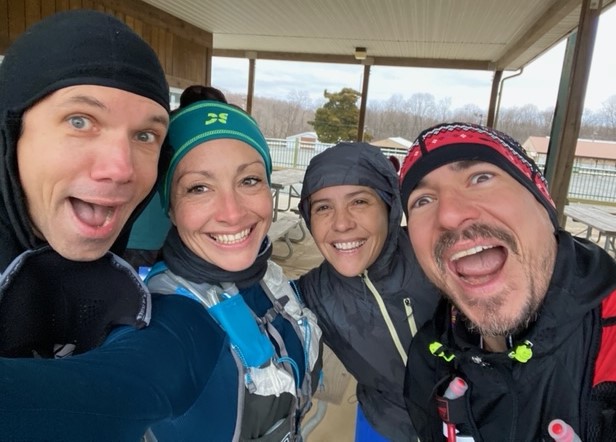 We got there at 7:20; the start time was 8 am. I was stressed and irritable from the drive and forgetting my stuff, but it started to go away as soon as we got to the parking area. The volunteers blow you away right off the bat. They are super organized and friendly. We headed in and got our bibs and paid only 20 for a hoody which was also amazing. A really cool part of this race is how social it is. They have a building you hang out in at the start. It's warm, has a changing area, bathrooms, lots of food, dancing, and you name it. We took the time to talk to friends, gear up and head to the start. I was very happy and in better spirits.
Your PHUNT Start / Loop 1
I had the high from hanging with friends at the start and was being crazy joking and yelling. Denise and I ran with Amy Zbikowski, then I saw Peter Morgan and I ran over to him. I've talked to Peter on social media and the phone about adventures he's done and to help me plan stuff I'm doing but I never spent much time with him in person. We've been at many races together but never really talked much so this was a real cool experience. Peter is an adventurous man, he's finished Cruel Jewel, TWOT, and attempted the big Barkley. Whenever I can talk to Peter to pick his brain, I take full advantage; he's a great and knowledgeable dude.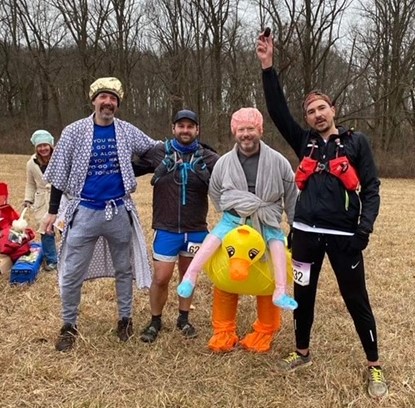 It was while I was running with Peter that a tragedy occurred. I immediately started feeling extremely uncomfortable in the tights. Peter offered me lube and while we were doing the half frozen lube transfer, we almost accidentally clotheslined a runner; Denise thought it was hilarious. I used the lube and initially it did not feel better. I was in pain. I told Denise that I was probably only going to be able to do the 25k. I was so pissed off that we drove so far to have to stop early. Also I had never done the 50k before so I really wanted to get it done. We slowed down and made it fun, took lots of pictures throughout the loop especially at aid stations because there's so much cool stuff at them you really should take a moment and talk to the volunteers and see all the funny stuff out there. I also took every chance at aid stations to lube up heavily. There's 3 aid stations on the loop, so yeah, this situation made me slow down and totally sucked. It was painful initially, but I feel like it did help me appreciate the race more and how much fun the aid stations are. We didn't stay there for excessive times but longer than Denise and I normally would have.
Denise gets full credit for getting me to keep going past the 25k, she helped motivate me and pushed me to keep putting on lube.
We got to the end of loop 1 and I was feeling much better and I was happy that I was able to get through that and keep going.
Your PHUNT Loop 2 / Finish
My bullstuff t was over. I wasn't running fast but I could move without being super uncomfortable so I was set. Unfortunately this is where Denise started having problems. Denise took a hard fall around mile 4 into loop 2. Amy and other runners were concerned but Denise is tough and got up. She fell 2 other times on this loop and hit the same spot on her knee. She was hurting. At this point we had to run different paces. I was going an easy pace because I didn't want to reaggravate my issues but Denise wanted to go faster to keep her knee warm. If it got cold from walking and slower paces she was going to lock up because the wind had picked up and the temperature had rapidly dropped. I ran alone for a bit but she was always close and was sweet. She'd call my name from the distance especially in those places I mentioned earlier where you could see runners from distances farther away on the course. We caught back up to each other at the end and when we finished our buddy Rebbeca Kessler was there and took our pictures, which was very nice.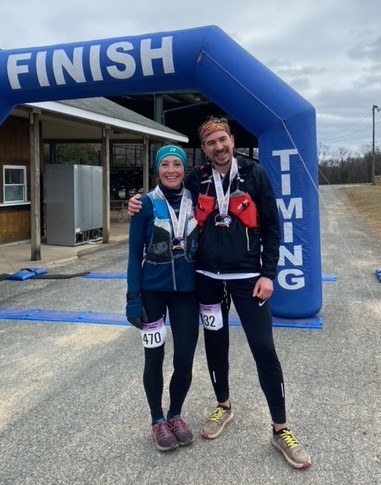 Your PHUNT Post Race Party
It was very cold out with extremely cold wind. We got out our stuff from the car to change into, utilized the changing room there, and then ate some of the famous Phunt Phries. They were amazing. There was lots of drinking and partying. Denise and I relaxed and talked to friends. I saw so many of my friends and had a great time hanging out relaxing after the race.
Your PHUNT Final Thoughts
Even though I was able to finish the 50k, I'm very glad the 50 miler didn't happen. I probably would have ended up getting a DNF because Denise and I both were having issues. It's funny too because I talked to a few people initially signed up for the 50 miler that said the exact same thing!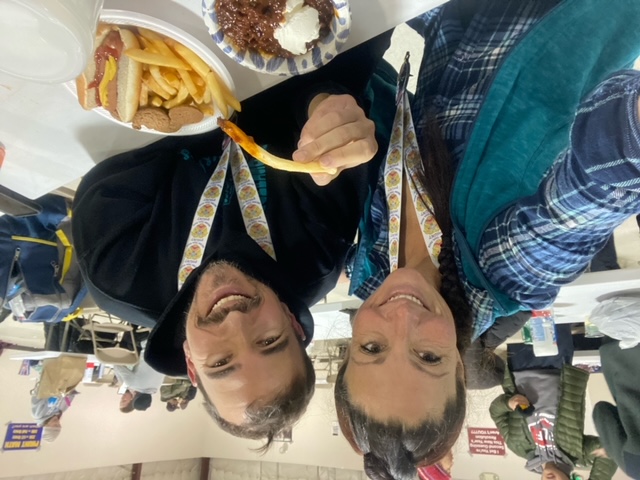 As many races as I've done there's always lessons to be learned that seem basic (and you should know by now) but don't sign up for a race because of a medal! In this case Carl saved me from myself! PHUNT is more than a medal it's an experience all runners need to participate in. There's such a cool vibe and so many thoughtful things to help the runners and keep them laughing.
Do this race. Many races have tried to replicate the vibe but this is truly a unique race that just is genuine and it's not going to sell out like some have or change.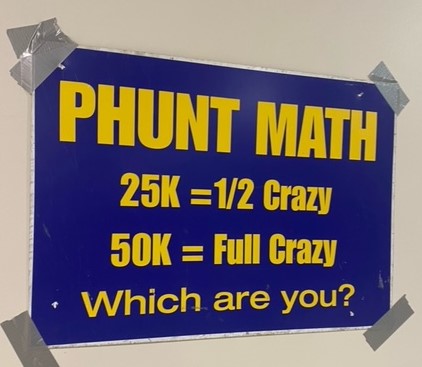 Photos