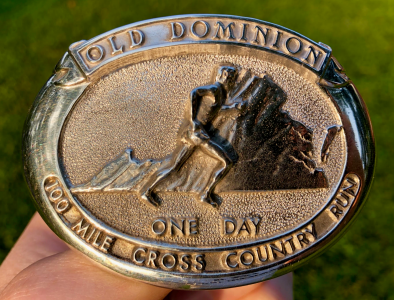 Old Dominion 100 mile cross country run
The 2019 Old Dominion 100 mile endurance run was held Saturday June 1st in Woodstock and the Fort Valley, Virginia. The run is advertised as a 1-day cross country run, giving buckles only to runners who finish under 24 hours but recording official finishes up to 28 hours. It's a bit of a hybrid 100, featuring jeep & gravel roads, pavement, and some of the steep, rocky trails the Massanutten range is known for. The race has seen quite the resurgence in recent years, partially fueled by its rightful addition back into the "Grand Slam of Ultrarunning"1. About a dozen hopeful Slammers started Old Dominion this year. The buckle-rate was the highest in recent years, with 48% of the starters eclipsing the 24 hour mark.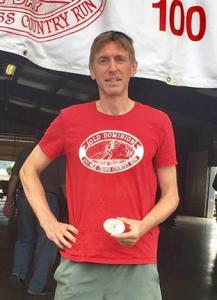 Olivier LeBlond (pictured right) won the event in 16:56, his fifth overall win at the OD 100, and seventh time buckling. Kathleen Cusick won the women's field in 20:17 - like Olivier, Kathleen now has multiple victories at Old Dominion. Other standout performances from VHTRC members included Chris Moore (18:36), Jared Byrd (19:42), and Sara Davidson (22:25). Relative newcomer to VHTRC family Keith VanGraafeiland completed his first 100 miler there, rallying late to earn the OD buckle with 18 minutes to spare. The race saw strong finishes from other club members as well. VHTRC once again had the privilege of hosting the Veach East aid station at mile 87, captained by Dan Aghdam, with all the lights, music, food, and atmosphere that's expected at a Happy Trails aid station.
The weather was reasonable by June standards, however runners were still affected by heat, especially in the exposed sections of the course. Fort Valley saw daytime highs in the low 80s with mostly sunny skies, and nighttime lows in the 60s.
The race has managed to maintain its low-key, family run atmosphere. First held in 1979, Old Dominion is the 2nd oldest 100 miler and was patterned after the Western States Endurance Run to give East Coasters a chance to test themselves at a 100 mile foot race. The belt buckle is still the prettiest in the business in the humble opinion of yours truly. Photographic proof below!
Full OD 100 results have been uploaded. A remarkable 60 out of the starting field of 79 runners finished the 2019 race.
Karsten Brown has graciously provided free photos of runners for personal use, taken at four distinct locations along the course, and searchable by name or bib number.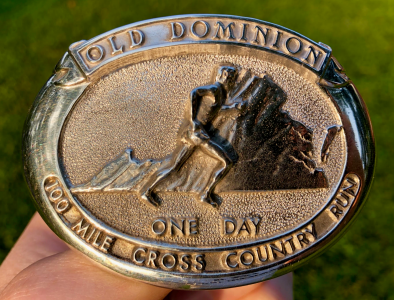 ---
The Grand Slam of Ultrarunning™ award is recognition for those who complete four of the oldest 100 mile trail runs in the U.S. The "Slam" consists of officially finishing three of these four: the Old Dominion 100 Mile Run, the Western States 100 Mile Endurance Run, the Vermont 100 Mile Endurance Run, the Leadville Trail 100 Mile Run, plus the required Wasatch Front 100 Mile Endurance Run, all in the same year. ↩