Miwok 100k
Hello, VHTRC friends! Here are some personal impressions of the 2014 Miwok 100K in the Marin Headlands of Northern California. They're from the perspective of a 100K first-timer and a midpack runner, and I hope they are helpful to anyone considering running the race.
For a more official report about the speedypants winners, Trail Runner magazine did a nice job.
Warm-Up and Training, or How I Learned to Stop Worrying and Love This Mind-Numbing Distance
I never set out to run 100K. I've slowly been building up miles by running longer races, but 62 miles always seemed (and still seems) extreme. Yet when I first heard club members talking about Miwok several years ago, I knew that if I were ever strong enough to cover 100K, it was the race for me. I heard that it started at Stinson Beach north of San Francisco, a place I'd done some hiking at least a decade earlier, long before I'd known boo about trail running. The smooth dirt trails on the rolling hills with swooshing, windswept grasses stuck in my mind, and I pined to visit them again, this time as a runner.
I entered the race lottery about six months before the race and was flabbergasted to win a spot. The course attracts hundreds more hopeful runners than the trail can accommodate, and any 2013 racers were granted automatic entry in 2014 because the course had been cut short last year. My chances of securing a spot were XXS, and when I learned I'd been selected, I set out to train hard and not squander this opportunity.
Miwok has 12,000 feet of climb, so I did as much mountain training and long stuff as I could. As prep, I ran the club's Magnus Gluteus Maximus (50K), Boyer's Furnace (40 miles), pacing a loop at TWOT (27 miles), pacing a loop at HURT 100 (20 miles), some run near Catawba, Terrapin Mountain (50K), and Bull Run Run (50 miles), along with some joyful fun runs in Shenandoah. The week before Miwok, I swept part of the course at Promise Land to stretch my legs. Our terrible winter made it difficult to train in the mountains, so I did some weekday treadmill incline work and occasional hill repeats at the Masonic Temple in Alexandria. I also did crossfit-style workouts with my co-workers two or three times a week, which was great for building core strength and helping with balance.
Just Get to the Part About the Course Already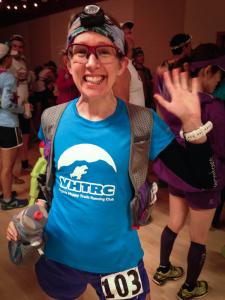 So, several months later, I'm trained, injury-free, and picking up my bib at zero dark thirty at the race start/finish at the Stinson Beach Community Center. After years of helping my husband get his drop bags together, I feel like a badass for having my own to deposit. (Woo, drop bag virgin! And I'm eating … baby food pouches.)
Soon enough, the field is herded outside for our 5 a.m. start. On the advice of the estimable Scotty Mills, I made my way to the front-ish of the pack – and good thing. We started! And then we ran up a paved road for approximately 2 feet before turning right onto the forested singletrack Matt Davis Trail. The next few miles were a bottleneck conga line of headlamps flitting up (and up and up) switchbacks. From a few vantage points, you could see lamp fireflies above and below you, and I liked thinking about each light and the community of brave souls who were setting out to do this thing, together but also totally alone.
We climbed about 1,900 feet in two miles, and then the forest and the climbing gave way to the grassy rolling hills of the Bolinas Ridge on Mount Tamalpais that I recalled from hiking. The trail was pure, dry, fine-grain dirt, and though it was soft ground, I found the footing to be the most challenging of the course because it was severely slanted in many places. This was especially tough because by now, everyone wanted to run and we were still single-tracking it. I eventually passed a slower runner holding up the train (why can't we do this on the Metro?) and found the freedom to run at my own pace.
Bottom line on the start of Miwok: Get to the very front if you have specific time goals. Everyone else, chillax, because you're not going anywhere fast.
The course moves north along the Bolinas Ridge with views of the Pacific on the left. (Yeah, I just said "the Pacific" like it was as common a sighting as a Sheetz.) The super-slant footing is challenging most of the way, though you're rewarded with thousands of happy orange California poppies all along the grass-lined trail, a fresh breeze, and wide-open sunshine. After you hit the first aid station (Bolinas Ridge, mile 6.3), you experience the sheer joy of running through a shady forest of redwoods. The trail is soft and wide here, and each ancient tree is like a cathedral. I stopped to touch a few of them. Somewhere in this out-and-back section, a runner recognized my VHTRC blue train shirt – he's from Maryland and had just done Bull Run Run – and we hung together for a few special miles. Soon the leaders started whizzing by in the opposite direction, and I was glad to see friends Josh, Alicia and Sonja all looking strong. As I enjoyed bombing downhill, runners were encouraging those coming uphill, and it reminded me of the great camaraderie we see at our VHTRC races.
I smoked the downhill to the Randall Trail aid station (mile 12.9), ditched my arm skins, and was amused to see racers actually waiting in line to use the Port-O-Potties there. The race rules said no going in the woods, which worried me because I am a Rule Follower and I've never had to think about this one before. I wondered if this was some sort of West Coast/East Coast trail- running divide, and we are the heathens. Retracing my steps back uphill and through the redwoods, I boldly went where no one had gone before. (Really? That tree is 1,000 years old – it's seen everything.) When no park ranger emerged to arrest me after this experiment, it was a huge relief. Based on my previous race experiences, I was expecting my stomach to turn south at any mile, and I wasn't looking forward to the added stress of waiting to find a toilet.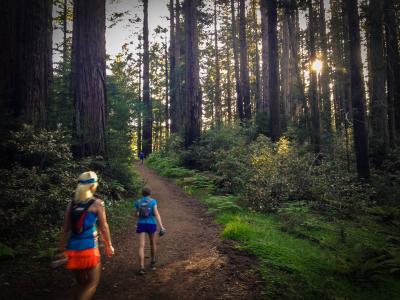 I ran back along the grassy ridge trail and ended up in the Muir Woods with lots of fabulous old redwoods and many people out hiking. I don't remember much about the next 10 miles. I was so grateful that I hadn't had any expected stomach problems that I simply enjoyed the lush old-growth forest, the soft footing, the ferns and the wild irises, mindlessly following the course markings, which were top-notch throughout the race. (Seriously, I never hesitated on which way to go, and that's saying something.) I was running strong and, for me, pretty fast.
I knew my husband Keith was waiting for me at the Muir Beach aid station (mile 31.5) – he'd been on the course taking photos all morning. But I wasn't expecting to see fellow VHTRCer Tristan Massie decked out in the blue train travel shirt. He was waiting for his wife, Tammy, and I was glad to hear she was moving along, too. I arrived at the aid station entrance – the halfway point – in exactly seven hours. That was a fantastic time for me considering the climbs, and I was in great spirits and feeling strong. I started to wonder if I could finish in 14 hours, my pie-in-the-sky goal. Keith took a few photos of me before I rolled into the aid station across a small bridge. Muir Beach is a popular weekend destination for locals, so in addition to all the crews, random folks lined up on the bridge to cheer us on, and it felt a little like a road race with crowd support here.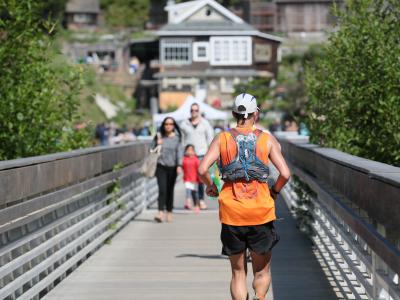 A note on the aid stations: They're great. Plenty of cheerful volunteers; abundant watermelon, cantaloupe, and bananas; salty snacks; and hummus rolled up in tortillas. The drop bags were well organized and not once did I have to fill my handheld – someone always whisked it away for me and brought it back full, even with ice! Miwok is a cupless race, so I ran with a small, flat cup made by UltrAspire and one handheld bottle. It was a little clumsy using the cup at the aid stations but I got my fill of Coke thanks to the volunteers, who were always on hand to pour. I drink extremely little when I run, so if you're a thirstier type, I recommend you run with a handheld, even if you have a bladder. It'll be easier for you to quickly fill the handheld at the aid stations than one of the little flat cups.
The second half of the course consists of a few different loops all strung together, with pivot points at aid stations that you visit multiple times. Upon leaving Muir Beach, I passed through an organic farm with some nomtastic- looking kale and began a big climb. The trail here was ridiculously smooth and totally exposed. In the heat of the day, the temperature hit the mid–70s, which was a little warm at times but never overbearing. Although my body still felt great, this was the first (and mercifully only) time my mind messed with me. The climb kept going and going, and thanks to the beautiful vistas, I could see runners way ahead of me on the switchbacks and hills ahead. Everything felt big, like Western scale big, and I felt small. Running another 50K at this point seemed damned hard.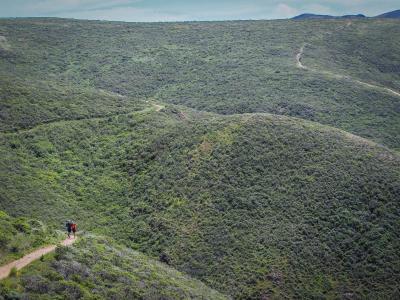 I distracted myself by remembering all the training I'd done and thinking about the mental blocks my trail friends must have pushed through in much longer races. I was wearing my awesome team gear from Bull Run Run, and the sight of it helped me connect back with all my peeps in Virginia and keep pushing. I very consciously began to think of the remaining miles in terms of little runs to the next aid station. I got to the Tennessee Valley aid station (mile 36.5), which was bursting with helpful volunteers, with a renewed sense of excitement: Just one more aid station to go – where I'd be seeing the Golden Gate Bridge – and then back to Tennessee Valley, where I'd pick up my pacer/husband and set out for the finish line.
The trail to the next aid station, Bridge View, was more of the same, until it wasn't. There was an amazing-smelling grove of eucalyptus. The trail grew more rugged, climbed steeper and was extremely windy. I knew the San Francisco Bay was just over the ridge and the anticipation of the view kept me climbing, even as the wind tossed me around the trail. Then the bridge appeared and all the work felt worth it: I was alone on a beautiful trail with a view of the Golden Gate that few will ever experience. It was one of a handful of moments on the trail that made me tear up. Then on to the aid station, where the volunteers were battling crazy sustained wind, and back to Tennessee Valley and Keith!
This stretch of trail was the longest I'd have to run between aid stations: 7.3 miles. Ain't gonna lie: It was discouraging. I developed a blister. There were no ocean views to distract me. (How easily we grow accustomed!) So I leaned on the company of my fellow travelers during this section. The climbs were tough and the wide fire road had partial washout ruts in a few places, but I was still moving well. When I finally approached the Tennessee Valley aid station for the second time (49 miles), I looked at my watch and realized that my 50-mile split would be faster than my finish time at Bull Run Run. I busted downhill to the aid station, and pacer Keith was nowhere to be found. Largely because of my time, I was in incredible spirits and took special glee in asking the aid station captain, none other than ultrarunning poobah Stan Jensen, to please tell Keith to catch up to me.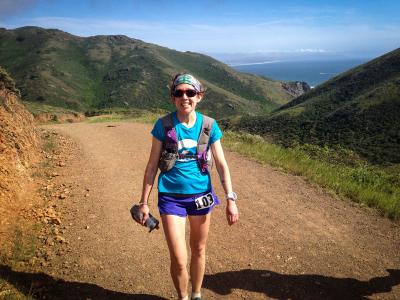 I was hauling on the short flat section out of the aid station when Keith approached from the opposite direction. He'd run in from Muir Beach, where we were now headed. I knew I was facing a monster climb to get there, but I hadn't anticipated how tired I'd be at this point in the race. Although I still had legs and the trail was smooth, my quads hurt. I recalculated and knew that I wouldn't finish in 14 hours, but this didn't dampen my spirits. Keith was a good pacer and wouldn't allow me to let up, and I dropped a handful of runners on this climb and passed a few others. I could start to hear the Pacific. When we finally reached the top of that beast, the ocean opened up on our left and trail photographer extraordinaire [Glenn Tachiyama](http://www.tachifoto.net/Running/Miwok- 100K-2014/38986146_7BDmzv#!i=3222794726&k=gNZLRQf) was waiting to take the Miwok money shot: runners high above the crashing waves at Pirates Cove. Being up high with that view and just a few miles to go was thrilling. We ran back to the Muir Beach aid station and pressed on. Apparently I ran five more miles here, but I don't remember them.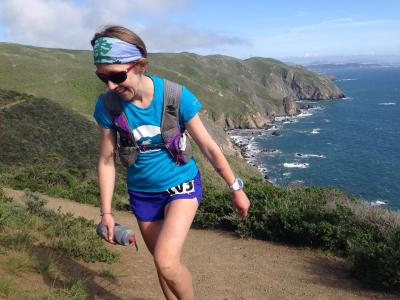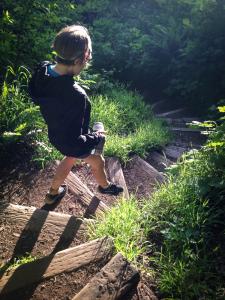 We hit the final aid station at mile 58.4. Although I was hungry for the first time during the race, I didn't want to stop because I was expecting the final three miles to be a slow, downhill quad-busting sufferfest. (Sorta true.) The sun was just starting its glorious West Coast descent and it was windy here, so I pulled on a windbreaker. Keith and I wended our way down the trail into the forest, greeted by more redwoods on the famous Dipsea Trail. The footing became more technical, with some rocks and roots, and then we came upon the Dipsea stairs I'd heard so much about. These had been so built up in my imagination that I was expecting four-foot-high stone steps that I'd have to rappel down. They're actually nice, shallow steps made of dirt and wood berms – though the pitch is quite steep – and you descend maybe two staircases' worth at a time before hitting trail again and then finding another set. It wasn't nearly as brutal as I expected, but my quads couldn't handle the downhill with any sort of speed, and I carefully picked my way down. Many runners passed me in these final three miles.
The end came fast. I popped out of the forest and a volunteer guided me across the coastal road that leads into Stinson Beach. I could hear the finish festivities and picked up my pace on the short stretch of asphalt. People cheered, I rounded a corner, and the race director, Tia, put a pewter medal around my neck. Success!
I finished in 14:27, well ahead of my aim to simply make the cutoffs and finish in the daylight. I felt surprisingly good once I stopped running. My injuries amounted to single blister and some tendonitis on the top of my right foot.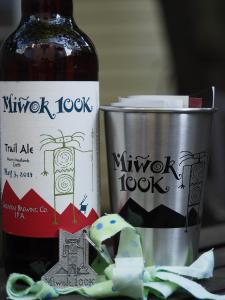 The post-race party was steps away in the community center, where all kinds of grilled protein was waiting. The finishers swag bags had a Brooks tank, a special-label Miwok beer, and a nifty stainless-steel cup with the race logo. The atmosphere was festive but I didn't stick around long as weariness began to set in. Also, I smelled pretty bad.
2,600 Words and 62 Miles Later …
Miwok was a tremendous experience and personal challenge. I recommend it to anyone, especially if you've never seen the California coast, communed with a redwood or toed the line at a 100K. The course is such a treat with its ocean views, awe-inspiring forests and easy-peasy footing. The climbs make it a real challenge but the race support is tremendous. Make a vacation of it, and you won't be disappointed. San Francisco is one of my favorite cities, and nearby wine country makes for superior post-race hydration.
Travel Tips
Keith and I stayed at the Best Western in Corte Madera. It's about a 30-minute drive to the start/finish (take the Panoramic Highway – it's actually less twisty than Highway 1), and it has mini fridges, bathtubs, hot tubs with muscle-relaxing jets, and importantly, guest laundry.
The San Francisco Running Company is about halfway between Corte Madera and Stinson Beach. I have never seen so much trail gear in a bricks-and-mortar store. They do regular group runs starting at the store; you could be in Tennessee Valley a few minutes after heading down the road. Definitely hit them up if you'll be in the area and want to connect with other trail runners.