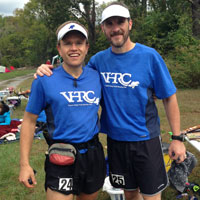 Mike Bur and Keith Knipling DNF at Big Dog Backyard Ultra
Last weekend Mike Bur and Keith Knipling traveled to Bell Buckle, TN, to run in Lazarus Lake's Big Dog Backyard Ultra. The race consists of a 4.1667 mile loop that is repeated every hour on the hour.
25 miles in 6 hours, 50 miles in 12 hours, 100 miles in 24…
This continues until only one person remains, who is the lone finisher. The race started at 7 am on Saturday. For the first 12 hours the route is on a singletrack trail through Laz's property, somewhat reminiscent of the Bull Run Run/Women's Half Marathon Do Loop. At night (the second 12 hours) the route switches to an out-and-back paved road. (Laz added this road section to make the run "easier," since many runners got lost on the trail at night.) After 50 miles of that, the run returns to the trail.
Mike completed 19 laps (79.17 miles) and Keith completed 34 laps (141.66 miles) under the time limit. Tim Englund was the lone finisher, completing 35 laps (145.8 miles), breaking the previous course record of 28 laps (116.66 miles) set by Joe Fejes in 2012. Tim also won the 2011 event with 18 laps (75 miles).
The race is named for Laz's dog, Big, who is featured in a series of books.