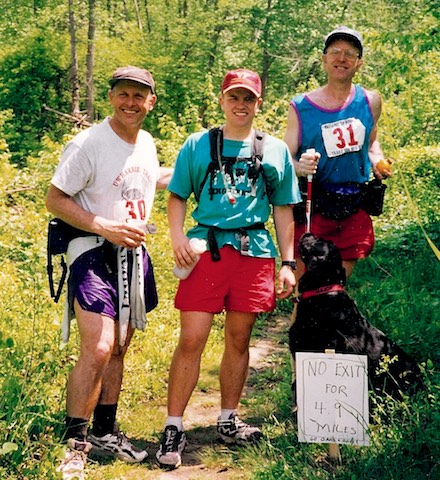 Knipling History at MMT
The year is 1997. It is the third Massanutten Mountain Trails 100. It will be Gary Knipling's second finish. Gary has brought his brother, Ron, along this year. They are having a joyful tour of the course. Or at least, Gary is joyful.
I see them at Elizabeth Furnace, then the last aid station, five miles from the finish. Ron is not having fun. When they arrive at the aid station, Gary is eager to get going. "Come on Ron, we gotta hurry." I look at my watch and pull Gary aside. "You got plenty of time. You don't have to hurry." Gary replied, "Don't tell Ron that!"
They finished. Gary would finish MMT 15 more times, Ron never again (so far). Ron is among the illustrious ranks of those who are one-and-done at MMT. Names like Mills, Demoney, Green, Davidson, Sayers, and many more.
Courtney Campbell won the race that year. Second was Kevin Sawchuk. It was Kevin who led our first trail maintenance work and got the VHTRC to adopt the Massanutten Trail on Short Mountain. The winning woman was Sue Johnston. That was the first of four wins and six finishers for her.
The picture below has Gary (left) and Ron (right) at Elizabeth Furnace. But there is another Knipling in the middle — Keith. He did not enter the race that year. His first finish was two years later in 1999 (when his father didn't finish). That was Keith's first of 15 finishes.