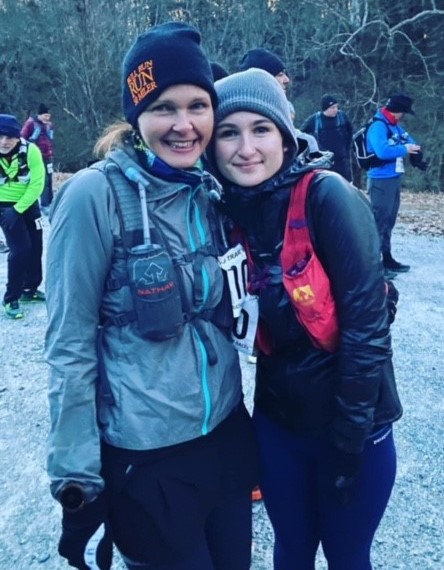 Icy-8 Trail Race
Race Report: Athletic Equation's Icy-8 Trail Race in Lake Anna, Va – February 4, 2023
My Icy-8 journey did not start at 7am on February 4, but seven plus years earlier — since I've been coming out to Athletic Equation races.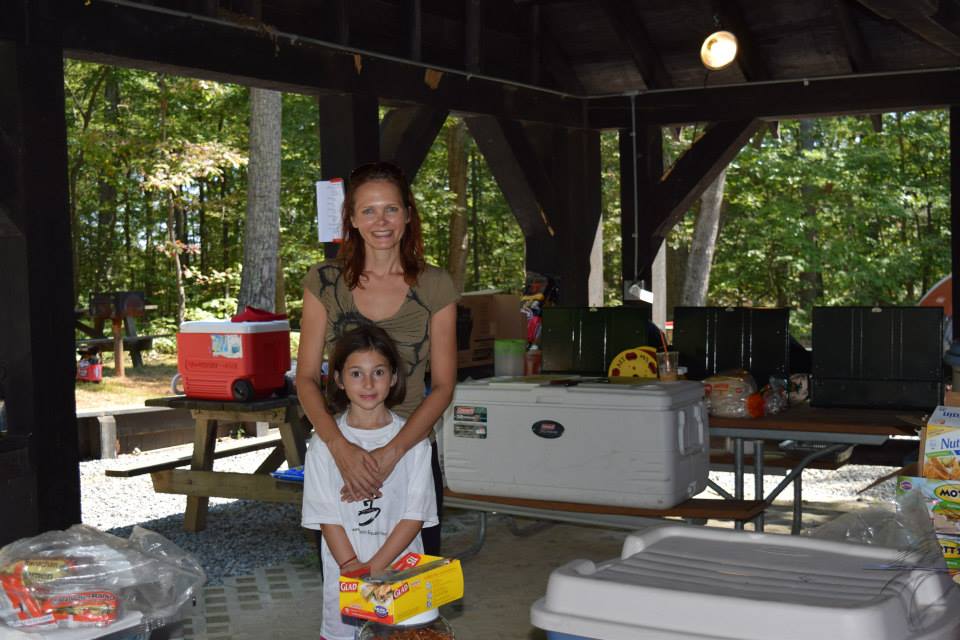 My first memories of this race are of me shivering in a tent waiting eagerly for my mama, while enjoying some pierogis. These are the types of memories that inspired me and introduced me to the amazing community that I've grown to love.
Being able to run this race as my first ultra was a special gift for which I am very grateful.
The morning started with a stomach of butterflies … nerves for the day ahead. We arrived for the start at 6:20 am, which is insanely early for a 16-year-old, and luckily we got a parking spot right next to the aid station. It worked out perfectly because mom was able to set up a warming tent for my grandparents who would be coming out to watch my race!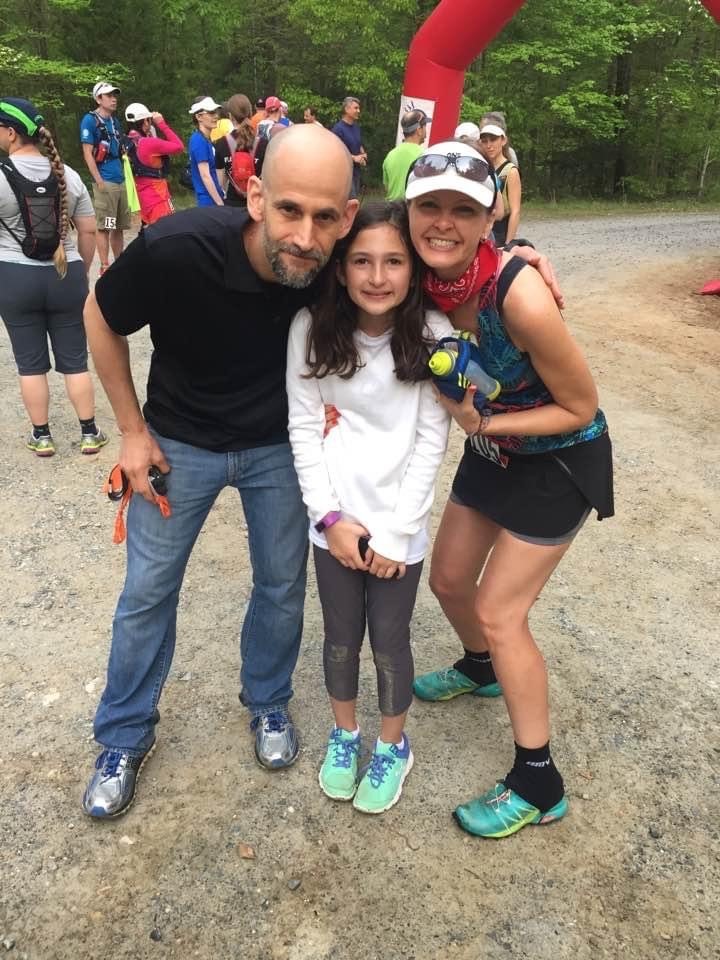 I was greeted with a smile from the Race Director, Alex Papadopoulos, wishing me luck on my first ultra! Mind you, the idea of running an ultra that day hadn't entered my mind until that moment.
I'm grateful that Alex planted the seed in my head because the calculations started the minute I started running. How many loops would I have to do? What would my average pace need to be? My brain was racing faster than I was!
The first 8-mile loop was filled with excitement for the day ahead, me and mom busily creating our game plan. After finishing our first loop I was greeted with a fist bump from Alex and a delightful grilled cheese sandwich.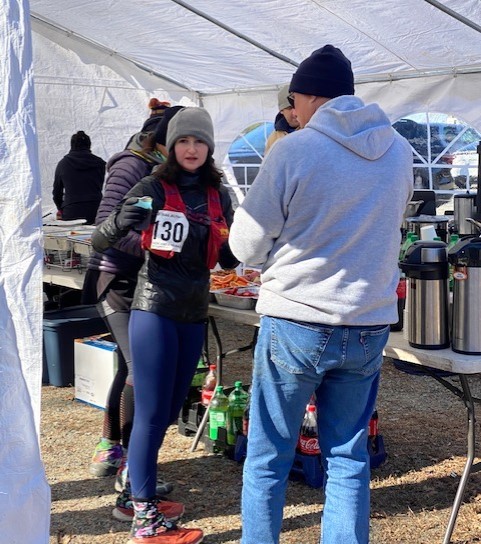 As I waited for my mom to catch up with me (!) I also got the long-awaited joy of stepping into the heated bathrooms. As we headed out on the second loop my mom informed me that Alex had a fancy plaque waiting for me, which meant I had to finish.
This put an extra fire under both of our butts (unfortunately it didn't compel us to run faster) and the calculations started once again. We created a game plan, which quickly dissolved as we came in after our third loop and Alex told us exactly what we needed to do to be able to finish (because of course our math was more than a little off). So, to recap – We did two long 8-mile loops and one short 4.7-mile loop for a total of 20.7 miles.
At this point, it had "warmed" up to a still blustery 27 degrees, but thankfully the ground was softening. After a couple loops, I got more comfortable with the trail. I knew all the sections and had a nickname for each one. So, once we got through the red planet with the red clay/dirt, then we hit the return signs, road, and then we're home, for example. (If you know, you know!).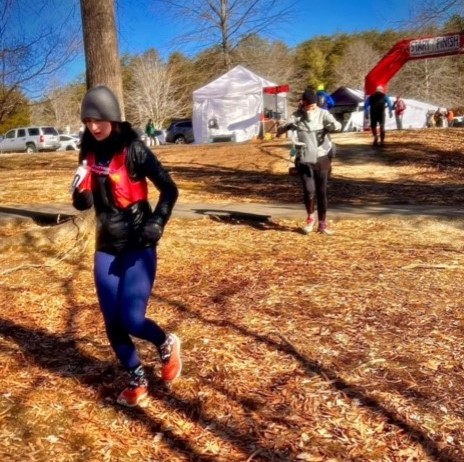 The 'home' was something to look forward to as well - The warm broth, my favorite pierogis, and big smiles from the incredible volunteers.
The course seemed as if it had been designed by a runner because just after you have a tiring climb and wish for a downhill or a flat, the trail gives you exactly what you want. But eventually, our second game plan also began to fall apart.
We had made the foolish mistake of trying to switch things up and tried to do the short loop backwards, which resulted in getting off course a bit, not necessarily because the trail was hard to navigate but more so because our brains were a little on the slow side.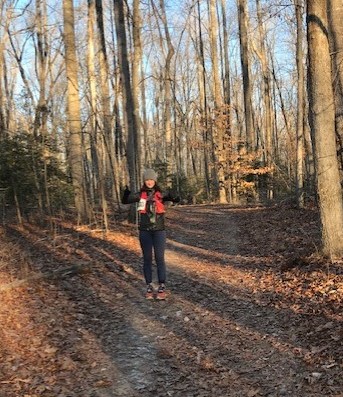 This is when I started to panic. I ran the math over and over and knew there was no way we could get back in time from the small loop with enough to do the 1.7-mile mini loop, which I would need in order to be able to call this an ultra.
My mother knew just as well as I did that we wouldn't make it so she came up with a third plan: Get to the aid station before 8-hour time runs out and immediately go out on the mini loop no matter how much time we have left. While it wouldn't be an official ultra, it wouldn't matter because I'd still get an official finish of 25.4-miles and I'd know that I ran an ultra distance (27.1-miles).
At first, I refused because it would not be the finish that I wanted. But my mom reminded me that this is not why we run ultras. Ultra-running isn't about beating other runners or getting upset because you felt as though you didn't perform up to your expectations. It's about having fun on a beautiful trail with wonderful people supporting each other. And ultimately, knowing that you did your best regardless of the outcome.
We got to the aid station with about ten minutes before the 8-hour cutoff and because Alex is so encouraging, when we asked if we could go back out on the mini he said, "Goooooooo!" without hesitation.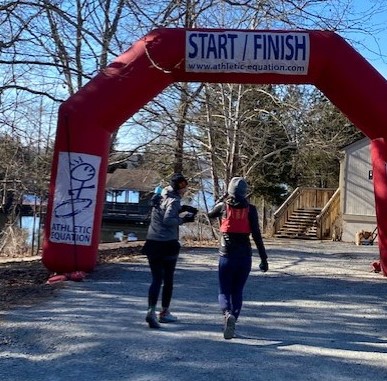 Now despite not having the finish we had originally imagined, being over the time cut-off, it was just as special and felt so good to sit down and wrap myself up in a fuzzy blanket.
Alex started the awards ceremony and let everyone know that he would be changing the format. Rather than focus on the fastest runners who ran the most miles at the race, I was surprised to hear my name as he called me and my mom up to present us with the plaque that had inspired us to keep running all day.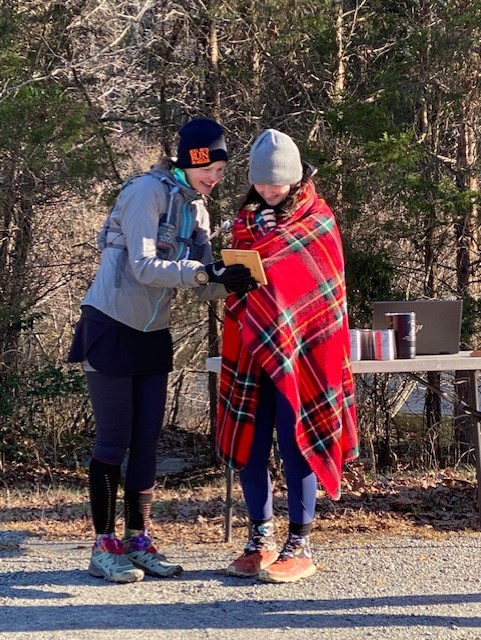 He graciously told me how much he loved to see me run his race as my first ultra. And since he is my favorite race director, I couldn't imagine running any race that wasn't one of his races as my first ultra.
All I could say was a small thank you in return, because I knew if I said more I would start to choke up because this race really did mean so much to me. I cannot express my gratitude enough, this was a moment that I will treasure for the rest of my life.
I want to thank Alex and all the volunteers for standing in the freezing cold to help all of us runners (I know how hard it is!), and also my grandparents for cheering me on all day while trying their best to stay warm!
Most of all, I want to thank my incredible mom for putting up with each freak out and every complaint, but for inspiring me every day. And most of all for introducing me to the blessing that is the ultra-running community. [ICY-8 2023 Results]
Photos